Hayley Paige's New Wedding Emojis Are Everything
And we're downloading them right now.
by Catherine Jessee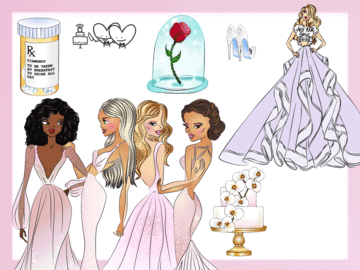 Just in time for Valentine's Day, Hayley Paige has launched wedding-themed emojis for iMessage. The new emoji keyboard is called Holy Matrimoji and it covers everything wedding related from gorgeous three-tier cakes and Disney-inspired flourishes to a tutu-wearing puppy and personalized "bride" and "groom" baseball caps. Whether you're a bride, a bridesmaid or a wedding guest, her emoji designs are just the thing to add a touch of signature Hayley Paige whimsy to your texts.
When it comes to incorporating romance, imagination and style into gorgeous wedding gowns, Hayley Paige is a total pro. So when she got the idea to create an emoji keyboard for her brides to express wedding planning in new fun ways, she seized the opportunity.
"I'm a self-proclaimed emoji enthusiast," the designer tells The Knot. "And I believe in their ability to lightheartedly express emotions." When it came to designing emojis of her own, she knew she wanted them to be beautiful, fun and unique—so she decided to hand draw each sticker and animation.
"I strongly felt that if we were going to venture in this territory, we would have to do something truly special and original for it to mean anything," she says. As for where she draws her imagination for each emoji image and frame, Paige credits the same playfulness that's inspired her from the beginning.
"A good part of my childhood involved collecting scratch-and-sniff stickers, watching Disney princess movies and creating my own wedding-themed comic books," she shares with The Knot. "So I think injecting that personality requires me to stay in touch with my imagination and be a bit playful in my environment."
Although Paige won't ever admit to her favorite dress she's designed, she confesses her favorite emoji is the Star Wars–themed image of a fairy godmother using a magical lightsaber to fashion a wedding dress. "I feel like it's a culmination of my attraction to unlikely inspirations and my approach to artistry derived through fantasy," Paige says. The results are stunning.
As for what she hopes users get out of the emojis, Paige hopes they embrace "silliness, sarcasm and love"—three key ingredients to planning your wedding.
Download the full Holy Matrimoji keyboard by Hayley Paige here.