He Gave Me A Promise Ring — Does That Mean We're Pre-Engaged?
by Simone Hill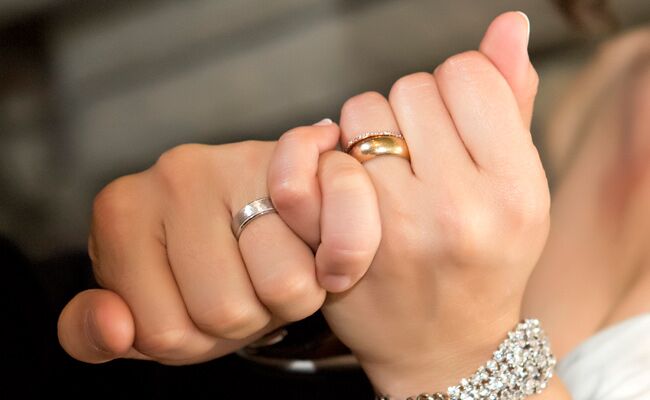 photo by
Tasha Owen Photography
Promise rings and whether or not there's such a thing as being "pre-engaged" have been a hot topic on our Chit Chat boards lately. The big question is: Is there a step between dating and being officially engaged? We've even had soon-to-be brides ask if it's ok to send out save-the-dates or book a venue even though they're not officially engaged. Here's what other brides are saying about promise rings and whether there's such a thing as being pre-engaged below then read our answer!
"Why can't people just be honest about how they feel? If you don't want to get married then tell that person. Don't try to shut them up buy giving them a piece of jewelry every few years. And for those that receive those pieces of jewelry and are happy to keep quiet, then you must really not want to get married." – Maggie0829
"I don't feel stupid or silly over mine [promise ring] because we were kids and in no way ready to be engaged. Although we knew we waned to get married one day, we knew we were not ready to take that step. So that's why FI got it for me. I wore it on my left hand on my ring finger. I guess to each their own but it worked for us and I am glad he had gotten it for me." –eg72
"I technically got one from my current FI, six years ago, in high school. It was just a pretty ring that had my birthstone, he bought it for our one year dating anniversary and didn't know what to call it. He just wanted to buy me jewelry and knew I already had a necklace I always wore (my grandma who had passed away left me a necklace). So he called it a promise ring because that is what the jewelry store called it. It wasn't really a promise of anything." – blueeyes90
Talk to other brides about how do you feel about promise rings and whether there is such a thing as being pre-engaged and read our answer.
Want more? Of course you do!
> 7 ways to get him to propose
> 9 signs he's about to propose
> 2,000+ sparkly engagement rings