Honeymoon Beach Looks for Any Destination
by Jennie Ma
Not all beach honeymoons are created equal, so you shouldn't pack like they're all the same. No matter what your ultimate destination is, we've got a chic beach look for you.
Destination Nantucket, Martha's Vineyard, or Cape Cod (The Preppy Beach Look)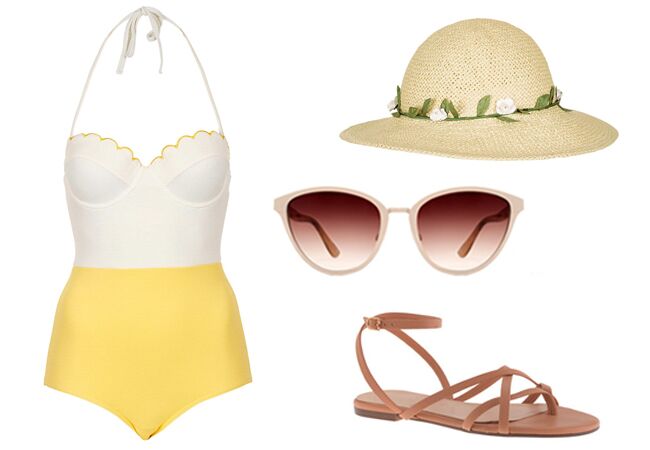 You'll want to evoke old-school charm with your swimwear. Think retro details like scalloped edges, high-waisted bottoms and bustier-style tops. Complete the look with cat eye sunglasses, classic tan strappy sandals and a cute straw hat.
Swimsuit, $72, TopShop.com; hat, $50, TopShop.com; sunglasses, $365, OliverPeoples.com; sandals, $98, JCrew.com
Destination Southern California, Miami or Honolulu (The Laid-Back Beach Look)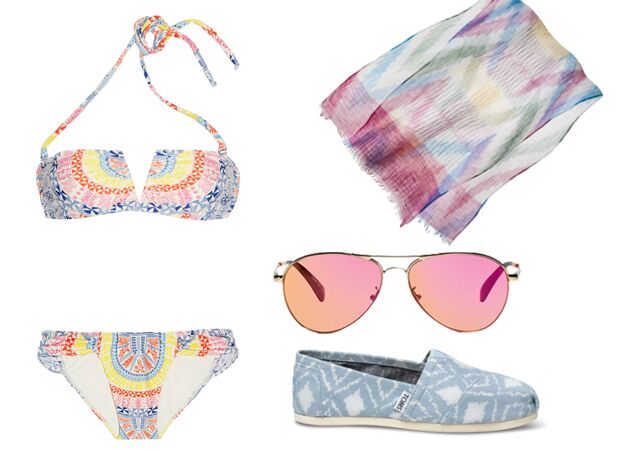 This look is a cheerful take on bohemian beachwear. The more psychedelic colors and patterns mixed together, the better.
Swimsuit, $218, Mara Hoffman, Net-a-Porter.com; scarf, $22, Target.com; sunglasses, $119, Toms.com; shoes, $54, Toms.com
Destination St. Tropez, the Amalfi Coast or Santorini (The Sophisticated Beach Look)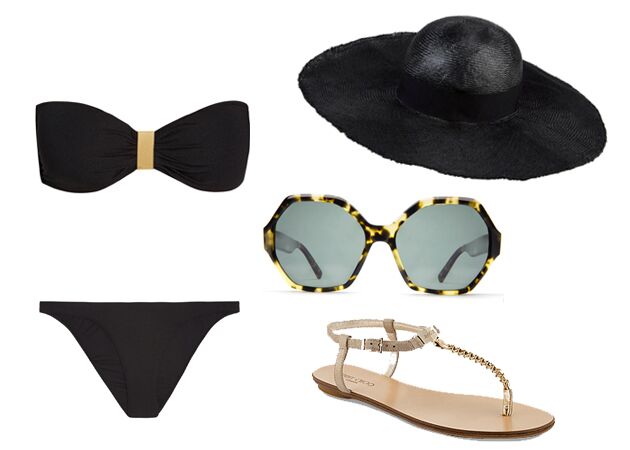 Just because you're lounging on a beach doesn't mean you can't look super chic. A black bikini is the beach equivalent of a little black dress–it's timeless and tasteful. Pair it with a sophisticated straw hat, a pair of oversized tortoise shell sunglasses and gold thong sandals for a perfectly posh look.
Swimsuit top, $95, and bottom, $95, Net-a-Porter.com; hat, $245, TheCorner.com; sunglasses, $95, WarbyParker.com; sandals, $595, JimmyCoo.com
Destination Rio de Janeiro, Costa Rica or Cancun (The Adventurous Beach Look)
If you're planning for an action-packed honeymoon, choose a one-piece with straps so you don't have to worry about a possible wardrobe malfunction while hiking. But just because your swimsuit is practical doesn't mean it has to be boring–find a style that has a fun, playful print. For your accessories, you'll want a pair of sturdy leather flats, a small carryall bag and some basic shades.
Swimsuit, $25, HM.com; sunglasses, $95, WarbyParker.com; bag, $1,185, Wendy Nichol, Barneys.com; shoes, K Jacques St Tropez, $280, Net-a-Porter.com
Want more?
> Check out the hottest honeymoon destinations!
> Your master honeymoon checklist