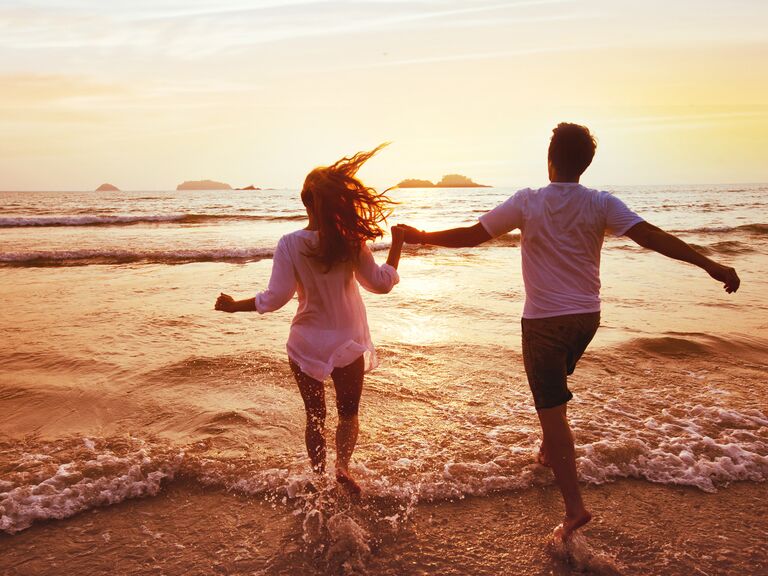 Centerpieces? Ordered. Groomsmen gifts? Wrapped. Photo booth and cake bites? Check and check. With all the planning—okay, stress—that goes into your wedding day, you may be left with little time and energy to figure out an elaborate honeymoon. And what if you and your soon-to-be spouse can't even decide on where to go? Deep breaths. If you have your heart set on a bucket-list trip (and why not? It's your honeymoon), a cruise can be a great option. Norwegian Cruise Line offers multi-destination itineraries that let you hit multiple, far-flung dream ports in one go—and the best part is, you only have to unpack once. Planning is a snap since most of the research and reservations are taken off your plate, plus, knowing that your onboard food and entertainment are included makes your vacay even more carefree. And with Norwegian's Free at Sea promotion, you can get even more add-ons including free open bar, specialty dining, shore excursions and more. No matter what your couple personality is, there's a Norwegian cruise that clicks. Read on for our picks for a once-in-a-lifetime trip.
For Lovers of Beautiful Beaches and Balmy Weather: Hawaii
The Hawaiian Islands are the classic bucket-list destination: dramatic landscapes, warm temperatures year-round, and an almost magical variety of sights between islands. If you can't quite decide which islands to visit, a Hawaii cruise is just the ticket.
Port of Call Options: All departing from Honolulu (Oahu) to Kona (Big Island); Hilo (Big Island); Kahului (Maui); and Nawiliwili (Kauai). 
Duration: 7 or 11 days
Starting Price: $1,099 per person
Best Time to Go: Pretty much anytime. The differences in weather are not significant enough to plan your trip around. If lots of elbow room and quiet dinners are priorities, though, you may want to avoid the crowds of late June through early August.
PORT HIGHLIGHTS
Kauai. The rugged, otherworldly scenery here is the huge draw. (Jurassic Park was filmed on Kauai, so that should give you an idea.) Two must-sees rise to the top: Visit Waimea Canyon—aka the Grand Canyon of the Pacific—or take a trip to Kilauea Point National Wildlife Refuge and Lighthouse, where you can spot the state bird, the endangered Nene (the Hawaiian goose), as well as spinner dolphins and Hawaiian monk seals. Finish the day with an authentic luau complete with fire dancers and a lavish buffet.
Maui. Laid-back Maui offers standout attractions. The famous Road to Hana is called the most scenic drive on the planet thanks to the black and red sand beaches, a bamboo forest, and a grove of rainbow eucalyptus trees. If you'll be here in the winter, a boat or kayak tour to see the migrating humpback whales is an absolute must. Owing to the calm waters, the snorkeling around Maui, especially in Molokini Crater, is almost as legendary as the whale spotting.
Kona. The largest white sand beach on the Big Island is at Hapuna Beach State Park. It's an idyllic place to spend a relaxing day on the sand. The Raft, Snorkel and Dolphin Adventure is also a top excursion, but just as many people seem to like the tour that hits both world-famous Kona Joe's Coffee and the Original Hawaiian Chocolate Factory. There will be samples.
ONBOARD FUN
Norwegian Cruise Line's Pride of America, a US-flagged ship, is the one and only ship cleared to sail a Hawaii-only itinerary. It disembarks from Honolulu, sailing to four islands in seven days, so you'll have plenty of time to explore. (It's also the only ship that sails right past the remote and stunning Nā Pali Coast on Kauai.) The activities on board tend to focus on Hawaiian culture: Think Polynesian theater shows, hula classes, lei-making lessons and presentations on the history of the islands by local experts.
For History Buffs, Art Aficionados and Museum Mavens: Europe
While a European tour definitely has a once-in-a-lifetime vibe, with so many cities and magnificent landmarks to take in, the logistics of seeing all the "musts" in one trip can feel overwhelming. But a cruise ship can whisk you to the most romantic cities with the greatest of ease.
Port of Call Options: With 88 itineraries incorporating every fascinating corner of Europe—from Scandinavia to Russia and through the Mediterranean—Norwegian is an 11-time World Travel Award winner for "Europe's Leading Cruise Line." Pick from 119 ports!
Duration: Up to 22 days
Starting Price: $679 per person (for 7 days)
Best Time to Go: Spring or fall offers the best of both worlds. Winter in Europe, even in the Mediterranean, is often chilly and rainy. Summer brings great weather, but crowds and higher prices.
PORT HIGHLIGHTS
Barcelona, Spain. Currently one of the trendiest European cities to visit, Barcelona is full of medieval streets, imposing architecture and enticing cafes. Tours that allow you to soak it all up are readily available. Top sites include the Gothic Quarter, authentic flamenco performances, La Sagrada Familia (Gaudi's monumental basilica) and Montserrat, a rare multi-peak mountain with sweeping views of Catalonia.
Naples, Italy. This city on the gorgeous Amalfi Coast is known for grand piazzas, cathedrals and even centuries-old castles. The wide-ranging activities at this port include exploring the city's secret tunnels or the island of Capri, a foodie tour of nearby Sorrento (one word: pizza), and biking around Naples. One excursion you can't miss? The tour of the excavations of Pompeii and Mount Vesuvius—fumes still rise from the site, believe it or not.
Cannes, France. This posh city is synonymous with its celeb-studded film festival. But when you disembark at this cruise port on the Mediterranean coast, you'll find more than glitz and glamour. Consider taking in the famous flower market in Nice or poking around the medieval village of Eze. Monaco and its legendary Monte Carlo Casino is only a short ride away, or visit Saint-Honorat Island, followed by a wine tasting at its monastery. This is France, after all.
ONBOARD FUN
Once you settle back onto the ship after your day of exploring, your honeymoon continues in high gear. Aboard Norwegian Epic, you can sample some of Europe's great cuisines with delicious pasta made from the freshest ingredients at the Italian eatery La Cucina or savor French dishes at Le Bistro. After dinner, feel the energy of the music as you dance till the wee hours at Bliss Ultra Lounge, or chill out—literally—inside the Ice Bar.
For Scenery Seekers With a Sense of Adventure: Alaska
Everything's bigger and more beautiful in Alaska. (Sorry, Texas. Two of you would fit inside our 49th state.) From mountains and glaciers to meadows and wildlife, sailing Alaska's inner passage ticks off every natural-beauty box with once-in-a-lifetime views.  
Port of Call Options: Departing from Seattle or Vancouver, British Columbia. Ports include Victoria, British Columbia and Icy Strait Point, Ketchikan, Sitka, Juneau and Skagway in Alaska. You also have the option of flying into Anchorage and setting sail from Seward in order to visit Denali National Park, six hours from the coast, via a pre-cruise land excursion.
Duration: 7, 11, 12 or 14 days
Starting Price: $599 per person
Best Time to Go: Summer. Alaska cruises only run from May through September, with the earliest and latest parts of the season having less reliable weather and cruise conditions (but also lower fares).
 
PORT HIGHLIGHTS
Ketchikan. This southeast Alaska town is home to the "salmon ladder." From mid-July through mid-September, you can watch the fish swim upstream. If you're looking to cruise in a much smaller vessel, kayak the serene, protected waters of Clover Pass in Tongass National Forest, or watch for sea lions, orcas, humpback whales and more on a zodiac expedition.
Juneau. The lone US state capital accessible only by plane or ship, Juneau is surrounded by peaks. Take a tram (or make the two-hour hike) to the top of Mount Roberts for memorable views of the city and Gastineau Channel, as well as a live bald eagle encounter. If flying is more your speed, take in sweeping views from a helicopter ride as you journey to the nearly 14-mile-long Mendenhall Glacier to marvel at the twisted spires, deep blue crevasses and carved peaks that make up this ancient landscape.
 
Skagway. Founded during the Yukon gold rush of 1897, downtown Skagway still channels that era. Take a quick bus ride to the Gold Rush Cemetery and follow the signs for a short trail to lower Reid Falls. It's like the forest's special secret: a gorgeous waterfall situated for easy access and perfectly angled for pictures. Or get an adrenaline rush while gliding over the tundra on a dogsled, then cuddle with husky puppies as you learn more about Alaska's state sport.
 
ONBOARD FUN
With the youngest fleet cruising Alaska, Norwegian makes the time spent on board feel as special as your adventures on land. You can sail on either Norwegian Bliss or Norwegian Joy, both of which boast a 180-degree Observation Lounge, which gives you the same expansive view as the captain gets from the bridge, or for a more private experience you can sip hot chocolate from your stateroom balcony as you watch the glaciers go by. These sister ships also feature a two-level racetrack—yes, a racetrack!—where you can each get behind the wheel. Or for a more mellow (yet still thrilling) activity, catch world-class shows like Jersey Boys or Kinky Boots.
For Curious Couples Up for the Next Big Thing: Cuba (With a Side of the Bahamas)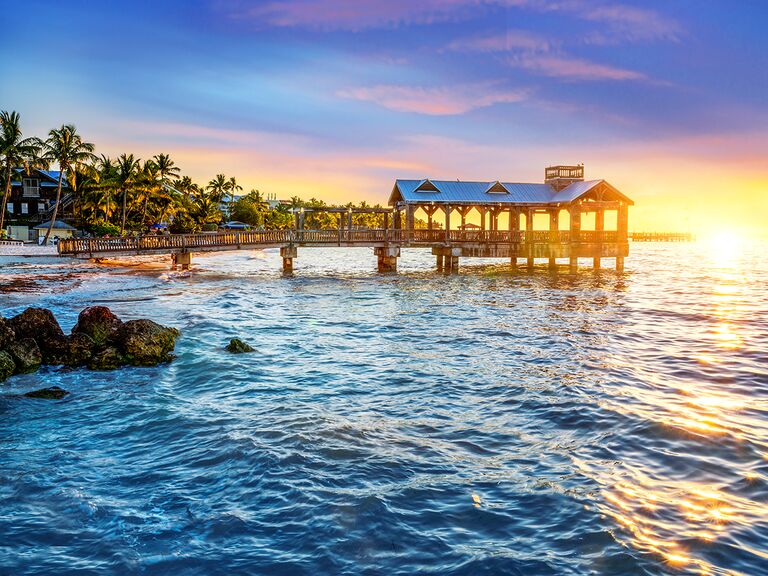 Traveling to Cuba only recently became possible, and as it turns out, the destination is worth the wait. The eclectic mix of vintage Americana, Baroque architecture and colonial cobblestone streets is like no place else in the world.
Port of Call Options: Departing from Miami or Port Canaveral, Florida to Great Stirrup Cay, Bahamas; Key West, Florida; and Havana, Cuba.
Duration: 4, 5 or 7 days
Starting Price: $489 per person
Best Time to Go: From November to April. That's the dry season, when temps are warm (but not oppressively hot, as it usually is in the summer).
 
PORT HIGHLIGHTS
Havana. To maximize your time to sightsee in the capital, choose an itinerary with a Cuba overnight stay. With all this extra time you can see the 16th century fort, Castillo De Los Tres Reyes Del Morro or admire world-class art at Museo Nacional de Bellas Artes. Take a tour built around the peerless Cuban rum and cigars or the haunts of Ernest Hemingway, before watching the sunset over Havana's famous esplanade and seawall, El Malecón. Cap off the evening with traditional Cuban rhythms at the Tropicana Cabaret.
Great Stirrup Cay, Bahamas. Norwegian's private island, reserved only for their guests, is all yours for snorkeling, relaxing in a private cabana or gliding along the coastline in a kayak. Climb on a two-person WaveRunner for a guided ride through the neighboring Berry Islands, or opt for parasailing or paddle boarding sessions. Once you work up an appetite, craft your own delicious taco at the new complimentary Abaco Taco. But the most out-there (and adorable) excursion may well be taking a boat ride to swim with pigs, a Bahamian tradition. Who knew?
Key West. You'll find plenty of excursions in Key West. For starters, you can take a glass-bottom boat ride, a trolley tour, or a ride on a posh catamaran to discover the only living coral reef in North America. No matter what, though, make sure you do two things: Have a slice of Key Lime pie here in its birthplace and snap a pic at the southernmost point in the United States, in front of the famous "90 Miles to Cuba" marker. Almost there!
ONBOARD FUN
We're talking some serious libation recreation when you sail the Norwegian Sky or Norwegian Sun. You'll find plenty of bars and lounges onboard—all serving free drinks. You read that right...the all-inclusive sailings = no bar bill at the end of the cruise. Norwegian also offers several different honeymoon/romance packages, which can hook you up with breakfast in bed, a free portrait, dinner at a romantic specialty restaurant, roses and chocolate-covered strawberries delivered to your room and more. Finally, end your trip with one last indulgence: a couples massage at the Mandara Spa (which, after planning a wedding, you obviously need).

Tell us what you think about the article you just read! Click here to take a survey and be entered to win a $100 American Express gift card. 

This article is sponsored by Norwegian Cruise Line. Learn more about the wide variety of itineraries perfect for your honeymoon at NCL.com.