A Southwest Honeymoon Road Trip — Sedona to Las Vegas
by Samantha Roberts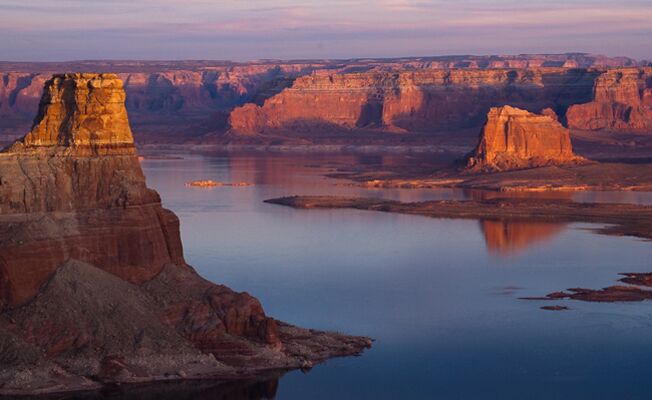 Road trip honeymoons can be a super romantic alternative to the typical beach vacation. Think about it: Just a pair of newlyweds, the open road, an incredible car, and your favorite tunes. So to start our USA honeymoon road trip series, we're kicking it off in beautiful Arizona and making our way to Las Vegas! There are five stops along the way — and no day's drive will take you longer than three hours. You'll fly into Phoenix and out of Las Vegas for this adventure and your first stop will be Sedona. Follow directions below for southwest romance trip of a lifetime.
Stop #1: Sedona, Arizona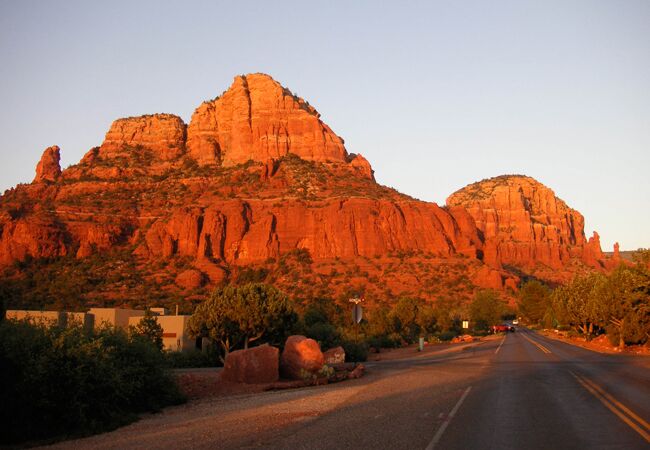 Sedona is known for its beautiful sandstone rocks that glow bright oranges and reds during a sunrise and sunset. Sedona is about a 2-hour scenic drive from Phoenix, Arizona (Sky Harbor Phoenix airport is super easy to fly into). You'll know it when you get to Sedona — the gorgeous red rocks that are carved by gorgeous canyons and creeks. It's no wonder many call Sedona one of the most beautiful and tranquil places on earth.
What to Do: There are many hiking and walking trails, horseback riding, a spa or two, local art galleries, mountain biking, fishing (not to mention golfing). But one of the most romantic things to do is a sunset hot-air balloon ride.
Stop #2: The Grand Canyon
Two hours from Sedona is the South Rim of the Grand Canyon — one of the Seven Natural Wonders of the World. At nearly 17 million years old, it's guaranteed to take your breath away. Depending on which rim (North or South) you decide to visit, there are several different options for lodging — from hotels to quaint cabins and even camping if you feel so inclined. The North Rim is a longer drive and only open for half the year (between May and October) but many will tell you its an even better view than the South. Either way, the canyon just exudes romance.
What to Do: Go hiking, rent a bike, visit the Watchtower for a panoramic view up to 100 miles on a clear day. If you're feeling extra adventurous, you could schedule a white water or smooth-water rafting trip down the Colorado River. Also, for some serious photo ops, schedule a mule trip down the canyon.
Stop #3: Lake Powell, Arizona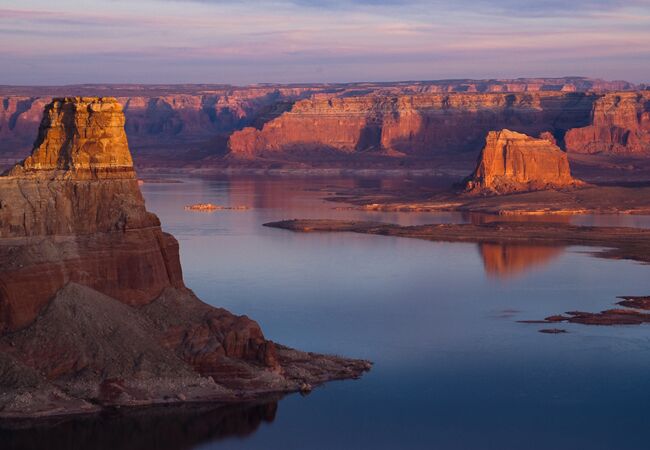 Drive east of the Grand Canyon for two hours along highway 89 to Lake Powell, a stunning body of water that sits along the borders of Utah and Arizona. From there, set sail on a romantic lake tour. PS Lake Powell is actually a man-made reservoir surrounded by rivers and tributaries.
What to Do: Sailing around the lake on a luxury house boat sounds pretty good to us. Many house boats come with fully stocked kitchens and allow you the freedom to float around without a care in the world. Swimming is a must-do to escape the hot desert sun. Smaller swimming holes are hidden throughout the lake and can be reached by boat or trail — paradise-style.
Stop #4: Zion National Park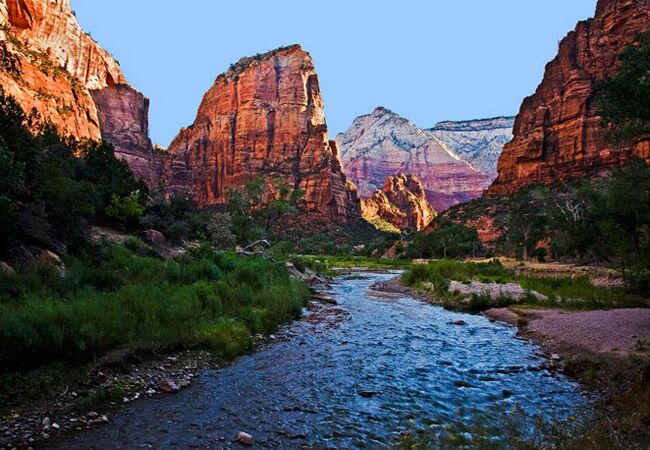 photo by
Dave Jones Photography
Take another two-hour drive back west from Lake Powell to Zion National Park. You will have crossed the Arizona state line at this point into Utah. Zion's elevations range from 3,666 feet to 8,726 which helps provide life for different types of plants and animals. So be on the lookout for all types of animals from turkey to bighorn sheep!
What to Do: Go backpacking, bicycling, bird watching, camping, hiking and horseback riding. Plus, for obvious reasons, Zion is known for its rock climbing! (Rent the supplies when you get there.)
Stop #5: Las Vegas, Nevada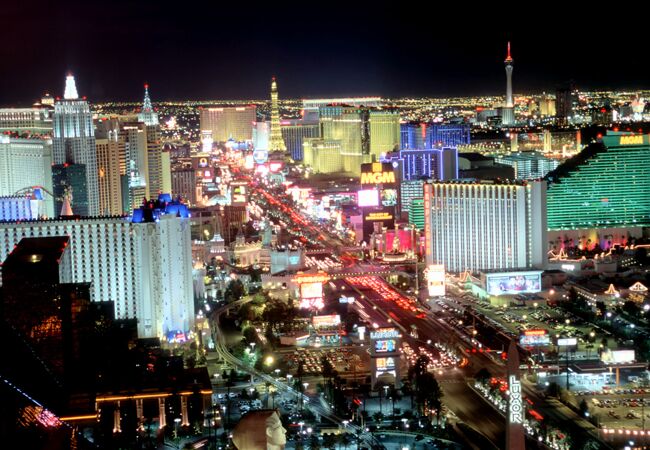 After all that backpacking and nature, it'll be time to clean up and hit the town — in Las Vegas that is. The City of Lights is just three hours from Zion National Park. Choose from a plethora of glitzy hotels and don't forget to pack your sequins!
What to Do: Better question — it's Vegas, what CAN'T you do? Eat at the world-class restaurant, relax in one of the incredible spas, catch some sun on a glamorous rooftop pool and go to a show (Cirque du Soleil obviously!).
> Don't want somewhere warm? What about an ice hotel? (No, Seriously)