Honeymooning in Brazil? Here's What To Pack!
by Shelley Brown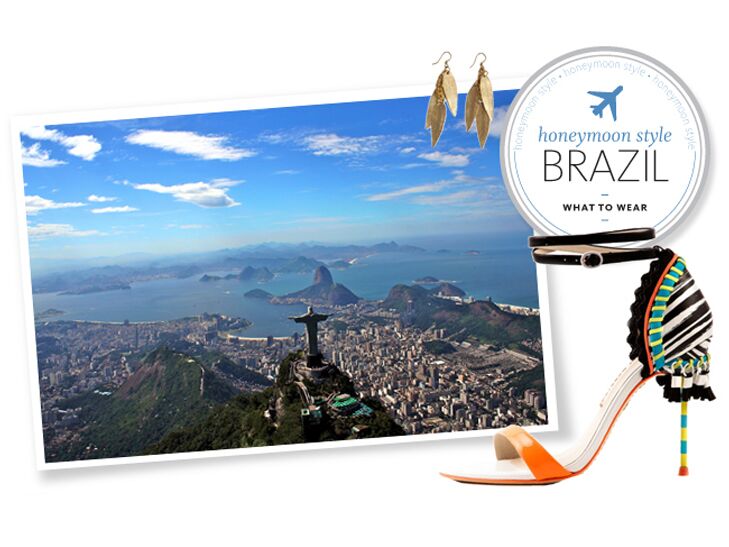 If you're a trendsetter looking for beaches, mountains and stunning views, Brazil is the honeymoon spot for you. (Not to mention, Solange just honeymooned there, and we're obsessed with her Instagram pics!) Stroll along Copacabana, the sidewalk that lines one of the world's most famous beaches, and stop in one of the bars along the promenade for a traditional Caipirinha (a cocktail made with Cachaça, sugar and lime), or try a bowl of feijoada, a traditional stew made of black beans, meats and veggies. Hike to the peak of Corcovado Mountain, atop of which stands the 125-foot-tall Christ the Redeemer statue. For another picturesque moment, ride a cable car up Sugar Loaf Mountain for a view over the entire city.
The best time to go? Try to plan your getaway for the famous Carnival Festival in Rio, which takes place in February. Keep in mind: The seasons are the opposite in Rio than they are in the States. It's technically winter from June to September, so you can save money on flights and hotels, but still enjoy balmy beach weather.
Does this sound like your ideal honeymoon? Read up on our favorite spots here and then check out our list of must-pack items to take along!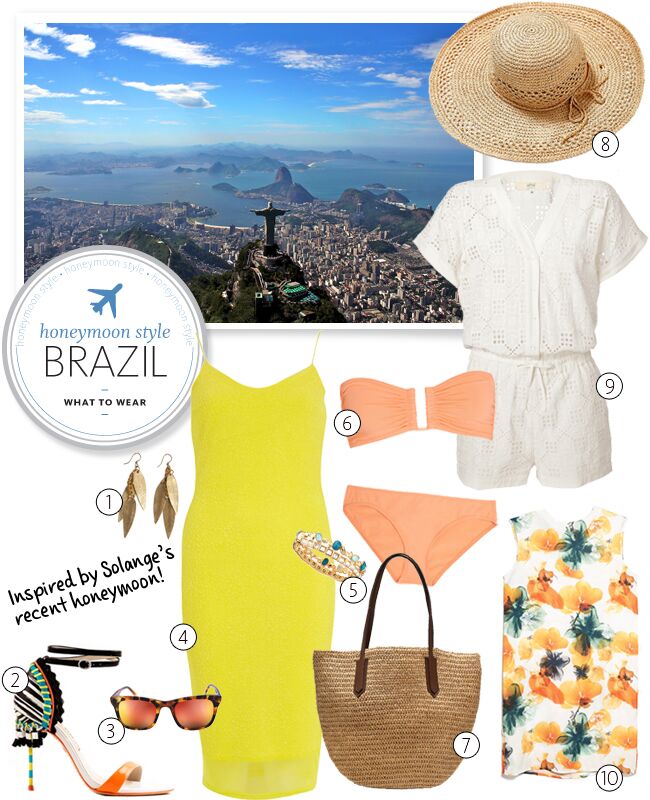 1. Almaz Gold Multi-Leaf Earrings, $48, RavenAndLily.com; 2. Solange heel, $705, SophiaWebster.com; 3. Avery Sunglasses, $124, MadeEyewear.com; 4. Lime Slip Dress, $76, RiverIsland.com; 5. Gilded Muse d'Ore Cuff, $275, Alexis Bittar, NeimanMarcus.com; 6. Bandeau bikini, $390, Eres, NET-A-POTER.com; 7. Market Tote, $50, JCrew.com; 8. Floppy Straw Hat, $34, UrbanOutfitters.com; 9. Lace Jumpsuit, $1,092, Vanessa Bruno Athé, StyleBop.com; 10. Floral Print Dress, $60, Mango.com
Want More? Of Course You Do!
> Heading To Mexico For Your Honeymoon? Here's What To Pack!
> Honeymooning In The Seychelles? Here's What to Pack!