7 Hot Coral Wedding Ideas!
by Simone Hill
Coral is one of those colors that I'll never tire of. It strikes the perfect balance between orange and pink, and it has tons of personality all it's own. Plus, it perks up any color palette — pair it with bright cherry or soft mint, you really can't go wrong. Double bonus: Coral is flattering most skin tones so your bridesmaids will be set!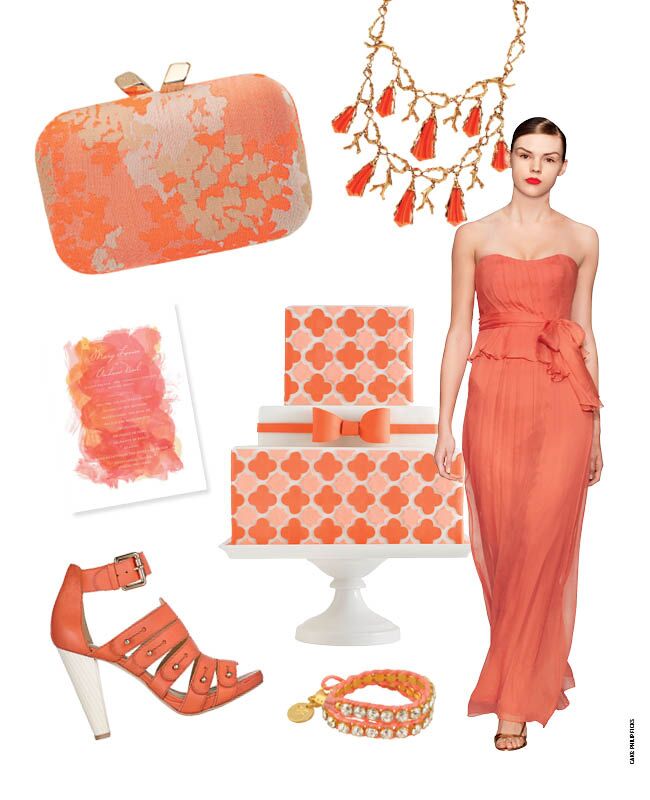 Clockwise from left to right:
There's no rule that says your wedding day clutch has to be white. $395, KoturLTD.com
Take this trend literally and wear a coral-inspired necklace. Oscar de la Renta, $795, NeimanMarcus.com (necklace no longer available)
Your invitations will look like a work of art with textured brushstrokes and a mix of bright hues. Starting at $234 for 100, Minted.com
We can't decide what we love more about this dress — the subtle peplum or the perfect shade of coral. $310, Amsale.com
A playful pattern and a cute bow really sweeten up this square cake. CocoPalomaDesserts.com
A rhinestone bracelet woven with a colorful cord is a low-key yet glam finishing touch. $220, RebekahPrice.com
Show off a pair of bold heels by letting them peek out from under your gown. $435, CoyeNokes.com

> A dramatic wedding color palette in red, black and white!
> Would you dare to go this bold?