The Top Honeymoon Trends and Destinations for 2020
It's certainly a sweet time for couples.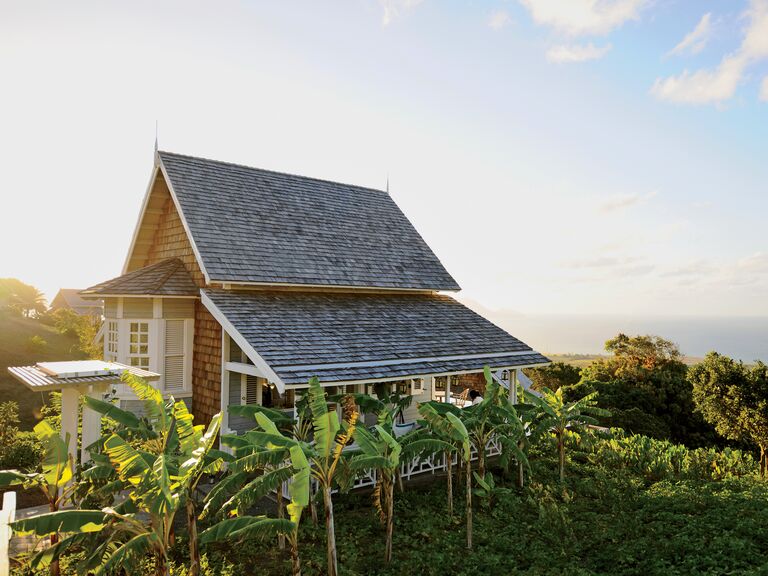 There are travel trends and there are honeymoon trends. Like most wedding planning experiences, the stakes are oftentimes higher with the honeymoon because it's a once-in-a-lifetime experience, where newlyweds are able to savor their new marriage as they unwind from months (if not years) of wedding planning. 
Honeymoon trends in 2020 include not only up-and-coming destinations, but several twists on traditional travel options among other surprising stats. Our recent study of more than 900 respondents found a few themes involving this grand getaway. Plus, we did the research for you so all you have to do is book, unwind and relax. You deserve it. 
The Minimoon Is Still Trending (Say Hello to Micromoons)
About 29 percent of respondents went for this smaller size trip instead of a full honeymoon. For many, this decision is directly correlated to cost and the amount of time couples are able to take off from everyday tasks. Since the nature of minimoons are quick and relatively cost-effective, most couples stayed in the U.S. for this type of trip with 88 percent specifically remaining in the country.
Now, there's another new term to introduce in 2020: the micromoon. This is an even smaller option for couples who decide to tack on a few days in a local region to the tail end of their destination weddings. For example, if a couple marries in St Maarten, they can take a quick ferry ride away to Anguilla, where they can enjoy their new marriage on an even more remote locale for two days. 

Interestingly enough, with travel emerging as a priority for millennials and Gen Z, about 13 percent of couples said they had both a honeymoon and a minimoon. The timeline in this case kicked off with a minimoon following the wedding, and an eventual planned honeymoon months down the line. 
However, the end-all honeymoon was the primary option for the majority of respondents with 57 percent of those surveyed saying they went with one big trip to celebrate their new marriage. 
Couples Are Saving… Or Registering
According to our survey, cost was of utmost importance when determining a honeymoon destination. About 60 percent of couples ended up paying for the honeymoon via personal savings, while another 55 percent of couples either used money gifted from their wedding or from their honeymoon funds to pay for their getaways. Of course, a honeymoon doesn't necessarily have to be lavish to be luxurious. 
U.S. News and World Report outlined the Best Cheap Honeymoons in the U.S. and in Europe with quite some lovely locales for to-be-weds to consider. Topping the list of affordable honeymoon destinations in the country was the placid and scenic region of Ogunquit, Maine, where the beaches are splendid and there's a cozy feel to the properties in the area. New England is preferred for many honeymooners with U.S. News also listing Martha's Vineyard off the coast of Massachusetts as an affordable alternative for those remaining in the states. Glacier National Park in Montana was the second top choice in the country as a haven for nature dwellers in search of diverse wildlife and magnificent American sightseeing.
In Europe, affordable honeymoon destinations included a bit of everything, with honeymooners flocking to the island of Corfu in Greece, as well as the cultural hubs of Florence and Rome. Travel experts are also seeing that couple are saving through other compromises. 
Offseason honeymoons are increasingly becoming a viable option for couples since cost is a factor. Along the coast of Monaco in Monte-Carlo, mild winter temperatures and the rates for certain properties like the Hotel Metropole make the decision a little easier for lovebirds since rates are considerably more affordable than peak season. (Think: 357 euros a night against the standard of 2,450 euros per evening. Put the change towards your latermoon.) Then, couples can head along the coast to places like Cannes, France, where other properties offering offseason rates are also situated.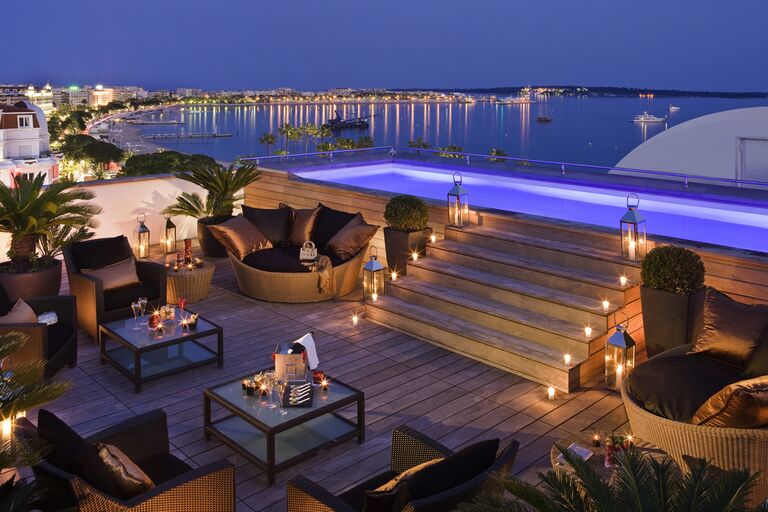 Couples Are Leveraging Social Media
Surprisingly, what couples are archiving on Instagram and elsewhere is impacting their honeymoon destinations. In the last year, we found that about one in five newlyweds utilized social media as their main factor for finding a honeymoon location. 
However, this category excluded couples' favorite celebs and influencers, who are posting from some of these beautiful, scenic destinations. Only 4 percent of respondents said they're influenced by these personalities. Overall, the person who matters most in finding a honeymoon destination is none other than your partner.
There Is a Honeymoon Season
The amount of time spent in a honeymoon destination is important because sometimes, it involves a place so far reaching and remote that it requires multiple days of travel just to get to the location. Our survey found that most couples are still adhering to traditional honeymoon timelines, meaning they will depart for their trip up to two days after the wedding and will enjoy, on average, a honeymoon of about eight days. 
The most popular time for couples to depart for their honeymoons was between the months of April to the end of June, with about 30 percent of all respondents saying they enjoyed their trips then.
Beach Honeymoons Reign Supreme
You know that idyllic picture of you and your partner on some remote island, floppy hat in hand with a side of vacation drinks? That's probably what the majority of couples are envisioning too, making beach honeymoons the most popular type of getaway for newlyweds. In fact, U.S. News and World Report's best honeymoon destinations of 2020 are all centric to islands. 
The first is St. Lucia, an eastern Caribbean destination that's secluded with just about the perfect number of upscale properties and adventurous activities. Number two is Bora Bora in French Polynesia, a remote island close to Tahiti (No. 6 on the list). Fiji, an archipelago and another far-remote destination, is listed as the third best honeymoon destination, according to the outlet. The ratings were based on offerings like exotic beaches, high-end resorts with exceptional service, overwater bungalows and experiences like swim-in brunches with spa time galore.  
In this U.S., the Hawaiian Islands are listed as the Best Honeymoon Destinations in the country with Kauai coming in at number one, followed by Maui. The California Coast also received accolades from the outlet with Carmel Beach, Clint Eastwood's scenic, small-town Carmel-By-The-Sea, nabbing the third spot among honeymoon options in the U.S. 
Cities Are Hot Honeymoon Spots Too
Paris, London, Tokyo, Shanghai, Sydney, oh my! The honeymoon options are many when it comes to global cities around the world. Close to a third of our respondents (or about 30 percent of those surveyed) said they enjoyed a honeymoon in a city. Activities in cities can encompass everything from Michelin-rated restaurant options for foodies, beaches in places like L.A. or Barcelona, sight-seeing in towns like Munich (think: castle tours, cutesy Christmas towns) and so much more. 
Plus, most cities around the world are easier to access with direct flights from major hubs reaching these points so that you and your spouse can take more time exploring the local culture, the food and the sights instead in that time frame. 
The Caribbean Is Rising in Heat
WIth so many beautiful islands a quick plane ride away, what's not to love about the Caribbean? Reflecting U.S. News and World Report's Best Honeymoon Destinations of 2020, we found that about one in four of our surveyed couples were heading to the Caribbean for their honeymoons. Hot spots included St. Lucia, the Bahamas and Jamaica. Nassau has reemerged as a go-to destination with newlyweds looking to relax at Cable Beach or "flamingling" with flamingos at Flamingo Cay. 
There is, of course, something for almost everyone including couples seeking lesser-traveled Caribbean locations like Virgin Gorda, Tortola and the friendly island of St. John, a USVI protected region that you can only reach by boat. (It's that beautiful.) Of course, there are many spots in this part of the world to visit. According to U.S. News, the best islands in the Caribbean for honeymooners includes Grenada, Turks and Caicos Islands and St. Kitts or Nevis. 
Italy: That's Overwhelmingly Amore
Let's be honest: fresh seafood pasta, gorgeous Mediterranean water, rustic sunsets, gelato and wine. What's not to love about Italian getaways, especially with your new spouse? 
About 13 percent of couples are choosing European honeymoon destinations, according to our study. The best destinations in the region, however, are all central to Italy according to U.S. News. The destinations include Florence followed by the Amalfi Coast (think: Positano, Capri) and Tuscany. However, the Mediterranean and the Ligurian Coasts are full of splendid one-off coastal towns that aren't overrun by tourists, especially during peak seasons.