How I Found "The One" (Love & Latkes)
by Stephanie Fraiman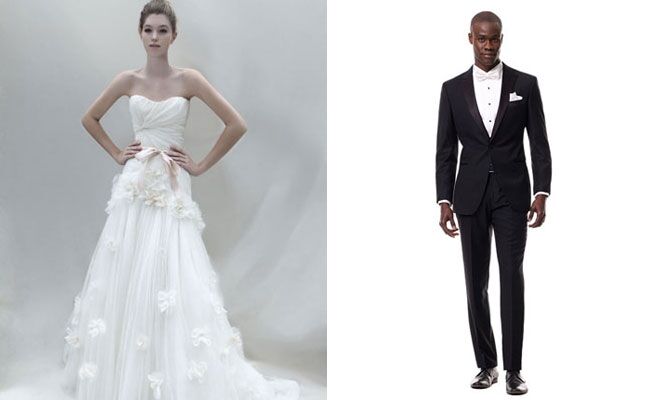 My wedding dress hunt began in Florida last April. I figured, getting married in Florida and living in New York, why worry about transporting a dress across state lines? I hit up six stores (I know, sensory overload!) and came away with a definite idea of what I liked, but no cliche 'aha' moment.
I returned to New York thinking that I wasn't one of those 'aha' sort of brides and I just needed to see all my options and make an educated decision. Little did I realize how wrong I was!
Just a week later was Spring's Bridal Fashion Week and we were lucky enough to have the design geniuses behind brand new label Tulle by McNairy and Gual come into our office to show our fashion editors their first collection. As the PR team, we're always investigating new designers for TV segments, so we were invited to view the collection too. Upon entering our fashion closet, I absolutely fell in LOVE with my dress. Even thought it was only a fashion preview, Lia and Antonio let me try the dress on and the rest is history. This was it, I had that moment. I had found the one.
While I'm the bride, and the wedding dress is pretty important, my groom's got to look dapper too. I may have mentioned that Oren's a tall guy before. Because of his wonderfully tall 6'7″ height, he didn't want to rent a tux, he had to find something that would fit him perfectly. This left us with quite the quandary because tuxes can be pretty pricey.
Luckily, I came across this absolutely fabulous new company called Black Lapel. The company was started by two friends who used to work in finance. Back then, at their day jobs, they found it difficult to find well-priced suits that had a beautiful custom fit, so they started Black Lapel.
Every single suit is handmade to exact custom measurements and designs – the perfect duds for any groom-to-be! They even have handy videos on their site explaining what to measure and how. I couldn't believe the number of areas that need to be measured (3 places on the arm alone!), this is guaranteed to fit well (no really, they actually guarantee it!). Oren and I are in NY where Black Lapel is based so we paid them a visit at their office, but if you're not in NY, you can go through the entire process online!