Here's How Much to Spend on an Engagement Ring
Forget about the three-month salary "rule."
Ready to start looking for an engagement ring? When it's time to take your commitment to the next level, you'll want to make sure to get it right with a heartfelt proposal and a special ring. You may also be wondering just how much to spend on an engagement ring. After all, this piece of jewelry is for keeps. At first glance, buying an engagement ring may not seem all that difficult. Simply find a jewelry store and remember to bring your wallet, right? But as you stare at the rows of rings in different shapes, sizes and prices, you'll find that doing some research goes a long way when it comes to deciding on your engagement ring budget.
Here, we'll take you through the average engagement ring cost in 2022, and cut through the myths surrounding how much to spend on an engagement ring. Plus, we've got tips on how to set your budget, save for a ring and find an affordable sparkler that doesn't skimp on style.
At a Glance
The average cost of an engagement ring is around $6,000, but you can find rings that fit any budget.

When it comes to setting your engagement ring budget, it's a highly personal decision that only you can make. Feel free to disregard the "three-month salary" rule, but do take your long-term financial goals and expenses into consideration.

You don't have to skimp on style to get a ring you love. There are plenty of tips and tricks to maximize your ring budget—and save you major cash.
In this article:
Average Engagement Ring Cost
If anything is certain, it's that diamonds remain a serious investment. According to The Knot 2022 Jewelry and Engagement Study, the average cost of an engagement ring is currently about $6,000. If you're deciding how much to spend on an engagement ring, there are several factors to consider. While $6,000 is the national average cost of a ring, the spend per couple varies. Our study found that roughly one-third of all respondents are spending between $1,000 to $4,000 on their engagement ring. In fact, 8% of ring shoppers are spending under $1,000. It's important to note that $6,000 is a national average taken from respondents all over the country and is influenced by a multitude of factors, one being region. For example, couples in the Mid-Atlanic spent the most on engagement rings (around $8,400), whereas Midwestern dwellers spent the least (around $5,200).
How Much Should You Spend on an Engagement Ring?
Shannon Delany-Ron, CMO for online diamond retailer James Allen, encourages every person looking to purchase an engagement ring to develop a budget first. "This will guide all of your decisions going forward, and it's important to have a handle on how much you're looking to spend," Delany-Ron says. "From there, we recommend thinking about priorities. Are you looking for a high-quality diamond? Are you willing to sacrifice a bit on quality in order to make it a larger diamond? Are you planning for a simple band that will be cheaper or something with a lot of smaller diamonds that will take more of your budget?"
In keeping with this advice, here are some important factors you'll want to consider as you determine how much to spend on an engagement ring:
Financial Situation: Determine what price you're comfortable with, especially if you'll have ring payments going forward. Evaluate your current financial situation to dictate what you can afford.

Partner's Expectations: Your goal is to purchase a ring your S.O. will love, regardless of the price tag. You could ask your partner outright for ring options, or go "window shopping" together to figure out what they really want. If you want your proposal to be a complete surprise, try asking friends or family for guidance. Consider their style, hobbies and overall lifestyle, along with gifts you've given in the past to help choose a ring.

Meaningfulness of Ring: A thoughtful ring that speaks to your partner's individual personality will be much more meaningful than the biggest you can find. Perhaps your partner would prefer an heirloom over a ring, or maybe they'd like to break with tradition and skip a diamond altogether.
Another thought: Consider opting for a temporary engagement ring while you save up for the real deal or design your dream ring as a couple. Believe it or not, the concept of the "starter ring" is on the rise. Temporary engagement rings are typically less expensive than traditional engagement rings, as they're often made with diamond alternatives. The stand-in ring route could also save you money in the long run, as you'll know without a doubt your partner will love the sparkler you design together.
Dos and Don'ts of Setting Your Engagement Ring Budget
When it comes to saving for an engagement ring, there are some basic ground rules that will help you set your budget. Below, here's what to consider—and what to avoid—while figuring out what to spend on your sparkler. (Hint: The three-salary rule is not it.)
Do Ignore the Three-Month Salary Rule
What is the three-month salary rule, and where did it originate? This etiquette tip dates back to The Great Depression when diamond sales suffered from the nationwide financial crisis. The leading diamond retailer at the time, De Beers, launched a marketing campaign aimed at increasing the sale of diamond engagement rings. De Beers' campaign claimed that diamond engagement rings (which were not the norm at that point) were a symbol of true love, and buyers should allot one month of their salary to the purchase. This increased over time to three months' salary. While this rule was effective at increasing diamond engagement ring sales at the time, you don't have to follow it. If spending thousands on an expensive ring is not realistic for your financial goals or lifestyle, it's perfectly okay to lower your budget, regardless of your gross income.
Don't Take Engagement Ring Calculators Too Seriously
Like we covered above, what you spend on an engagement ring is an extremely personal choice, and only you can set your budget. While an online engagement ring calculator can help you come up with an estimate based on factors like your income, lifestyle and credit card debt, they are not the only source of truth. The bottom line: It's completely possible to purchase a ring you love at whatever price point works for you. Plus, you can always buy what works for you now and upgrade later.
Do Consider Your Financial Situation and Goals
While splurging on a red carpet-worthy sparkler and going way over budget may seem like a romantic gesture, an engagement ring is a purchase that requires reason over emotion. Generally, the upper limit of your budget should be determined by your income and long-term financial goals. For example, if you're paying for your own wedding, planning to buy a house and have student loan debt, take those expenses into account to decide on a price range for the ring. The bottom line? The best approach is For a full rundown of how to save for an engagement ring (including whether to use cash or a credit card) read on here.
Don't Assume That an Antique Engagement Ring Will Be Cheaper
While some estate jewelry can be a total steal, opting for an antique engagement ring can actually cost you more. A rare antique ring will be more expensive than a modern one with a comparable diamond. Why? Antique rings are valued based on their age and scarcity. The older a ring becomes, the fewer the pieces particular to a period or style will survive. The remaining pieces will generally appreciate in price.
Do Take Advantage of Big Holiday Sales
The holidays may be peak proposal season (nearly 40% of all proposals happen between November and February), but they're also an excellent time to buy an engagement ring, due to a plethora of online and in-store deals you simply won't other times of the year. If you're planning to propose around New Year's Eve or Valentine's Day, check out Black Friday sales (that's right, you can actually snag a diamond ring at a heavily discounted price during Cyber Week). Dreaming of a spring or summer engagement? Valentine's Day sales are a great place to start. Pro tip: Experts recommend buying a ring at least two months before your preferred proposal date, as this allows ample time for production and delivery.
How to Choose the Right Engagement Ring For Your Budget
Think you have to sacrifice style to make a savvy engagement ring purchase? Think again. Below, tips and tricks for finding a budget-friendly ring you love.
Buy Shy
Did you know? A 1.8-carat diamond will be much more cost-efficient than a 2-carat diamond, even though the disparity only equates to 0.2 and is barely visible to the naked eye. This money-saving tactic is called "buying shy" in the jewelry industry. TLDR; if you buy a stone just shy of a whole carat weight, it can save you lots of cash. Just don't size down a whole carat weight.
Consider the 4C's
Part of shopping for an engagement ring is familiarizing yourself with the 4C's, or the standards of how diamonds are "graded" and thus valued. The 4C's are cut, color, clarity and carat. Knowing which of the 4C's to prioritize and which to sacrifice can save you money on a diamond. For example, a diamond's cut grade is usually most important, as it can drastically affect how symmetrical and proportional a stone is (read: how much it sparkles). On the other hand, much of a white diamond's value comes from its "color grade," a scale (it goes from "D" through "Z") measuring the presence of color. D, E and F are considered colorless and have a greater value. Anything below that will have a slightly yellow tint. However, hints of color are difficult to detect with an untrained eye, especially when placed on a setting with colored metal like yellow gold, so you'll still get a gorgeous ring at a lower price.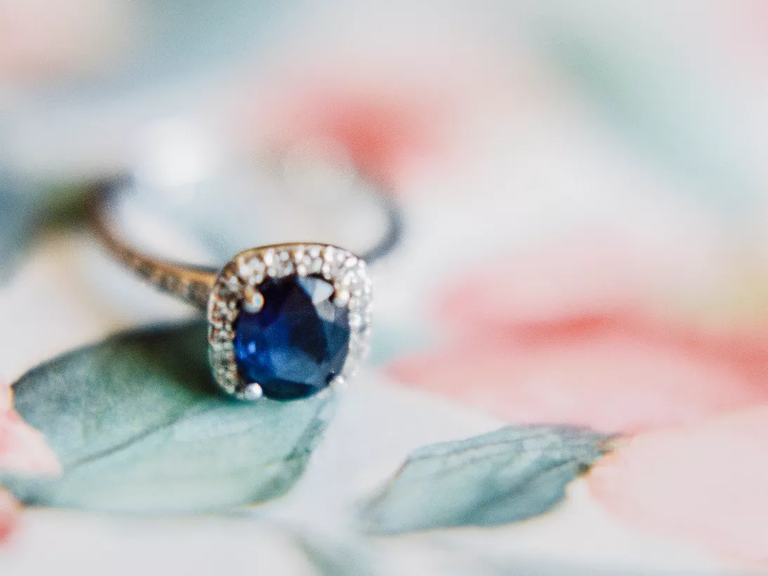 Explore Alternative Stones
If you're in the market for a larger center stone but working with a smaller budget, consider switching it up with an alternative option. It's no secret that natural diamonds are expensive. After all, the average 1-carat natural diamond can cost between $2,000 and $16,000. It's also no secret that lab-grown diamonds are one of the hottest engagement ring trends of 2023. The main reason? Their price. Lab-created stones cost from 30% to 50% less than their natural counterparts. Moissanite, another lab-created stone that mimics the brilliance of a diamond, is another wallet-friendly alternative. Is color your preference? You're in luck. Colorful gemstones like sapphires, morganite and emeralds are usually less expensive than diamonds—and just as stunning.
Think About Metal
When it comes to choosing a setting, opting for a different metal can make a difference price-wise. For instance, platinum and white gold look nearly identical, but platinum is rarer (it's mined much less frequently) and stronger (it's extremely durable and scratch-resistant) and thus costs significantly more. You should keep the longevity of your ring in mind (white gold is yellow gold plated in rhodium and may need to be replated over time) but opting for a cheaper metal can save you more money upfront.
Compare Prices
As with any significant purchase, you'll want to do your research and shop around before purchasing an engagement ring. Our advice? Shop online to browse similar styles at different price points before you make a decision. Not sure where to begin? There's a comprehensive list of wedding ring retailers we love at every price point here.
Sarah Hanlon contributed to the reporting of this article.