How to Choose Wine for Your Wedding: 5 Tips From Chateau St. Jean's Head Winemaker Margo Van Staaveren
Need help picking the perfect vino for your wedding? The head winemaker from Chateau St. Jean, The Knot Dream Wedding 2015 venue, makes it easy and fun.
by Ivy Jacobson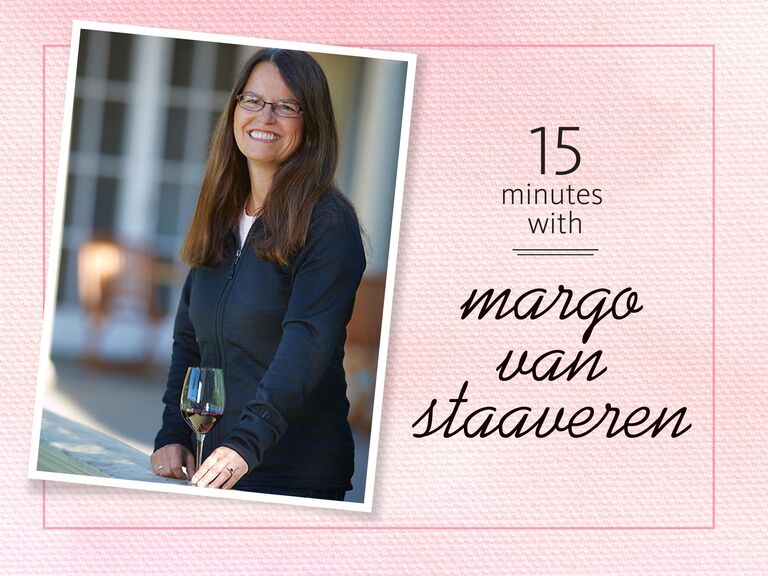 There are tons of reasons why getting married at a vineyard is seriously amazing—but for The Knot Dream Wedding at Chateau St. Jean, it was even more special, thanks to the venue's head winemaker, Margo Van Staaveren. Not only has she been with Chateau St. Jean for more than three decades, she's impressively only the fourth winemaker in the winery's history! (It was founded in 1973.)
Van Staaveren graduated from the University of California at Davis in 1979 with a bachelor of science in fermentation science. Shortly after graduation, she joined Chateau St. Jean as a laboratory technician, and by 1989, she worked herself up to assistant winemaker and later associate winemaker. She became head winemaker and general manager for Chateau St. Jean in August of 2003.

So what does that mean, exactly?
"As winemaker and general manager, I make harvesting and blending decisions to create wines in the St. Jean style," Van Staaveren says. "We make an extensive portfolio of Sonoma County wines as well as vineyard designated wines, limited-production reserve wines and our flagship Cinq Cépages cabernet sauvignon—so I have my hands full."

Needless to say, her winemaking experience and talent is super-impressive, which is why we had to ask her a few questions about her career and all things wedding and wine related.
What's your favorite thing about your job? What are you most proud of, being one of the few female winemakers in Sonoma Valley?
One of the things I most enjoy about my job is putting together the final blend for the reserve wines. Since no two vintages are alike, it gives me the opportunity to carefully search for the vineyard lots that offer the biggest fruit expression and the ability to age in order to create a wine that truly captures the best of the vintage.
There are many wonderful female winemakers in the industry today, but that wasn't particularly true when I first started in the early eighties—there were far more male winemakers than women winemakers. Today, I'm honored to have so many incredibly talented colleagues to work with in Sonoma County.
Your husband, Don van Staaveren, is a winemaker too. How has working in the wine industry together influenced your marriage?
Not only is my husband a winemaker, we met at Chateau St. Jean when I first started as a lab tech and he was the (second) winemaker. We fell in love near the time clock—how is that for romantic? I think we're very lucky to have the same passion for wine and winemaking. We don't get to see a lot of each other during harvest, but it's wonderful to share our wines and also explore new wines and appellations together.
What are some of your favorite wines that Chateau St. Jean offers?
That's a difficult question! The art of blending is the cornerstone of my winemaking philosophy. To me, one of the greatest accomplishments is to create a wine style or signature blend that carries from vintage to vintage while still capturing the uniqueness of that particular growing year. One of the things I enjoy most about my job is the ability to work with so many varieties, since Sonoma's diversity allows excellence in so many areas. I like crafting chardonnay from several microclimates, pinot noir from the cool Sonoma Coast and cabernet sauvignon from our warmer regions. It's almost like cooking how you combine technique and spices, as well as your own signature to the final meal!
What's the wine tasting process like for a wedding at Chateau St. Jean?
We have an extensive wine portfolio—we make nearly 40 wines, so there are wonderful options. We encourage the couples to take some time for a sit-down tasting with one of our friendly and incredibly knowledgeable tasting room staff members. We can help you pick the perfect wines that will make you and your guests happy on the special day. We'll also help you figure out wine quantities needed for your event and take on any special requests. One of the more popular requests is purchasing one of our large format bottles of wine and using it as a guest book with people signing the bottle with gold pens.
Do most engaged couples come in with prior knowledge of wine?
I think there's a mix. There are a lot of very knowledgeable wine consumers out there that know exactly what they like and want, but many people can find the idea of picking wines for their guests intimidating. We're very happy to accommodate both the novice and experienced wine lover.
What's the number one request for wedding wine?
At our property, it's chardonnay! Most of our weddings take place outdoors during the warm summer season. Nothing sounds more refreshing to brides, grooms (and guests!) then a well-chilled glass of white wine.
What's your favorite toast to cheers to?
Sante! To life, love and happiness!
Here are Van Staaveren's five tips on how to pick wine for your wedding.
1. Variety is the spice of life!
Don't feel like you have to stick with the most familiar types of wine. "At Chateau St. Jean especially, you have a large variety of wines to pick from, so you can wow your guests with something just a little different. Viognier, anyone?" Van Staaveren says.
2. It's nice to offer both white and red wine, no matter the season.
A good rule of thumb is a lighter white wine for the reception. "Think pinot gris, pinot blanc or fume blanc," Van Staaveren says. "For lunch or dinner, it's nice to offer an additional food-friendly white wine such as chardonnay. It's also nice to add a pinot noir to the offering because it can pair wonderfully with both lighter fare (chicken, fish and salads) but can also stand up well to heavier foods." Cabernet sauvignon or even a malbec is also good to have on hand because many guests tend to enjoy a more robust red wine, she notes.
3. When planning for the quantity, keep in mind that each 750 ml bottle of wine will pour approximately five glasses.
It's safe to assume each guest will have one glass of white and one glass of red. "It's easy to do the math with your guest count from there," Van Staaveren says.
4. Instruct your bartenders or servers NOT to open every single bottle of wine at the beginning of the reception.
They should open the bottles as they go as to not waste any wine, since it's heartbreaking to see open bottles of wine at the end of the night that haven't been used. "Most bottles should be consumed within the day they're opened," Van Staaveren says. "If you have extra unopened bottles at the end of the evening, you can keep them for your honeymoon!"
5. It's nice to have a bottle of wine for your wedding party and special guests waiting in their hotel rooms as they arrive.
"With a sweet note from the to-be-weds, it's the perfect way to set the tone for a romantic winery wedding," Van Staaveren says.
Plus, see our The Knot Dream Wedding 2015 couple Samantha Carisch and Taylor Sinclair's wine tasting at Chateau St. Jean below!