How to Look Great in Your Wedding Photos
by The Knot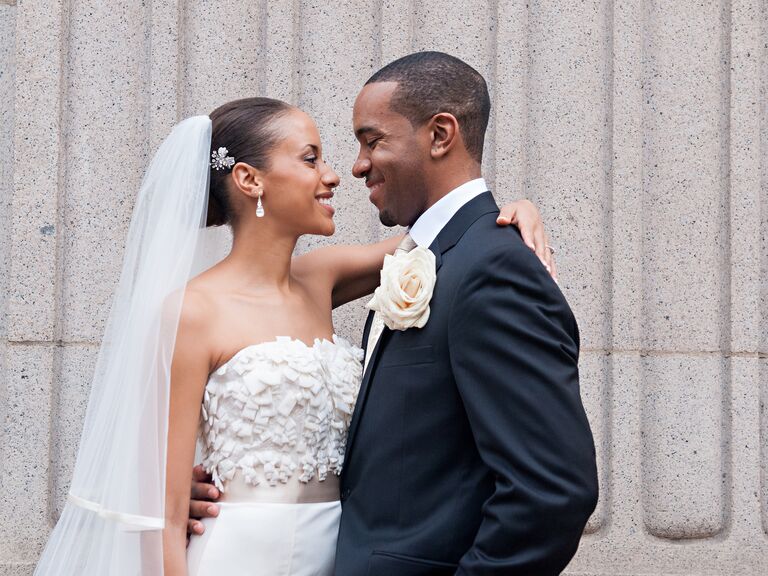 photo by
Onada Photography
Your wedding day will probably be the most-photographed day of your lives -- it's a lot of pressure, even for couples who consider themselves photogenic. After having your hair and makeup done and he's in his tux, you'll both look and feel fabulous. Here's how you can make sure that sentiment shows up in your pictures.
Strike a Pose (or Not)
Study your favorite photos. The key to being a glamorous bride in your photographs is to look composed without appearing overly posed. What do we mean? Think about some of your favorite pictures of yourself -- your ultra-rigid graduation picture probably isn't among them. The shots where you look happy and poised but your attention isn't directly on the camera (maybe you didn't even know that someone was taking your picture) are often keepers. Look at these, and take note of how you're standing and smiling. Then comes the challenge: Try to mimic that look on your wedding day.
Ignore the Camera
When you're taking your portraits, focus on each other rather than the camera. Whisper an inside joke to one another, remind each other how far you've come since your first date, or recall how you felt the first time he told you he loved you. These will leave you with much more natural expressions than simply saying "cheese."
Avoid Squinting
If the sun is making you squint when you're taking your photos, close your eyes while your photographer counts to three, and then open them just as the picture is taken.
Take Two
Another way to look great in your wedding shots: Book the same photographer to take your engagement photos. A photo session before the wedding can relieve day-of jitters because you'll be warmed up to the photographer's style. Since your family and attendants won't have that same benefit, recruit a lively member of your group to tell a funny joke as everyone takes pictures on your wedding day. Or just instruct them to blow out a deep breath to loosen cheek muscles.