The Ultimate Guide to Planning a Destination Bachelorette Party
From choosing a spot to splitting up costs, here's the only destination bachelorette guide you'll ever need.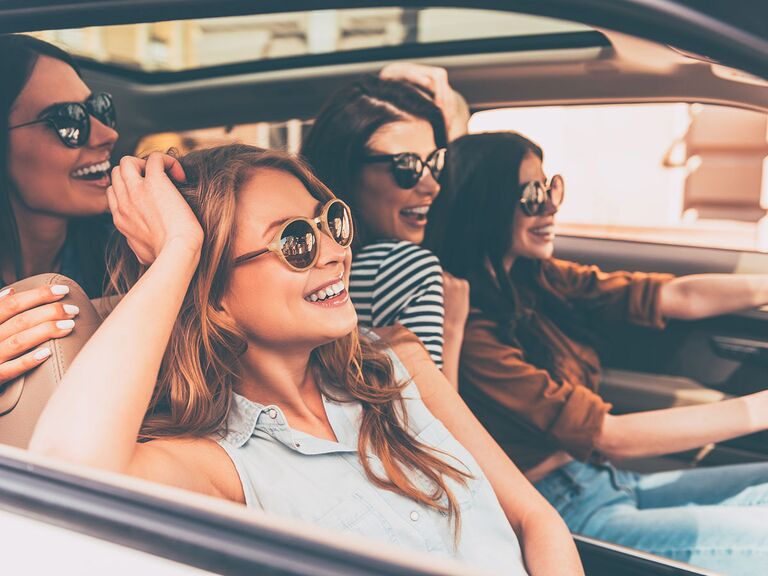 istock
We have included third party products to help you navigate and enjoy life's biggest moments. Purchases made through links on this page may earn us a commission.
You have the honor of throwing your best friend an unforgettable prewedding getaway, but the who, what, when, where and how of planning a destination bachelorette party isn't always clear and easy. We went to Joanne Barken, founder of The Bach, a website that specializes in planning bachelorette parties, for her expert tips. From guest list to finances and everything in between, here's how to pull off the ultimate celebration away from home.
Consult the Bride and Other Bridesmaids
The first step is to determine what the bride has in mind. "If she'd prefer glamping to clubbing, that'll help guide your planning process," Barken says. But in order to keep your plans centered on togetherness, make sure the destination offers something for everyone at a price that won't wipe out their savings. Finding a place that's easy to get to is one way to keep the group happy—after all, you don't want to spend half the weekend getting there, no matter how amazing it sounds.
Find the Ideal Location
Major cities and resort areas tend to be great for bachelorettes since they offer a wide array of activities and amenities. A few of our favorite bachelorette party destinations in the US? Nashville, Tennessee, for its awesome country music venues, mouthwatering Southern food and walkability (the area around Broadway has everything you could ever need); Austin, Texas, for its awesome food cart scene, live music of all genres and easy access to lakes and vineyards if you want a break from the urban bustle; and Charleston, South Carolina, for its picturesque beaches, gorgeous architecture and lively nightlife. If you want to keep the logistics to a minimum, consider booking an all-inclusive resort or cruise, so you won't have to worry about pricing out different restaurants and activities. (Take our quiz to found where to go on your destination bachelorette party.)
Manage the Guest List
The invitation list should come directly from the bride. "Typically the list will include only the bride's closest friends, but she should make the final call," Barken says. Once you have the squad down, it's time to set the tone for good times. "Pitching the weekend as a great excuse for a girls' getaway, filled with fabulous activities, will help build excitement and prompt people to book." If someone can't attend due to work, cost or schedule, ask them to text or email you separately to keep the group emails upbeat.
Nail Down Who's Paying for What
Wondering about bachelorette party etiquette? To give the bride a proper sayonara to singlehood, it's traditional for the guests to chip in for the guest of honor. "Aside from travel expenses, the entire group is expected to cover all activities or meal expenses for themselves as well as the bride," Barken says. As the maid of honor, it's a nice gesture to buy festive favors and decorations, but it's acceptable to ask the group for contributions—be it in money or time. That said, if the bride insists on buying all her besties a round of shots, don't fight her on it (or force the other bridesmaids to stop her). She knows how much you're all doing for her and just wants to repay you with a small, fun gesture to help keep the party going.
Get Creative About Cutting Costs
When booking venues, don't be afraid to ask for group discounts or even open bar options. Venues often want the business from larger groups and are willing to negotiate. And be smart about when and where you spend. It's no secret that bachelorette party expenses (and all travel expenses, really) can add up, so if someone in the group is really not down to shell out even more money—and she's not just refusing to participate to be difficult—it's important to consider alternatives or at least avoid giving her a hard time if she needs to skip out. "Relaxing by the hotel pool instead of booking a private boat ride, or pregaming in the suite before hitting the bar, can help everyone's bottom line," Barken says.
Keep It Festive
To help everyone pack, let them know the recommended attire for the weekend's events—from weather forecasts to club dress codes and necessary gear for outdoor activities. "It's also fun to choose a theme," Barken says. "Think sequin accessories, '80s outfits or outrageous hats." After all, one of the best parts of the bachelorette weekend is getting ready together. And as a fun favor, hand everyone a mini bag filled with the bride's favorite travel-size beauty goodies—and a personalized luggage tag—before you jet off to your location.
Want more? Here are 10 apps for planning a destination bachelorette party.