How We Marry At… The Knot!
by Jamie Miles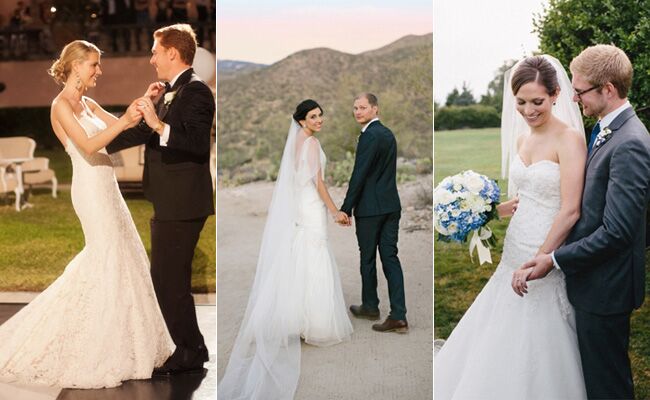 Here at The Knot, we know a thing or two about weddings. So when our employees get married, you can bet it's no last-minute fete. From a traditional Indian wedding (with over 2,000 guests) to an intimate ceremony at City Hall right here in New York City, and everything in between, see how our staff gets married and how working for a wedding company influenced their planning.
Lauren Kay, Style Editor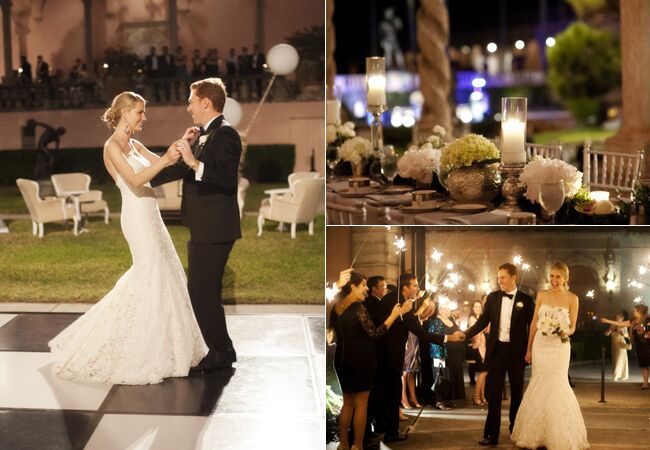 Husband: Adam Soufleris
Wedding Date: November 16, 2013
Location: Sarasota, Fl
Style: Classic, Black Tie
My Favorite Detail: "Our ceremony. My childhood minister married us and we wrote our own vows."
How Working at XO Group Affected My Planning: "I started working at XO group three months before my wedding–a blessing and a curse! Most of the big decisions were already in the books, but I was exposed to so much more wedding than ever before! I started second guessing some of my decisions when I'd see a gorgeous wedding or come across a unique decor idea. You just see so many beautiful wedding photos here! I know I drove my wedding planner nuts in those final months. But, I think my photographer bore the brunt of it–I sent him a huge shot list and a million "inspiration shots". He was such a good sport!"
What I Would Have Done Differently Looking Back: "I would have started getting ready sooner—a minor hair mishap made us lose an hour pre-ceremony for pictures. Other than that I wouldn't change a thing… and it rained on our first dance!"
Dmitri Nesterenko, Software Designer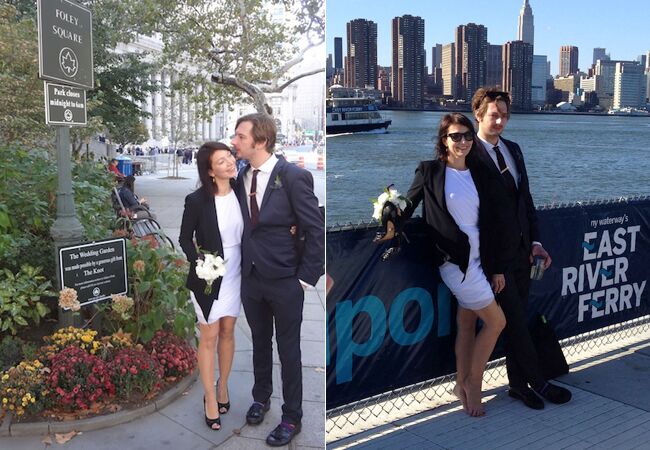 Wife:
Madeline Virbasius
Wedding Date:
October 18, 2013
Location:
City Hall in New York City
Style:
Casual but chic, DIY
My Favorite Detail:
"After-party was the next night in a friend's loft space/music venue with a roof deck overlooking Williamsburg Bridge."
How Working at XO Group Affected My Planning:
"We made sure to get a photo taken at The Knot's sponsored garden across from the court house."
What I Would Have Done Differently Looking Back:
"We would have booked a car to drive us downtown to the marriage office ahead of time, since the one we called for that morning was late and then got lost on the way there. A bride in uncomfortable heels would rather not have to get out of a cab early and run wearing heels six blocks to get to the location!"
Abby Romaine, Senior Regional Sales Representative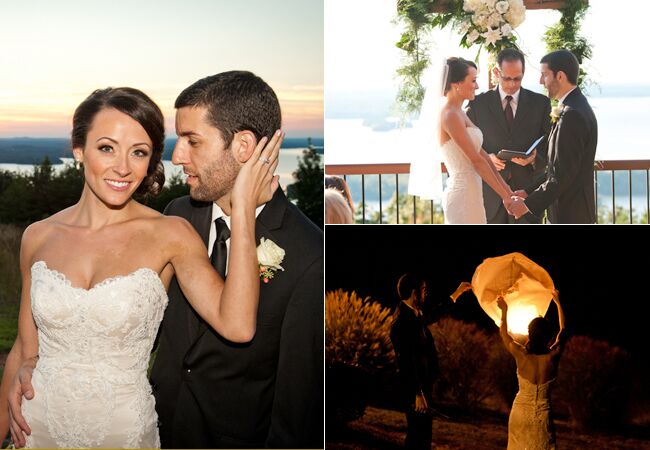 photo by
Michael Board Photography
Husband: Derek Romaine
Wedding Date: September 28, 2013
Location: Denton, NC
Style: Classic, Romantic
My Favorite Detail: "If I have to choose just one it would be the breathtaking view and sunset at our venue (but my wedding gown, flowers, and linens are pretty hard to beat)!"
How Working at XO Group Affected My Planning: "It was amazing to have so much inspiration everywhere I looked and knowing that I had so many resources at my fingertips (including the advice and opinions of my amazing coworkers). Sometimes I made myself crazy making sure every detail was beautiful and unique because being surrounded by flawless weddings every single day is a lot of pressure to live up to!"
What I Would Have Done Differently Looking Back: "I would have started planning sooner or learn how to delegate tasks to those who offered to help."
Shazmin Taylor, The Bump Community Coordinator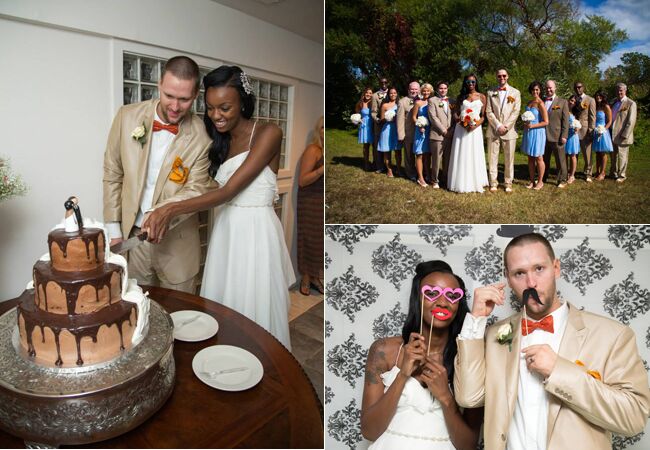 photo by
Enchanted Celebrations
Husband: Scott Taylor
Wedding Date: September 21, 2013
Location: Brigantine, NJ
Style: DIY, Rustic
My Favorite Detail: "Hands down, my dress. It made me feel beautiful."
How Working at XO Group Affected My Planning: "I joined XO Group in the middle of planning, so it was super helpful to sit by the editorial team and ask for their opinions on details and etiquette. I also used the wedding checklist throughout planning to stay on track, especially since I didn't have a wedding coordinator."
What I Would Have Done Differently Looking Back: "We rented a beach house and had our dessert table on the second floor. I would have moved the dessert table to the lower level, to make sure all of guests got to try everything. There were so many sweets left over!"
Meghan Corrigan, Art Director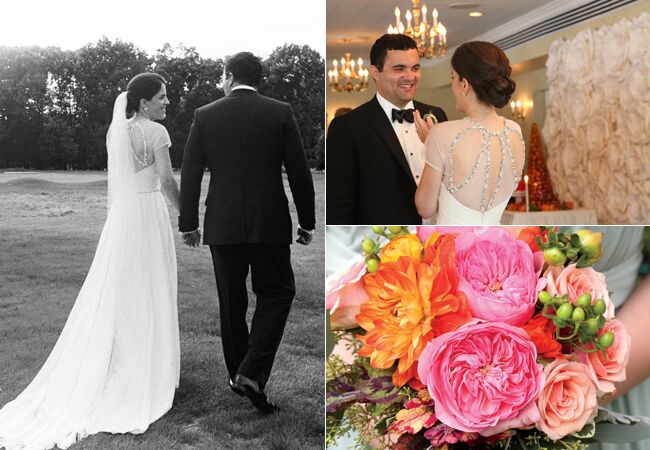 Husband: Gregory Scott
Wedding Date: September 14, 2013
Location: Haworth, NJ
Style: Classic Elegance – with lots of artistic touches
My Favorite Detail: "The back of my dress! I loved that the sparkly crystals added an element of surprise to my gown."
How Working at XO Group Affected My Planning: "Inspiration was really everywhere… I came across lots of amazing ideas while working here!"
Rick Stern, Product Manager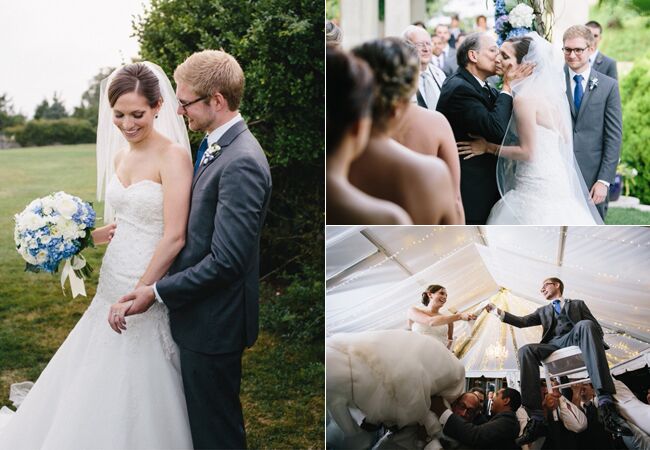 Wife: Sarah Stern
Wedding Date: August 17, 2013
Location: Harkness State Park, Waterford, CT
Style: Traditional, Outdoor
My Favorite Detail: "Having our ceremony in the mansion gardens, next to the pergola. The sun was beginning to set as our ceremony concluded."
How Working at XO Group Affected My Planning: "My wife constantly visited The Knot for inspiration. I believe it's how she found her purple heels, which she wore underneath her dress. That color purple really set the tone for the rest of the theme we went for."
What I Would Have Done Differently Looking Back: "Planned a longer honeymoon in Maui!"
Kate Buchanan Brame, National CPG & Health Manager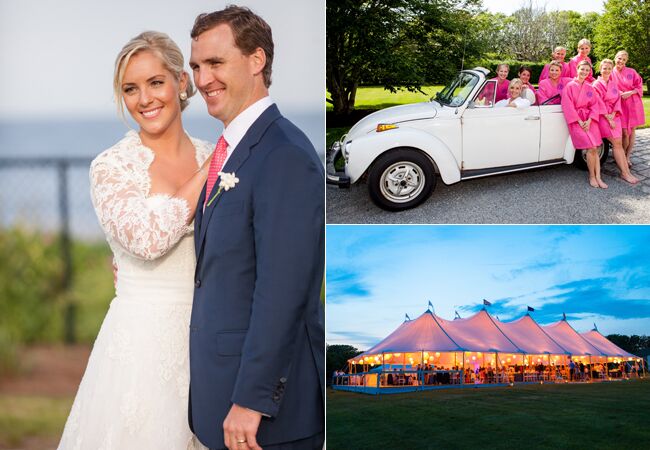 Husband: William Brame
Wedding Date: June 22, 2013
Location: Newport, RI
Style: Traditional
My Favorite Wedding Detail: "My mom's antique VW Bug that we drove from the church to the reception!"
How Working at XO Group Affected My Planning: "No way I could have pulled off our wedding in such a short amount of time- nine months!"
What I Would Have Done Differently Looking Back: "Used a (discreet) videographer, everything went by way too fast!"
From the album: A Classic Garden Wedding in Newport, RI
Anja Winikka, Site Director of TheKnot.com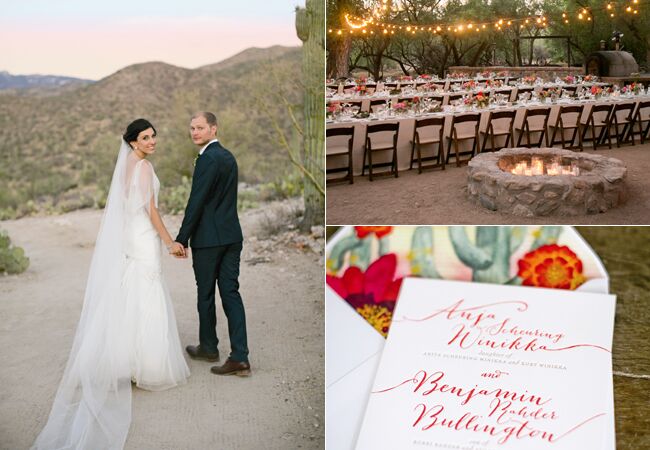 Husband: Benjamin Bullington
Wedding Date: May 25, 2013
Location: Tucson, Arizona
Style: Laid-back romantic dinner party in the desert.
My Favorite Detail: "My wedding dress. Melissa Sweet made my gown custom. Every single detail — from the open back to the flutter sleeves and shell beading was meaningful to me."
How Working at XO Group Affected My Planning: "Planning a wedding as an editor of TheKnot.com came with its perks, and honestly, its downsides. On the one hand, I knew exactly who I wanted to have design my invitations, photograph my engagement photos and wedding, and decorate my cake. But I was also asked a million times whether I felt pressure to make my wedding perfect. (Kind of.) So what happened? Well, it sounds trite but my wedding was really great — no, it was perfect. And I'm not talking about perfect in that oh-my-gosh-never-seen-that-before kind of perfect. Or the wow-that-looks-like-it-cost-a-ton-of-money perfect. It was perfect because it felt perfect and we did it our way. We got married in the dirt, our vinyl DJ played Otis Redding at the reception and TechN9ne at the after-party (many of us hail from Kansas City so enough said there), our wedding cake was ridiculously gorgeous, the flowers were fresh and local, the food was spicy, and we got to spend quality time with every one of our guests."
What I Would Have Done Differently Looking Back: "Nothing. There were minor hiccups here and there but I wouldn't change a thing!"
From the album: A Romantic Desert Wedding in Tucson, AZ
Stephanie Fraiman, Public Relations Manager, The Knot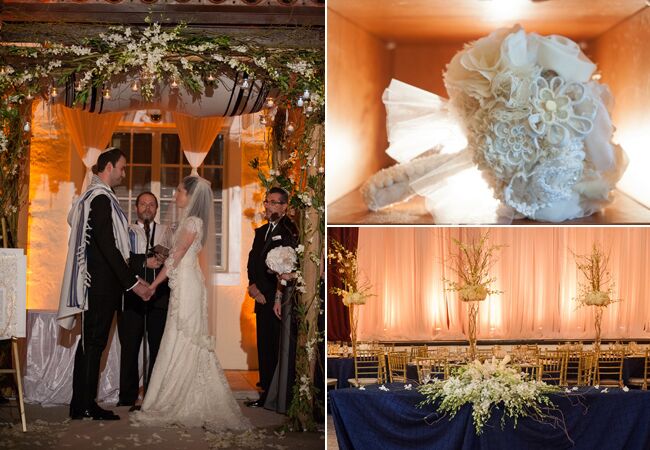 photo by
Marcio Cavalcanti
Husband: Oren Weichselbaum
Wedding Date: December 15, 2012
Location: Coral Gables, FL
Wedding Style: Romantic
My Favorite Detail: "It's a tie! My bouquet was made out of heirloom fabric from my mother's wedding dress, my mother-in-law's wedding dress, fabric from my grandmothers and great-grandmothers, as well as from my first birthday dress and Bat Mitzvah dress. I also loved our guest book, we selected wine bottles that would age well had guests sign the bottles. We'll open them on our first, second, fifth, tenth and fifteenth anniversaries."
How Working at XO Group Affected My Planning: "It was definitely hard to scale back given all the gorgeous inspiration and unique ideas we see daily."
What I Would Have Done Differently Looking Back: "I'd get a day of coordinator to make sure everything ran smoothly."
From the album: A Romantic Traditional Wedding in Coral Gables, FL
Jen Petrie, Account Strategist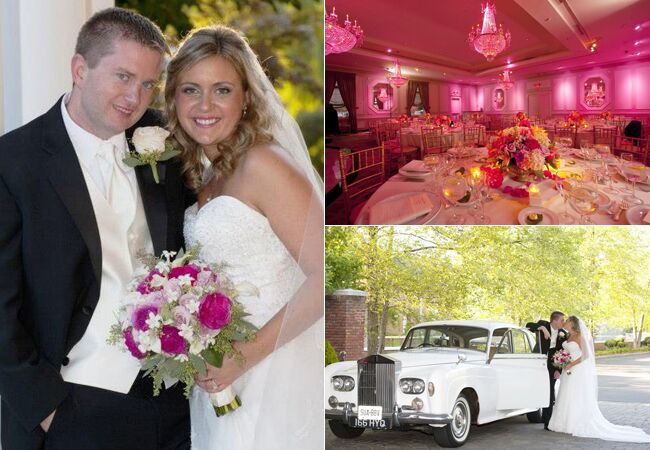 photo by
Abbey Creative Photography
Husband: Mike Petrie
Wedding Date: August 18, 2012
Location: Ceremony: Ridgewood, NJ; Reception: Rockleigh, NJ
Style: Classic, traditional
My Favorite Detail: My dress.
How Working at XO Group Affected My Planning: "It was very exciting to be surrounded by wedding planning resources, inspirational images along with lots of newly engaged or married colleagues daily. That definitely made me put more thought and effort into planning my wedding and I became more knowledgeable about current trends."
What I Would Have Done Differently Looking Back: "I might have gone with a less traditional photographer or videographer."
Jaclyn Raftery, Senior Manager, Sales Development Marketing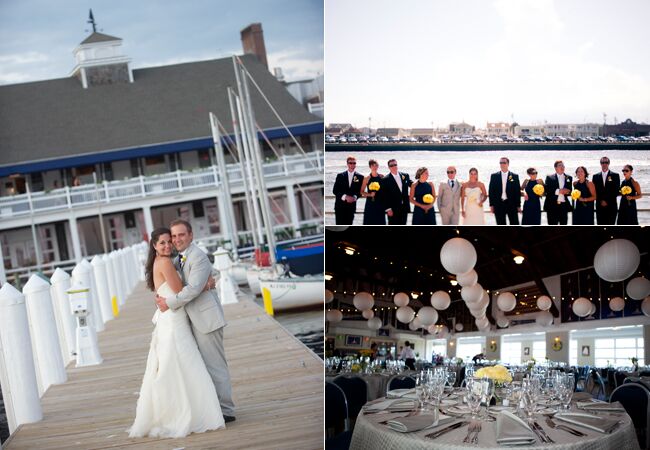 Husband: Donovan Raftery
Wedding Date: September 10, 2011
Location: Bay Head, NJ
Style: Nautical Chic
My Favorite Detail: "So many! We arrived on a boat to the reception which was awesome because we had time to ourselves and got to make a special entrance. We could see also see all of our friends and family waving to us as we pulled up. Knowing that everyone we cared about and loved was in one place waiting for US was a really amazing feeling. I also loved our floral centerpieces – every table looked a little different."
What I Would Have Done Differently Looking Back: "My hair got a little messy on the boat ride. I made sure I had a curling iron at the reception venue, but maybe would have done my hair differently."
Pamela Simon Kruse, Director of Ecommerce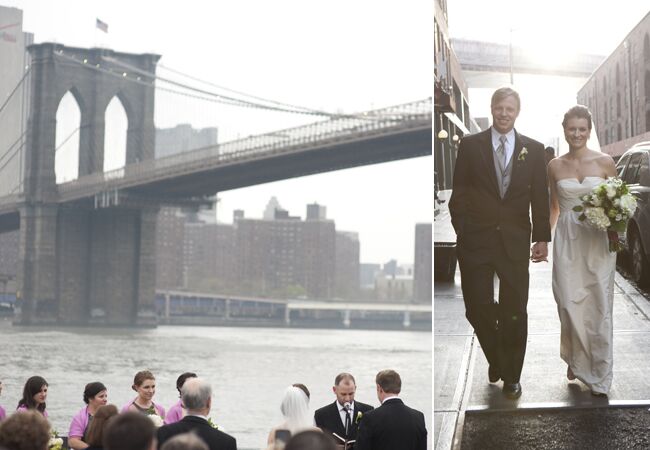 Husband: Michael Kruse

Wedding Date: April 23, 2011

Location: Brooklyn, NY

Style: Urban, Modern

My Favorite Detail: "There are too many to name! For starters, Michael proposed on the Brooklyn Bridge which held special significance to us both. So we then included the bridge in every detail: the invitations, welcome bags, hotel (Brooklyn Bridge Marriott), ceremony and reception venues (Bubby's in DUMBO). We also had full itineraries for all 105 guests and took everyone to a Mets game on opening night then on Friday, surprised everyone with a water taxi ride around the harbor with a drop off in Battery Park before our Palm Steakhouse Rehearsal Dinner."
Laura Preston, Senior Designer & Steve Preston, Lead Software Engineer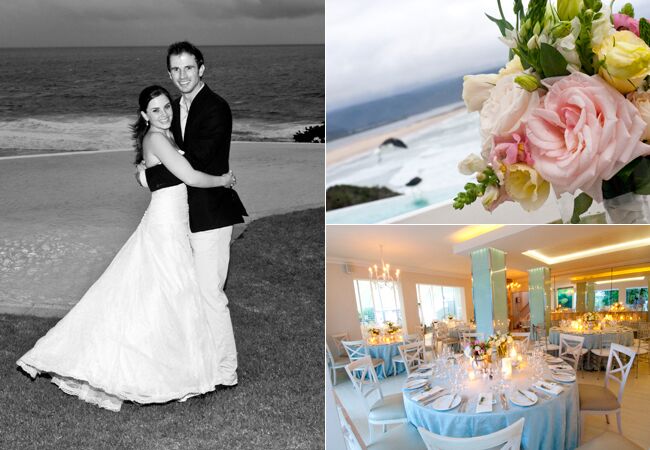 Wedding Date: April 16, 2011
Location: Plettenberg Bay, South Africa
Style: Sophisticated, Beach
My Favorite Detail: "I loved our flowers, my dress (of course) and shoes, our flower girls' dresses and our stationery."
What I Would Have Done Differently Looking Back: "I had every intention of being super organized about which photos I wanted and who needed to be in them but somehow in the craziness of the week we never communicated the list to our photographer or roped someone in to help with the logistics of getting the right family members in the right place so we missed out on some photos that I really wanted."
Gillian Munson, Chief Financial Officer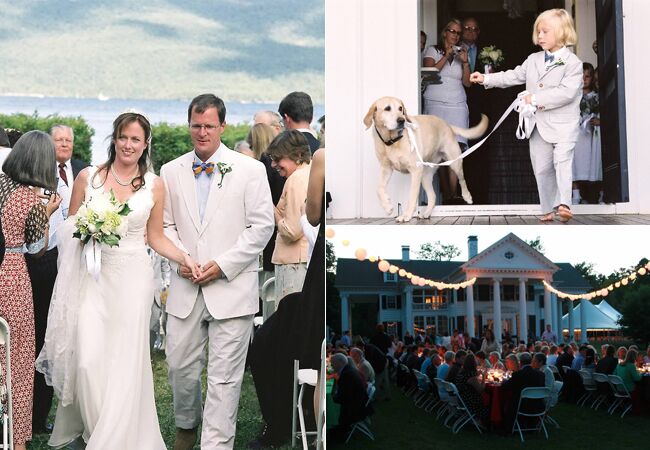 Husband: Taylor White
Wedding Date: June 30, 2007
Location: Lake George, NY
Style: Outdoor, Destination
My Favorite Detail: "The full moon rising during the outdoor rehearsal dinner. Also, my aunts making all the flowers together the Friday before the wedding."
What I Would Have Done Differently Looking Back: "Wouldn't have changed a thing!"
Want More? Of Course You Do!
> See More Inspiring Real Weddings
> 8 Most Romantic "How We Met" Stories
> 50 Romantic Ways to Propose