I Took a Selfie Stick to a Wedding and Had an Absolute Blast (#SorryNotSorry)
For all the selfie stick skeptics out there, it turns out that taking one to a wedding actually made for the best time ever. Say cheese!
by Rachel Torgerson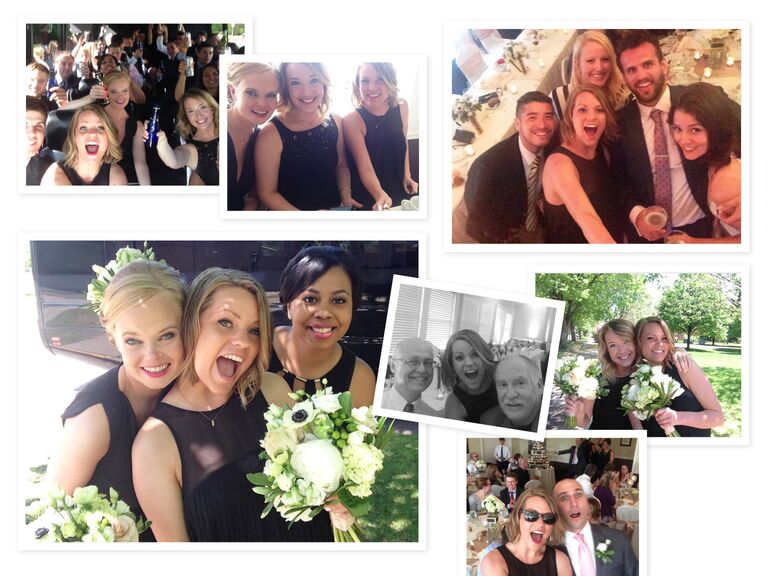 Call me vain, call me narcissistic or just call me awesome, because that's what I was at the wedding I recently attended. And I really mean that I was all of the above, because I was wielding the robotic arm version of an eye-roll: The Selfie Stick.
I won't say that when people saw me, they thought I was cool, because they definitely didn't and I certainly wasn't. When you're holding a selfie stick, you're putting yourself out there to be the butt of a few jokes. But as long as you're okay with a little self-deprecating humor, your robotic arm-extender friend will become the belle of the ball.
The selfie stick evolved into a runaway hit at the wedding, meeting with quite a bit of skepticism preceremony, but embraced like an old friend near the last song of the reception. People who were originally side-eyeing "that girl with the selfie stick" suddenly wanted to be in a group photo on the party bus, a quick pic with all their friends or just with me, because I was the awesome bridesmaid who brought a selfie stick. I made a ton of new friends, old and young, as I snapped my shots and even used it as a prop in my bridesmaid/groomsmen reception introduction. What's more, I was able to be in a ton of quality pictures that didn't include my protruding arms and strained face as I tried to get the perfect angle.
I do have three warnings if you're thinking about bringing a selfie stick to a wedding in the near future.
1. Be respectful of the photographer.
I only used the device in the bridesmaids' downtime, when the photographer was not involved (even so, she snapped a few shots of the bridesmaids posing for selfies, because she thought it was cute). It's just a good idea to stay out of the way of the pretty pictures when you have a clunky piece of equipment that could damage the effect or sentimentality of a classic wedding photo.
2. Be mindful during important events, like the ceremony.
Because I was a bridesmaid, I couldn't very well carry my selfie stick with me down the aisle next to my bouquet. I left it behind in the church's bridal suite, and that was definitely a good idea. One of the biggest reasons couples sometimes opt for an "unplugged wedding" is to make sure guests aren't ruining the ceremony photos as they stick their arms in the air trying to get their own pictures. Couples are paying their photographers quite a bit these days, and if your selfie stick is to blame for ruining a photo, it's bad news bears.
3. Be aware of your face.
Okay, this warning might only apply to me and my own excitement over the selfie stick situation, but be aware of what your face is doing. Because I was so pumped to be taking all these selfies with all my good friends at this wedding, I ended up making a lot of OMG-I'm-so-excited-to-be-taking-these-pictures faces with a huge, open mouth. When my mom looked through my album later on, she was like, "Rachel, can you take one picture with your mouth closed? Goodness!" And she's not wrong! I wish I would have taken more normal pictures, but I couldn't get over how much fun I was having. Next time, Mom. Sorry.
So, without further ado, here's what it looked like, as told by the selfie stick.
The selfie stick was the perfect way to kill time between couple shots and after the first look.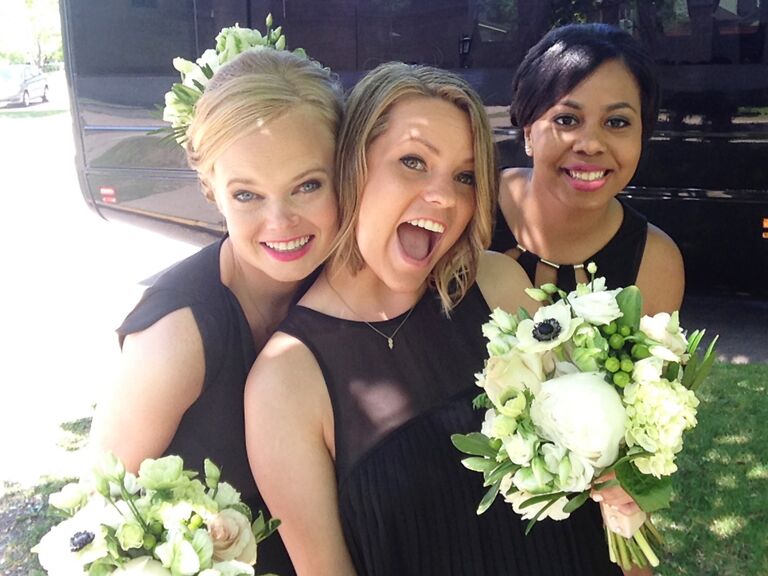 Couple shots take time. The bridesmaids had a lot of fun with the selfie stick while the bride and groom were away.
Taking selfies is the perfect activity while waiting for the party bus too.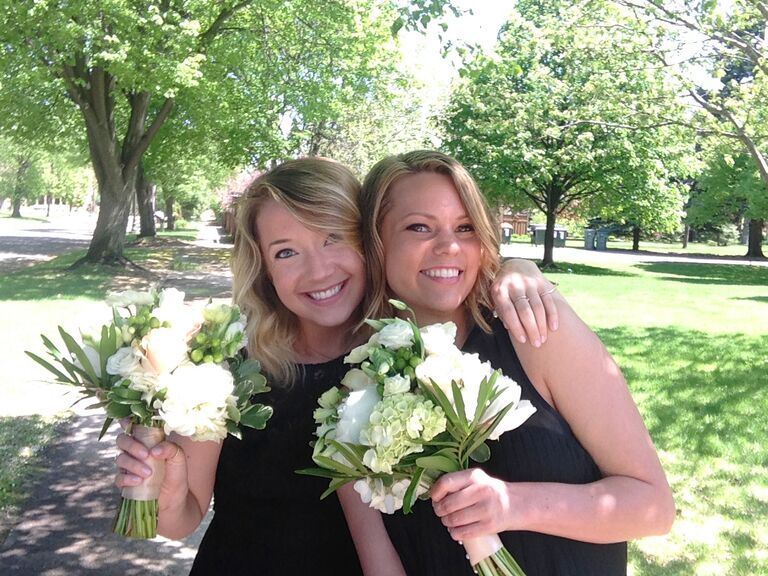 Plus, it was a great way to show off our bouquets. Hypericum berries, anyone?
Speaking of the party bus, the selfie stick could actually take a full picture of the entire bus. Cheers!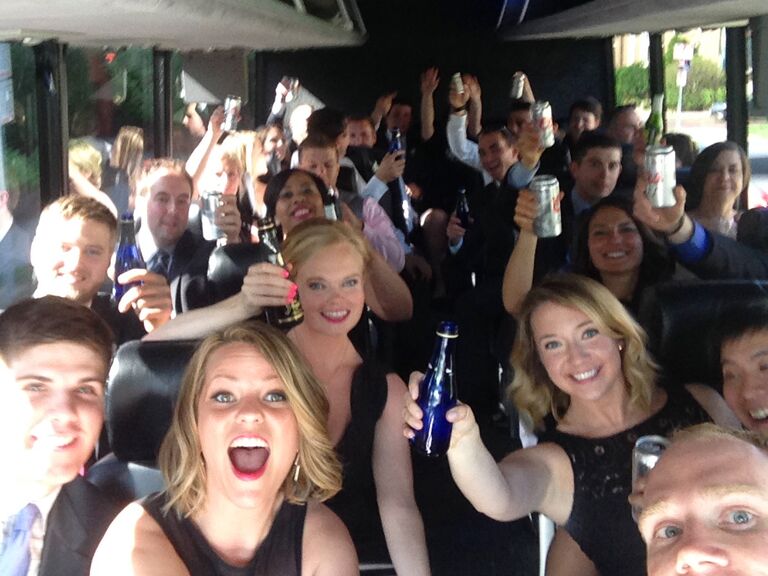 Don't you just want to join us?
Selfie sticks make great reception entrance props. We snapped this picture right after our names were announced.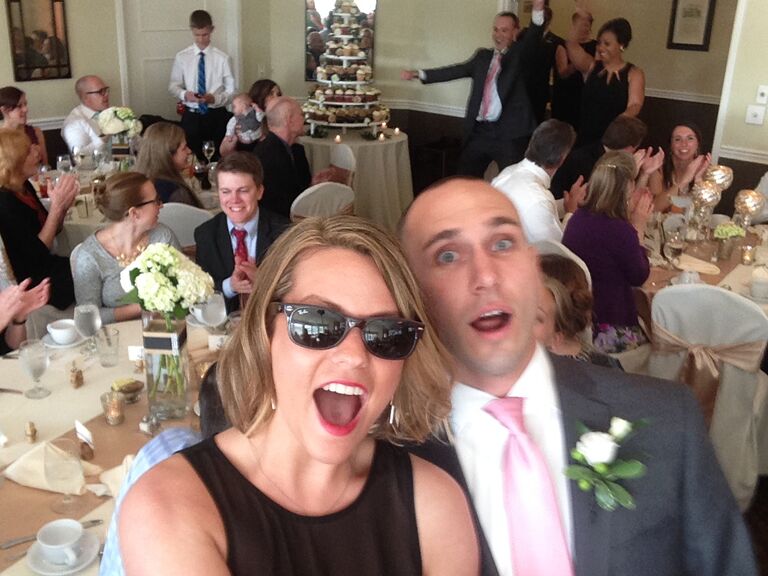 Sorry, not sorry that our entrance to the reception was the best one, other bridal party members.
It's a good way to avoid finishing the salad course at dinner.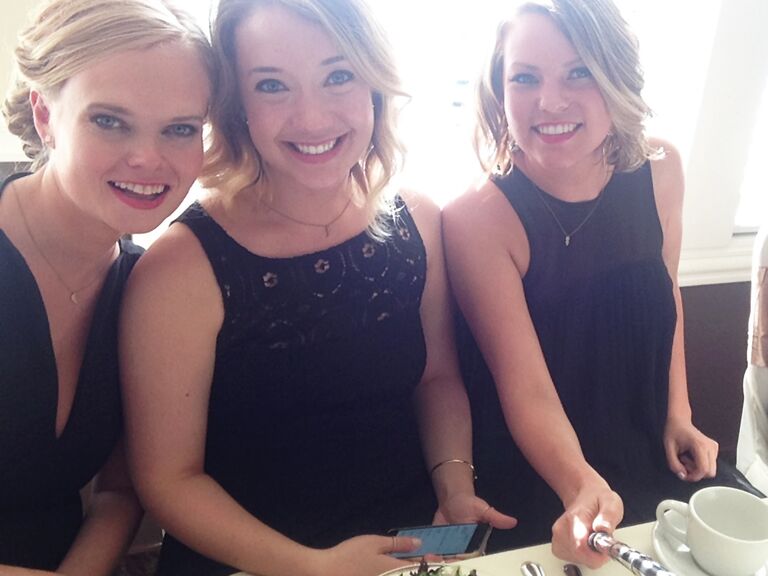 The salads were fine, but our pictures were ON POINT.
It was a great way to document old friends...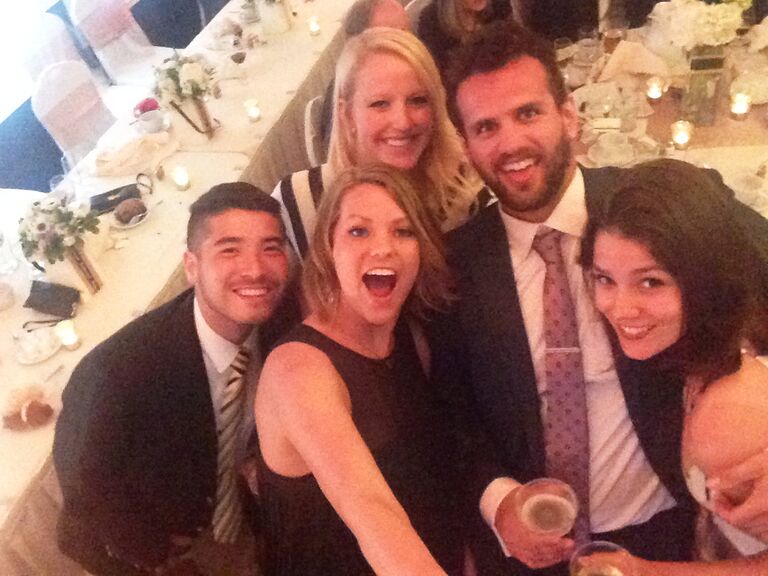 Hey guys!
...And even make new ones!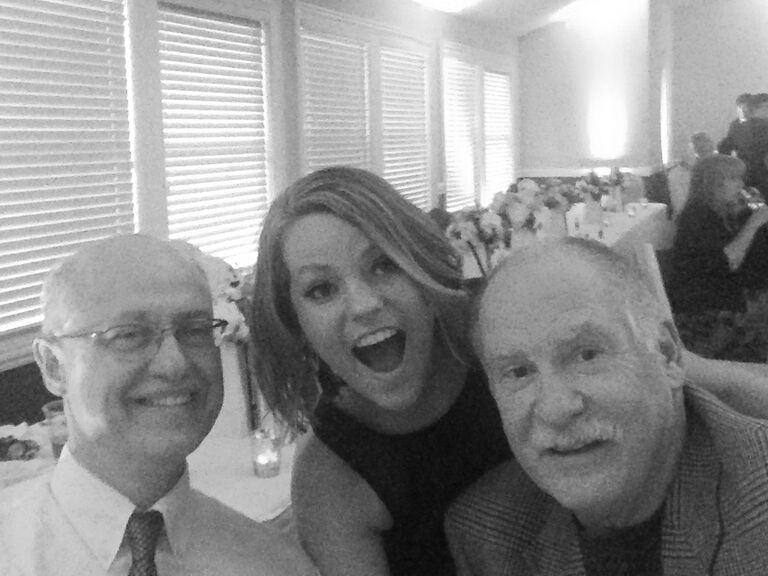 I have no idea who these guys were, but they asked me what "contraption I had." So we had to take a selfie. They were skeptical at first, but we got a good shot in.
Whether or not you like selfie sticks, you can't deny they're a great talking point between groups who know each other well, or are just breaking the ice. My thanks to the bride and groom for being cool with all these selfie shenannigans and also to the wedding guests who let me take photos with them! #Memories.