These Mouthwatering Ice Cream Sandwiches Are Perfect For Your Reception
Prepare to obsess over these inventive and delicious desserts.
by julia naftulin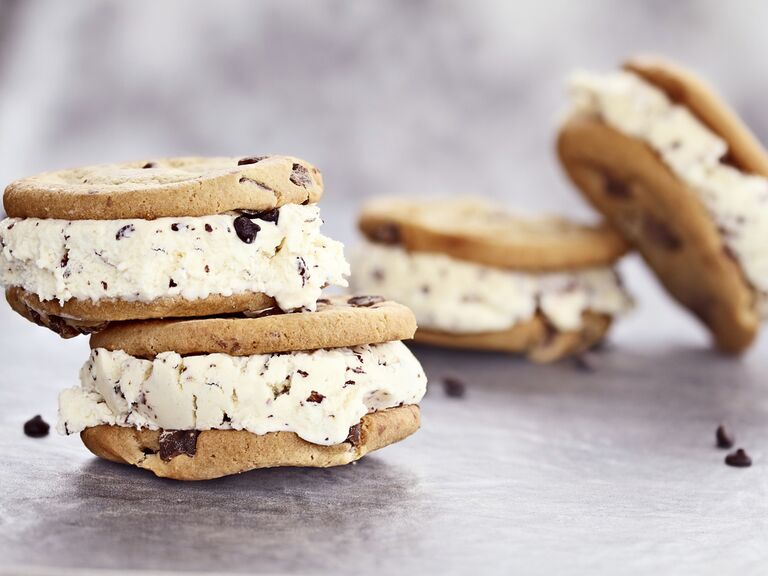 The cookie, an often underrated dessert option, could be your answer to a delicious cake alternative—especially when ice cream is sandwiched between two freshly baked ones. In fact, New York City pastry chef Francois Payard has introduced macaron ice cream sandwiches to his bakery, forever changing the ice cream sandwich game. Check out these mouthwatering ice cream sandwiches à la Instagram for all the dessert sandwich inspiration you need. What type of ice cream sandwich would you want to try at your wedding, Knotties?
Payard's Vibrant Macaron Option

With ice cream flavors like pistachio raspberry and strawberry cheesecake sandwiched between giant French cookies, what's not to love?
A Glazed Donut Version

Got a serious sweet tooth? Then this donut sandwich is a dream come true.
A Cake-Like Option

Red velvet cake has a cult following, so we're sure this red velvet and vanilla ice cream sandwich is sure to gain one too.

A Cereal-Encrusted Sandwich
Ever consider topping your ice cream with cereal? You should, especially if it's blueberry-ripple-flavored ice cream sandwiched between two soft oatmeal cookies. Pile on the Fruit Loops, Toucan Sam.

A Doughy Version
There's nothing more satisfying than eating cookie dough straight from the tub, but this sandwich comes in a close second. Scoop your favorite ice cream between slabs of dough for a tempting treat.