10 Wedding Ideas You've Never Seen Before
Think you've seen it all? Here are 10 genius ideas your guests won't see coming.
It's not every day you get to marry the love of your life and celebrate with loved ones, so your wedding deserves to be one of a kind with unique amenities and personal touches. With all your bases covered using The Knot All-In-One Wedding Planner app—from creating a custom wedding vision to booking your getaway car—you'll have the tools and confidence you need to wed like no other. In other words, we'll take care of the tricky stuff while you focus on the fun stuff, like browsing these unexpected ideas you'll want to steal for your own wedding.
1. Airstream Bridal Suite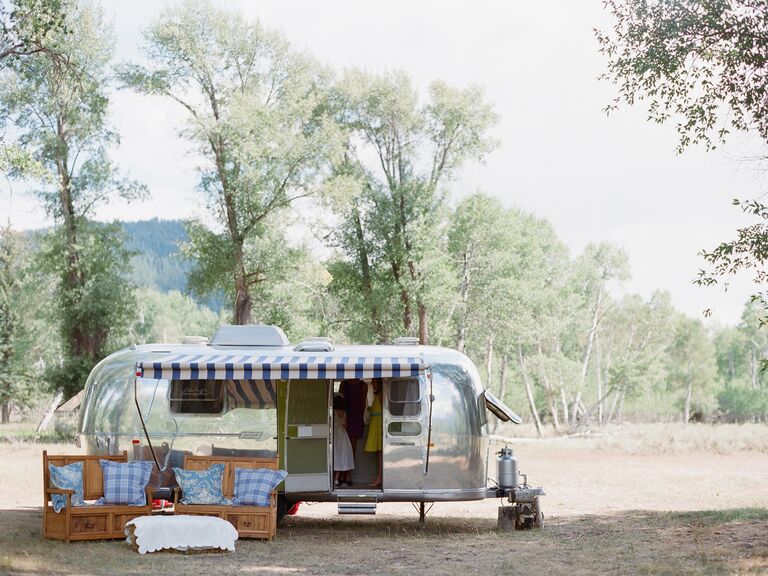 Getting married off the beaten path? Need a little more room for your bridal party than what your church has to offer? Turns out, an airstream or trailer rental could be the space solution. Even better, a couple of chairs arranged outside can double as a relaxing lounge area, perfect for enjoying a quick glass of champagne before jumping into getting-ready mode.
2. Marching Band Wedding Processional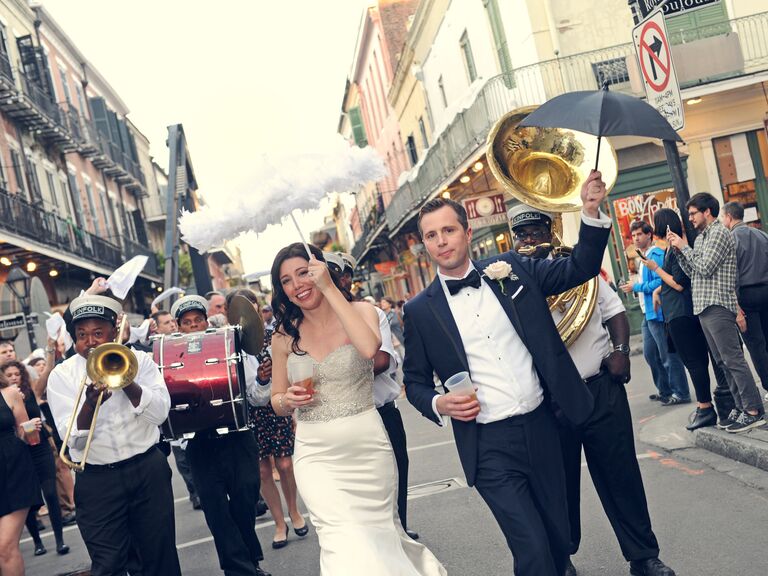 Why not turn your wedding into a personal parade? If the reception venue is close enough to the ceremony, lead everyone to the next spot with the help of a local marching band. (Foolproof it by putting a small map on your ceremony programs!) Add in some fun props, and ask if the band can arrange a fun cover or two so everyone can sing along.
3. Escort Card Butler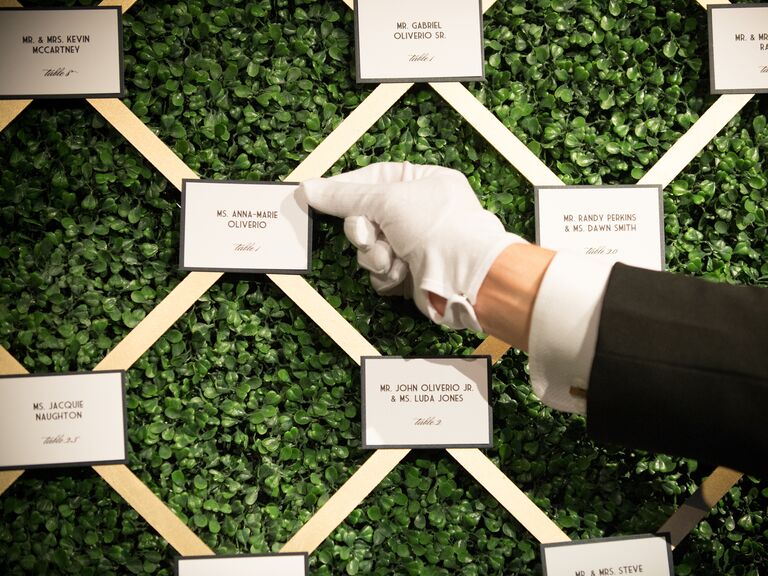 Sure, we've seen escort card displays aplenty, but not many with an attendant donning white gloves! Complete the look with a glamorous, Gatsbylike card font, and a background of lush green foliage for a seriously impressive start to a reception.
4. Moss Topiary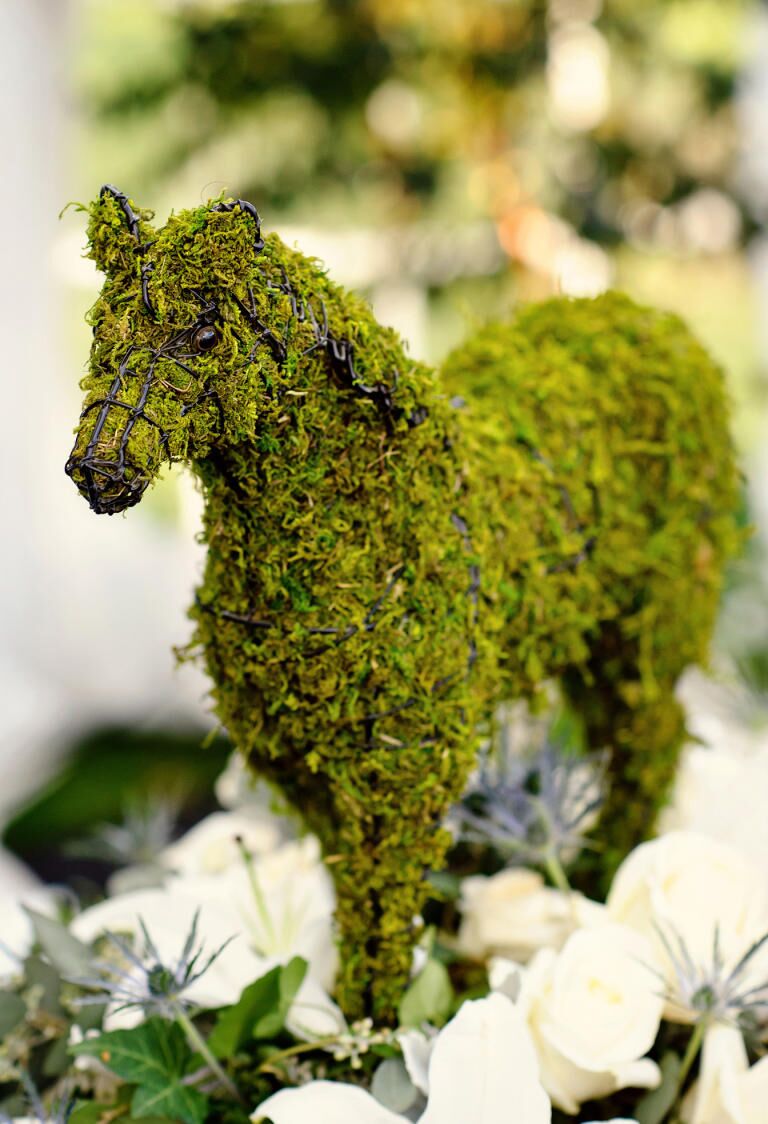 If an outdoor summer wedding has you worried about wilting blooms and sad-looking centerpieces, take them out of the equation altogether. A moss topiary is the perfect alternative to a flower-structured centerpiece. Or for a more striking decor element, place a few full-size animal topiaries around your outdoor venue.
5. First Dance Sparklers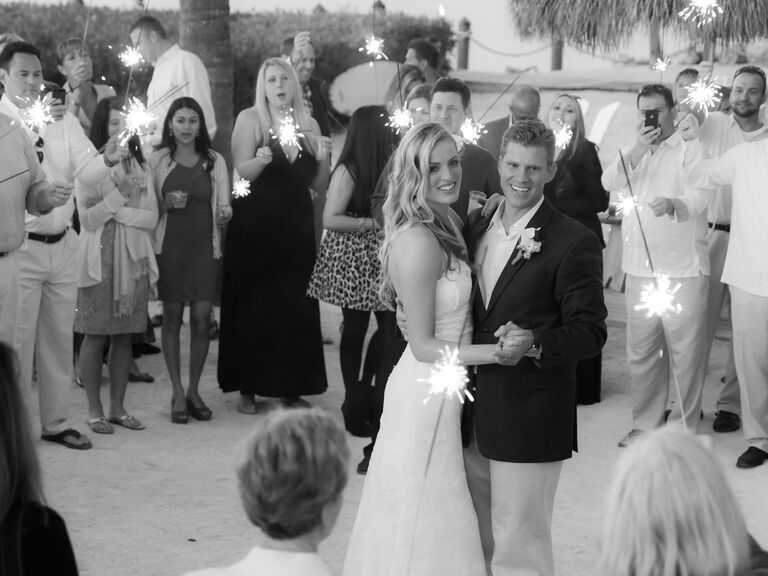 We've seen the exit sparklers, but we love the idea of using these small bursts of light to illuminate a first dance. If your venue doesn't allow the use of sparklers, you could swap in ribbon wands, flower petals, glitter or streamers to make your first dance even more memorable.
6. Cheese Wheel Cake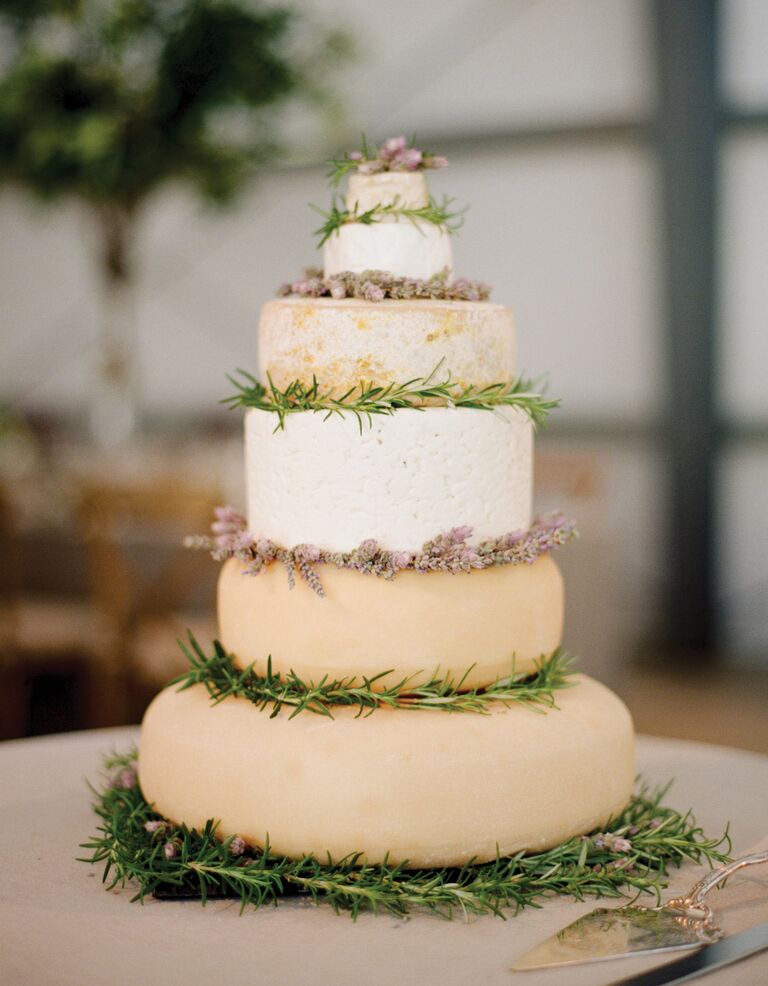 There are plenty of people who prefer savory to sweet indulgences, and there's no rule that says you have to serve cake. Decorate stacked cheese wheels with natural greenery and bunches of grapes for a totally unique alternative to the classic bakery confection.
7. Custom Wedding Cake Display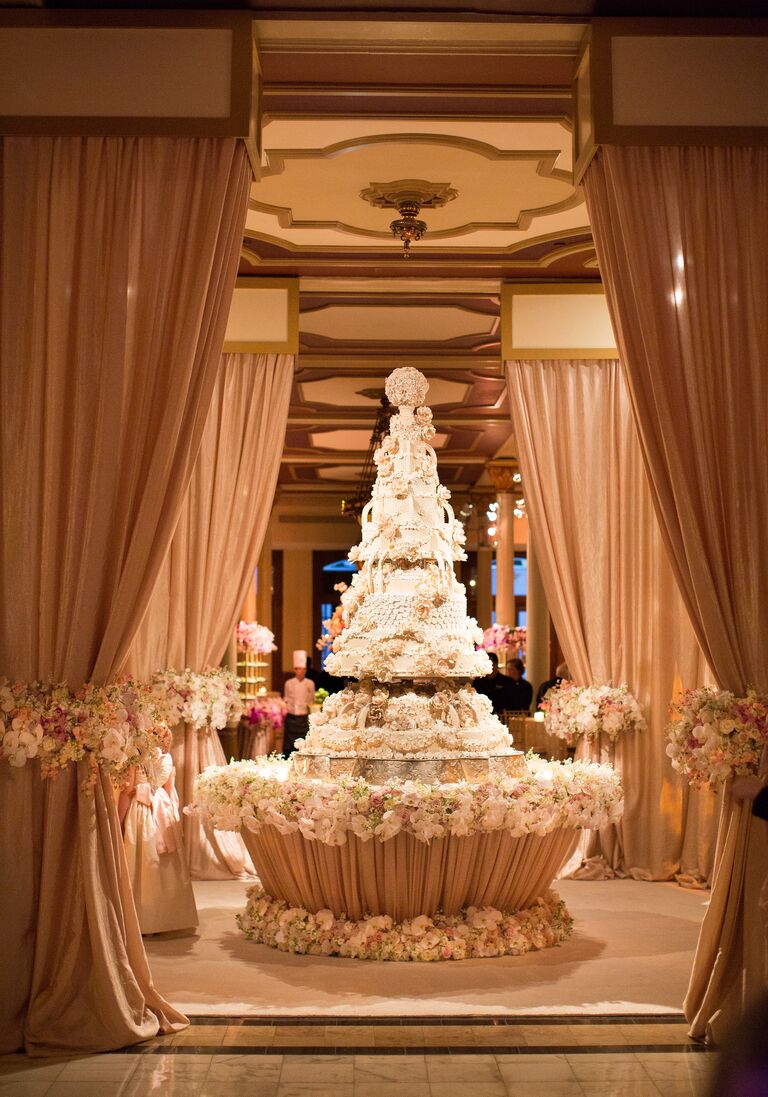 Give your wedding cake an extra wow factor with a tricked-out display. If the cake is decked with blooms and ruffles, create floral arrangements and drapes around a grand stand. For a more natural-looking confection, like a naked cake, wrap the display in vines. For some romance, add string lights or submerged flower arrangements.
8. Video Tables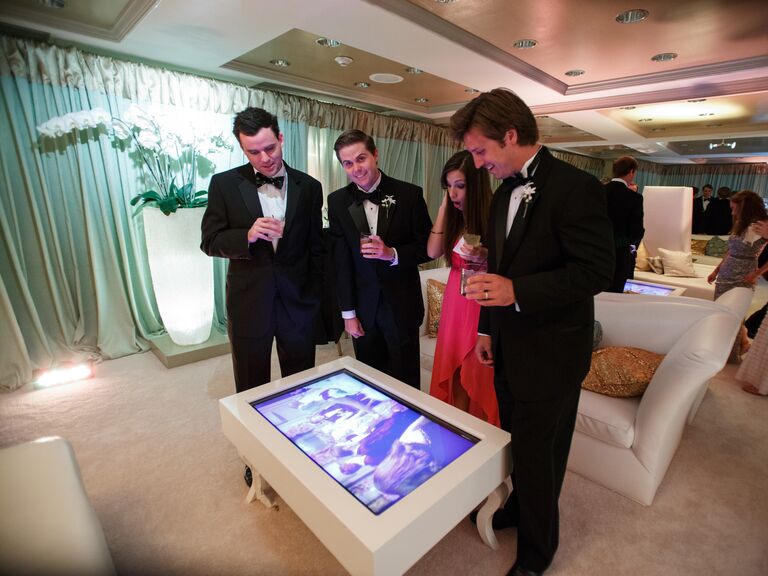 How awesome would it be to have your wedding ceremony video on loop during the reception? Everyone can "oohh" and
"awww" over any sweet moments they may have missed, and it provides one heck of an icebreaker for guests who are less familiar with each other.
9. Floating Dance Floor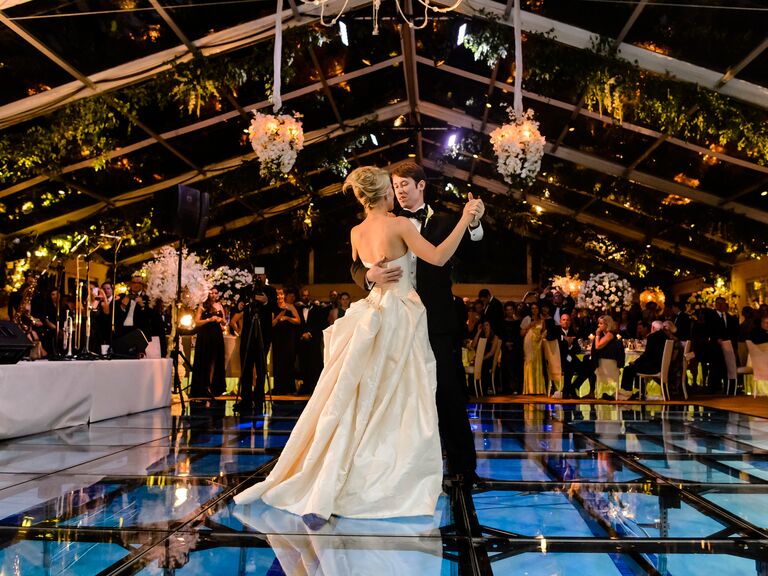 Checkered and monogrammed dance floors are one thing, but creating an illusion of a floating dance floor is another trend entirely. Not only does it offer the added bonus of a better-lit dance area, but it also makes the entire space look bigger. Paired with an open-air venue or clear tent, it creates a truly magnificent scene.
10. Cereal Bar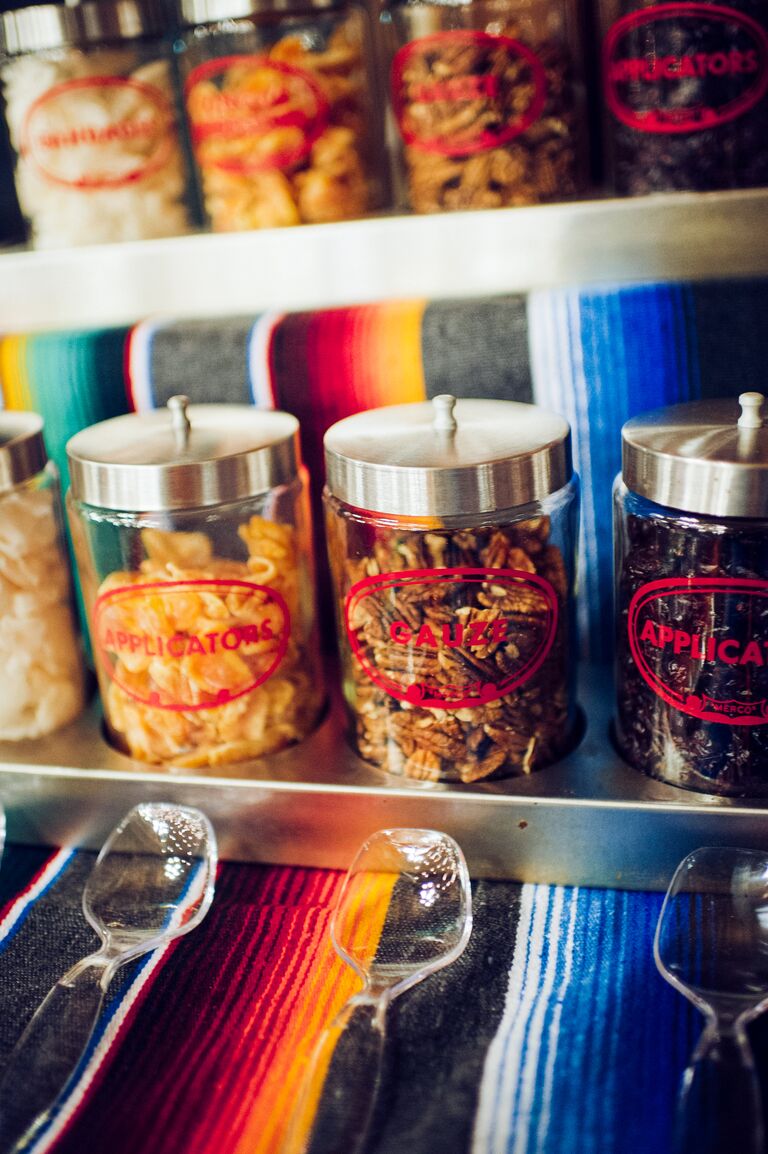 If you anticipate the reception lasting into the late hours of the night, having a light snack bar is a much-appreciated detail. Cereal or granola fixings can sit out for hours without needing any attention or upkeep (aside from the milk, that is), and compared with the more typical sweets buffet, cereal is a more affordable option with plenty of varieties to choose from.