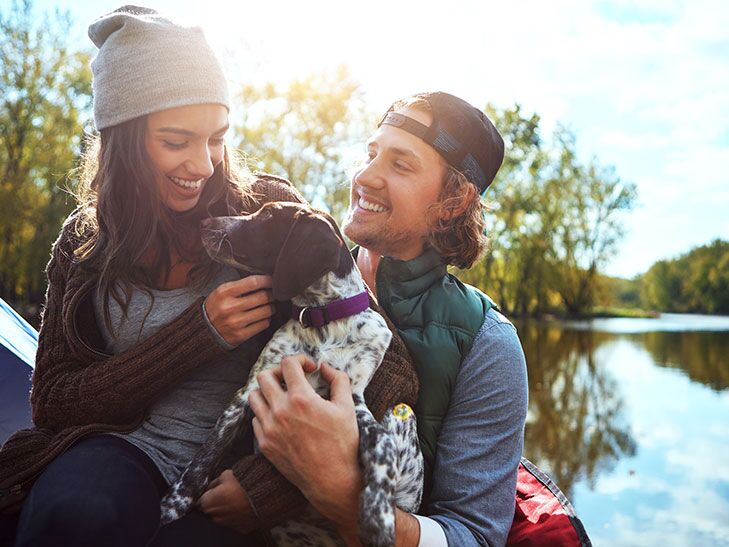 If the wedding planning process has taught you anything, it's the importance of balancing the fun decisions with the more serious ones. Think: picking the perfect punny hashtag and finalizing your vendor contracts. So while you're busy choosing colors and assembling favor bags, don't forget another important decision for your future: insurance policies. It's not only an opportune time to look into merging your basic policies, but also purchasing more specialized ones that can give you peace of mind—and potentially save you thousands of dollars—should something unexpected happen. Below, five types all to-be-weds should consider; some may come in handy on your wedding day, while others will keep you covered long after you say "I do."

Wedding Insurance
Ideally, your wedding will go 100 percent according to plan. But what if your venue goes out of business, you lose your deposit and have to book another space? Or your photographer is double-booked and doesn't show? Or there's a hurricane the day of your wedding? If something does go wrong, wedding insurance can save the day (at least, financially). Ranging from about $150 to $550, wedding insurance is a relatively inexpensive way to protect what you've spent, reimbursing your deposits and making up for the loss of photos, videos, attire or gifts. Especially when you consider the average cost of a wedding is up to $35,329—that's a lot of money at stake.
Ring Insurance
Engagement and wedding rings are some of the easiest pieces of jewelry to lose, either accidentally or to theft. Insurance can protect you in both those instances. Most renters or homeowners policies only protect belongings in your home up to a certain dollar amount, so expensive, sentimental items like engagement rings may need additional personal property coverage. You can do this by purchasing an extension (commonly referred to as a "rider"). Another option is to insure your ring through a company that specializes in jewelry insurance. These tend to offer more coverage, and might help you actually replace a lost or stolen ring, rather than giving you a set amount of cash for it.
Travel Insurance
Even if you typically decline travel insurance when booking a vacation, you should factor it into your honeymoon budget. Say you miss your connecting flight, have to cut your stay short due to a family emergency, or need to cancel it altogether due to extreme weather conditions—travel insurance can reimburse you for prepaid and nonrefundable purchases. Just be sure to read the fine print, because there are all sorts of reasons a plan won't reimburse: Some policies have terrorism clauses, for example, which will recover your money should an attack happen and you have to cancel your trip, but they won't pay if the incident occurs in an area with a US State Department warning. Travel insurance is still totally worth it (expect to pay an upfront fee of between 4 and 10 percent of the trip price)—as long as you compare plans and know what you're getting before you buy it.
Pet Insurance
Planning to add a dog or cat to your family as soon as you're back from your honeymoon? You may already know that insurance can offset vet bills in the event your four-legged family member gets sick or has an accident. Just keep in mind that pet insurance plans don't cover preexisting conditions, so it's something to look into right away if you're bringing home a puppy or kitten. Also consider an add-on preventative care coverage option for things like vaccines and dental cleanings, along with pet liability insurance, which will kick in if your pet bites or attacks someone. (Don't think your well-trained pet isn't capable—even the "best in show" can surprise you.) Some homeowners or renters insurance policies include personal liability for situations like this, but depending on where you live or which breed you have, you may need to add this extra coverage.
Permanent Life Insurance
Now that someone else is (officially) in the picture, you'll want to make sure they'll be taken care of if anything happens to you. Unlike term insurance, which lasts for a set time period (typically 10 to 30 years), permanent life insurance—like the policies offered by Principal®—provides lifelong protection. A permanent life insurance policy also adds up in cash value over time, meaning you might be able to borrow against it on a tax-free basis. Great news if, for example, one of you thinks you might want to go back to school down the line and you'll need the money to pay for it. For now, you'll pay more in monthly premiums, but this kind of life insurance is a great option for ambitious young couples (like you!) just starting a new life chapter.
The Knot and Principal® present Protect Your Future, a sponsored series featuring advice to help to-be-weds prepare for major life milestones. Visit Principal.com to learn more about how permanent life insurance not only protects your spouse but can help you live, too.