It Took This Man 26 Countries and 4 Years to Shoot His Proposal Video (Watch!)
by Ivy Jacobson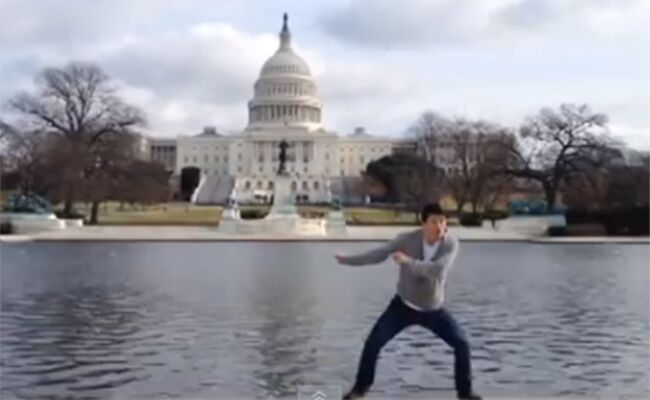 When you know, you know — and Jack Hyers just knew. So much, in fact, that after his first date with Rebecca Strellnauer, he knew that he would marry her one day.
"I didn't want to tell it to her face and scare her off," Jack told ABC News. "That's when I decided to make the video because I knew I wanted to travel."
When Jack and Rebecca went on their first date, they were both students at the University of Montana. While waiting for a flight to London, the idea dawned on him of using The Proclaimers's famous song "I'm Gonna Be (500 Miles)" — you know, the song you danced to in college during '80s night — to lip-synch to and proclaim his love while he filmed himself traveling though 26 countries, including France, Israel, China and Vietnam.
Four years later, when Rebecca thought she was sitting down to watch a graduation slideshow Jack had made for her, she was actually watching the video. At the end of it, her soon-t0-be fiance is filmed saying:
"I've been on many adventures. I've traveled on elephant, on camelback, hiked to the lowest point on the earth and I've gotten to see some of the highest. But the best adventure I've had is loving Becca."
Cue the proposal and tons of awwwwwwwws.
Watch the video here:
Want more? Right here!
> Bill Murray gave this bachelor party some awesome advice
> Unexpected first dance songs
> A Cascade Hills Country Club wedding in Grand Rapids, Michigan