It's Bridal Fashion Week! Follow Our Live Blog
by Stephanie Fraiman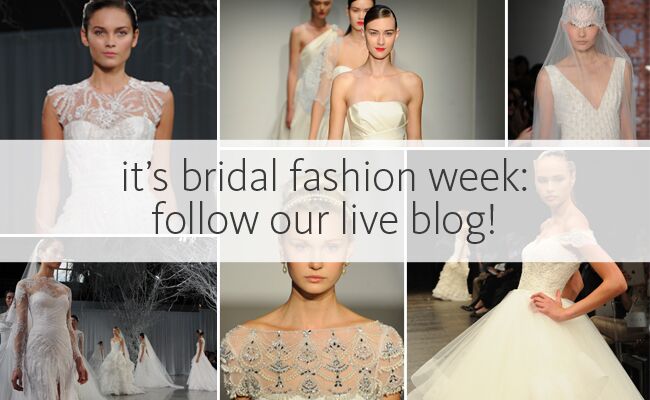 It's our favorite time of year here at The Knot…Bridal Fashion Week! This year, we're having you join us in all the action as we live blog three days straight of the best in bridal fashion, dresses, accessories, beauty and more. From live-streaming fashion shows and insider photos of our favorite new trends to early access to see every dress that's walking the runway this season, be sure to tune in as we share it all with you, right here, as it happens.
Lots of pretty photos below but first, make sure you check out all the live runway shows on our site!
> Amsale
> Angel Sanchez
> Ann Bowen Spring/Summer 2014
> Anne Barge Spring 2014
> Aria Fall 2013
> Austin Scarlett Spring 2014
> Carolina Herrera Spring 2014
> Christos
> Ines Di Santo
> Jasmine Collection
> Jasmine Couture
> Jenny Lee Simply White
> Judd Waddell
> Justin Alexander
> Kelly Faetanini Fall 2013
> Kenneth Pool
> Legends by Romona Keveza Spring 2014
> Maggie Sottero
> Marchesa Spring 2014
> Monique Lhuillier
> Oscar De La Renta Spring 2014
> Peter Langner
> Pronovias Fall 2013
> Rivini Spring 2014
> Reem Acra
> Robert Bullock
> Romona Keveza Couture
> Rosa Clara
> Temperley Bridal
> Simone Carvalli
> Steven Birnbaum
> Theia
> Vera Wang Spring 2014
> Victor Haper
> Yumi Katsura
Tuesday, April 23
12:58pm – We've been busy hitting up some awesome appointments today, check out the beautiful bridal fashion below!
First up, these stunning designs from BHLDN. Love the bridal shoes!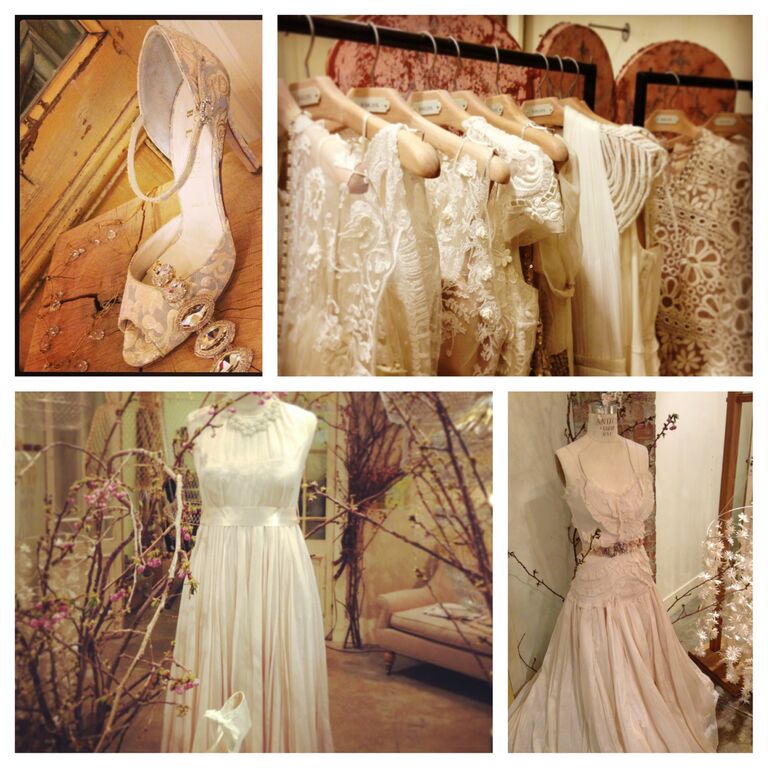 Then, we checked out the latest gorgeous designs from
Elizabeth Fillmore
– love that really unique neckline, the metallic accents and cute 3D effects.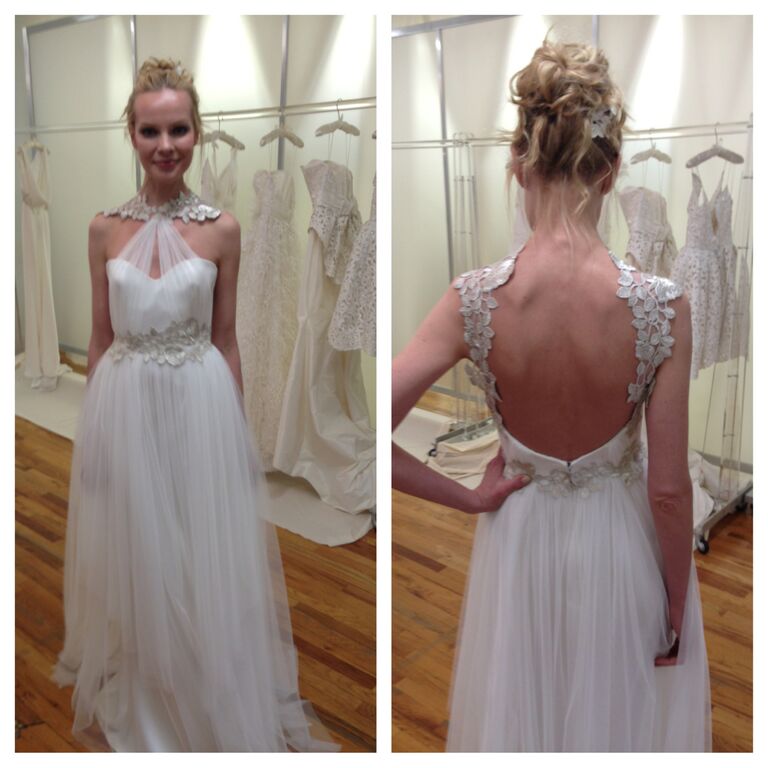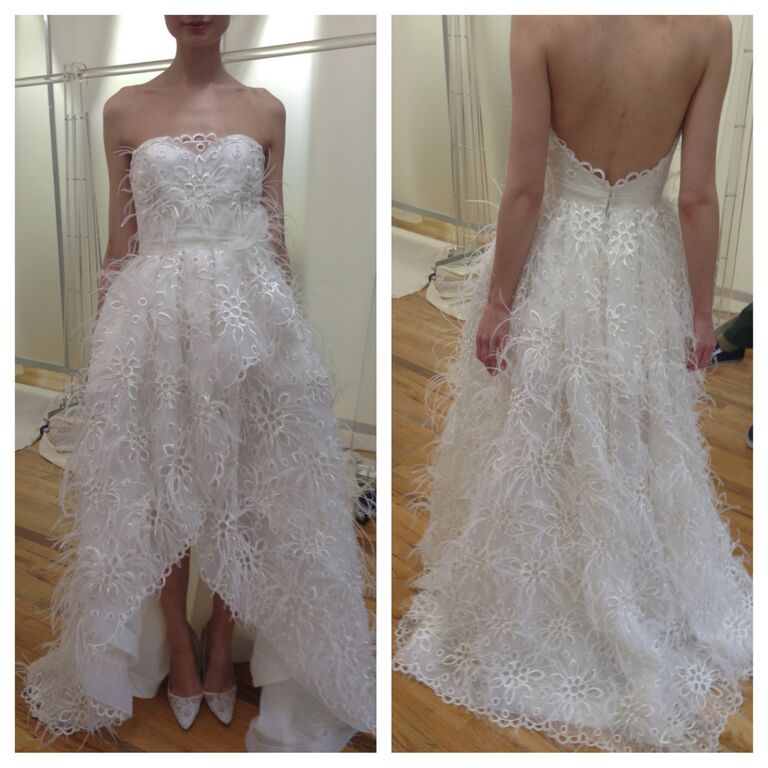 Finally, check out these amazing backs from
Cocoe Voci
– love the sheer detailing!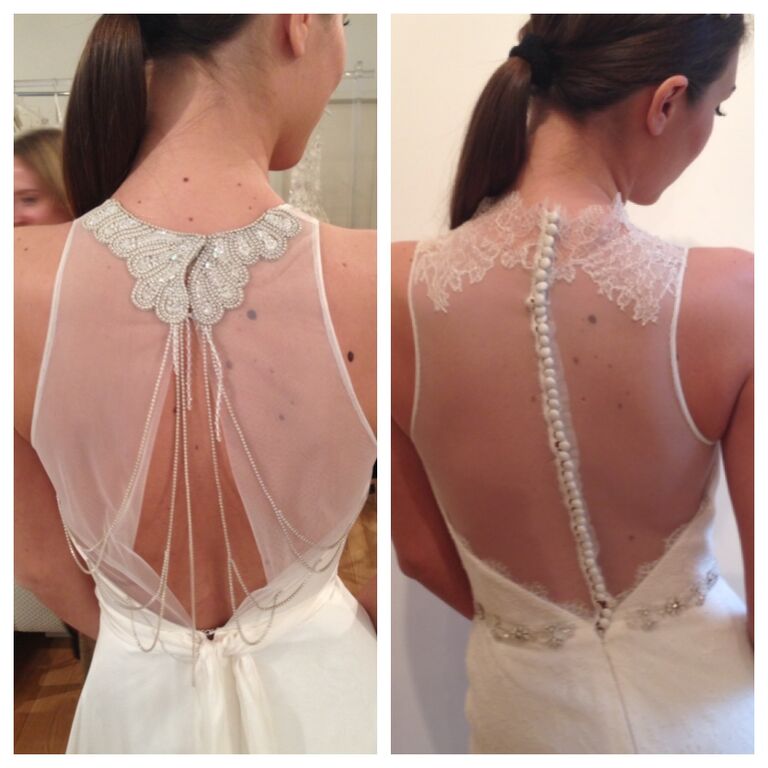 Monday, April 22
10:39am – It's been a busy morning! Check out this gorgeous ball gown with a back to die for from Judd Waddell.
Sunday, April 21
5:38pm – Ok Knotties, that's all for today, hope you loved it as must as we did! See you tomorrow at Judd Waddell at 9am!
5:31pm – Loving the stunning style of Rosa Clara! Check it out…love.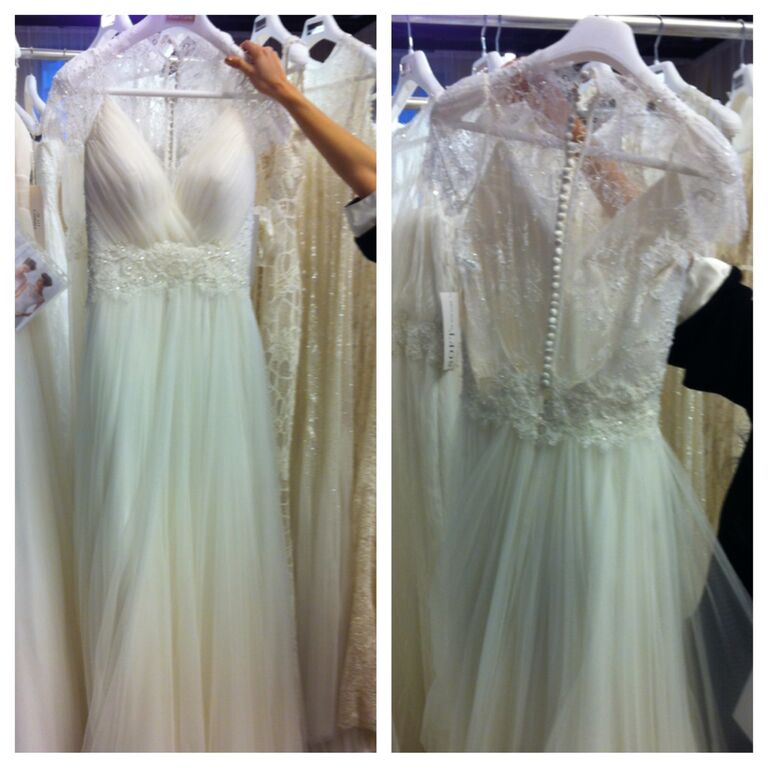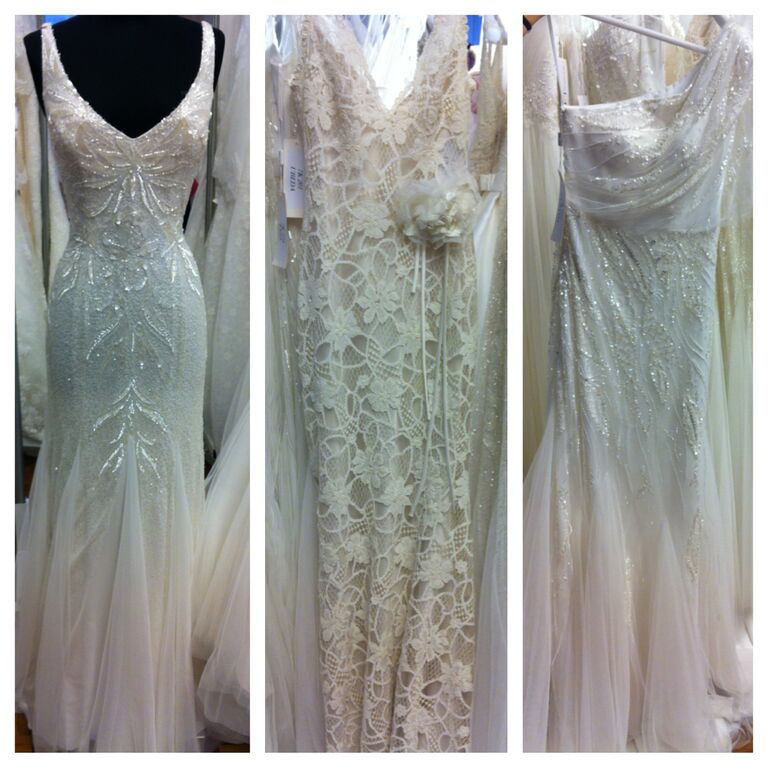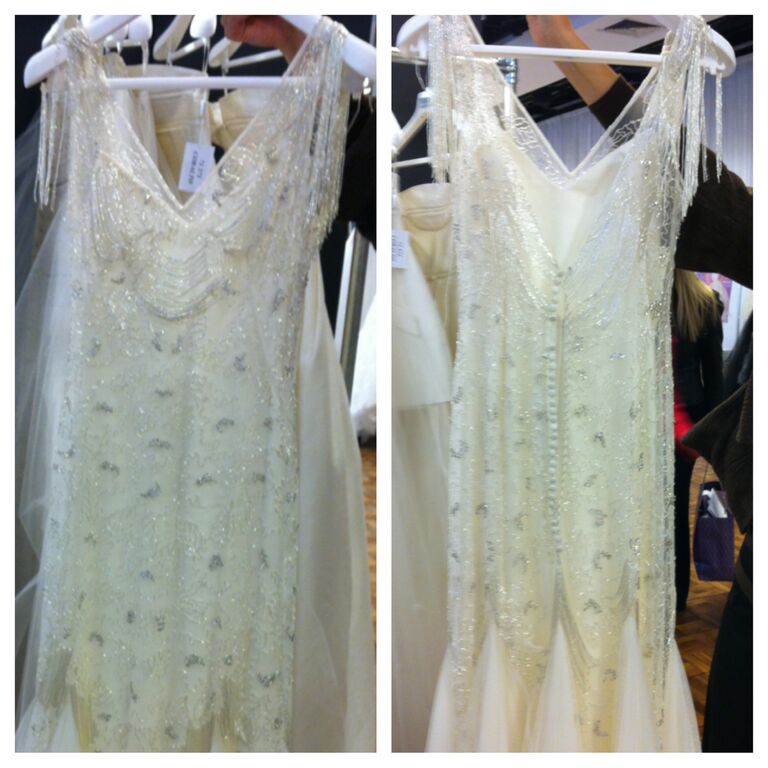 4:56pm – More amazing bridal goodness at COUTURE!
First, cute and flirty bridesmaids dresses from Lauren Gabrielson that your girls will absolutely wear again – want to buy one for myself just for fun!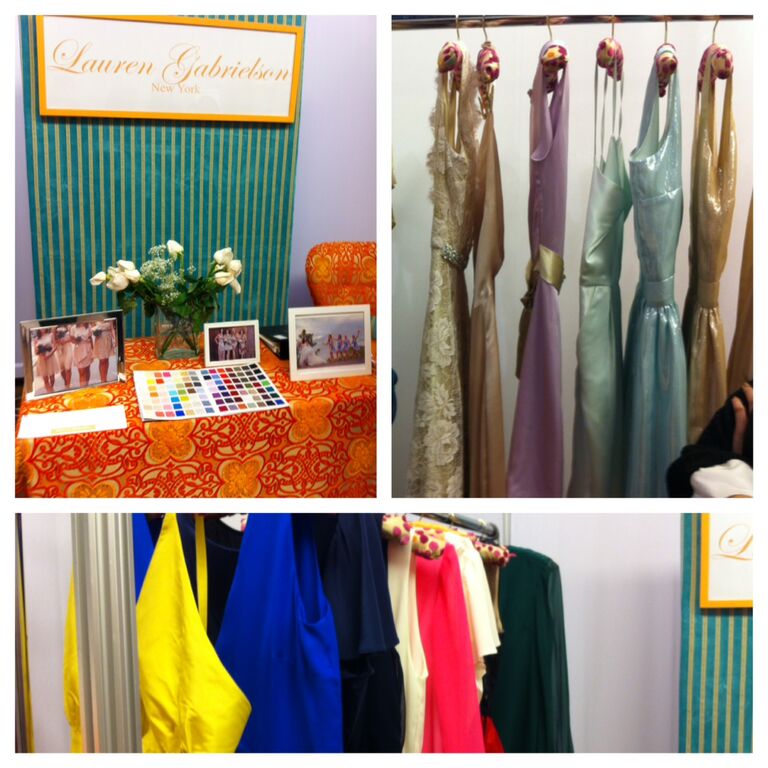 Next, brand new designer Madeleine Fig! This old-world style is so fresh and different, we can't get enough. Did I mention the only launched in January??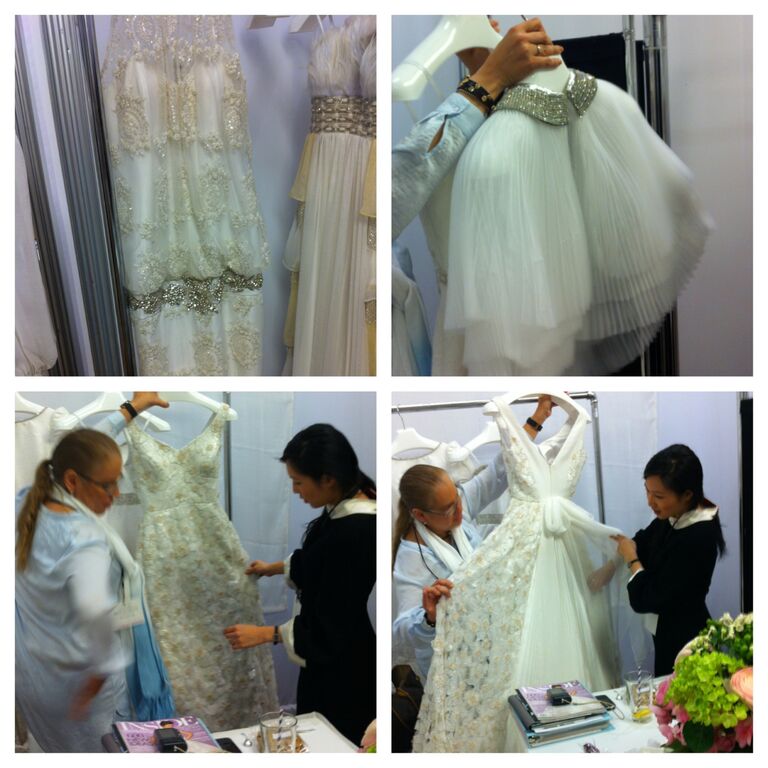 Also, this is awesome – Trudy's Closet. The pictures may look funny, but this is a genius product. Just put it over your dress and go anywhere, sit wherever and do anything, it'll be protected!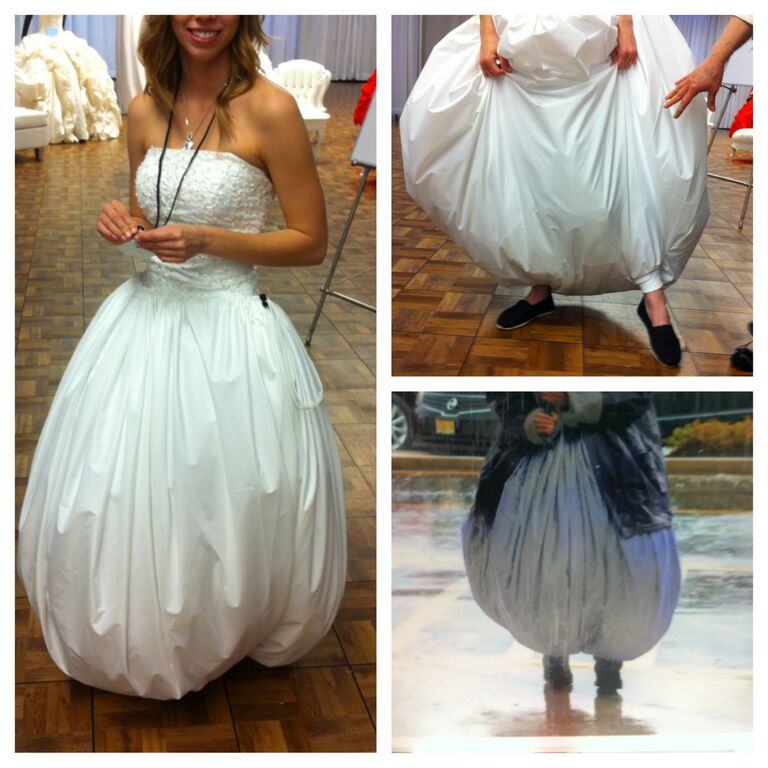 4:22pm – Touring the floor at COUTURE! Check out the gorgeous designs by Justin Alexander (plus the designer himself with Jennie!)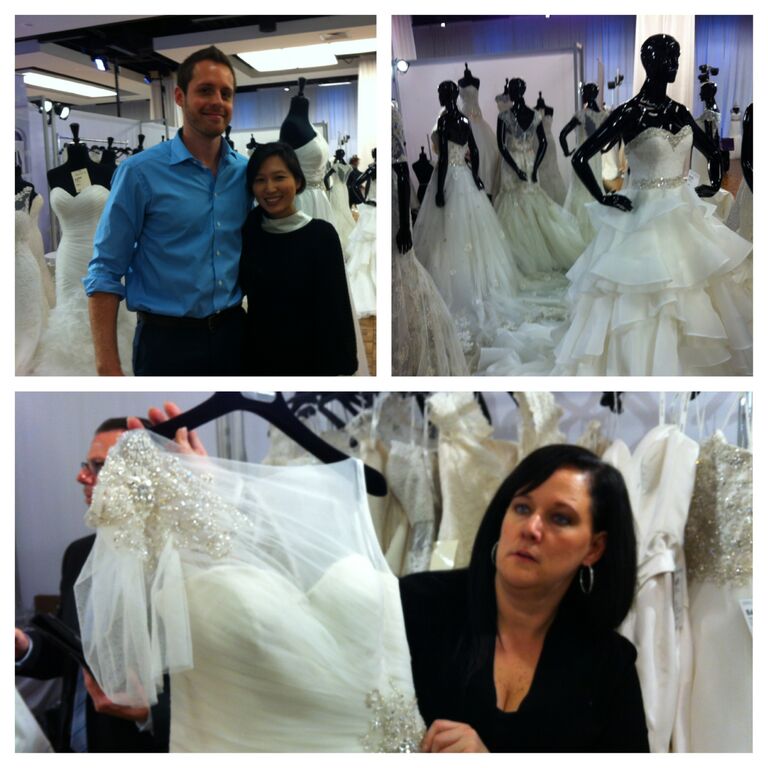 3:07pm – Jenny Lee's new collection is inspired by lingerie! Everything is light, airy and floaty, plus bridal booties!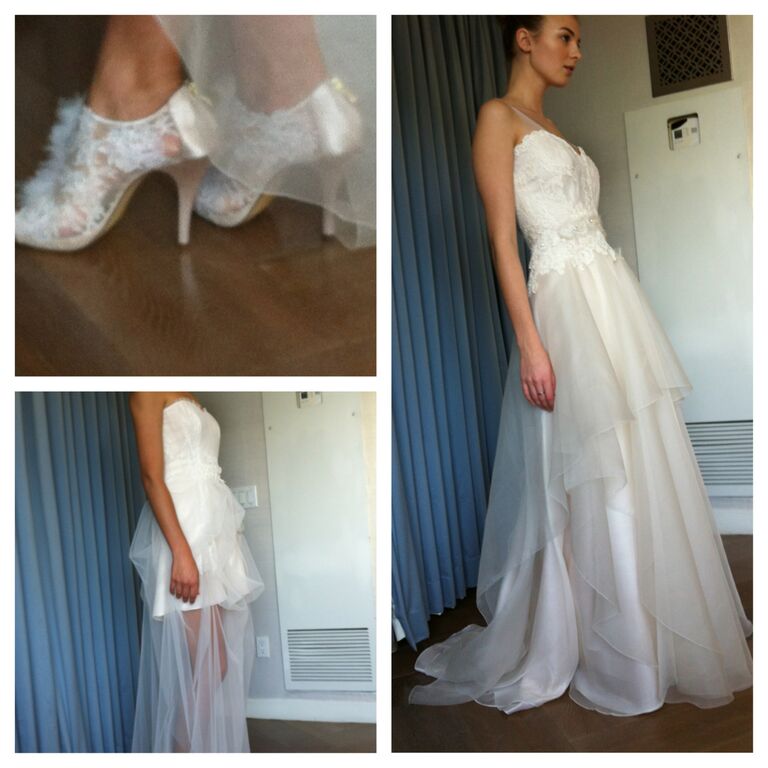 3:00pm – Just arrived at Jenny Lee! Updates to come.
2:52pm – Rivini was gorgeous! Layered tulle, metallic lace and daring details (like this sheer top!)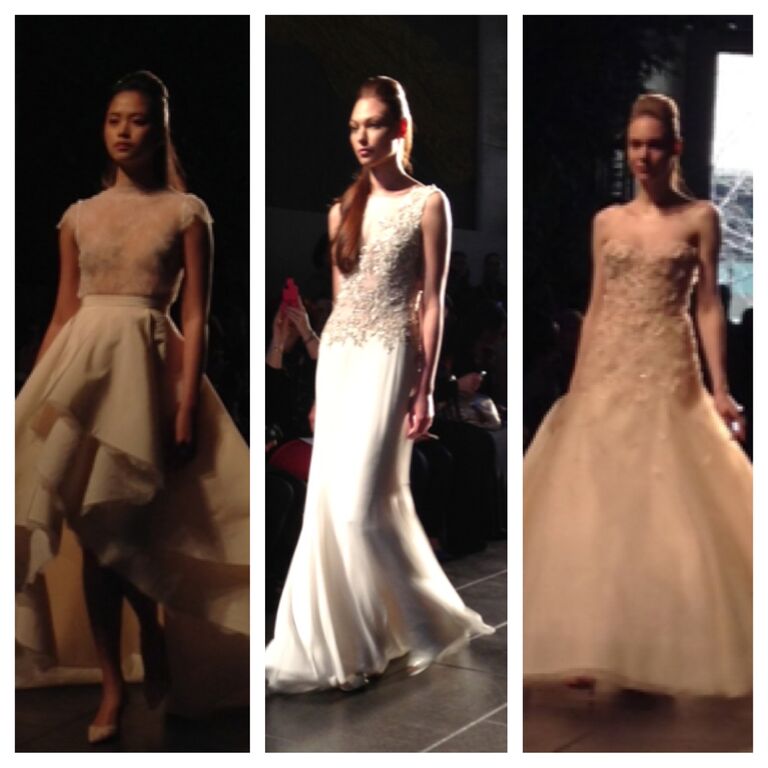 2:09pm – Rivini's about to start! We're live-streaming it from our fashion channel, check it out!
1:38pm – Love Anne Barge! Classic and timeless with stunning details.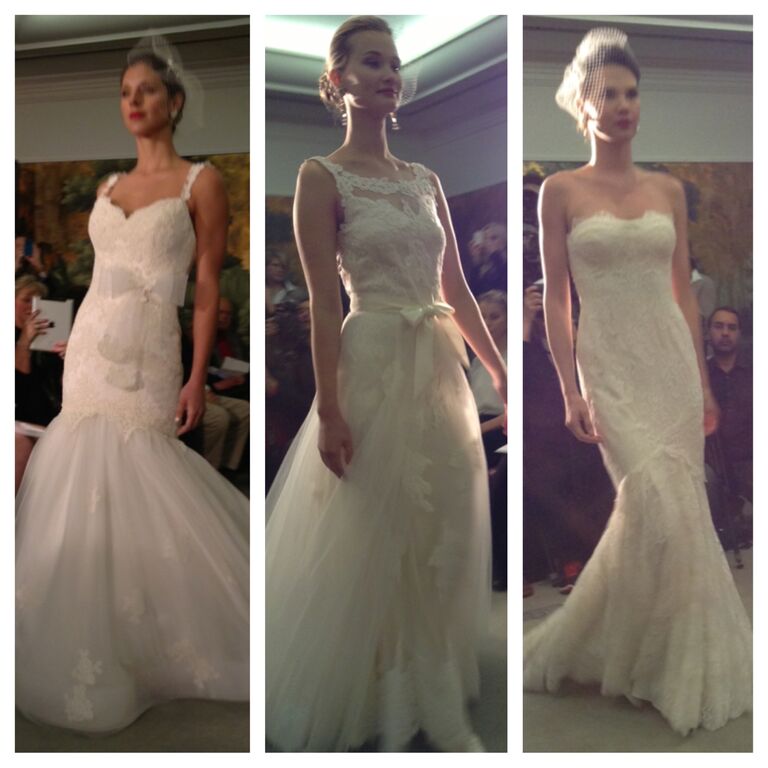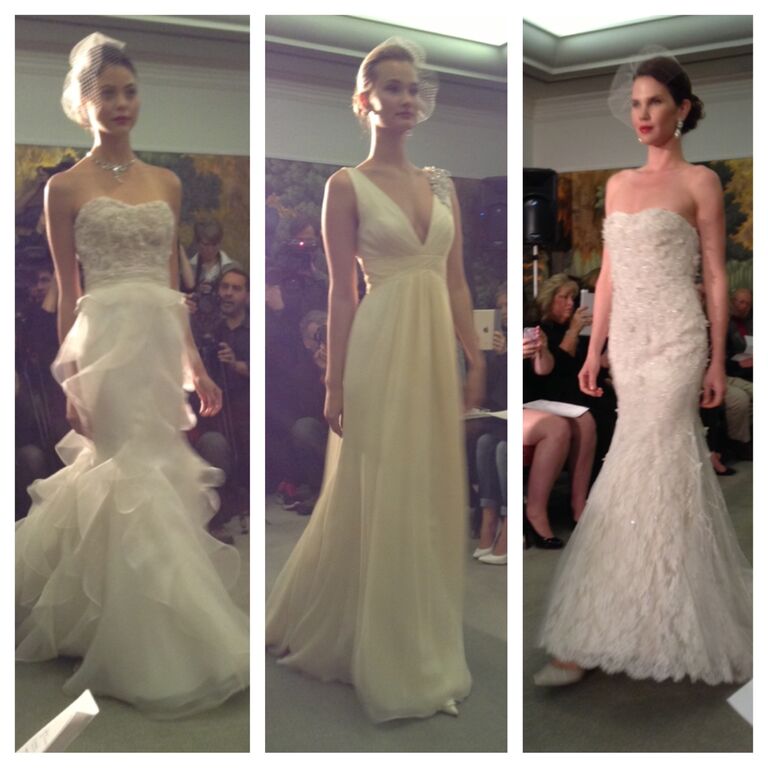 1:12pm – Anne Barge is starting! Check it out live-streaming.
11:46am – Check out these beautiful lace gowns from Legends by Romona Keveza!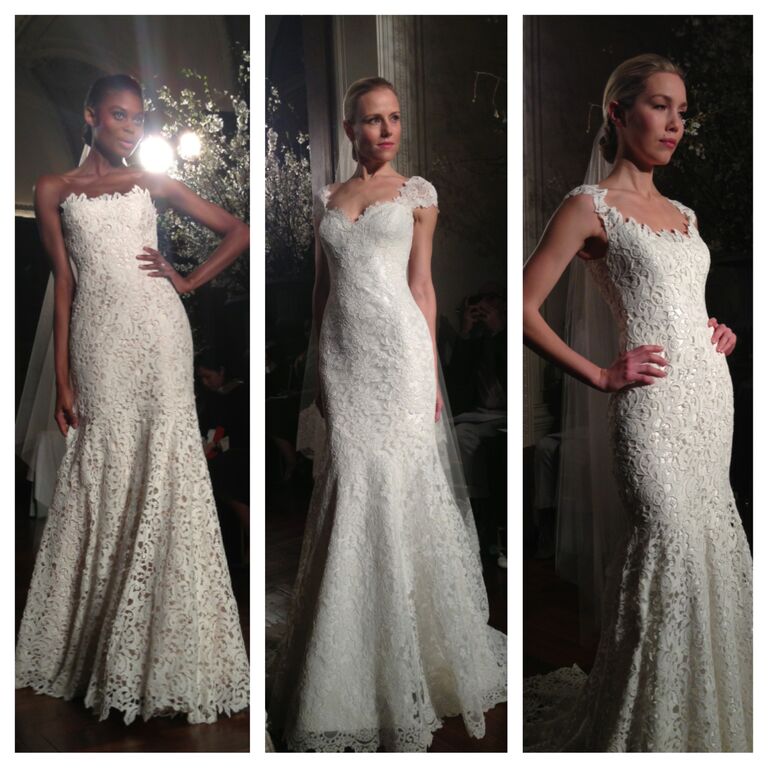 10:44am – Carolina Herrera is always classic and beautiful! Check out these stunning dresses – clean lines and elegant touches.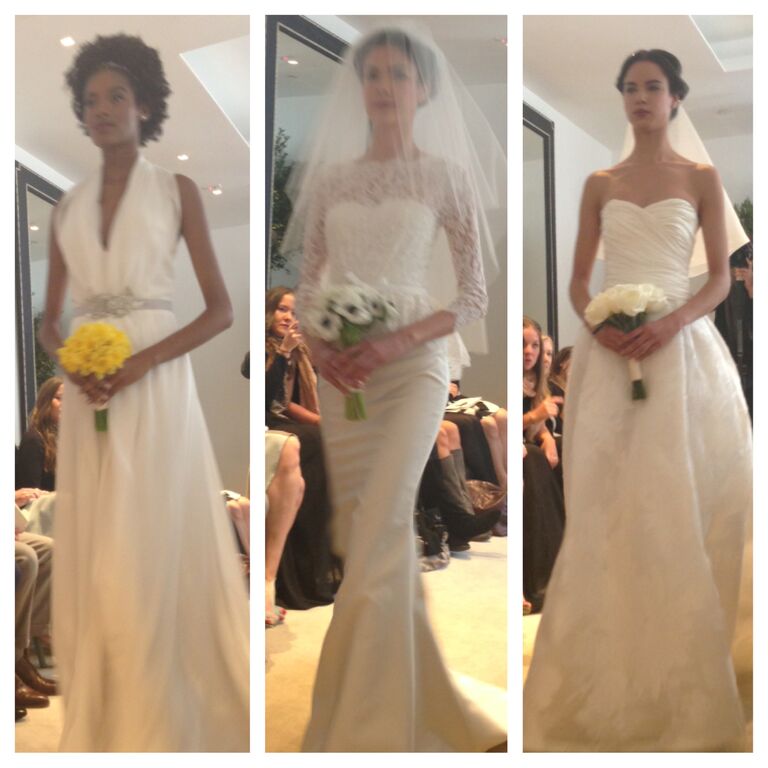 9:43am – Gorgeous backs and sparkly ball gowns at Ines di Santo!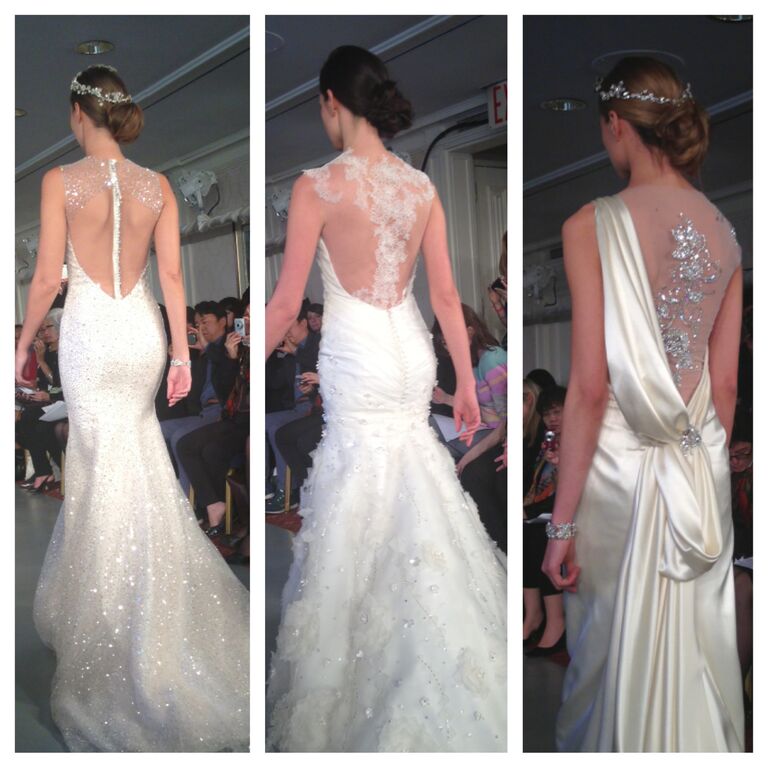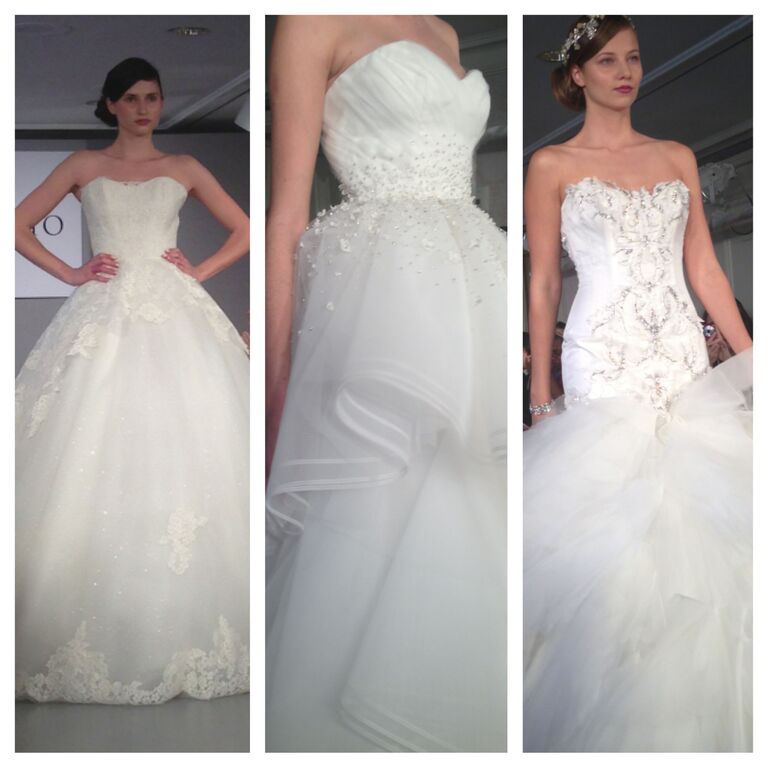 9:00am – If you weren't able to watch yesterday (or even if you were and want to re-live all the pretty dresses), we have all our new galleries up!
Jasmine Collection , Maggie Sottero , Christos , Temperley London , Jasmine Couture , Kenneth Pool
8:49am – Welcome to Day 3 of Bridal Fashion Week! Yesterday, we saw beautiful designs from Maggie Sottero, Christos, Kenneth Pool, Reem Acra, Amsale and Monique Lhuillier. We'll be coming to you today with some more of our favorites. First up – Ines di Santo! Be sure to watch this one live, it starts at 9am. You can watch here.
Saturday, April 20
5:42pm – Check out these super cute short dresses, beautiful beading and lace and awesome jackets/capes (love!) from Monique Lhuillier.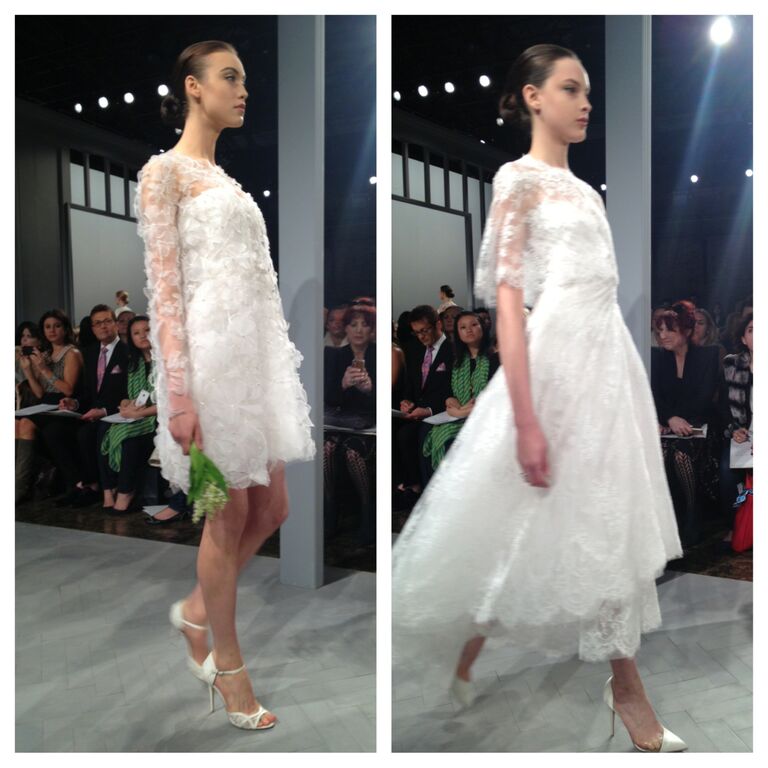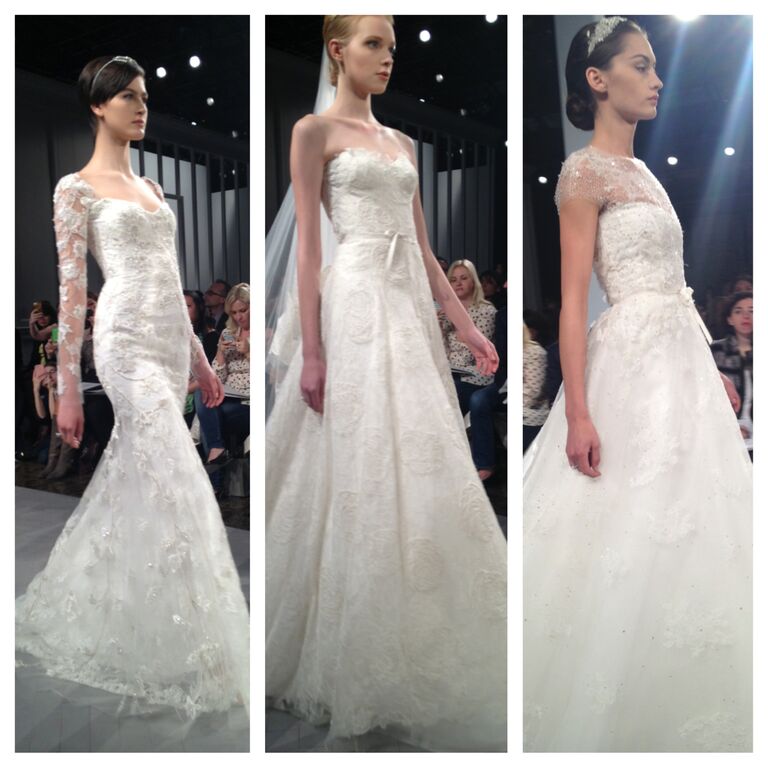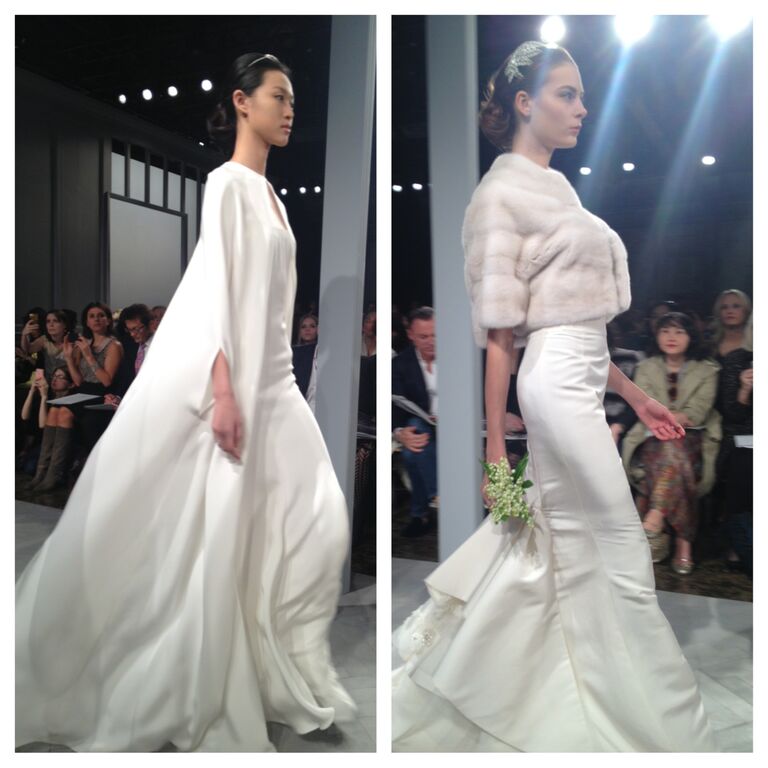 5:34pm – Monique is always so trendy, refreshing and unbelievably beautiful! Photos coming soon, but in the meantime, awesome jackets, gorgeous silhouettes, beading, lace, the whole shebang.
4:56pm – On the way to Monique Lhuillier, can't wait! Check out Jennie, here with Anya and Amsale!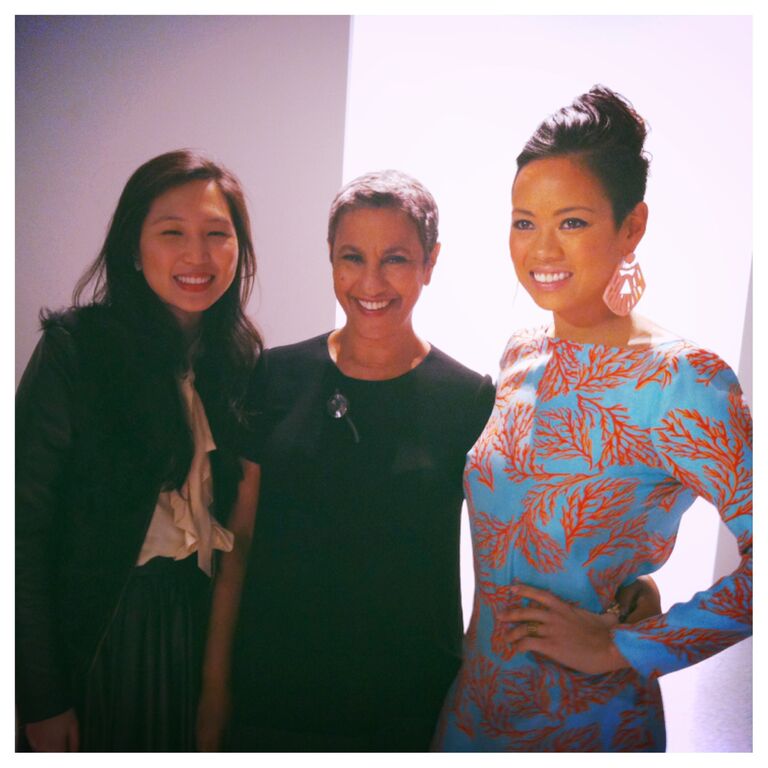 4:54pm – Amsale was beautiful! Clean lines, gorgeous silhouettes and wearable style.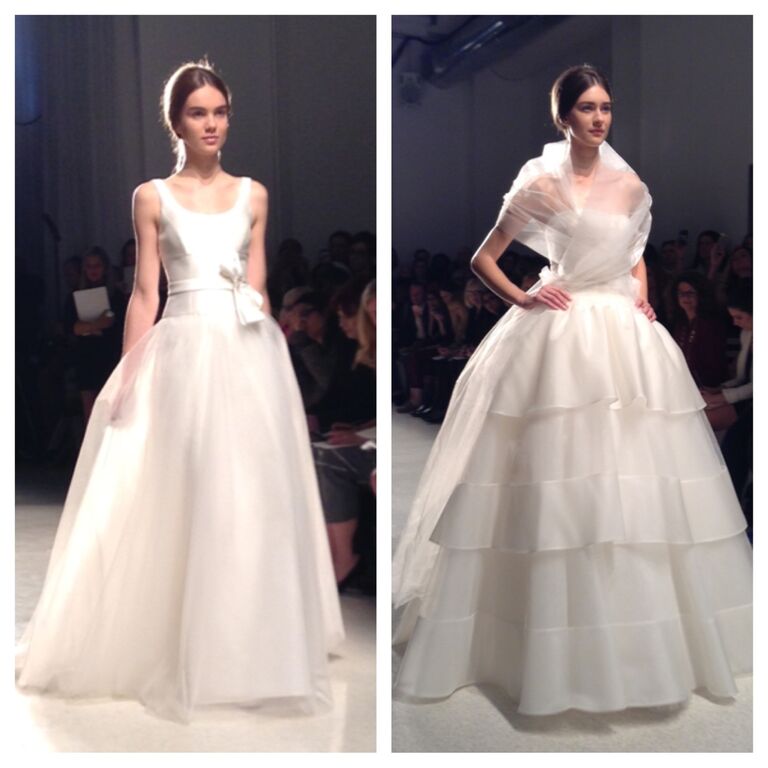 4:14pm – Just got to Amsale, can't wait to see! We're live-streaming this one too, so don't forget to tune in to our homepage to check it out.
3:45pm – Check out these amazing veils! Love the 3-d details and parasol tulle!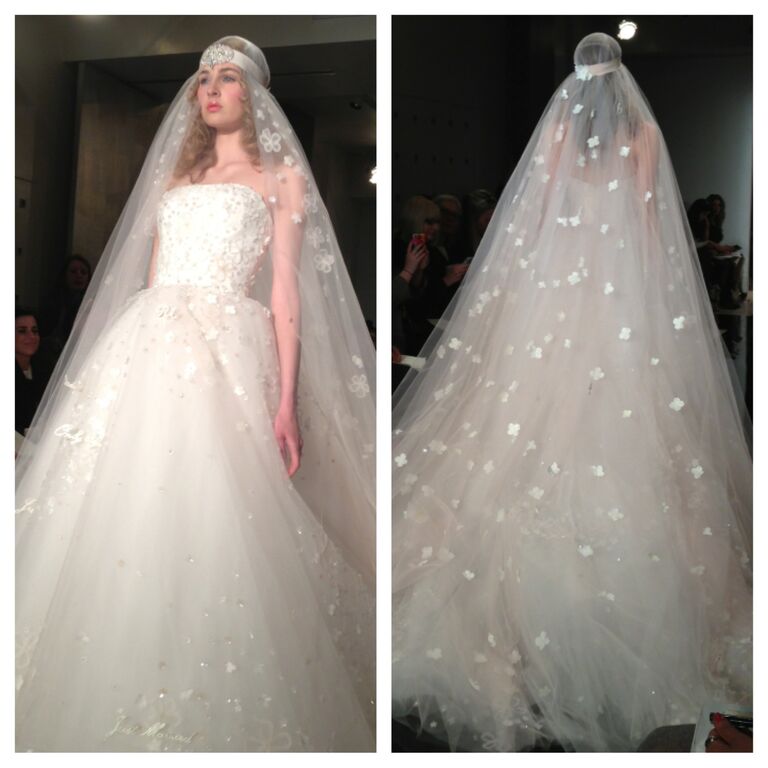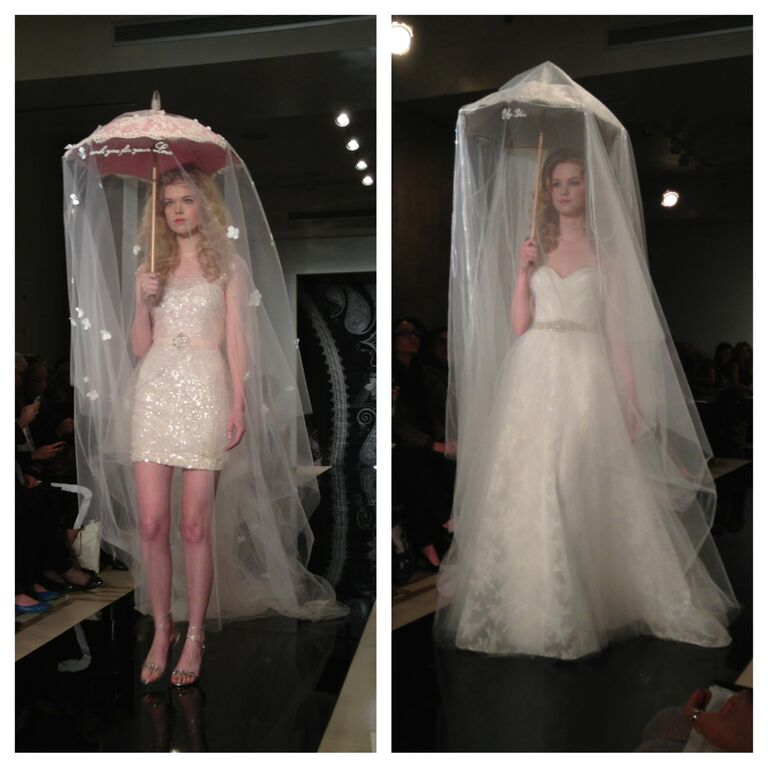 3:40pm – Reem Acra is always gorgeous! Love this year's airy vibe with beautiful beading. Check it out!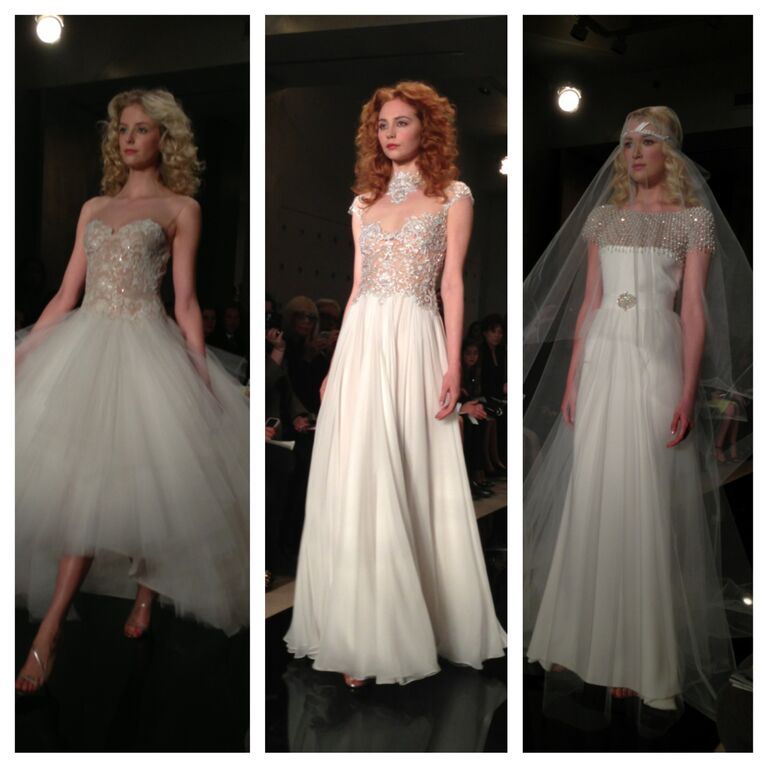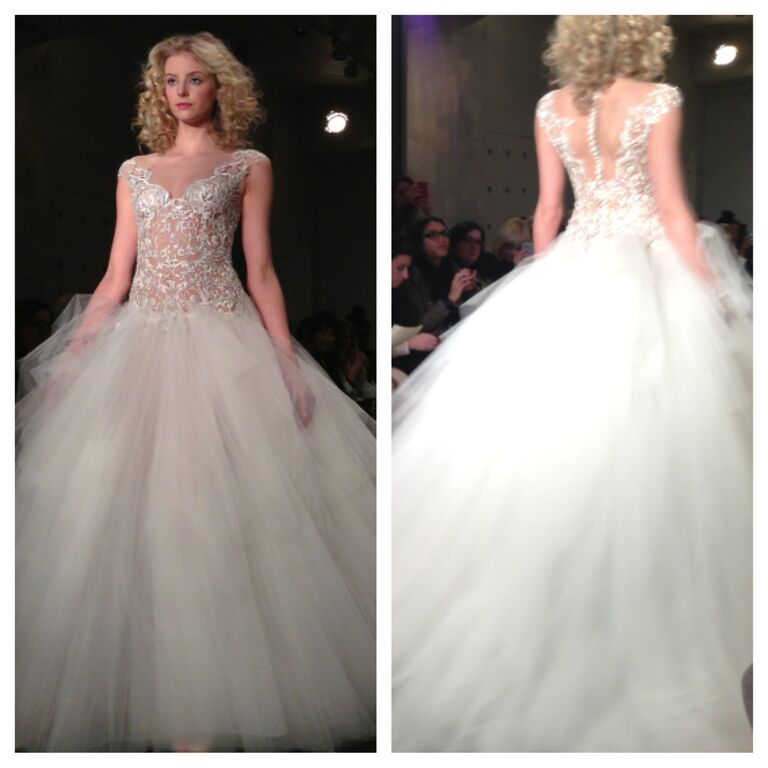 3:25pm – We're so excited to have a special guest with us at the shows today! Anya Ayouyng Chee, winner of Project Runway, will be with us for the rest of the shows. Here she is with all the models at Maggie Sottero earlier and waiting for Reem Acra to start with Jennie.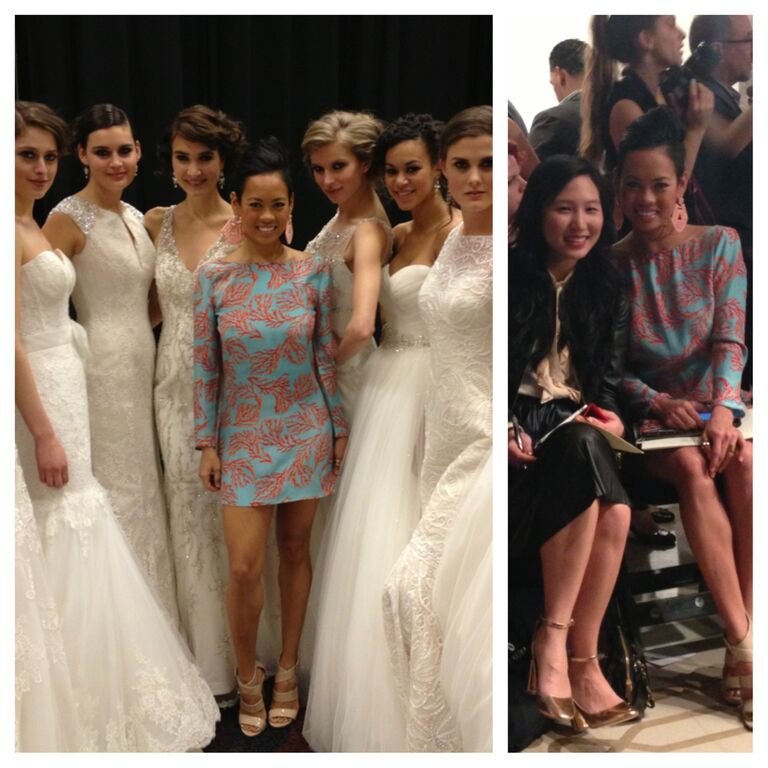 3:00pm – Reem Acra's about to start, can't wait! Be sure to tune in, we're live-streaming this one on the homepage.
2:00pm – Taking a short break and touring the booths at COUTURE! We'll back at 3pm for Reem Acra.
1:56pm – Look who we ran into at Kenneth Pool! Our favorite Randy Fenoli! Here he is with Jennie and Heather.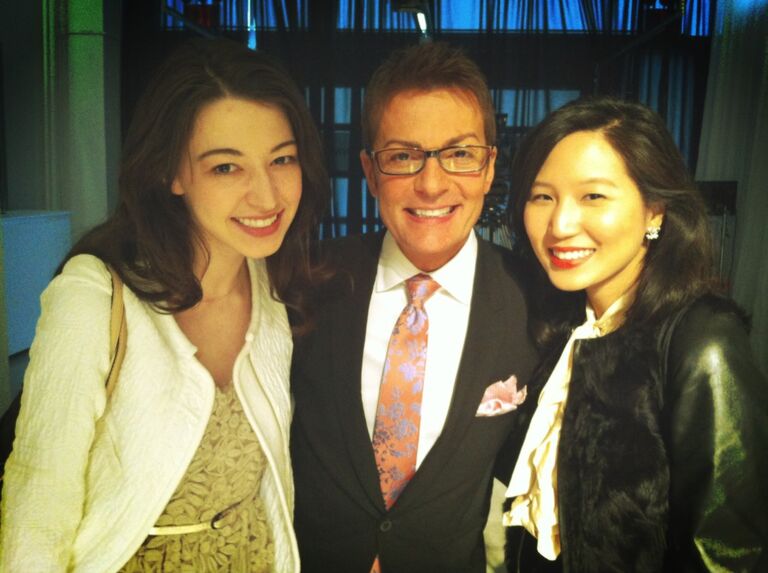 1:53pm – Kenneth Pool was beading beautiful! From all-over beading to beaded corsets and more – we can't get enough.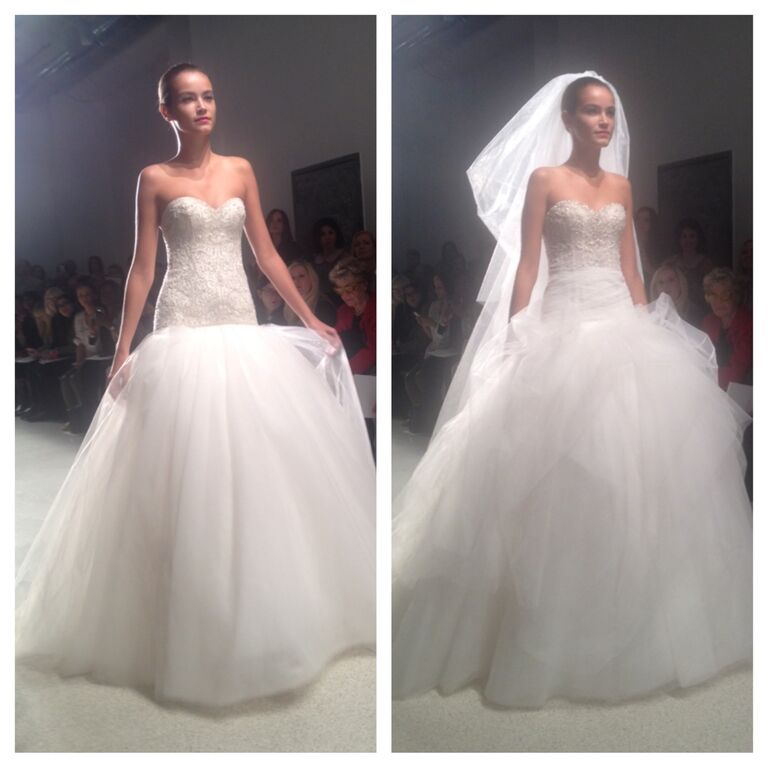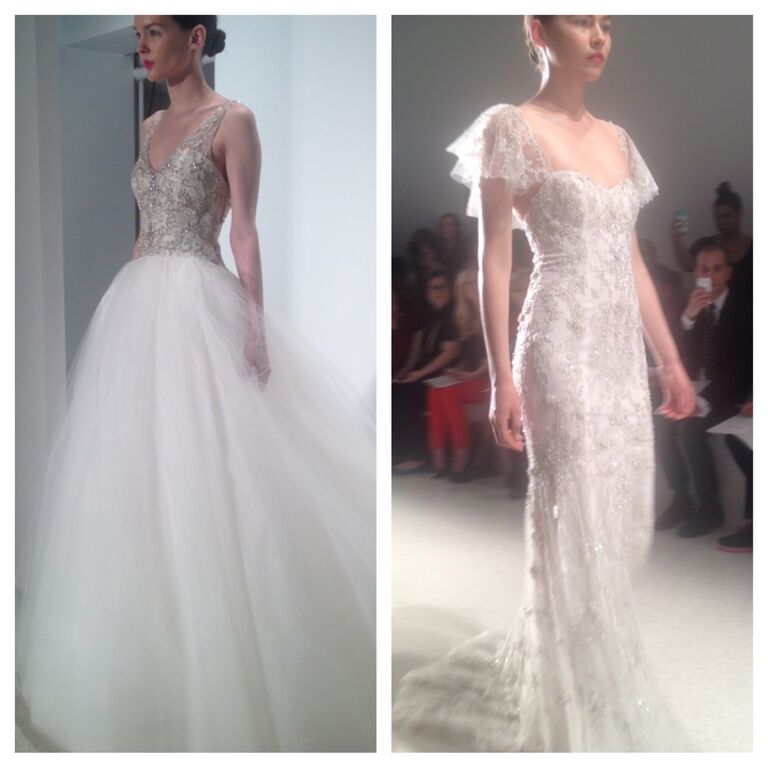 12:47pm – Christos was purely gorgeous! Lace details, corsets and floaty, airy romantic vibe…love! Check out the beautiful photos below and don't forget to tune in at 1pm on our homepage to catch the next one – Kenneth Pool.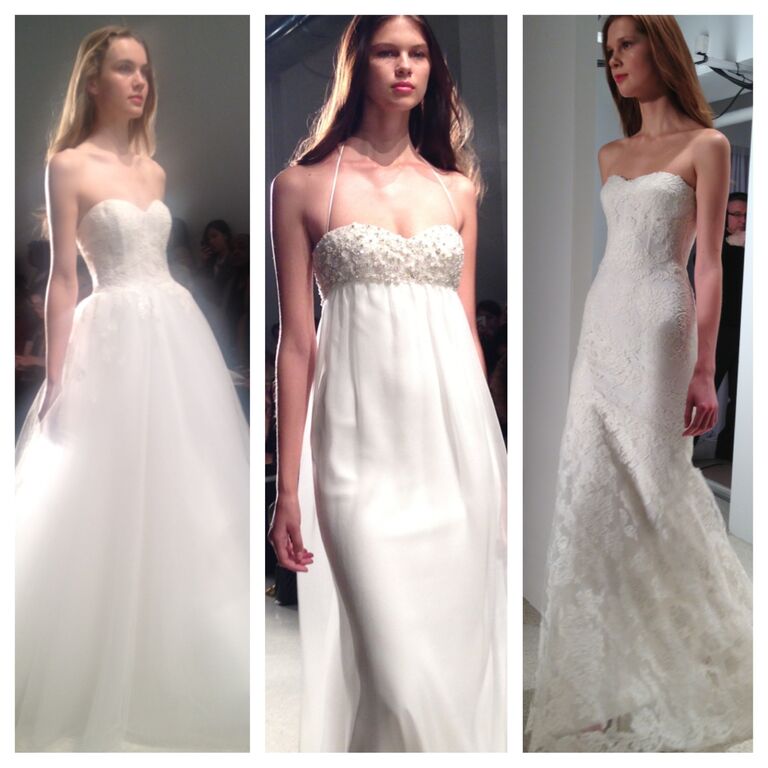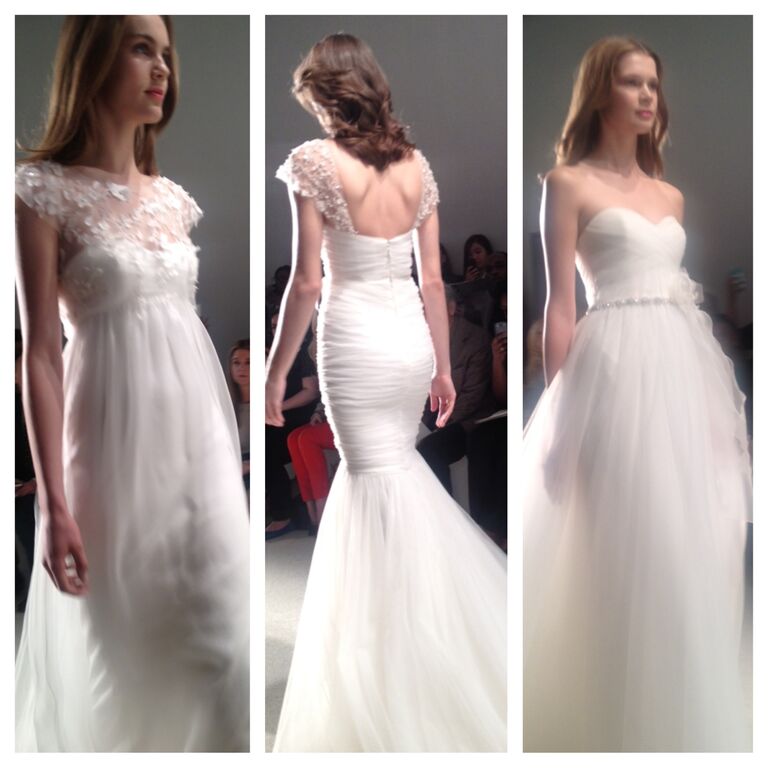 12:43pm – While you're patiently waiting for the next live-streaming show, Kenneth Pool, check out our brand new galleries from all of yesterday's shows:
Pronovias Fall 2013 Wedding Dress Collection

Marchesa Spring 2014 Wedding Dress Collection

Vera Wang Spring 2014 Wedding Dress Collection
Kelly Faetanini Fall 2013 Wedding Dress Collection

Aria Fall 2013 Wedding Dress Collection
12:27pm – Lovely dresses at Christos! Lace and gorgeous silhouettes. Photos to come. In the meantime, check out who we saw! One of our favorites Shawn Rabideau! Here he is with Anja waiting for the show to start.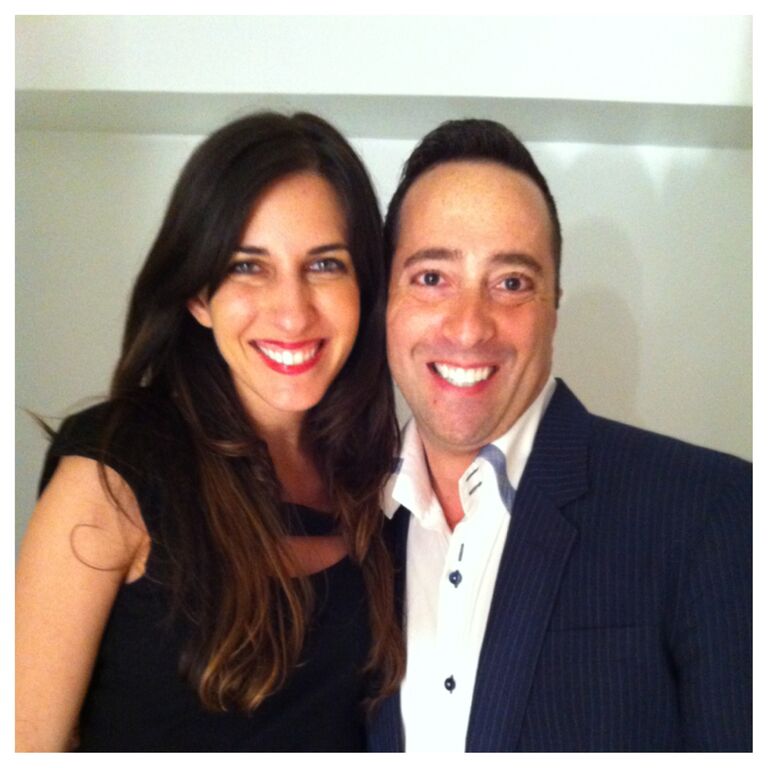 12:02pm – Just arrived at Christos! Always has beautiful romantic dresses, can't wait to see this season! We're live-streaming on our homepage, don't forget to check it out.
10:54am – Maggie Sottero showed us some beautiful dresses! Loved the sparkle and Great Gatsby glam style. Also, how gorgeous is that hint of blue? Check it out: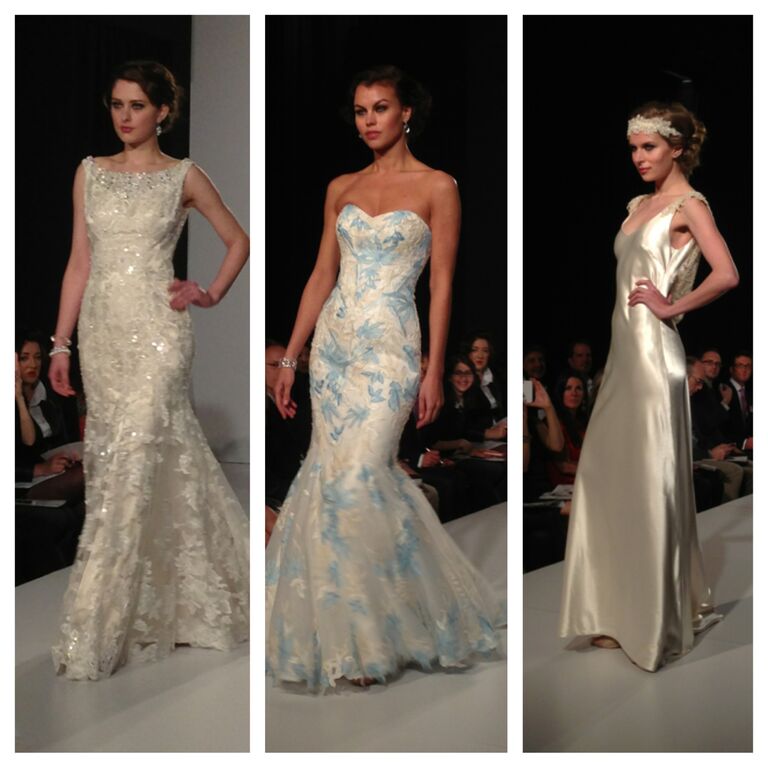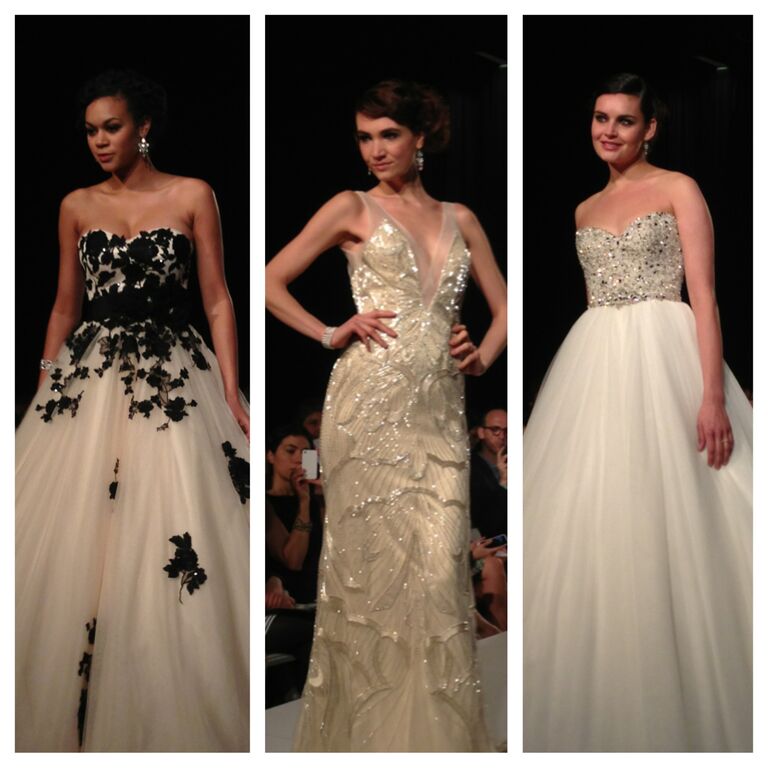 10:33am – Beautiful dresses at Maggie Sottero! Definite 20's glamour inspiration. Photos coming soon!
10:12am – Good morning Knotties! Yesterday, we brought you the gorgeous designs of Vera Wang, Temerley London, Marchesa, Kelly Faetanini, Theia and Aria (check out all the action below!) We're kicking Day 2 off with Maggie Sottero – can't wait to see what's in store. This is our first live-streaming show, so you can see what we're seeing, as we see it. Just click over to TheKnot.com homepage and watch along. It's starting in just a few minutes.
Friday, April 19
6:05pm – That's all for today Knotties! We'll be back tomorrow at 10am.
4:07pm – Here come the beautiful Vera pictures! Prepare to swoon.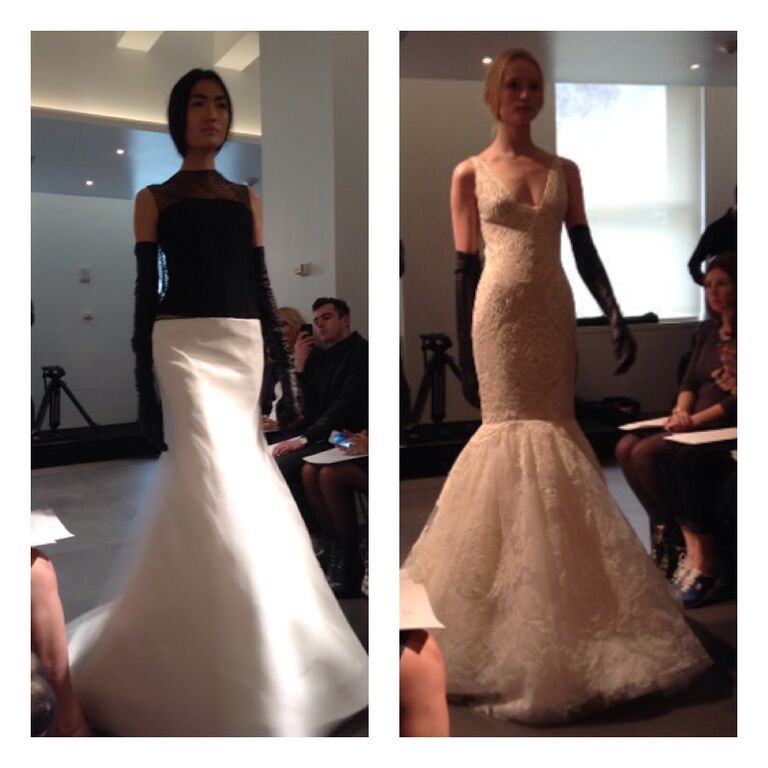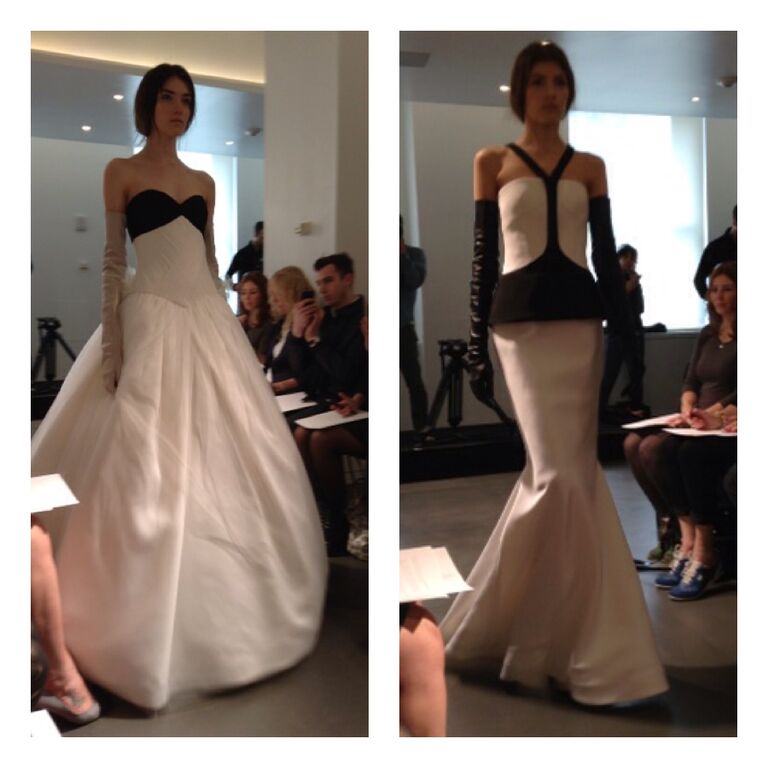 3:35pm – Vera Wang is always gorgeous and always a surprise! Editor in Chief Rebecca LOVED the play of black and white, the leather accents and the lace that looked like it was almost tattooed on the models. Photos coming soon!
3:03pm – Waiting for the always fabulous and trendy Vera Wang to start!
2:40pm – Love the Victorian elegance from Temperley London! Hello Downton Abbey.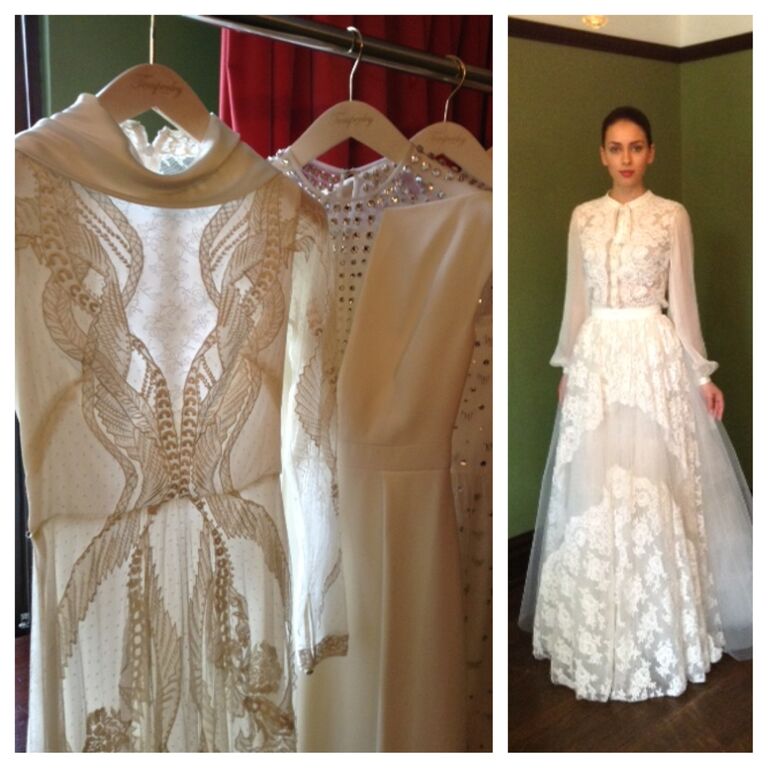 2:11pm – Just getting to Temperley London! Can't wait to see their collection'
1:50pm – Lace, lace and more gorgeous lace at Marchesa!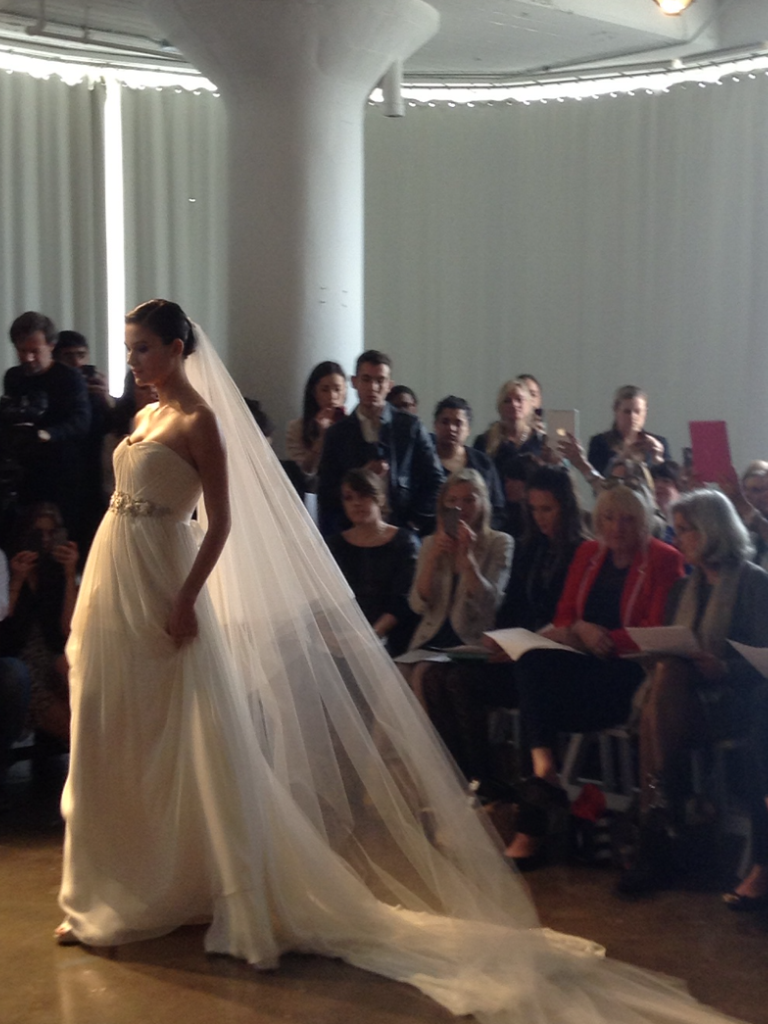 1:27pm – Amazingly beautiful lace at Marchesa! Photos coming soon, stay tuned!
1:05pm – Love the story behind this stunner from THEIA! It's inspired by the designer's mother's wedding dress – so cute!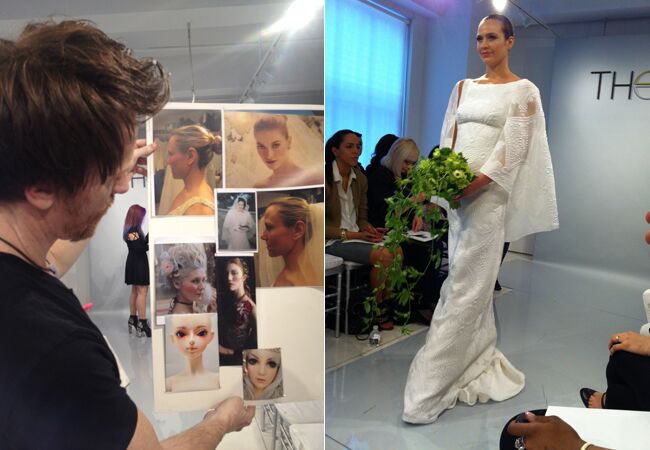 12:54pm – En route to Marchesa! Looking forward too seeing what beautiful designs they have in store for us!
12:37pm – Jennie's pick for big trends from this show? Romantic blush, opulent pearls and head-to-toe beading.
12:33pm – Awesome details at THEIA! Can't wait to show you some of favorites, coming ASAP.
11:49am – On the way to THEIA, can't wait!
11:23am – Loving the metallic lace, romantic sleeves and sparkle embellishments at Kelly Faetanini!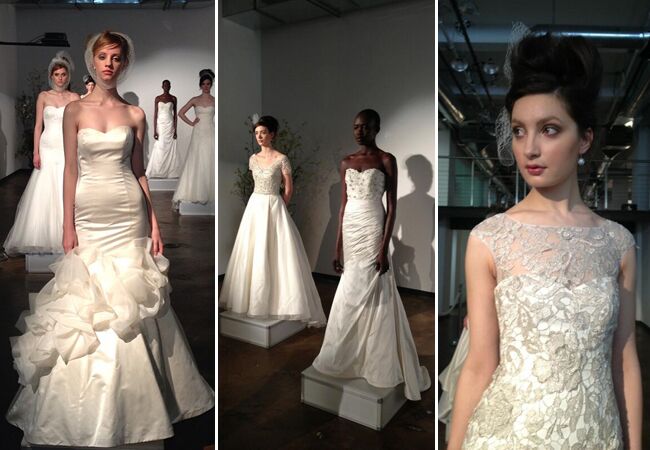 10:35am – We kicked off the morning visiting Aria's NYC showroom. Gorgeous dresses with awesome 50's/60's Mad Men inspiration, check out this feather skirt, so cute! Also, we saw great 20's flapper style – here come's Great Gatsby! Can't wait for the movie and love that the inspiration is hitting the bridal runways.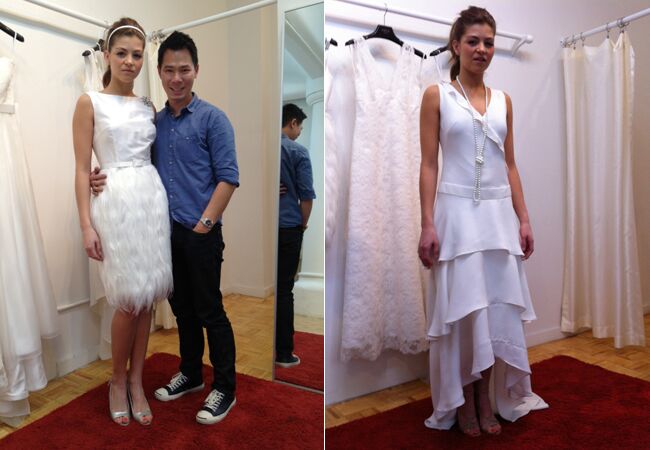 Thursday, April 18
Yesterday, we went to a just a few shows! The gorgeous looks at Pronovias' gorgeous new gowns, big trends we saw were really awesome shoulders and sheer straps and elaborate beading. Also, our editors Jennie and Heather had a date with Oscar de la Renta! They interviewed him about his new bridal fragrance, Something Blue.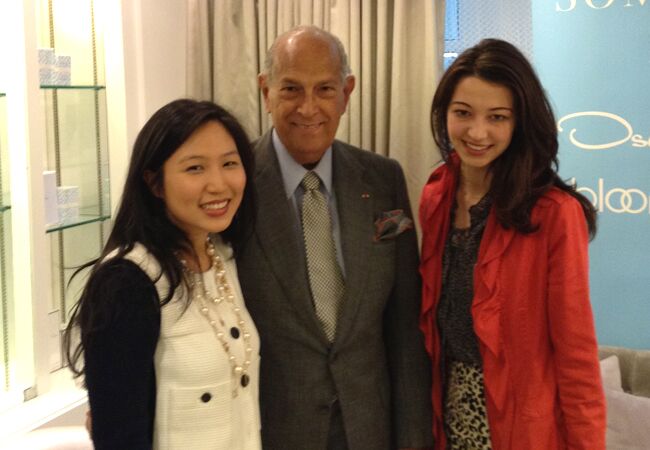 > Remember more up to minute updates on our Twitter
> See more photos on our Instagram
> See all galleries and photos from our editors at the show here