I've Got The Dress — And A Whole New Perspective!
by Rebekah Gregory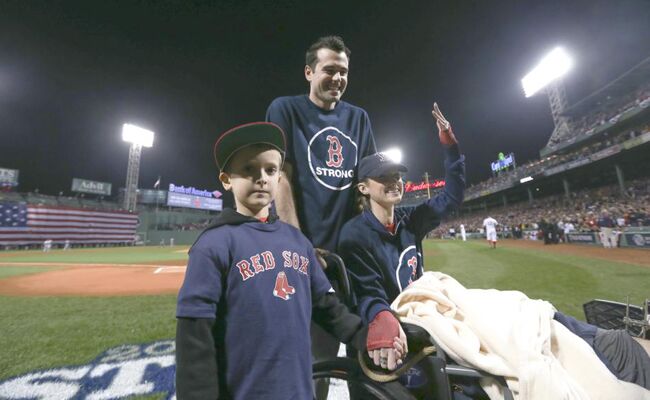 This is the fifth installment in a series of posts from The Knot Dream Wedding bride-to-be Rebekah Gregory. Follow our blog for weekly updates on everything from the proposal to her wedding planning and be sure to vote each week on the latest details: TheKnot.com/DreamWedding.
Last night as we were sitting on a plane coming home from visiting Pete's family in Rochester, I found myself getting a little emotional. On the right of me sat Pete whispering the occasional "I love you" in my ear, and holding tightly to my hand. And on the other side was my six year old son Noah, who kept kissing my cheek for no reason at all, telling me I was the "greatest mommy in the whole world." The longer I sat there looking at my two boys, the harder it was to hold back the tears. You see at that very moment, I was literally smack dab in the center…of my entire world.
That happens to me a lot, especially with the wedding getting so close. Sometimes it's hard to believe with everything that has happened in my life, that in exactly 18 days I will be a Mrs, and the three of us will be a family. And am I nervous? Not at all. In fact, I have never been more sure of anything because for the first time, I feel like I have really done something right. And all those questionable moments from my past? Well, they suddenly make a lot more sense to me.
I think that's just it though. All those worries we fret about everyday, are all just preparing us for something greater. For instance, the serious illness that nearly took my life from me back in high school, or the fatal car crash I was in just a few years later, or maybe even the months I spent in the hospital in preterm labor with my son. I feel like all of these things better prepared me to get blown up at last year's marathon. As a matter of fact, when I look back at my life I can give you hundreds of instances that ended up being steps leading to something bigger. And sometimes, those bigger things aren't always what we want, but I can guarantee that when everything comes together they will no doubt be worth it.
This weeks vote was for my wedding dress. And this morning I found out that my absolute favorite, the fit-and-flare designed by Sophia Moncelli won. When I first put this dress on, it was a symbol of one of those "bigger things." If Pete and I hadn't gone through what we have the last 11 months, we might not be where we are today, and who knows if we would be getting married. We now have a new appreciation for one another that could never be put into words. And I have seen first hand that this is the man that will love me for the rest of my life because he has already chosen to stick by me no matter what. And when I put on my wedding dress and am preparing to make my way down the aisle, I will thank God once again for every single obstacle that has been placed in my life. Without them, I wouldn't be here.
More on The Knot Dream Wedding
> See all the winning details for the Dream Wedding
> Vote for the wedding flowers!
> I have never felt more beautiful than I do now… Here's why