Celebrity Stylist Jeanne Yang Shares Fashion Tips Every Groom Needs
Bring that red carpet style to your wedding day with this expert advice.
by Farah Prince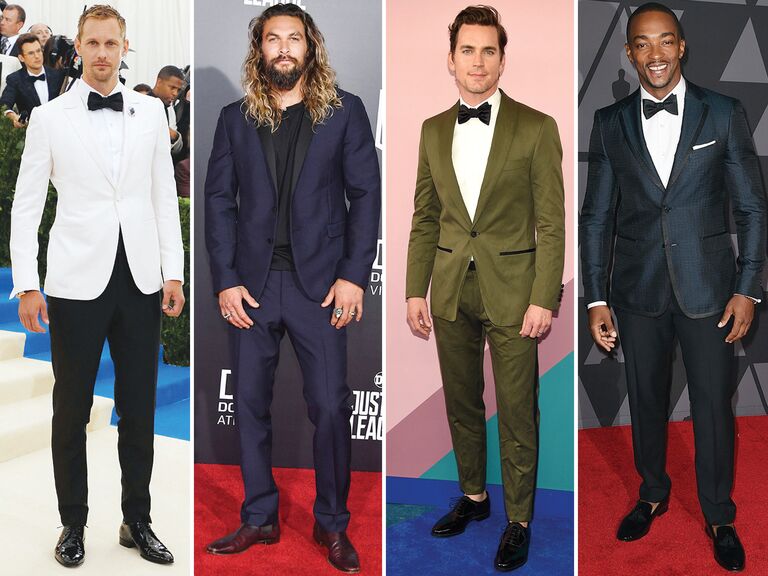 If you line up all of Hollywood's best dressed actors, chances are Jeanne Yang has styled most of them. As the go-to stylist for A-listers, her client list is stacked with some of the most talented and stylish celebs like Jason Momoa, Henry Cavill, Robert Downey Jr. and Jamie Dornan. Now, Yang is teaming up with Men's Wearhouse as a celebrity fashion expert. Get her tips on personalizing your suit or tuxedo, tailoring 101 and accessorizing in style, below.
Think Outside the (Style) Box
Depending on the formality of your nuptials, there might be some style rules you have to stick to (read: a tuxedo for a black tie affair), but that shouldn't stop you from adding some personality into your look. "Black tie means you have to be the dressiest you can be, which actually leaves a lot of room to play around outside of a traditional black tux," Yang says. "Switch up the color and wear midnight navy instead; it's a chic alternative and the color will stand out in photos in the best way possible." Accessories can add some fun to a formal look as well. Take the staples like a tie or bow tie and choose options in different colors or textures, like velvet. Cuff links or lapel pins in unexpected shapes and designs are also a playful addition to any traditional tux. "Don't be afraid to switch up the footwear too. A sleek pair of dark leather sneakers or velvet loafers add a fashion-forward touch without looking out of place," Yang adds.
Have Fun With Jewelry
Your wedding ring doesn't have to be the only jewelry you wear on your wedding day—it's okay to branch out. Slip on a sleek timepiece to make a classic statement or take it one step further with a mix of gold and silver pieces. "Men's jewelry is a huge trend. I love a pinky ring or Cuban link bracelet to accessorize a formal look," Yang says. "It adds a lot of personality and it's a trend that can be done at any budget."
Get the Fit Right
Whether you're renting or buying, the quickest way to look less than your best in formalwear is to wear something thats ill fitting. Tailoring can save you from a multitude of sins, but even before your first alterations appointment, one of the most important things to get right when you're buying or renting a suit or tux is the shoulder of the jacket. "Unless you're having an '80s themed wedding, you don't want a sloped shoulder, meaning the shoulder seam should lay flat and not sag past the natural line of your actual shoulder," Yang says. "Most tailors are hesitant to even alter that area since it's difficult and expensive, so make sure the jacket you choose fits perfectly." It's also important to get the fit of your pants right as well. They shouldn't look too wide or unstructured. You want them to be slim throughout the leg and then break at the hem, with only one break (read: the fold of fabric above the bottom of the front of the pant leg where it meets your shoe) to avoid cutting off your legs.
Pack an Emergency Day-of Kit
No matter how well you plan, accidents happen. Having an emergency kit handy on your wedding day can help you tackle any style emergency that might pop up. "Your shoes can easily get scuffed or dirty, so you should always have black shoe polish and a polishing towel (or a black Sharpie in a pinch) to help mask any scratches or dullness," Yang says. "I also always carry a button extender with me. Shirt button extenders are small buttons with elastic attached that loop onto the existing button on your shirt collar, giving you extra room if it's a little too snug." Add an extra pair of cuff links, just in case your original pair breaks or you forget to bring them, plus black safety pins and double stick tape to remedy a ripped hem or split seams.
See more groom's style advice here.