Exclusive: Inside Influencer Jessica Hirsch's 'Twilight'-Themed Wedding
The CheatDayEats creator credits the film for inspiring her "fairy tale" nuptials.
When it comes to wedding trends, couples are always revamping how they get married—and one of the biggest changes we've seen this year relates to aesthetics. While it was once common to abide by a theme, there's a notable shift toward following a creative "wedding vibe" rather than a rigid style. For Jessica Hirsch, the content creator of the popular lifestyle brand and digital production company CheatDayEats, there was no question that her wedding vibe would be inspired by one of the most recognizable movie series ever: The Twilight Saga.
You may recall the mega-popular film series, based on the fantasy book saga by Stephenie Meyer that skyrocketed to fame in the mid-2000s. Based on the love story between mortal Bella Swan and vampire Edward Cullen, the movies have amassed a spirited cult following—and the wedding between Bella and Edward, which takes place in Breaking Dawn, Part 1, remains one of the most beloved wedding movie scenes.
Jessica, who credits the movie as one of her all-time favorites, knew she wanted to model her big day after the magical wedding set in Forks, Washington. So, on August 27, 2022, Jessica married her now-husband, Brian Coogan (@Mr.CheatDayEats), at an enchanting Twilight-inspired wedding—and The Knot has the exclusive first look at the whimsical nuptials here. Read on to learn more about Jessica Hirsch and Brian Coogan's love story, along with how they brought the iconic film to life on their big day.
In this article:
Jessica Hirsch and Brian Coogan's Love Story
Similar to Bella and Edward's love story, Jessica tells us that her romance with Brian unfolded like cinema magic over 14 years ago. "After I graduated from undergrad school, I moved back to Rockland County in New York," she reminisces. "I went to get my master's degree at the same university Brian was attending. The first time we saw each other was like a movie moment: I decided to use the restroom during class and as I walked into the empty hallway, Brian was there and we crossed paths. Although we noticed each other, and both had butterflies, we said nothing."
As fate would have it, the two began to run in similar circles. "I was a personal trainer at this time and Brian went to the same gym where I worked," she continues. "We also crossed paths at the local bars and had a similar circle of friends." It was then that Jessica took matters into her own hands. "I realized I would have to make the first move," she recalls. "I went up to Brian, tapped him on the shoulder, and said, 'I see you everywhere.' The rest was history."
As their relationship progressed, Jessica and Brian embarked on their shared content creation journey. In addition to launching the CheatDayEats brand, they also created Your Room Service, a blog dedicated to showcasing luxury bed and breakfast locations around the world. Brian ultimately used this travel business as a way to disguise his 2017 engagement plans. "We set up a stay at Lotte New York Palace for work, so Brian used this opportunity to surprise me with a proposal," Jessica remembers. "Since I planned the trip through work, I definitely did not expect it."
Brian went the night before to set the scene before Jessica arrived the next day. "I walked in, heard music playing, saw rose petals scattered, and it set in," she says. "I was actually filming the walk-in since it's something I like to share with my audience as I get a first look at the hotel room, so I even captured my ugly cry." (Psst: The moment still lives on the CheatDayEats YouTube page to this day!) She adds that her favorite dessert—a cookie cake—was waiting for her with a message that said "Will you marry me?" written on top. On a bent knee, Brian popped the question with an oval pink sapphire and diamond halo ring on a rose gold band, which Jessica says came directly from her Pinterest board.
Jessica Hirsch and Brian Coogan's Wedding Details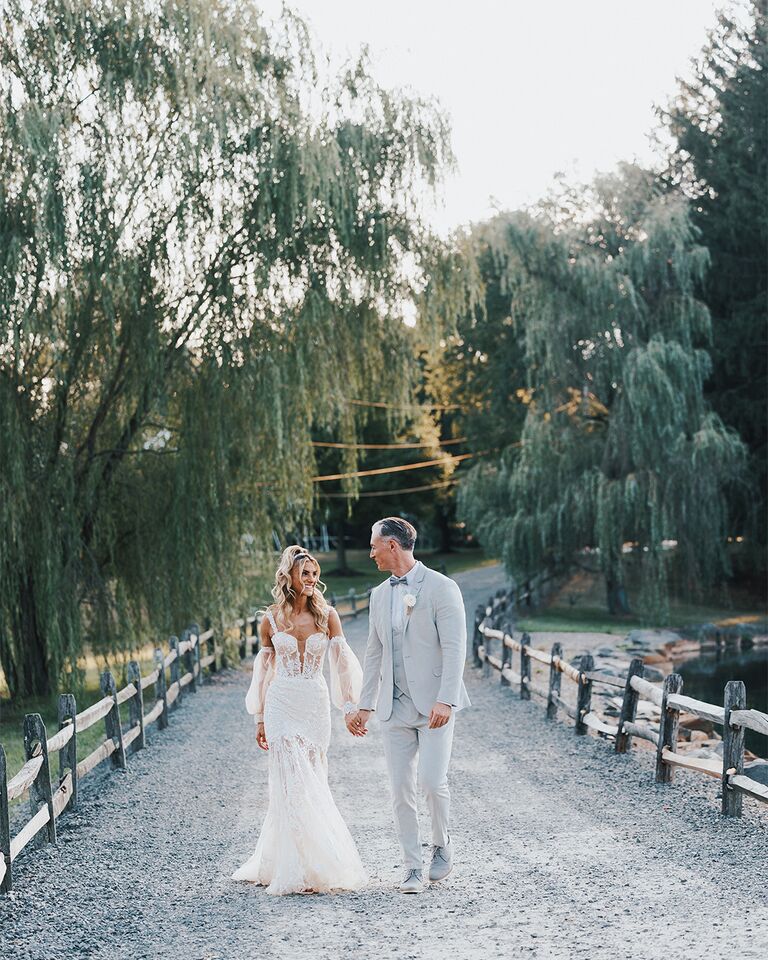 While Jessica and Brian didn't plan to have a long engagement, they wanted to take their time traveling the world before jumping into wedding planning. Then the pandemic hit, and they enjoyed five years as fiancés before committing to an August 2022 wedding date.
Their Connection to Twilight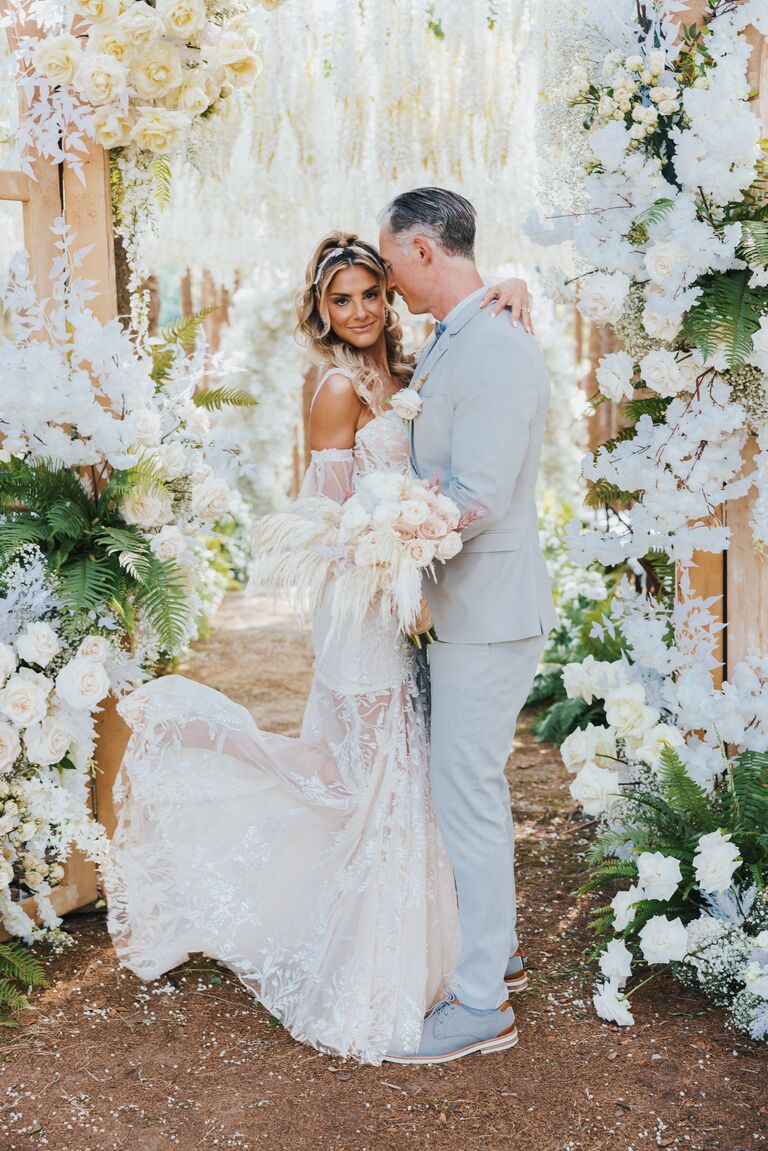 Given the cinematic start to their relationship, the to-be-weds wanted a similar feel to their wedding day. "I have always loved the Twilight movies because they give me butterflies and make me giggle like I'm a teenager," Jessica reflects. "The Twilight wedding itself was such a stunning moment in the movie." In fact, she says that her favorite childhood movie (Beauty and The Beast) kickstarted a lifelong obsession with romance. "I love love and I love fairy tales," she adds, noting that the whimsical atmosphere of the Twilight wedding served as her main source of inspiration for the wedding vibe. "I thought the hanging flowers were so romantic and the environment gave an earthy feel. It was breathtaking and I was excited to create a similar look for our ceremony."
Their Choice in a Magical Venue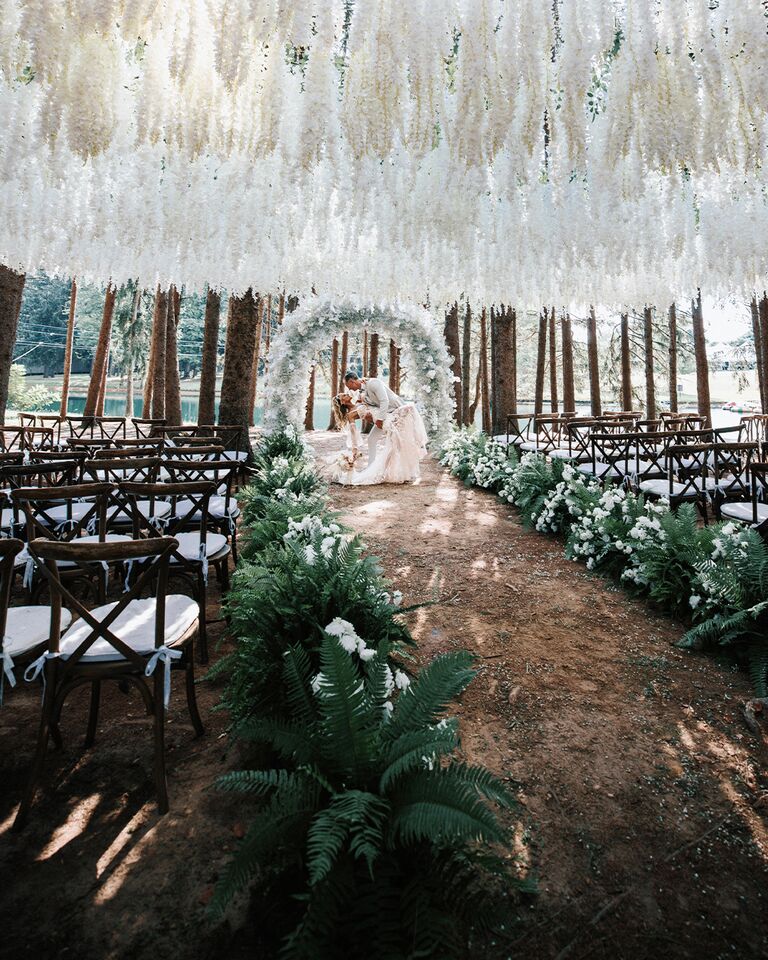 While they didn't swap vows in the Pacific Northwest à la Bella and Edward, Jessica and Brian found their Twilight-esque venue at Windows on the Water Frogbridge in Millstone, New Jersey. The 86-acre lakeside location typically hosts weddings on a sprawling patio, but Jessica found a lesser-known spot nestled within towering trees that gave off the same ambiance as the mystical Forks woods. "The venue doesn't often use this specific space for their ceremonies, but when I went to see it for myself, I really loved the layout," she explains. "Although the trees aren't as big as the ones in the movie, I liked that you felt like you're in the woods without having to actually take a long walk to get there."
They Shared a Vision for Whimsical Florals
Beyond the natural beauty of the venue's landscape, Jessica and Brian used lush floral installations, created by florist Erick Suazo, founder of Aurora.Rose Events, to truly transport their loved ones to a scene reminiscent of Breaking Dawn, Part 1. "Our goal was clear: have floral work that would be dreamy and ethereal," Jessica says. The goal was, indeed, exceeded beyond expectation.
For the ceremony, Suazo hung suspended wisteria blooms to create what Jessica called "a magical sight." The aisles were enveloped in lisianthus, viburnum ranunculus, Australian ferns, and a touch of cherry blossoms with moss embedded within the arrangements. "Monumental" centerpieces were later used to further elevate the reception space. Suazo decorated tables with grand spherical arrangements that stood tall and tree-like. Greens topped off the arrangements, giving it a delicate aesthetic. At the base of the centerpieces were white and blush roses intertwined with white lisianthus. Running across the table were more white and blush roses, white lisianthus, and white ranunculus woven with greens. This meticulous attention to detail, Jessica says, helped turn their wedding space into "a work of art."
The Bride Opted for Romantic Fashion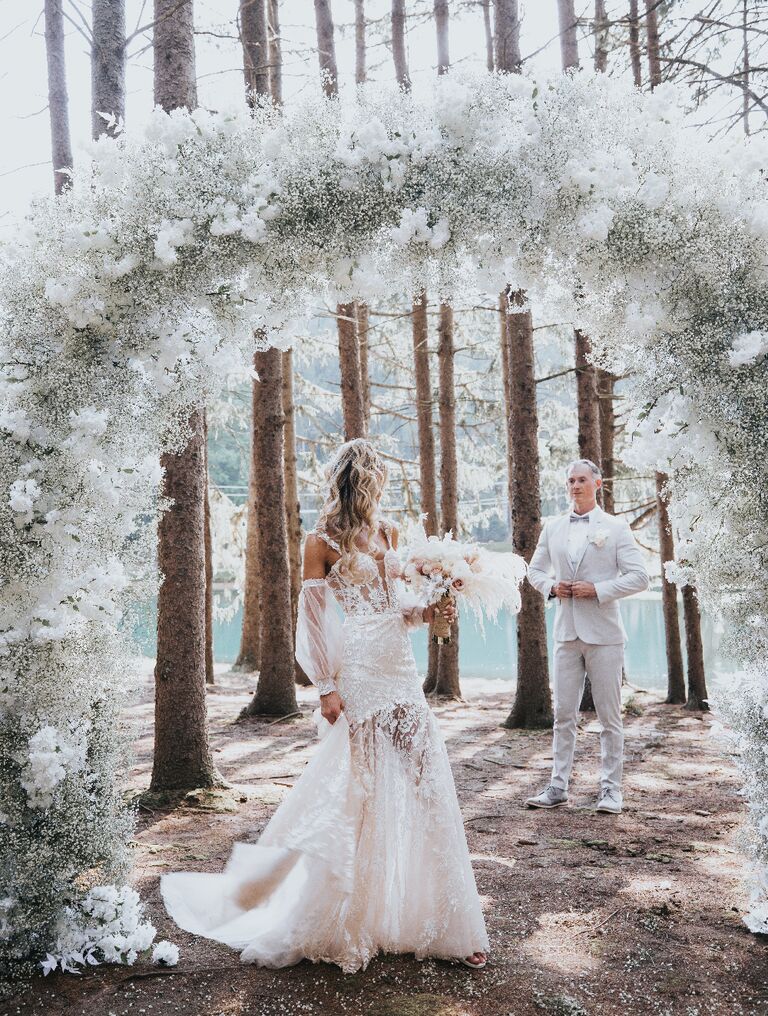 While nailing down the Twilight aesthetic was somewhat of a simple task, choosing the fashion proved to be a bigger hurdle, particularly because of Jessica's affinity for bridal attire. "I love wedding dresses, and I wish I could have worn a few," she muses. She eventually landed on an airy cold-shoulder corset dress from Galia Lahav, complete with embroidery and sparkly silver sequins. Her look had a sultry bustier bodice with sheer panels and lace, while the trumpet skirt also featured the same sheer lace pattern. The bride accessorized her look with jewels from Untamed Petals and a pair of convertible heels from Pashion Shoes. For the reception, she changed into a second party dress by Jovani.
They Set the Ambiance With Authentic Music
Jessica and Brian's enchanting wedding ambiance was up-leveled with another key detail: music. Both the bride and groom were escorted to the ceremony on the arms of their parents, and Jessica's entrance was set to "Turning Page" by Sleeping At Last—the same song that Bella Swan walked down the aisle to.
Following the ceremony, Jessica and Brian's DJ, Amore de Music, queued everything from oldies to current hits, with special '90s throwbacks for the couple and their friends. The newlyweds' choreographed first dance was set to a mashup of two of their favorite songs: "At Last" by Etta James, which led into "Love Story—Radio Edit" by Edward Maya and Vika Jigulina.
They Enjoyed an Innovative Menu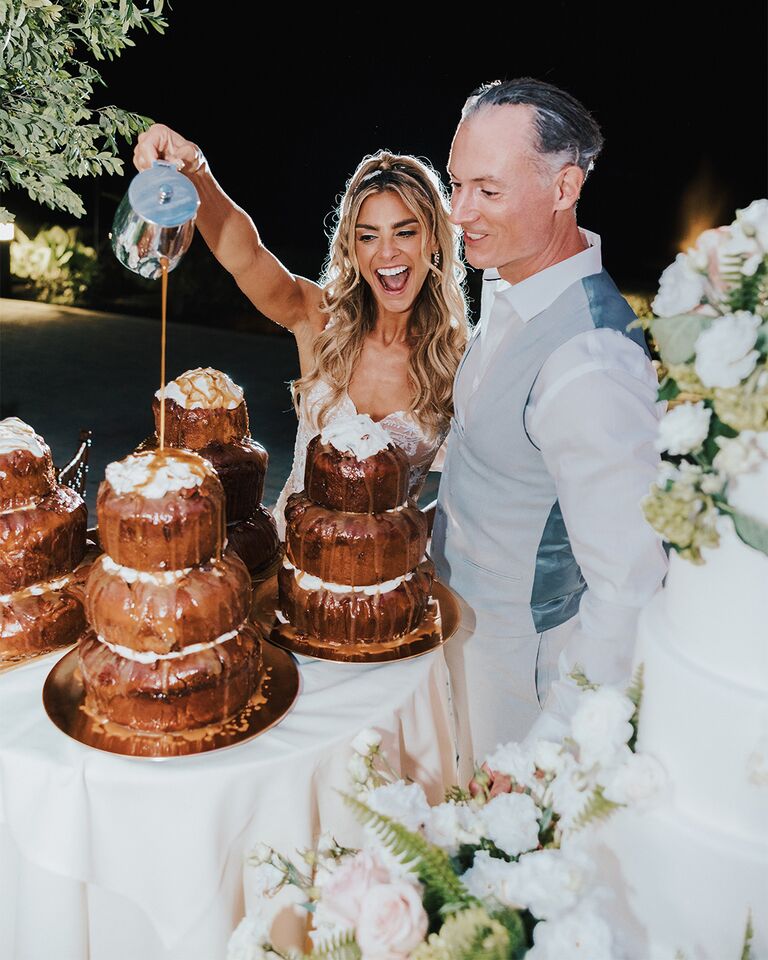 While channeling the Twilight wedding was a key focus for Jessica and Brian, it wouldn't be a true CheatDayEats wedding without attention to the food as well, with the bride telling us "it's all about good eats and drinks, always!" Cocktail hour began with two signature drinks: a grapefruit margarita for her, and a Manhattan for him. Guests enjoyed passed bites along with multiple food stations: a pasta station, a slider station, and a Southern station with hors d'oeuvres like coconut shrimp with mango chutney, fresh ricotta and local honey crostini, and mini lobster mac and cheese.
For dinner, Jessica and Brian wanted to "change things up" with an innovative menu. In addition to a classic salmon entrée, attendees could also choose from eight-hour braised short rib, vegetarian cauliflower steak, or chicken parmesan, the couple's favorite.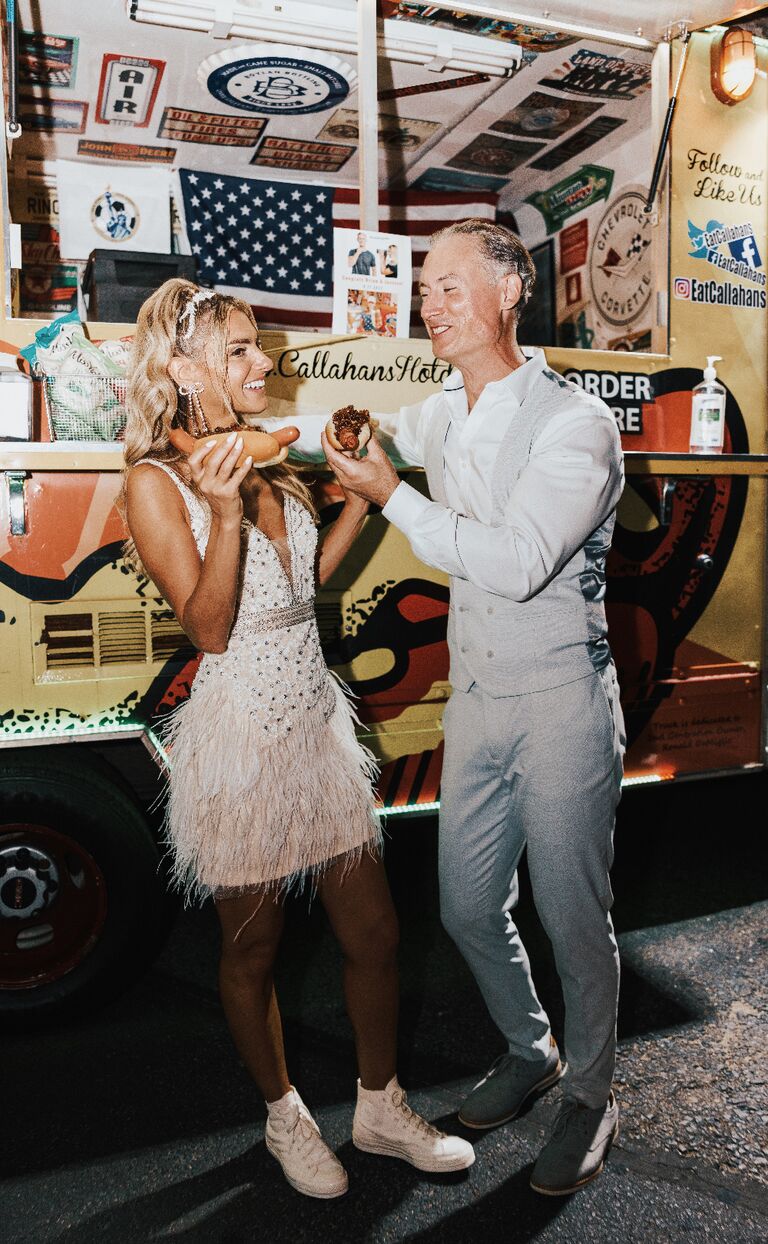 The fun certainly didn't end there. The duo treated their loved ones to a delectable dessert spread, including cinnamon roll sticky bun cakes from Butterfield Market and a cookie table curated by Coney Waffle, complete with half-pound cookies in flavors like red velvet and cookies and cream. The true pièce de résistance, though, was their wedding cake: a six-tier vanilla treat with strawberry filling, white chocolate icing, and white ribbon decorated with flowers designed to look like the confection from Twilight. After dessert and dancing, guests enjoyed a foodie nightcap—a hot dog and French fry food truck—courtesy of Eat Callahan's.
Reflecting on the day, Jessica tells us that her favorite moments included the couple's first look under the suspended florals, reciting their vows during the ceremony, and surprising guests with two special dances, saying, "Our Twilight wedding was everything I dreamed of and more."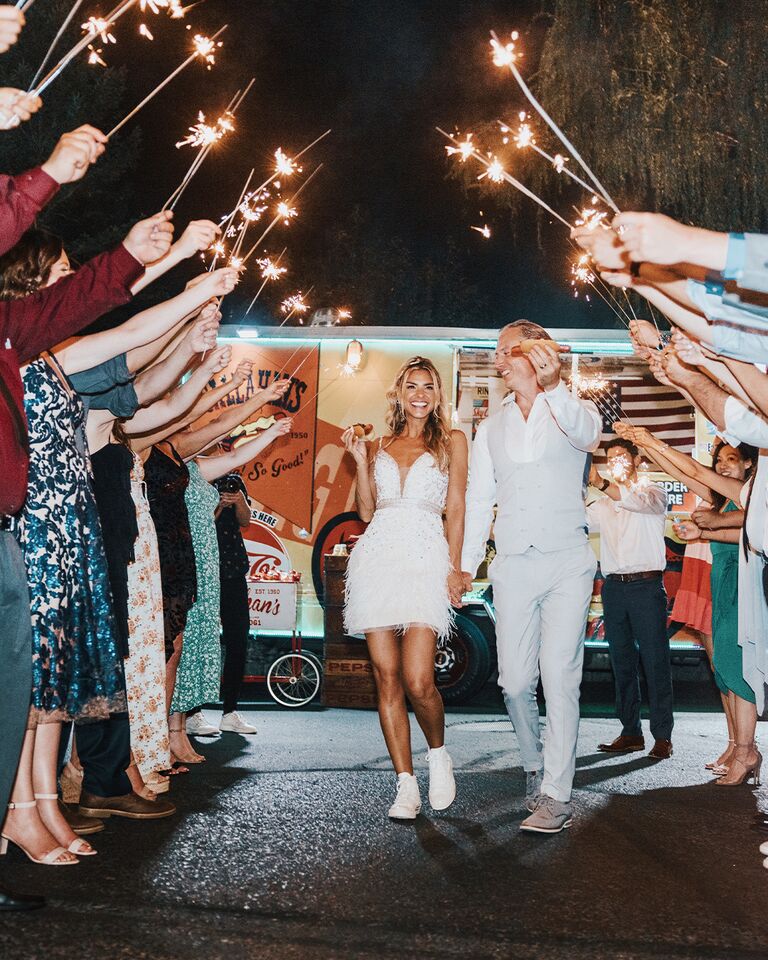 Jessica Hirsch and Brian Coogan's Wedding Vendors
Ceremony and Reception Venue: Windows on the Water Frogbridge; Photographer and Videographer: Jack Bates Photography; Florist: Erick Suazo, Aurora.Rose Events; Officiant: Robert Hirsch; Wedding Dress: Galia Lahav, Bridal Reflections; Accessories: Untamed Petals, Pashion Shoes; Hair: Unveiled by Anna; Makeup: Artsi Artistry; Invitations: Minted; Cakes: Butterfield Market, Chocolate Carousel; Desserts: Coney Waffle; Food Truck: Eat Callahan's; Music: Amore De Music; Dance Lessons: Imperial Ballroom Dance Center