5 Reasons to Become a Nestie
If you've wrapped everything up on your The Knot checklist (congratulations!), head to TheNest.com to start creating the home you've always imagined.
by Maggie Seaver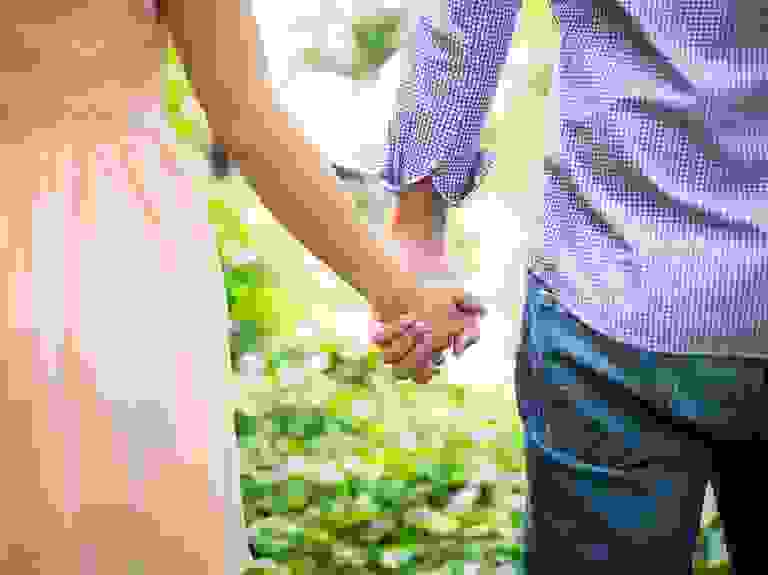 Your wedding day has come and gone (and we've loved helping you get there!), but that doesn't mean newlywed life can't continue to be just as fabulous. From navigating your new apartment lease to finding the best black-and-white themed accents, The Nest is the destination for couples taking that next huge step: creating and navigating their new home together. Below are just five of the amazing things The Nest has to offer—check them out!
1. Amazing Home Decor Ideas
So, you've moved into your new home and unpacked the boxes—time to decorate! Luckily, home decor is the bread and butter of The Nest. You'll pick up incredible decor tips and inspo, whether you're looking for DIY how-tos or style advice from top interior designers and industry tastemakers. You and your spouse can sift through hundreds of photo galleries for decor ideas from real Nesties on their Decor Finder (like this gorgeous Moroccan-style bedroom). And don't forget about all of your new wedding presents. Learn how to hang, stack and display those registry gifts like a pro.
2. Real Estate Real Talk
If you and your spouse are in the middle of buying or renting your first place, The Nest is a fabulous resource to help clarify your uncertainties and prioritize the process. The mortgage checklist (and mortgage calculator tool) is just one of our favorite articles that lays down the law when it comes to real estate policies, being totally prepared and making smart decisions.
3. Red-Hot Love Advice
Want to spice things up or just keep that flame burning? The Nest goes beyond homemaking to give you the best love and sex advice. Hey, just because you're married now doesn't mean you have to stop going on super-sexy dates! But it also doesn't mean you'll always get along. Read real couples' funny marriage confessions or how to survive a long road trip with your one and only. And when it comes to the really serious stuff, like in-law issues and spending habits, The Nest has you covered.
4. Expert Money Management Tips
Got money on your mind? You're not alone. The Nest offers tons of money advice from top financial experts for newlyweds just starting their life together. From budgeting to taxes and beyond (there's even an investment glossary), this is your one-stop spot for demystifying the financial system and learning how to manage your money as a newly legal unit.
5. Recipes, Recipes, Recipes!
Now that you've settled into your new pad, treat yourselves to delicious homemade meals—at least once in a while. Steal hundreds of recipes, cooking tips and kitchen inspiration from its Food & Recipes hub. Scroll through seasonal treats and romantic meals for two, and even sharpen your knife skills and more with cooking prep how-tos. There's no better way to keep the romance alive than cooking and dining together!