5 Tips to Keep Your Rings Safe While Traveling
Take your jewelry on the go, and leave your worries at home.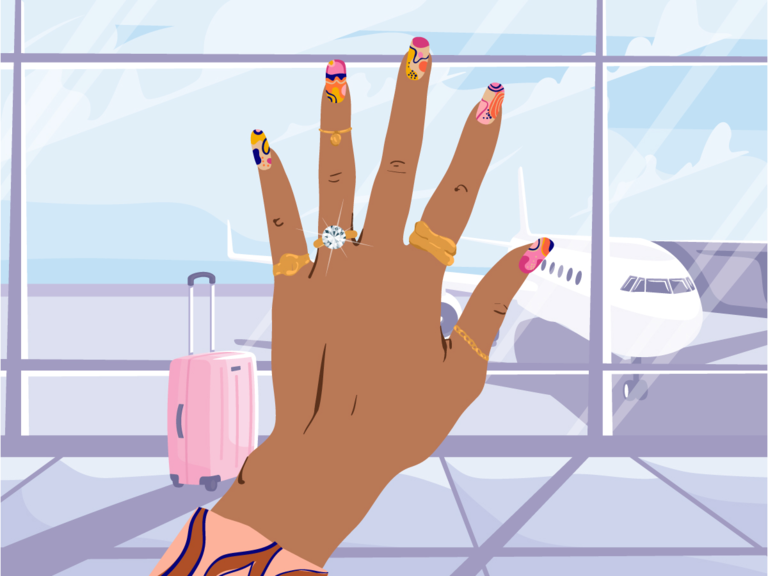 Like most newlyweds, you'll probably want to wear your rings 24/7 now that you have them. And that extends to your first major getaway as a married couple—your honeymoon. But how do you make sure your rings stay safe while traveling (both now and in the future)? First things first: Get your rings insured ASAP. Keep reading to discover the rest of our travel tips for keeping your jewels safe on your next big adventure.
1. Make sure you have a policy that covers worldwide travel
Vacation is your time to relax and unwind, and losing one of your valuables definitely does not fit that vibe. While we recommend getting your rings insured as soon as you slide them on your finger, it's an absolute must before traveling. Make sure you're covered by insuring your ring with a provider that specializes in jewelry, like Jewelers Mutual (they've been protecting rings and other priceless pieces for over 100 years!). They offer coverage that includes replacements and repairs in the event that your jewelry is lost, stolen or damaged wherever you are in the world.
2. Keep your rings close when heading to the airport
Keep your everyday jewelry on during travel, but stow your other valuable pieces in your carry-on, as opposed to in your checked bags. (Trust us, there's nothing worse than that rush of panic when your luggage goes missing.) Gold, silver and platinum won't set off metal detectors, but if you're wearing something you think might, your best bet is to store it in a zippered pouch in your carry-on before going through security. Aim to do this before you get to the conveyor belt to avoid dropping it or leaving it behind in a plastic bin. Pro tip: If you think you might forget where you've stored your jewels, send yourself a text or set a reminder for after you land!
3. Leave your rings behind when there's water or sand involved
Stow your rings in the safe in your hotel room when you're hitting the beach or pool. (Just make sure your insurance covers in-room safes—some policies only apply to the hotel's central safe.) Aside from the fact that water is known to make your fingers shrink, chlorine can be damaging to platinum and gold, so it's best not to risk it when swimming. If you have other lodging plans where there's no guarantee of an on-site safe, like a vacation rental, err on the side of caution and invest in a few handy travel locks before you leave home. Whenever you're not sporting your rings (or other valuables), lock them up in your carry-on for safekeeping.
4. Stow your rings when you have plans to work out or go hiking
We recommend leaving your rings behind where there's rigorous activity involved. On top of potentially losing them on the trail, there's the risk of scratching your stone, getting grime in the setting, or loosening a prong along the way. You'll also want to make sure you take off your rings when applying sunscreen—it can build up in the crevices of the setting and cloud stones, which means less shimmer and brilliance. Pro tip: You can use a soft toothbrush, soap and water when you're on the go to restore instant shine.
5. Wear your rings—with caution—when sightseeing, shopping or dining out
Hit the town in style, and show off your rings! If you're worried about theft, you can always turn your engagement ring inward so only the band is exposed. Additionally, you might want to hold off on social media posts with your ring front and center if that's a concern. You can also opt to leave your rings in the hotel safe or in your locked carry-on and rock a simple silicone wedding band if you want to play it extra safe.
Did you know personal jewelry insurance protects your ring from loss, damage and theft and during worldwide travel and mysterious disappearances? Insure it. Wear it. Learn more at JewelersMutual.com.