Kim Kardashian and Kanye West Spent How Many Days Perfecting This Wedding Instagram Photo?
by Ivy Jacobson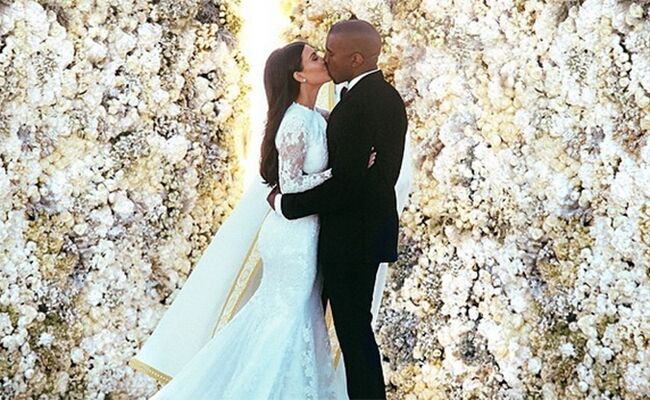 Okay, we totally understand how important posting the perfect Instagram picture of your wedding is — but as usual, Kim Kardashian and Kanye West took the cake, pie and bakery on this issue.
Today, Kanye took the stage in France at the Cannes Lions Creativity Conference to speak about the evolution of digital cultural, which turned into putting famed photographer Annie Leibovitz on blast for pulling out of shooting his and Kim's Italian wedding at the last minute.
"Let me tell you something about that kiss photo that my girl put up … this was pissing my girl off during the honeymoon, she was exhausted because we worked on the photo so much because Annie Leibovitz pulled out right before the wedding," Kanye said, according to the NY Post. "I think that she was, like, scared of the idea of celebrity. Because Annie pulled out, I was like, 'Okay, I still want my wedding photos to look like Annie Leibovitz,' and we sat there and worked on that photo for, like, four days because the flowers were off color."
He continued, "Can you imagine telling someone who wants to just Instagram a photo, who's the number one person on Instagram, 'We need to work on the color of the flower wall,' or the idea that it's a Givenchy dress, and it's not about the name Givenchy, it's about the talent that is Riccardo Tisci — and how important Kim is to the Internet. And the fact the number one most-liked photo [on Instagram] has a kind of aesthetic was a win for what the mission is, which is raising the palette."
While I'm pretty sure Kim and Kanye were not the ones photoshopping and tweaking their own photo four days into their honeymoon, it did end up being a pretty photo. But if you have a multimillion dollar wedding in a historic fort in Italy set against a floral backdrop, can you really have an ugly one? I think an Earlybird or Toaster filter would have done just fine — but that's why I'm not Kanye West.
The photo currently has more than two million likes and more than 50,000 comments, making it the most-liked image ever on Instagram. But sorry, Kanye — Justin Bieber currently holds the number one person title on Instagram, with more than 17 million followers.
Want more? Right here!
> Jill Duggar and Derick Dillard had a pounding party before their wedding!
> Yellow wedding reception ideas