Finding Love Allowed Me To Overcome Tragedy
by Rebekah Gregory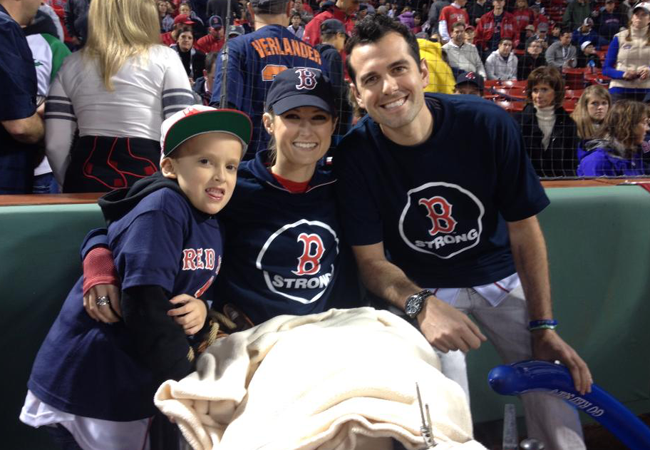 This is the first installment in a series of posts from The Knot Dream Wedding bride-to-be Rebekah Gregory. Follow our blog for weekly updates on everything from the proposal to her wedding planning and be sure to vote each week on the latest details: TheKnot.com/DreamWedding.
Do you believe in love? You know the kind I'm talking about. The love that the movies make you wish would just show up on your doorstep one day. That magical night in the pouring rain fully equipped with the breathtaking stare and the cheesy run into one another's arms?
Two years ago, I sure didn't. In fact, I was quite cynical when it came to the subject. So it seems very ironic that I, Rebekah Gregory, have a ring on my finger, a promise from an amazing man and a wedding in the process of being planned for April (with America as our witness). Am I head over heels, in that movie type of love with him? Absolutely. But sometimes in life, our "night" isn't quite what we envisioned. Our "run" is a lot longer than planned. Our "stare" is enough to nearly take our last breath away. And the rain well…sometimes it is more than we were ever prepared to handle. But sometimes in the midst of the storm life gives us that fairy tale we were hoping for and I'm so honored to share mine.
That Night
It was March 2nd, 2012. I was finishing up a business trip in Rochester, New York. At that point I was cold, tired and above all, extremely homesick for my four-year old that I hadn't seen in a week. It was my last night though, and I had promised the hotel clerk Craig that I would accept his invitation to dinner. Now I know what you are probably thinking so let me clarify: A) Craig and I had been chatting in the lobby every night when I would get in from my meetings. B) The previous night he had been freezing at his desk so I surprised him with a coffee and blanket and this was my "thank you" dinner (even though I still to this day don't think it was a big deal). C.) Craig's preference isn't women, and he is perfectly okay with me saying that. Don't worry!
So here I was, out to dinner with my new friend, gossiping about how much we disliked men and their drama. With that said, it should be no surprise that when Craig introduced me to his cute bartender friend Pete DiMartino, I didn't think twice about it (aside from noticing how cute and abnormally nice he was!). In fact, it wasn't until months later on this wonderful thing called Facebook that we finally exchanged numbers and shortly thereafter officially began our crazy journey of a long distance relationship.
The Run, Rain and the Stare
Seven months into dating long distance 1673 miles away, Pete flew my son Noah and I up to join him and his family to watch his mom run in the Boston Marathon on April 15th. That day we were standing less than ten feet away from the first bomb that exploded, thus leading to months in separate hospitals, multiple ongoing surgeries and later that year, the amputation of my left leg. Talk about a long run and a lot of rain. And the stare? After getting thrown back from the bomb and locating where everyone was, I looked over at Pete while laying on my left side and barely got out the words, "I love you." In my heart I truly felt like that would be the last time I would ever get to say it to him. Not exactly the type of stare I was going for! Was this how I pictured our relationship playing out? Absolutely not. But you know what's funny? It's almost better because the love and appreciation I have for Pete is indescribable. He is the only person I can imagine sharing my life with and I know that he is the missing piece to our little family. (Noah certainly agrees– he's been begging us to get married since they first met!)
The Fairytale Beginning
On October 4th, Pete drove all the way to Texas to ask me to be his wife. And I didn't even have time to get over the shock of the proposal before The Knot asked us to be their Dream Wedding couple for 2014.
Although we do not feel more deserving of this honor than anyone else, we couldn't be more excited to share our journey with so many other people and to let America plan our wedding! Everyone has trials in life and this just happens to be ours. But if we can inspire one person to keep pushing forward by sharing our story, it's totally worth it to me. And I don't care if I have to hop, wheel or roll down that aisle, I will get to the other end of it because the person waiting for me is the only thing that matters. For better or worse. So thank you to each and every person in advance who takes time out of their day to vote because what you see is truly what it is. Pete DiMartino is my soulmate and this is our fairy tale. So here we go! I picked the groom, you plan the wedding! I absolutely cannot wait to see what everyone comes up with!
When the location was announced I had to keep from screaming. We LOVE the Biltmore in Asheville, North Carolina. It is the perfect place to make all the fairy tale dreams for our wedding come true. And I know I will feel like a princess that day thanks to you guys!
See More Dream Wedding Updates
> What should the dream wedding look like this year? Vote now!
> Read the rest of Rebekah and Pete's love story