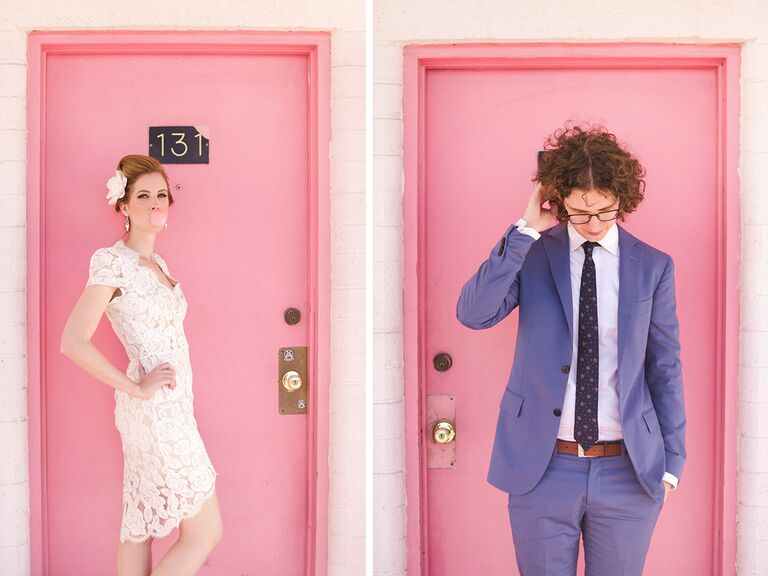 CHELSEA NICOLE PHOTOGRAPHY
Las Vegas is known to many as the Wedding Capital of the World—and for good reason. For decades, this desert destination has been the backdrop for all types of marrying couples, be they celebrities or ordinary folks like the rest of us. They flock here for the fun, the nightlife, the glitz and glamour, but also for the unparalleled beauty of the surrounding desert landscapes. Las Vegas, in other words, can be whatever you want it to be, and it's this chameleon-like quality that makes the city the perfect place to try out these of-the-moment wedding trends you'll be seeing a lot more of in 2019. So, here's to the new year, new ideas, and new ways to wed in America's most marriable metropolis.
The Trend: Themes and Vibes

CHELSEA NICOLE PHOTOGRAPHY
Couples are increasingly turning to their favorite books, movies and historical eras for wedding inspo. And let us tell you, we are here for it. Why? Because a themed wedding is, at its core, a memorable one. (Seriously, how many invitations have you received to a Star Wars–themed wedding? Probably none. Okay, maybe one, but definitely not two.) Of course, you don't have to be so strict about it, either; many couples prefer to infuse their day with an overall feeling or vibe, like one that evokes the Jazz Age or recalls the summer camp you went to as a kid.

How to Make It Happen, Vegas-Style: It's not like Las Vegas is lacking in entertainment of every variety imaginable—this city is positively packed with talented performers for hire. Want the classic Vegas experience? Start by looking at offerings from the Viva Las Vegas Wedding Chapel, a quintessential chapel on the Strip close to the Arts District and downtown. Options include celebrity impersonators (raise your hand if you want "Alice Cooper" to sing at your ceremony!) and themes like superheroes, Harley bike culture or the '50s flair of the Doo Wop Diner (pictured above). For a more traditional, but still one-of-a-kind venue, there are plenty of over-the-top hotels modeled after a theme, from Paris to New York to Ancient Egypt. Do it up Italian-style by booking The Venetian. If it's just you two, consider marrying in a gondola as it glides along a canal or for bigger parties of up to 150, we love the property's stunning Venezia Pool Gardens, complete with lush landscaping and elegant fountains.  


The Trend: Experiential Favors

CHELSEA NICOLE PHOTOGRAPHY
You could box up Jordan almonds that coordinate with your color scheme—or you could offer something way more unexpected as a thank-you to guests. We're talking snack-bearing, end-of-night food trucks or a special performance by an artist or entertainer. With these kinds of favors, it's the experience, not the physical token, that counts. If yours is a weekend event and you have more time to work with, why not treat your group to a specialty class, a guided tour or a theatrical show? Luckily for you, Vegas has all of these in spades.
How to Make It Happen, Vegas-Style:  Treat yourself and your guests with some take-home cake truffles or cookies from Milk Bar or even arrange an over-the-top doughnut bar with unforgettable flavors from District. Or, book the professional cigar rollers behind The Spirit of Cuba for a hot Havana touch. Got food-truck fever? Try Roaming Hunger, a company that'll help you pick the perfect local mobile eatery, plus negotiate rates on your behalf. To schedule a nature or city tour (like the double-decker bus pictured above), or to reserve group tickets to one of the productions Vegas is famous for, check out VisitLasVegas.com for a comprehensive guide to all the city has to offer.


The Trend: Outside-the-Box Venues
No, that staple of millennial weddings—aka a barn or farmhouse—isn't going anywhere. But there are new, fresh venues on the horizon: Distilleries, breweries and greenhouses are on the rise, as are ranches—of which the Vegas area has more than a few. Book one of these surprising gems and we can guarantee your guests will have never attended a wedding anywhere like it.
How to Make It Happen, Vegas-Style: Want succulents and cacti in more than just your bouquet? Have your wedding in the middle of a desert oasis in the botanical garden at Springs Preserve. Or say "I do" in a historic ranch setting surrounded by brightly-colored cliffs at Spring Mountain Ranch State Park, a natural wonder a mere 15 miles from the Strip. Social media more your thing? For the ultimate Insta-worthy ceremony, the Palms Casino Resort is home to the graphic-art-installation-turned-wedding-chapel 'Til Death Do Us Part (pictured above). Guaranteed to get your followers double-tapping, this black and white venue is a limited time pop-up, so book now if you're looking to get hitched in this unique art piece.


The Trend: Lighting as the 'It' Rental

CHELSEA NICOLE PHOTOGRAPHY
Legend has it that the neon lights of the Vegas Strip are visible from space. While we can't vouch for the accuracy of that myth, there's no denying that Las Vegas is known for its brighter-than-life persona. Fully embrace that image with one of our favorite trends of the year: statement lighting. Candlelight, uplighting, custom neon signs—all have the power to take a venue from ho-hum to "holy cow!" Add to that the bright, dazzling scenery of the city, and you're guaranteed to have a party that's lit, in every sense of the word.
How to Make It Happen, Vegas-Style: Vegas Event Lights is a local go-to for creative lighting rentals. Besides the usual fare like spotlights and chandeliers, the rental company offers cutting-edge effects courtesy of floating LED orbs, marquee letters and lighted curtain walls (hello, photo backdrop!). For customized signs, try Name Glo, which will design a Vegas-worthy, neon-inspired motif, monogram or message just for your event.


The Trend: Private Vows

On the shy side? You can elope, of course. Las Vegas definitely has a history of no-fuss, spontaneous marriages, after all. (There are even scores of planners and event designers that specialize in this niche, ensuring your à deux nuptials are the height of elegance and beauty.) But if you're merely looking to set aside an ultra-personal, romantic moment in the midst of a major affair with all your loved ones, consider throwing a big bash after you two recite your personalized, heartfelt vows in private.
How to Make It Happen, Vegas-Style: For an extraordinary, only-in-Vegas event, say your "I dos" while helicoptering over the bright lights of the Strip at night; check out Maverick Helicopters, which offers multiple wedding packages. If it's the natural beauty of the desert you're after, contact Flora Pop or Kristen Kay—both of these Las Vegas area planners specialize in creating memorable ceremonies for two just about anywhere you can imagine. Want a more low-key option? Most of the Strip hotels offer wedding packages that range from huge affairs to more intimate events; we're partial to the elegant Fountain Courtyard at the Bellagio, which holds up to 10 guests.


Tell us what you think about the article you just read! Click here to take a survey and be entered to win a $100 American Express gift card. 

The Knot and the Las Vegas Convention and Visitors Authority present Match Made in Vegas, a sponsored series featuring unforgettable venues, insider tips and real-life inspiration to help plan your perfect Vegas destination wedding. To get started, log on to VisitLasVegas.com.