This Las Vegas Proposal Involves a Magician and a Blindfold (So You Know It's Awesome)
by Ivy Jacobson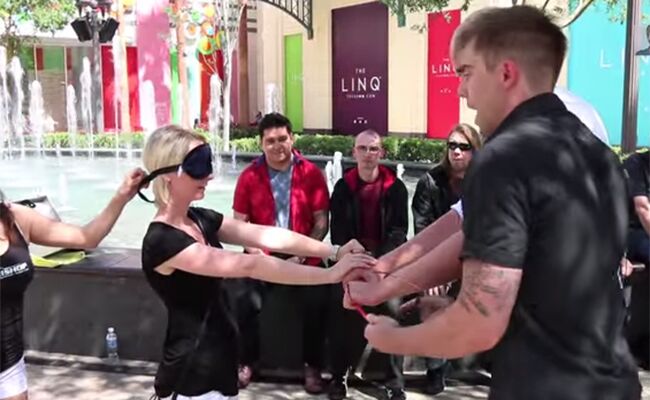 Usually when you stop by a street magician's show in Las Vegas, you're in for a decent card trick or disappearing wallet — and not expecting a proposal! Vegas magician Rob Anderson helped one German groom-to-be, James, propose to his girlfriend, Nicole, using a little magic.
Unsuspectingly, she was in Sin City with friends and they stopped to watch Rob perform on the street, not knowing that James had flown in from Germany. As she became the center of a magic trick, James appears and seven people reveal letters on their shirts, spelling out "MARRY ME."
He says, "We've been together now for a long time, and I love you so much. There's only one thing I want to ask. Will you marry me?"
Luckily, Nicole or her engagement ring didn't magically disappear before she got the chance to say "yes!"
Watch the proposal here:
Want more? Right here!
> This bookstore proposal is the sweetest thing you'll see today
> Gay Weddings from The Knot out now!
> A fiesta-inspired wedding in Scottsdale, AZ