'Real Housewives of New Jersey' Alum Lauren Manzo Is Married!
Caroline Manzo's daughter tied the knot with her longtime boyfriend Vito Scalia over the weekend at -- where else? -- The Brownstone.
by Julia Naftulin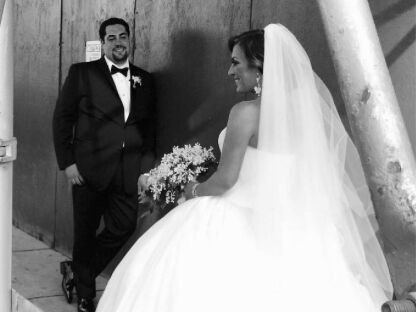 Instagram.com/laurenmanzo
Congratulations are in order for Lauren Manzo! The Real Housewives of New Jersey alum and Manzo'd With Children star got married on Saturday to her longtime love Vito Scalia after being engaged for nearly two years. The couple had a traditional ceremony at St. Cyril's Church in New York City, followed by a reception at The Brownstone -- a venue owned by Lauren's family that's been featured on the show countless times -- in Paterson, New Jersey.
"I'm excited to see my daughter just start her life," former Real Housewives of New Jersey star Caroline Manzo told Us Weekly. "I want her to just embrace this moment and I want to see her really, really shine. And that's, for me, that's worth more than anything on the planet, to see your kids truly, truly happy... Vito is a great guy and the Scalias are wonderful people."
The wedding was a full-blown Real Housewives reunion, with attendees including Joe and Melissa Gorga, Richie and Kathy Wakile, Kathy's sister Rosie Pierri and Chris and Jacqueline Laurita.

Lauren and Vito met through Lauren's brother, Albie, who attended Fordham University with the groom.
The bride wore a strapless Vera Wang wedding dress with a ball gown skirt that would make even Cinderella jealous -- and we can't get enough of her gorgeous, flower-embroidered floor-length veil! Swoon. She flaunted her frock on Instagram along with the caption "Last night was unreal and absolutely perfect. I had my fairytale wedding, fairytale dress but most importantly the best Prince Charming by my side to enjoy it with.... I love you HUSBAND!!!"
All the details from Lauren and Vito's wedding will air on Season 2 of Manzo'd With Children, but for now, see more photos from their celebration below. Congratulations to the sweet couple!