The New and Less Painful Ways to Get Waxed
We can't guarantee a completely painless experience, but these six all-natural options will come pretty darn close.
by Farah Prince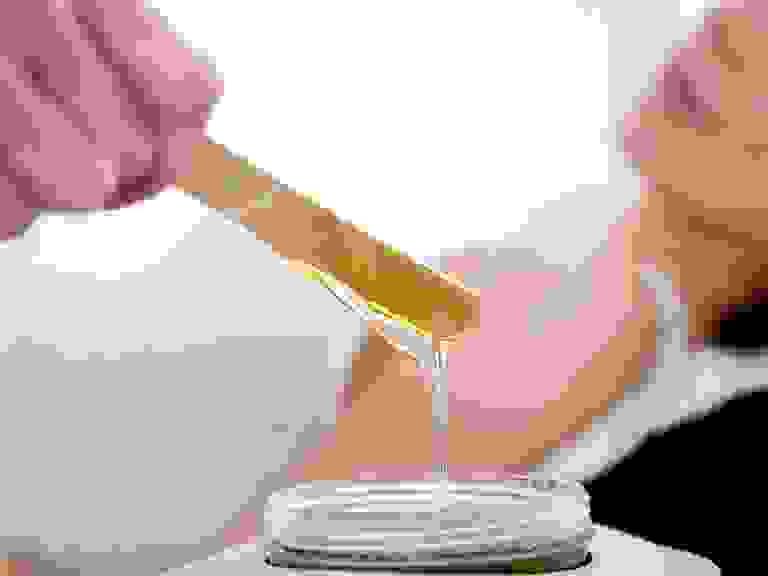 We've all been there—you've shaved an area of skin only to find forgotten patches of hair, or worse, stubble growing back where smooth skin was just days ago. Removing your body hair is a personal choice and never a necessity—do it, don't do it, whatever works for you—but if you choose to remove it, you want it to last and be as painless a process as possible. While shaving is fine for everyday maintenance, for your wedding, ditch the razor and opt for a wax instead. It will last longer (not as long-lasting as laser hair removal, but definitely more budget friendly) and it will give you a smoother, more even finish.
Traditional hot wax (usually a mix of melted waxes like beeswax, rosin and different forms of glycerin) sticks to unwanted hairs and the skin underneath, usually leading to angry, irritated post-wax skin. But this new crop of all-natural alternatives—waxes with skin soothing ingredients like aloe and natural oils—will effectively remove your hair while also calming your skin, post-wax. So before you book your next appointment, meet the new, less painful ways to get waxed. (PS—always make sure to first try a wax with more than enough lead time before your wedding, so you can make sure you don't have any sort of irritation.)

Sugaring
What's in it: A blend of melted sugar, lemon and hot water.
How does it work: The sugar-based formula is rolled into a ball and rubbed continuously over the skin, removing hair from the root. Sugaring still has the sensation of a wax but unlike waxing, the blend doesn't stick to your skin and it doesn't have to be piping hot to work. Since the ball of sugar is rubbed against the growth of hair, when it's ripped off, it removes the hair in it's natural direction which reduces the risk of ingrown hairs.  
What you need to know: For sugaring to be truly effective, you'll need to grow out your hair a bit before getting it done. Wait at least a week or two from your last wax or shave before booking your sugaring appointment.
Aloe Vera Wax
What's in it: It can be made with just aloe vera and beeswax, or you can substitute the wax for glycerin. 
How does it work: If you have dry or easily irritated skin, an aloe vera wax will be your new skin-soothing savior. It's applied and removed like traditional wax without all of the pain and irritation. Aloe vera has a long list of positives: It's anti-fungal, anti-inflammatory, gives a boost of hydration and its enzymes exfoliate the skin, which replaces dead skin cells. 
What you need to know: Another perk of an aloe vera wax is it helps keep your hair shafts closed, which means your hair will grow back slower. So even if you have to schedule your wax more than two weeks in advance, you can still expect silky smooth skin.
Chocolate Wax
What's in it: The star ingredient is the cocoa bean, which is melted down and mixed with other ingredients like glycerin, sunflower oil, almond oil and minerals. 
How does it work: The creamy blend is applied to your skin at a comfortable temperature (read: not burning hot) and once it hardens on the skin, it's taken off with minimal force. The nourishing ingredients mean you won't have to deal with any redness or inflammation after, and the essentials oils in chocolate work to penetrate the skin with moisture for a smooth sheen post-wax. An added bonus of this indulgent wax? The comforting smell of chocolate might just help you relax (as much as you can when someone is ripping your hair out). 
What you need to know: If you're planning to get a spray tan for your wedding, schedule your chocolate wax first. The added oils in the blend can create an uneven base, which will make your tan dry unevenly, and the exfoliating properties in cocoa can even lift the color of an existing tan.
Strawberry Wax
What's in it: Strawberry extract, natural oils like almond or jojoba, and glycerin. 
How does it work: Similar to chocolate, the strawberry wax blend melts super quick, so it doesn't have to be heated to higher temps, and it spreads easily for smoother, more even hair removal. Plus, it's loaded with skin-loving vitamins and antioxidants. Strawberries also have alpha-hydroxy acids (similar to the exfoliating toners you use on your face) that revitalize your skin and vitamin C that can help lighten an uneven skin tone. 
What you need to know: Strawberry wax is a newer service, so it might be hard to find a spa that offers it. Consider buying ready-made strawberry wax online and pampering yourself with a DIY treatment at home.