Top 10 LGBT Honeymoons
Look to Lonely Planet's newest guidebook 'The Honeymoon Handbook' to plan your same-sex-friendly getaway.
by Lonely Planet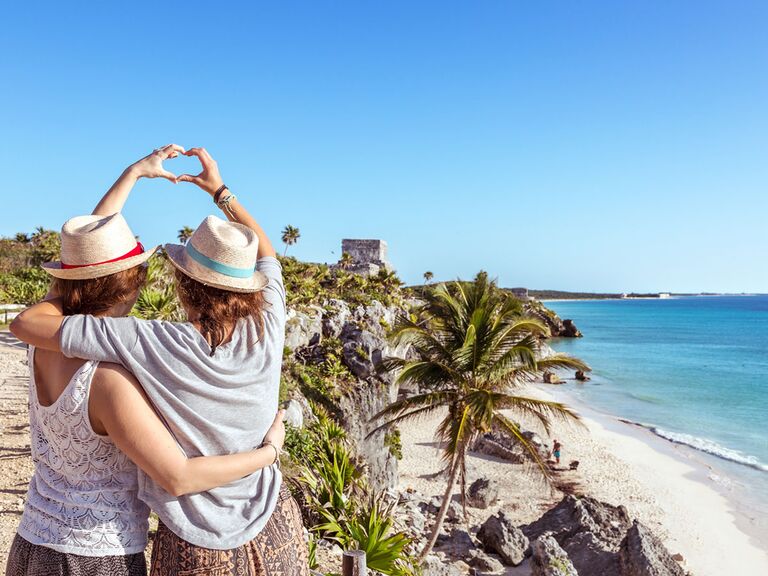 Planning a wedding is stressful enough—add in figuring out your honeymoon and you're likely to get overwhelmed. Thankfully, Lonely Planet's newest book The Honeymoon Handbook is making it easy. And if you're a same-sex couple, this is the perfect guide for you. Lonely Planet has rated each destination in the The Honeymoon Handbook with an "LGBT-friendliness indicator." Here's a list just for you of beautiful places to visit—that are also LGBT friendly. 
Maui, Hawaii      
Hawaii's rainbow emblem has long attracted the LGBT jet-set as it's one of America's first states to move progressive partnership legislation forward. Maui's the perfect world-in-one island with #nofilter beach views, soaring up-country mountain vistas, a vibrant pan-Asian food scene and misty rain forests drenching the faraway village of Hana.
Canada
The first nation to legalize same-sex unions outside of Europe, Canada's a progressive combustion of the United States and Britain offering hundreds of honeymoon opportunities from the sky-scratching Rockies in the west to Newfoundland's quiet fjords in the far east. Marry the country's superlative nature with a stop in Montreal to experience North America's most laid-back cultural center.
St. Barts      
With a glittery night scene and deep Roman Catholic roots, St. Barts's citizens all pray to the Madonna, albeit different ones. The holiday season teems with celebrities, like Beyoncé, but the rest of the year is decidedly low-key and perfect for quiet romantic forays along some of the most picturesque beaches on the planet. Pair the paradise with the Dutch island of Saba nearby. Fittingly known as the Unspoiled Queen, it's a volcanic spire famed for its scuba-friendly waters and intense cloud forest hikes.
Iceland
Mystical, romantic and adventurous, Iceland is a safe and welcoming honeymoon destination for LGBT couples. Explore mountains, volcanoes and glaciers by foot, dog sled or helicopter. Indulge in some serious pampering at a luxury spa. Then head to Reykjavik to experience the capital's lively gay scene.
Paris
Ah Paris. The most captivating city in the world dazzles with its fashion houses, museums, top-notch cuisine and hipster hangouts tucked behind the trademark Hausmannian facades. The City of Lights has long been a favorite destination for the free-thinking and a paradigm for classic romance.
Argentina
The first country in Latin America to legalize same-sex marriage, Argentina is about as progressive as it gets in this region. Don't miss the vibrant LGBT club scene in the cosmopolitan capital Buenos Aires, and world-class dining in the city of Mendoza. If you're feeling adventurous, take a road trip along the foothills of the Andes, staying at family-run cowboy ranches, award-winning wineries and forest retreats along the way.
Australia 
With a population as diverse as its landscape, Australia promises all the trappings of a tropical holiday with a generous side of urban exploration. Turquoise waters flank the quiet coasts of Queensland and Western Australia, and Sydney and Melbourne carry the banner as two of the most hospitable and open-minded cities on the globe. Adventurous types have huge swaths of the Outback to explore whether its the holy rock mounds of Kata Tjuta or the dunes of Mungo National Park.
Berlin
A city of bohemian delights and excesses, Berlin is well loved for its alternative music, theater and arts scenes that quite literally spill out onto the streets—not to mention its out-of-this-world nightlife. For the best LGBT scenes, head west to vibrant Kreuzberg and Schöneberg, where Berlin's Gay Pride Festival is held every June, and east to Prenzlauer Berg and Freidrichshain.
New Zealand
Since passing same-sex marriage laws in 2013, New Zealand has actively promoted same-sex marriage tourism to the likes of Australia and other Pacific nations where equality laws are less progressive. Its restaurants and wineries are excellent; its landscapes are breathtaking; and its adventure scene is second to none, making the variety of honeymooning options endless.
Cape Town, South Africa
This liberal enclave of South Africa is the most welcoming place for LGBT couples wanting to experience African culture, and its creative, outdoorsy spirit makes for a sophisticated honeymoon. Relax on trendy beaches, climb magnetic Table Mountain, then wash it all down with a vineyards tour in the nearby Winelands and nightclubbing around De Waterkant.
Reproduced with permission from The Honeymoon Handbook, © 2017 Lonely Planet, modified by Brandon Presser. For more honeymoon tips, buy Lonely Planet's essential honeymoon planning tool here.