Wonder How A Collection Comes To Life? Liancarlo Shares The Secret Behind His New Collection
by Heather Hall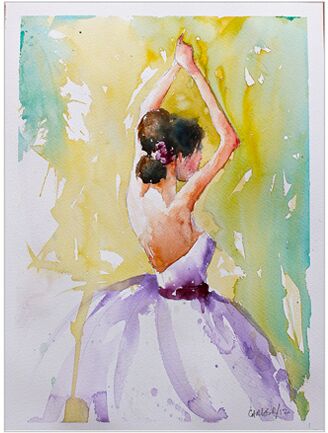 Lucky for us, founder and designer Carlos Ramirez of Liancarlo has given us a sneak peek to the aesthetic that lies behind his upcoming bridal collection on his blog Art Reflects Life. Ramirez's watercolor painting "Dance" is the muse for his next line of dresses to be shown in October during New York Bridal Fashion Week.
"Light, translucent, airy" is the definition of his work. Like a dancer floating gracefully across the stage, I imagine this collection of gowns to embody the same fluidity and elegance as the dancer in the painting.
I will be dreaming of twirling ballerinas tonight and can't wait to see what he comes up with… I'm thinking lots of tulle!
> The Gown Unveiled: A Inside Look At Carlos Ramirez's Process
> Liancarlo Fall 2012 Collection