Look of the Moment: Byzantine Beauty
by Libby MacCarthy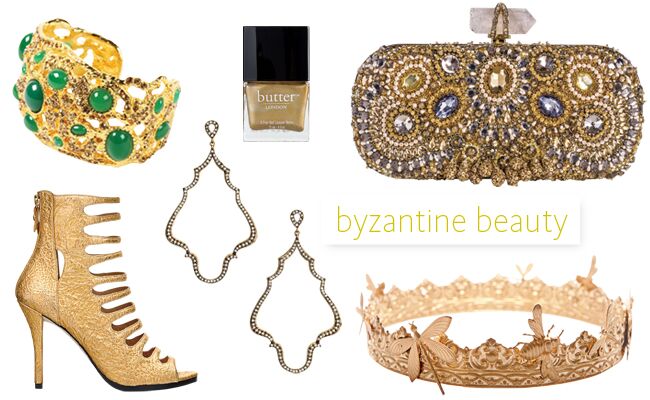 Crystal headpieces and birdcage veils have become the 'it' accessories for brides wanting a slightly non-traditional, vintage look. But for something different that doesn't compromise on glamour and old-world charm, look to gilded details and ornate beadwork inspired by the iconic mosiacs in Istanbul's Hagia Sophia to make your bridal look stand out.
Accessories like a beautifully embellished clutch will give all your wedding day essentials a supremely glamorous home, while a gilded crown (because when else can you wear one?) and gold foil booties are the epitome of romantic, regal chic.
Here's what you need to get this beautiful Byzantine style: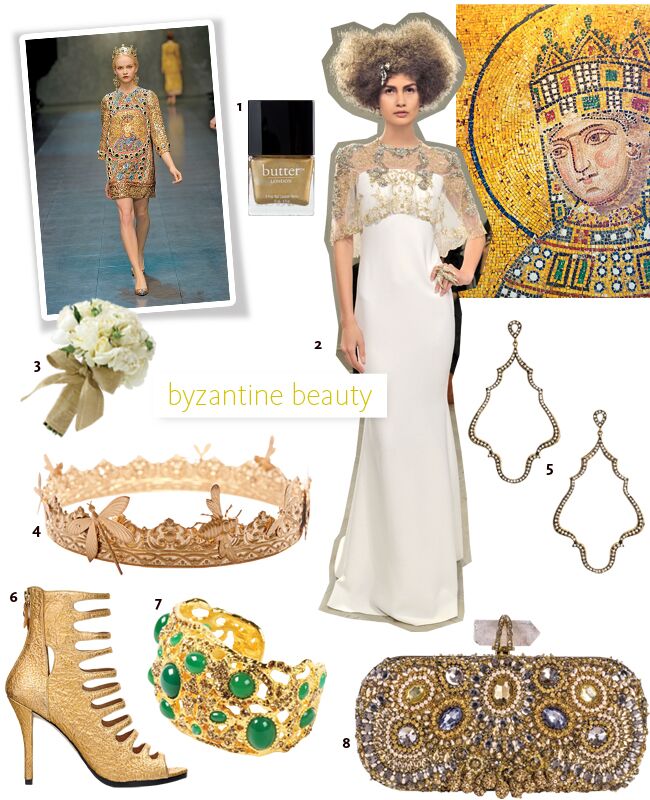 1. Nail lacquer in Marbs, $15, ButterLondon.com ; 2. Gown with embellished capelet, $4,765, BadgleyMischka.com ; 3. Bouquet with shiny gold wrap, PrudenceDesigns.net; 4. Crystal drop earrings, $140, Azaara, BHLDN.com; 5. Dragonfly crown, $1,575, Mordekai.com; 6. Gold foil booties, $498, StuartWeitzman.com; 7. Gold bracelet, $350, ClaraKasavina.com; 8. Embellished clutch, $2,995, Marchesa, Net-a-Porter.com
Want more? Right here!
> 9 Hot Wedding Trends for Fall
> 8 Bold Bachelorette Trends to Try