28 Low Wedding Centerpieces That Are Short and Sweet
These small arrangements are big on style.
While there's a time and place for everything, there's no rule that says you need giant, over-the-top centerpieces on your wedding reception tables. Leaning toward something more minimal—but not boring? Go for chic, yet understated small centerpieces that serve up just as much wow factor. Whether you're downsizing because you're into more simplistic designs or you're looking for ways to maximize your wedding flower budget, these low centerpieces will encourage plenty of table talk and still tap into your personal style. Check out the ideas below to see how real couples pulled them off, and then start saving inspiration to share with your own wedding florist.
1. Low Centerpiece in Gold Compote Vase
An arrangement of dark blue thistle, burgundy roses, white anemones, pink ranunculus and mauve hellebores is a moody take on romantic garden style. Showcase the centerpiece in a timeless gold compote to add warmth and shimmer to a fall wedding tablescape.
2. Tropical Wedding Centerpiece with Fruit
Going for small centerpieces doesn't mean you have to skimp on detail. Case in point: This brightly colored floral arrangement featuring proteas, anthurium and ranunculus in an island-ready palette of pink, yellow and orange. Fresh fruit gives the centerpiece a playful, unexpected finish.
3. Small Wedding Centerpiece with Bud Vases
If you're looking to keep your wedding flowers extra-simple, showcase a few blooms in bud vases clustered at the center of each table. Choose flowers in a range of hues that match your wedding colors, like this assortment of light and dark pinks.
4. Low Wedding Centerpiece with Lanterns
Hurricane lanterns are a staple detail for casual and laid-back wedding themes. You can find them in a range of finishes, including gold, silver and wood, but these copper lanterns immediately stand out against the white blossoms and greenery.
5. Classic Taper Candle Wedding Centerpiece
Taper candles will add a luxury, high-end look to any small centerpiece. For the most formal effect, choose candle holders with glass covers to catch dripping wax and prevent the candles from blowing out (and heads up: your wedding venue may require you to contain open flames anyway).
6. Small Colorful Centerpiece with Candles
On the other hand, colorful taper candles are perfect for bringing a whimsical vibe to your tabletops. Scatter single blooms, petals and greenery among candles in varying heights to create mismatched centerpieces for the reception space.
7. Long Banquet Table with Small Centerpieces
Long banquet tables make an impact all on their own, so flower centerpieces that are on the smaller side will add just the right amount of finesse without overpowering the room. Place rounded, uniform centerpieces in a row down the center of the table, then bring the eye upward by stringing lights or hanging chandeliers from above.
8. Boho Pampas Grass Wedding Centerpiece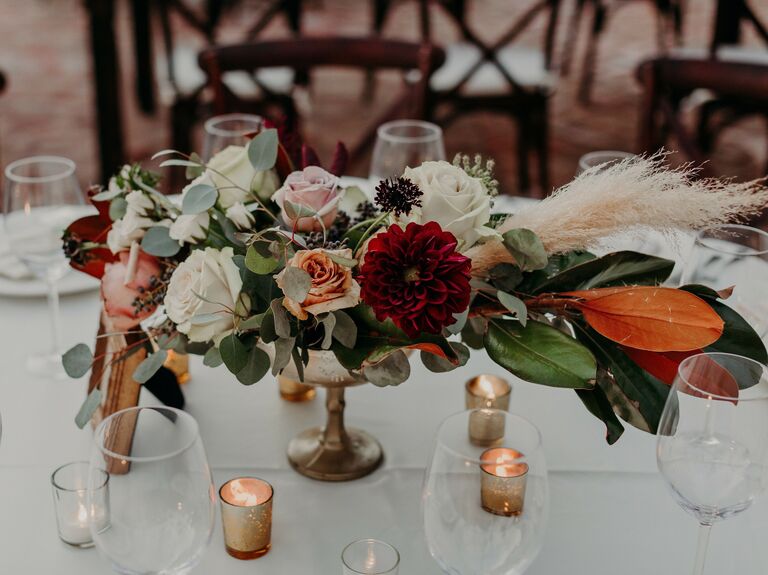 Instead of centerpieces that extend vertically, focus on making them more horizontal instead, like this arrangement with pampas grass and magnolia leaves. You'll get the illusion of a larger arrangement without resorting to tall centerpieces.
Find your kind of venue
From barns to ballrooms, discover reception venues that feel like you.
9. Low Centerpiece with Matching Place Setting
It's true that the tiniest details can sometimes make a whole lot of difference. Decorate your reception place settings with single blooms that mirror your centerpieces to tie the whole tablescape together.
10. Floral Wedding Table Runner
When you think of table runners, you might think of traditional table linens, but their floral counterparts are one of the best ways to add instant wow factor to your wedding decor. Use a floral table runner to decorate your head table, sweetheart table, or wherever else you want to create a focal point.
11. Small White and Gold Wedding Centerpiece
This petite arrangement of ranunculus, sweet peas, stock and greenery is a sophisticated design if you're looking for simple centerpieces. Paired with a framed calligraphy table number, the all-white centerpiece is timeless and understated.
12. Ikebana Wedding Centerpiece
Ikebana is a type of Japanese floral design that focuses on using flowers to convey emotion and movement, almost as if the blooms are growing right out of the arrangement. The mini centerpieces, which often feature just a few flowers, are a unique alternative to traditional small centerpieces—not to mention they're guaranteed conversation-starters.
13. Low Centerpiece with Colorful Table Decorations
You don't need tall centerpieces to create memorable reception tablescapes. Details like colorful glassware and individual place cards can complement low flower arrangements, maximizing their overall impact.
14. Small Candelabra Wedding Centerpiece
Think outside the box (or vase) for your small table centerpieces by showcasing flowers in an unexpected way, like this rose-filled candelabra. It's a spot-on detail for any garden-themed wedding.
15. Simple Wedding Centerpiece with Greenery
For a breezy, welcoming vibe, decorate your tables with airy gauze runners, greenery garlands and white votive candles in place of large centerpieces.
16. Bell Jar Wedding Centerpiece
Who said small centerpieces have to be boring? When clustered together, like these bell jars stretching the length of the table, low floral arrangements bring a visual boost to your decor and can actually help the space feel bigger.
17. Modern Asymmetrical Wedding Centerpiece
A honeycomb-textured vessel is the perfect base for this cheerful centerpiece of clematis, zinnias, sweet peas and lisianthus. The arrangement's asymmetrical shape adds to the quirky tone of the color palette.
18. Small Centerpiece with Potted Plants
Skip the fresh flowers and use potted plants, like herbs or succulents, as your small table centerpieces instead. A mix of terracotta pots and brass vessels will give your tables a rustic, farmhouse-inspired aesthetic.
19. Wedding Tablescape with Patterned Linens
If you're choosing patterned linens for your reception tables, the addition of large centerpieces can sometimes feel like too much. Instead, opt for smaller arrangements that complement the pattern without stealing the spotlight.
20. Pillar Candle Wedding Centerpiece
Gold candlesticks and white pillar candles may not seem like much, but they can help make your small centerpieces appear larger than they actually are. A trio of candles adds oomph to this jewel-toned centerpiece of white and purple hydrangeas, pink roses and blue thistle.
21. Small Centerpiece with Blue and Orange Flowers
You don't need to fill your centerpieces with a rainbow of blooms—a few different types of flowers in similar colors will do the trick. For a late summer or fall wedding, we love this punchy orange design with blue chinoiserie accents.
22. Low Wedding Centerpiece with Rattan Vases
Use items in varying heights to add even more detail and texture to your low centerpieces. This boho setup included rattan-wrapped vases and assorted candles on either side of the flower arrangement.
23. Centerpiece with Hoop-Shaped Flower Arrangement
Floral hoops are a popular wedding bouquet alternative, but we love this miniature version as a centerpiece too.
24. White Flowers and Greenery Centerpiece
If you don't want the vases for your centerpieces to be visible, ask your wedding florist to create arrangements that are rounded over the sides. You can also use eucalyptus or other greenery to hide the base of the vessels.
25. Tulip Wedding Centerpiece in Low Trough
Perfect for a springtime wedding, this tulip centerpiece mimics the look of a garden flower bed, thanks to the carved-out wooden trough and moss accents.
26. Small Rustic Wedding Centerpiece
Collect vintage mason jars and glass bottles (or set aside wine and olive oil bottles throughout your engagement), then ask your florist to fill them with various greenery and wildflowers—the more mismatched, the better. The end result is a super-simple centerpiece without the fuss.
27. Low Wedding Centerpiece in Mercury Glass Vase
Mercury glass is one of our favorite details for nighttime weddings and centerpieces with candles. The shimmery finish on the vases will reflect the light from the flames, creating a cozy ambience.
28. Wedding Table Centerpieces with Topiaries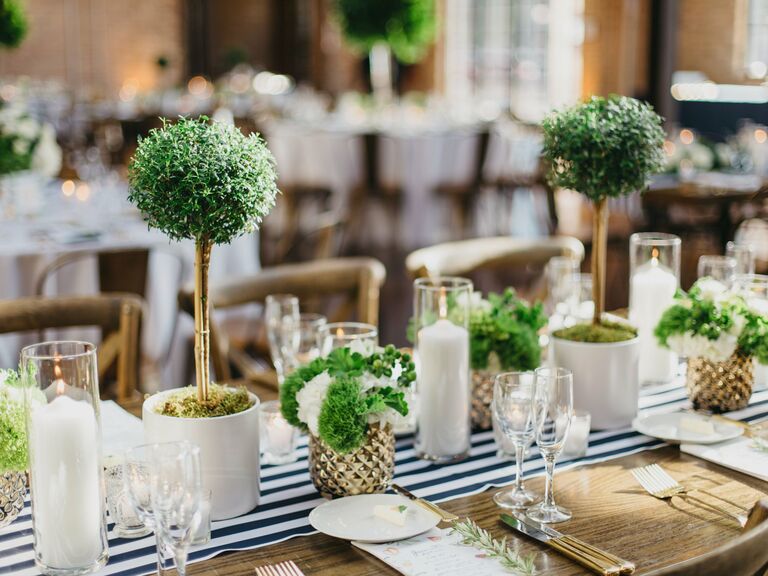 Tiny topiaries are an adorably charming alternative to floral centerpieces. They'll add a classic prepster vibe to your wedding decor, especially if you pair them with elements like striped prints, monograms and bows.