Make A Secret Storage Book For Your Ring Pillow
by Bridget Clegg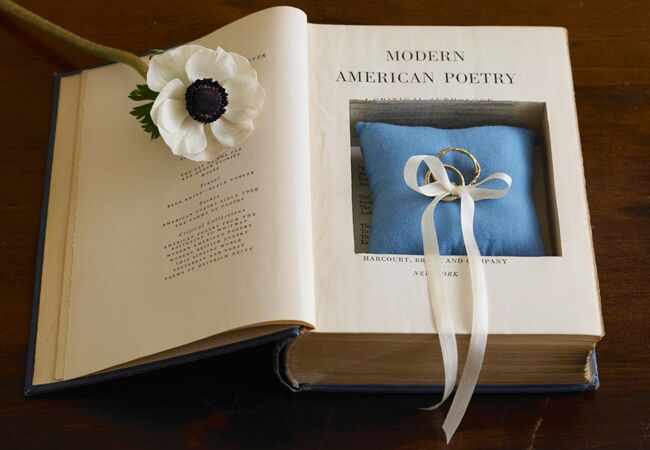 A book box is a place for special treasures, so it's totally appropriate to use one as a practical prop for your ring bearer! Choose a book with a cool cover or one that has an important meaning to you and your fiance. Then grab your paper punch and go to town on the pages at the front of the book to create the hole where the ring pillow will go. Follow the step-by-step instructions below to house your rings safely at the ceremony (and earn cool points with your ring bearer for the secret storage box that's just perfect for his important rock collection!).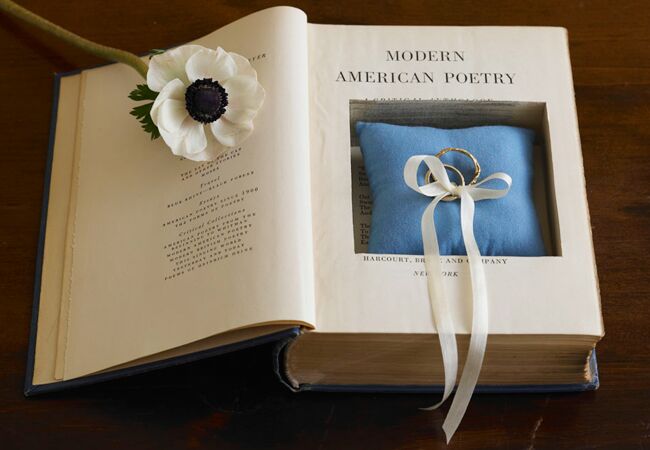 Thick hardcover book
Plastic wrap
Puzzle glue, $12, Walmart
Paintbrush
3.5″ x 3.5″ square paper punch, $26, Marvy Uchida
Ribbon
Needle and thread
3″ x 3″ square pincushion

1. Open the book and wrap the cover and the first 2-3 pages in plastic wrap (to protect them from the glue).
2. With the paintbrush, apply 2 layers of glue to the edges of the unwrapped pages.
3. Use the punch to make a 3.5″ x 3.5″ hole in the center of the first unwrapped page.
4. Trace the outline of the hole you just punched onto the page below. Line up the punch and punch away.
5. Repeat until the hole is 2.5″-3″ deep (or the pincushion fits).
6. Sew the ribbon to the middle of the pincushion.
7. Glue the pincushion to the bottom of the hole; use the ribbon to tie the rings down.
See More!
> 6 book-themed DIY wedding projects
> 12 of the cutest wedding kids