Sweet Ways to Make Dad Feel Special on Your Wedding Day
Show the man who loved you first how much he means to you with one of these personal touches.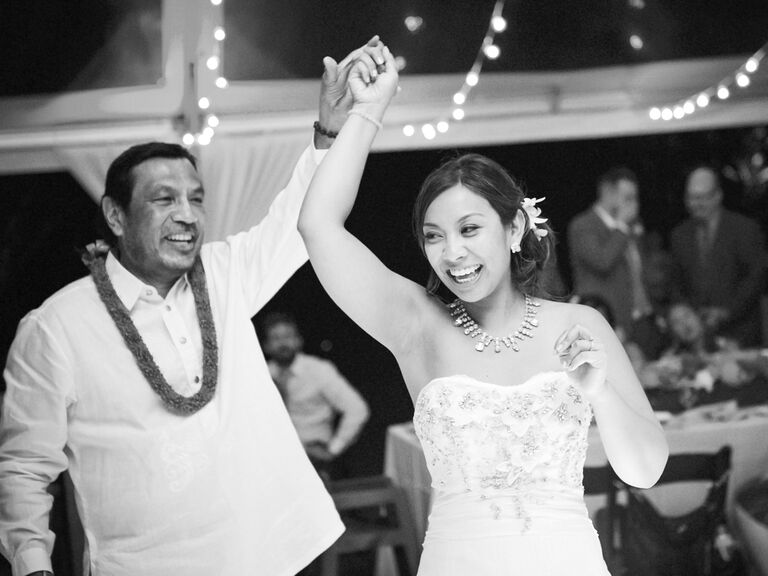 Christie Pham Photography
Your dad has been there for you through it all, from your first game of catch to moving you into your college dorm. But with so many wedding decisions weighing on your mind (buttercream or fondant, garden roses or peonies), it's easy to forget about your first dance partner. We surveyed some of our favorite wedding planners to see how brides have made their fathers feel extra special on their day—and we have to admit, we got a bit teary-eyed. Get inspired by all the touching ideas below, then steal one for your dad.
1. Father-Daughter Dance
"Father-daughter dances are traditional for many weddings. If you're looking to spend more time with your dad during the wedding planning process, sign up for dance lessons to choreograph a dance for your day. Show your guests that you and your dad can bust a move! Not only will you appreciate the time with your dad, he'll love every moment he spends with you before you say 'I do.' " —Nicole George of Nicole George Event Planning & Design
2. Write Him a Note
"It's so important to make your father feel extra, extra loved on your wedding day. He may not be the emotional type, but he's giving away his little girl, and that has to be all kinds of emotions that can't even be explained. One idea our brides love to do is leave a sweet handwritten card on her dad's dinner plate at the reception letting him know how much she appreciates and loves him. It's such a thoughtful touch for a dad to sit down and know his little girl was thinking about him when she planned all the little details." —Sara Fried of Fete Nashville
3. Special Boutonniere
"Talk to your florist about having a special boutonniere made for your dad that sets him apart from the other gents." —GATHER Events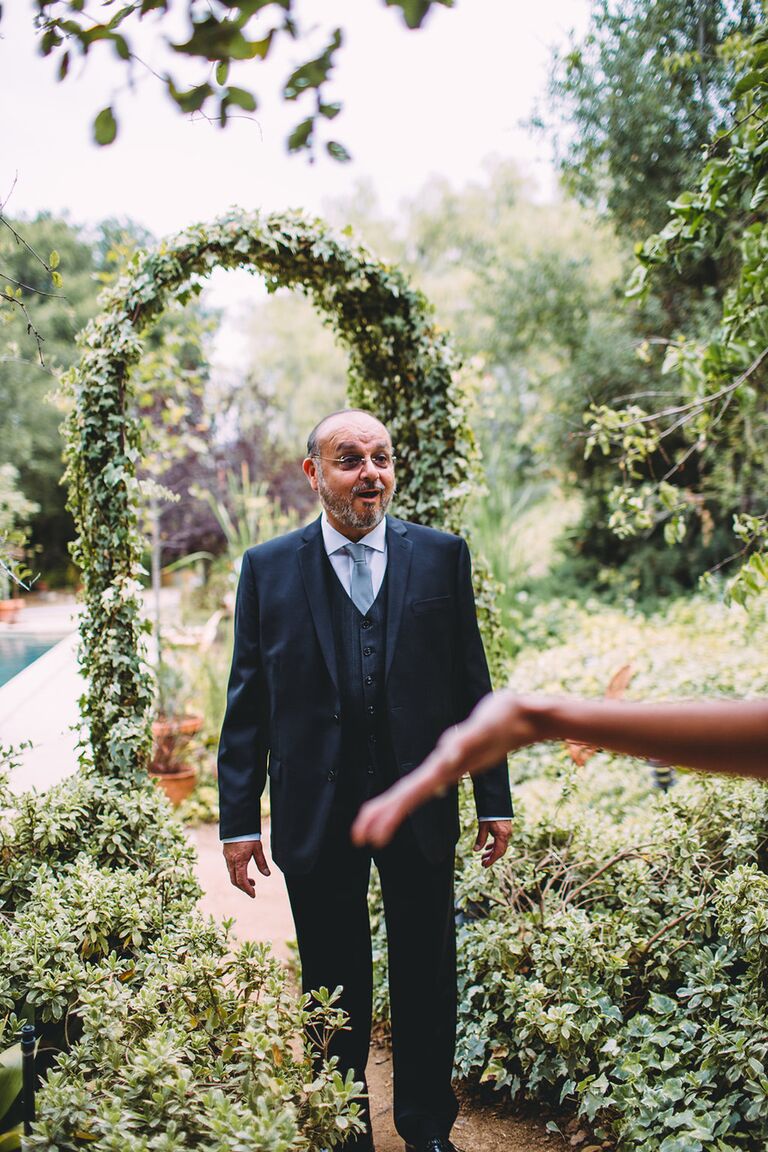 4. First Look
"The best way to make your dad feel special on your wedding day is to have a moment with him alone and do a first look. It's always extra special to have that time with the man that has always been there and that you've always looked up to. Adding a small father of the bride gift with a personalized message will mean more to him than you ever thought possible." —Kari Dirksen of Feathered Arrow Events
5. Signature Food
"Create a signature specialty cocktail named after your dad, or incorporate his favorite food into your appetizer menu. Including your dad in the catering plans is a great way to make him feel involved and special on your wedding day." – Matthew Antoun of Modern Art Catering
6. Arrive Together
"A wonderful way to make your dad feel special on your wedding day is to travel to your wedding ceremony just the two of you. It's always a special time that you'll remember before you walk down the aisle." —A. Dominick Events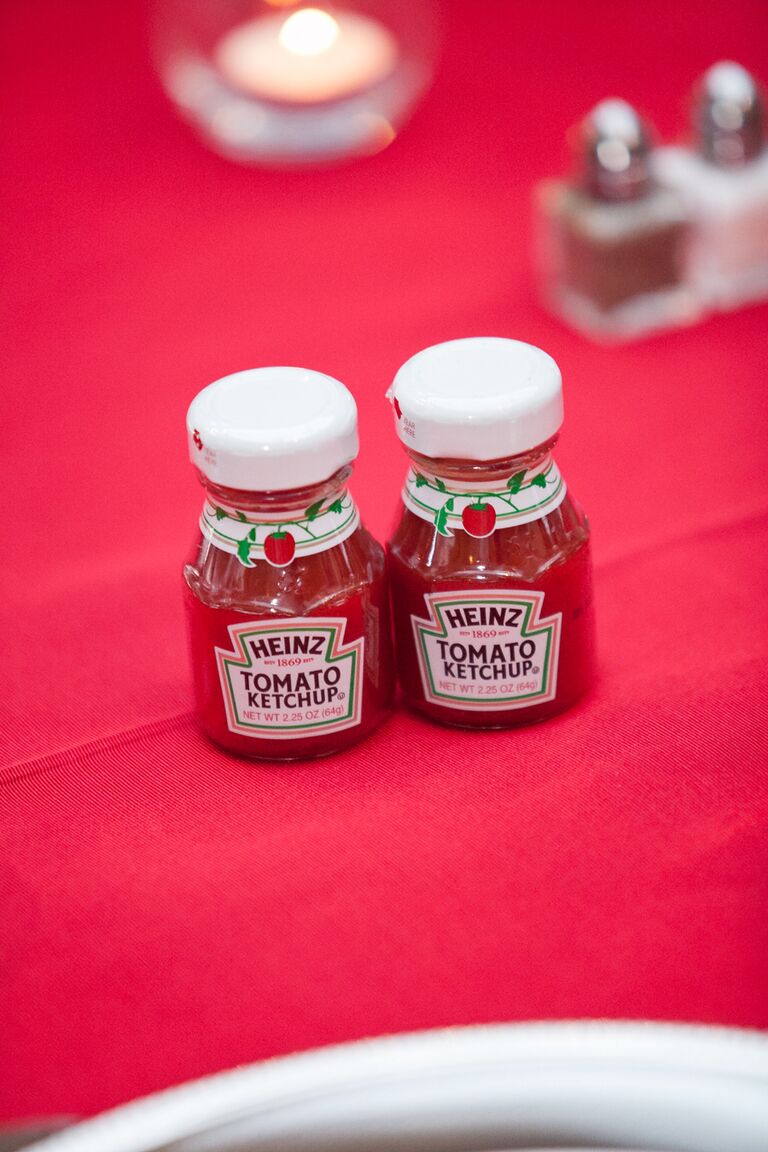 7. Add His Favorites
"This photo is actually from my own wedding. My dad is notorious for needing ketchup when he eats steak, and since steak was our dinner entrée, I wanted to make sure he didn't have to ask one of the waiters for ketchup. So I got a couple of mini bottles of Heinz and had them ready to go at his place setting." —Leah Weinberg of Color Pop Events
8. Compliment Him
"Tell him how handsome he looks. Everyone likes a compliment, especially when they're dressed up and looking spiffy, and men don't get it very often. So let him know how great he looks on the wedding day—it will bring a smile to his face." —Jamie Chang of Mango Muse Events

9. Specialty Entrée
"Serve him his favorite meal—even if it's different than the wedding menu. We often serve the bride and groom a special meal, whether it's their favorite dish, which may not be practical for a larger audience, or a plate of all hors d'oeuvres, if those are their favorites. So why not surprise your father with a special plate just for him of his favorite things the night of your wedding? Include a special printed menu celebrating him and letting him know you chose his dinner just for him." —Marina Birch of Birch Design Studio