Make a Statement with a Unique Gown
So, you want to show off your unique sense of style on your wedding day? Go for it -- within reason.
by Hollee Actman Becker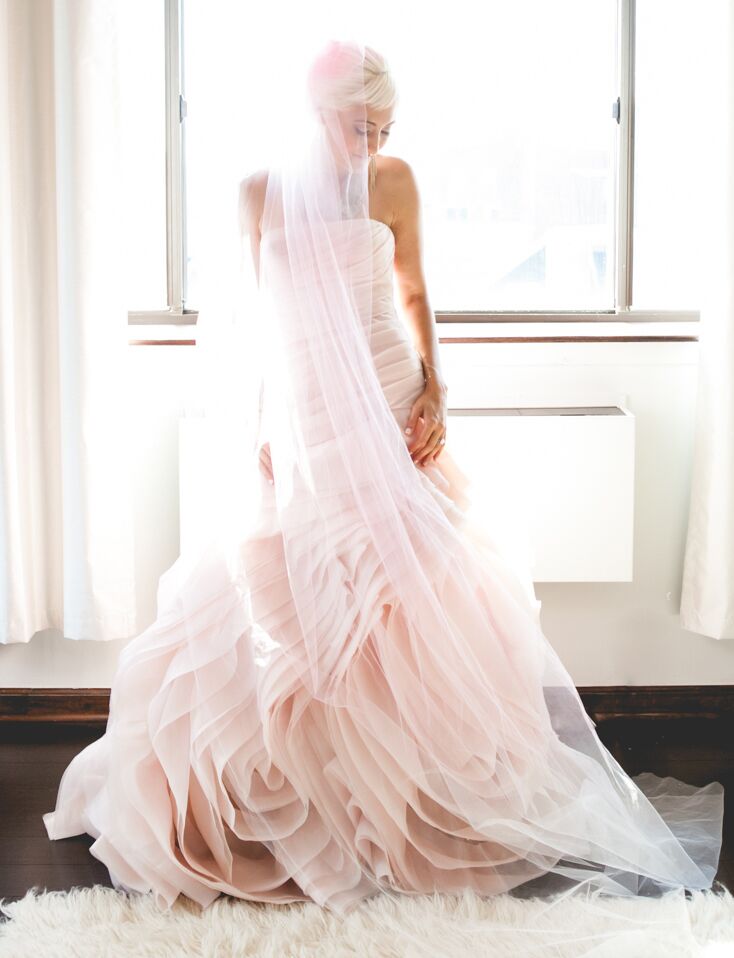 photo by
Tara Beth Photography
You've always been a rebel. Maybe you pierced your eyebrow, skipped college for an acting career, or founded your own startup. Or maybe you just like to be different. Now you're getting married and you want your attire to reflect your unique sense of style. You've been envisioning micro-minis and thigh-high boots, body-skimming red leather -- even a sparkling two-piece bikini.
Here's the good news: there is a rush of fresh options for the modern bride now -- including all three styles mentioned above. The bad news? Your parents, relatives and other loved ones may not understand your decision to buck tradition. After all, weddings are steeped in it. So if you really want to go your own way, consider the following pointers:
The first thing you should do is check with your officiant to find out if he/she has any guidelines or specific restrictions concerning bridal attire. Depending on your religion and/or ethnic background, your officiant may insist that your head, legs, and shoulders be covered. If you wait until the last minute (i.e., the day of the wedding) to reveal your plans, don't be surprised if the officiant refuses to start the ceremony until you cover up.
Another thing to consider is the time, place, and formality of your wedding. The aforementioned bikini would seem seriously out of place at an evening ceremony in a candlelit cathedral packed with 300 guests. Why not opt for an asymmetrical body-skimming sheath with a thigh-high slit instead? It's a sexy, modern, entrance-making look, sans the jaw-dropping, commotion-causing shock value.
Once you've established that alternative attire is appropriate for your wedding, you may want to clue in your family and friends. Chances are, they'll want you to be happy, so they'll support your decision and you can breathe a huge sign of relief. Otherwise, when you strut down the aisle in your black, plunging designer gown, the feeling could be one of tension and unease -- and all eyes will be on your outfit, instead of on you, the bride!
Speaking of color, wedding gowns now come in all sorts of beautiful ones -- from bold blues and hot pinks, to greens, golds, and even reds. If you're finding it hard to convince your loved ones -- your groom or mom -- that color is completely appropriate, you might want to consider donning a traditional white wedding gown for your ceremony, then slipping into something in a bold hue for the reception.
There are even several wedding gowns available today that boast two-in-one designs specifically designed for this purpose: short dresses with long, see-through layers on top; two-piece gowns with interchangeable skirt and pant options; and body-skimming sheaths with removable floor-length sheer jackets (which we called the 2-in-1 dress). It may not be the super short and sexy shift you originally pictured yourself marrying in, but look at it this way: everyone will be happy, and you'll get to wear two gowns, instead of just one!