The 5 Real Reasons This Marine's Wedding Photo Went Viral
Within days of their wedding, this photo of Maggie Edwards and marine Caleb Earwood praying before their ceremony became one of the most talked-about wedding images of the year. But with casual non-religious weddings on the rise, why is it that an ultra-traditional image of a couple on their wedding day would be so popular?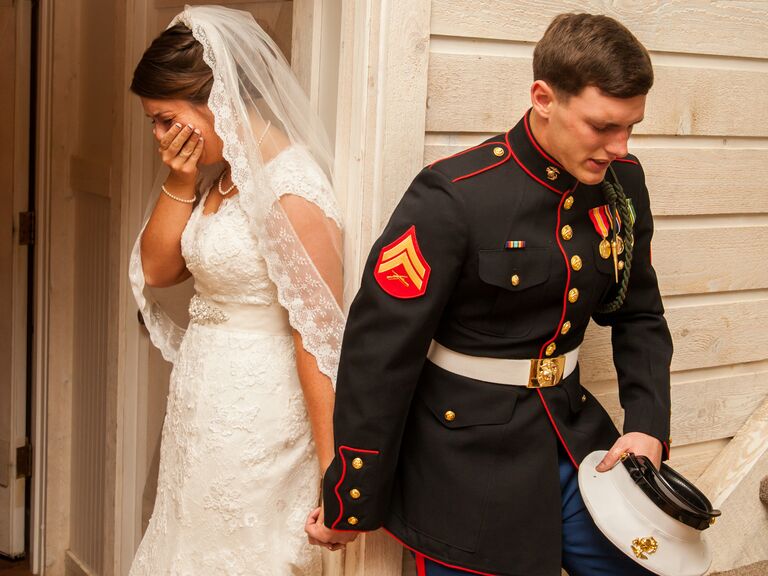 Dwayne Schmidt Photography
The photo of Maggie and Caleb praying on their wedding day, released by Dwayne Schmidt Photography over Memorial Day weekend, seemingly brought the entire country together in one collective 'awww' moment. From HuffingtonPost.com to Good Morning America, Fox and Friends and the Today Show, it was everywhere.
But the photo doesn't exactly depict the type of wedding scene that gets picked up by the coolest blogs or wedding trend reports. Add to that, according to The Knot Real Weddings Study 2014, more and more couples are skipping the traditional church ceremony and officiant and asking a friend to officiate their non-secular ceremony instead. So what's up with this wedding photo and why did it strike such a cord?
1. Because it was timely.
Think about it: When the photo was taken and released, the entire country was off of work, dedicating their weekend to thanking those who serve and have served in the military. For those of you cynics who might have thought the two purposefully planned their big military wedding to fall on Memorial Day weekend, stop right there. Maggie and Caleb reportedly didn't realize that their wedding was set for Memorial Day weekend until after they began to plan. "I had no idea," Maggie reportedly said. "I tried to change it, but with everything going on we couldn't change the date." Simply put, it just happened to work out that way.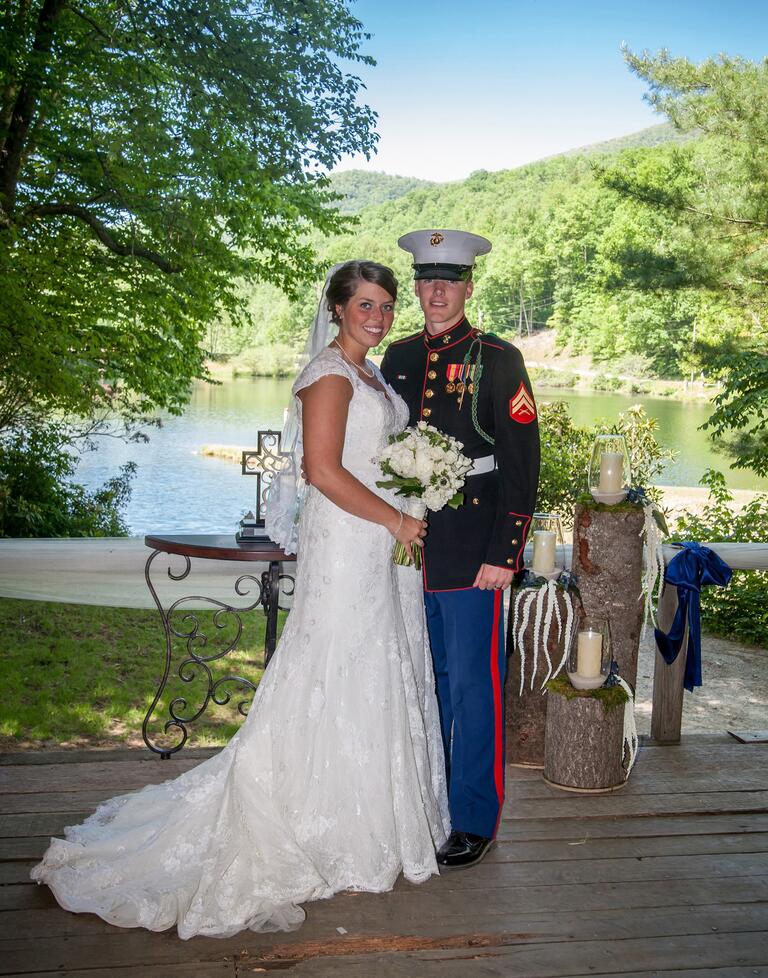 2. Because it captures an American ideology that we find very familiar.
We're not referring to the white picket fence. Rather we're talking about something much bigger. The photo draws on our deeper desire to connect with one another. "This picture embodies everyone's dream to be with one person forever," says Dr. Howard Markman, Ph.D, and author of Fighting For Your Marriage. "And this is a dream we all -- across the globe -- have." In other words, whether we want to believe it or not, most of us want to be in loving, satisfying relationship. Having a partner to weather life's up and downs gives us comfort. And despite America's relatively high divorce rate (and perhaps in spite of it), we cling to photos like these.
3. Because tradition is still 'in.'
The widespread positive response to Maggie and Calebs' photo indicates that a fundamental part of America's fabric is still alive and well: tradition. "We value traditions in America," says Dr. Markman. And this photo is chock-full of them. For starters, the couple is praying for God to bless their marriage (and Caleb in particular "prayed to God for the amazing family that I was marrying into," reports Today News.) Careful not to break wedding tradition, the couple are separated by a door frame, so that Caleb wouldn't see Maggie until they were both standing at the altar. Finally, Caleb is wearing his formal blue marine military uniform, which is pretty much icing on the cake.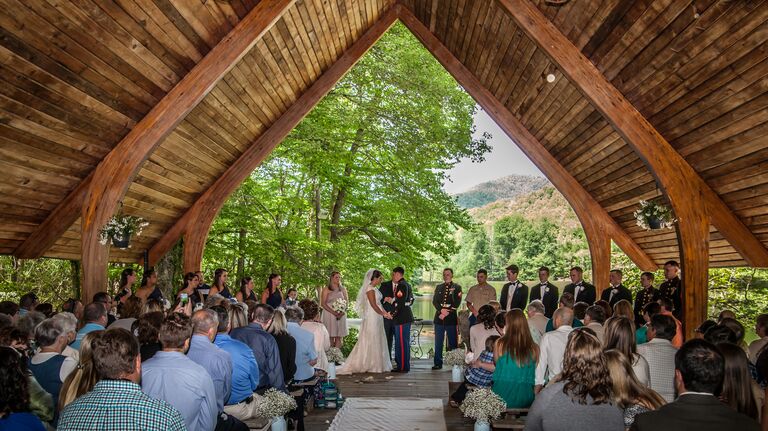 4. Because we see ourselves in them.
They're young and they look like they're in love and are excited to start their marriage together. The idea of starting out on a journey together through marriage is one that hits us at our core (because that's what we want for ourselves... refer to #1). For that reason, millions of people all across the country love them. And, as Dr. Markman put it, "We're rooting for them."
5. Because you can just tell that they mean it.