Why Megxit Is A Healthy Move For Harry and Meghan's Marriage
The Duke and Duchess of Sussex's transition sheds light on their relationship foundation and strong values.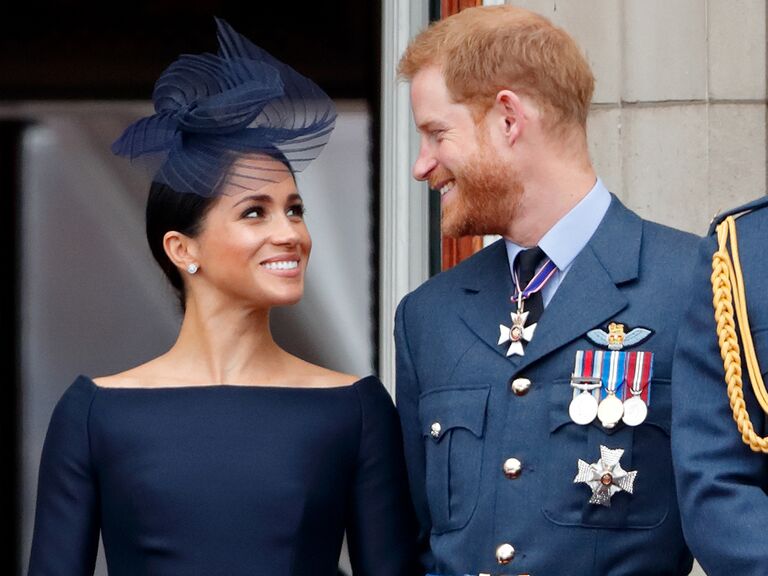 Max Mumby/Indigo/Getty Images
Change is coming for Meghan Markle and Prince Harry—and their next phase is indicative of where their marriage stands. On January 8, the Duke and Duchess of Sussex announced their plans to step back as senior members of the Royal Family with the intent to split their time between the United Kingdom and North America. The announcement, which came after the couple spent the holidays in Canada with their son, Archie, and Markle's mother, was quickly coined as "Megxit" by the media and public.
What is Megxit?
So, what exactly is happening with Meghan Markle and the Royal Family? Presumably inspired by "Brexit," the United Kingdom's withdrawal from the European Union, Megxit is the buzz-worthy name given to Meghan and Harry's transition away from the royal institution.
While the nature of the announcement was unexpected, it gives an intimate look at the Sussex's desire to create a progressive new role within their platform. The duo shared in their official statement that the move will allow them to raise their son in a new location with appreciation for their family's history. They'll also use their financial independence to launch a new charitable organization. "After many months of reflection and internal discussions, we have chosen to make a transition this year in starting to carve out a progressive new role within this institution," the couple wrote on Instagram. "We intend to step back as 'senior' members of the Royal Family and work to become financially independent, while continuing to fully support Her Majesty The Queen... We now plan to balance our time between the United Kingdom and North America, continuing to honour our duty to The Queen, the Commonwealth, and our patronages."
Five days later, Queen Elizabeth II, Prince Charles, Princes William and Harry engaged in a "constructive" royal summit, where the monarch gave her blessing to the couple, allowing them to remain part-time royals and split their time between countries. "My family and I are entirely supportive of Harry and Meghan's desire to create a new life as a young family," Queen Elizabeth shared from Sandringham Estate. "Although we would have preferred them to remain full-time working members of the royal family, we respect and understand their wish to live a more independent life as a family while remaining a valued part of my family."
For Meghan and Harry's marriage, Megxit is more about preserving the couple's future together than simply modernizing their roles in the British Royal Family. Here, we explain why it's a sign of a healthy relationship and how their actions can inspire couples around the world.
They Are Prioritizing Their Marriage
Conflict in marriage is inevitable—but the way couples find a resolution determines the strength of their relationship. "Only 6% of couples say they are satisfied with how they deal with conflict," says Steve Dziedzic, Founder and CEO of Lasting, a marriage counseling app. "But, a healthy approach to conflict can actually be a way to learn more about one another and deepen your connection."
He continues, "The goal is not for one partner to convince the other they are correct, but rather for greater connection and understanding. To move in this direction, you and your partner need to speak and listen to one another in a way that fosters safety. This means respecting one another's opinions, validating each other's emotions, setting ground rules for discussion, and agreeing with one part of each other's perspective."
Megxit indicates the couple's ability to understand each other's needs while having constructive conversations that lead to positive results for their family. The transition illustrates a desire to put their marriage before anything else, which will set them up for long term success in other areas of their relationship.
The End Resolution Was a Family Effort
While every family structure is different, cultivating a healthy relationship with your in-laws plays an integral part in maintaining a strong marriage. It's not always easy, though; in fact, Lasting finds that only 18% of couples are very satisfied with the relationship they have with their in-laws. Additionally, only 38% of couples say they respectfully address conflict with their extended family when issues arise.
Though Meghan and Harry's transition involved many individuals, the resolution was a family effort that showed their ability to compromise together. "Every person comes from a unique family, and each family has its own unique culture," Dziedzic explains. "Families have their own way of handling the important things and distinct rituals for the everyday parts of life... So while it's common to experience conflict with your in-laws, you can still do so in a way that preserves the relationship and keeps your bond with your partner strong."
Ultimately, the Royal Family's ability to work together exhibits signs of a strong relationship and family foundation. "Just like the royal couple, it's important to learn the dance of compromising and setting boundaries when it matters most," he says.
Their Problem-Solving Attitude Indicates Honest Communication
A conflict can't be solved without honesty and compromise. But it's also important for couples to realize that there are ways to prepare your marriage to handle disagreements before they arise. "Every day, you can support your relationship health by making decisions in favor of the 'we,'" Dziedzic advises. "Consider, 'Does this decision support my relationship?' Upholding your sense of teamship is far more important than any external influences from family or friends and will move mountains to prevent conflict in the future."
Meghan and Harry's ability to prioritize each other's needs is proof of their open communication with each other. Without addressing concerns or fears, a problem can't be solved. In this case, their transition is a reflection of what's best for each other and their family.
Their Actions Reflect a Strong Emotional Connection
A healthy marriage isn't solely defined by the ability to solve significant problems. It also relies on your partner's ability to respond to emotional calls. In turn, a strong emotional connection will prepare a couple to tackle problems together, no matter how big or small.
"An emotional call is a way of reaching out to your partner, and these form the foundation of your relationship health," Dziedzic explains. "Healthy partners positively respond to 86% of their partner's emotional calls, while unhealthy couples only respond positively to 33% of their partner's emotional calls."
He continues, "At their core, emotional calls ask the question, 'Will you be there for me?' These calls can be as simple as, 'Want to watch TV with me?' and 'Can you do the dishes?' or as vulnerable as, 'Let's go to counseling together.' You both make thousands of calls a day and each one is an opportunity to make your relationship stronger."
For the Duke and Duchess of Sussex, their decision to step back from the Royal Family in pursuit of matters important to them showcases their ability to understand and react to each other's emotional calls. Without this, they wouldn't have been able to reach a fair resolution.
The Move Will Create a New Family Culture
Meghan and Harry's son Archie holds an integral factor in the decision to transition. The young parents' desire to create a new family culture for their child is a result of their understanding and respect for each other's backgrounds. "A family culture encompasses your shared values, goals and the way you think about the world," Dziedzic says. "Creating a co-culture means first recognizing that your partner has a separate and distinct world from yours. Then comes learning to incorporate both of your individual values into your new culture, together."
In keeping their son's best interest in mind, the royals exhibit their dedication to honoring their backgrounds while prioritizing their family. "Meghan and Harry, having grown up in different cultures, are seeking to incorporate both of their world views in their new family unit while still prioritizing their shared values," he adds.
Their Partnership is an Example of Interdependence
One of the healthiest qualities any marriage can have is interdependence: the ability to act independently while supporting your partner emotionally. "In an interdependent relationship, both partners exist as separate people and take full responsibility for themselves, their own actions and their own feelings," Dziedzic explains. "They depend on one another emotionally, but also honor one another's differences and separateness."
At its core, Megxit is an example of how the royal couple embodies this quality. "Meghan and Harry's decision to break away from their royal family duties signifies that they have a truly interdependent relationship," Dziedzic suggests. "Here's how: They prioritize each other and their sense of 'we' above anything else. They rely on each other to meet their emotional needs, instead of looking to external influences or individuals, like the royal family, to meet these needs. They uphold each other's autonomy and distinct sense of self, while emotionally relying on each other."