25 Men's Wedding Hairstyles to Show Your Barber
Looking to get a quick trim before your wedding or try a brand new style out? Take notes from these killer wedding cuts.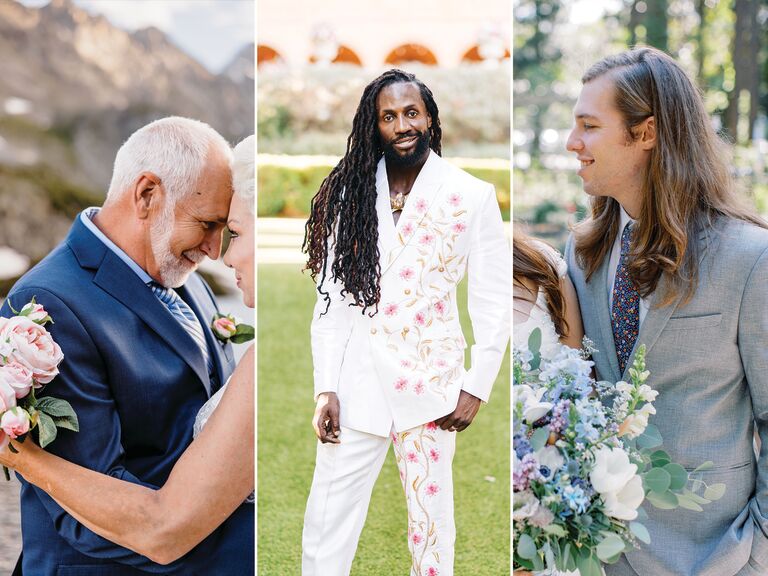 Photos, left to right: Vow of the Wild, Todd Danforth Photography, Michela Watson Photography
We have included third party products to help you navigate and enjoy life's biggest moments. Purchases made through links on this page may earn us a commission.
Guys, looking your best on your wedding day doesn't end with the big fit. The right grooming routine is just as important, especially when it comes to men's wedding hairstyles. Maybe you're looking to try out a daring new 'do ahead of a special day. Or maybe you're just looking to get your regular look shaped up in time for all of the photos that are going to be taken (nobody likes noticing stray hairs and overgrown lineups when the album comes in). You can even collaborate with a stylist on a unique look you haven't even envisioned just yet. Whatever your approach to your wedding hairstyle may be, we've got you covered. Here's everything you need to know about nice men's haircuts for weddings.
In this article:
Men's Wedding Hairstyles for Every Hair Type
Ponytail
Got long hair? Tie it back at the base of your neck for a tame mane on the wedding day.
Side Part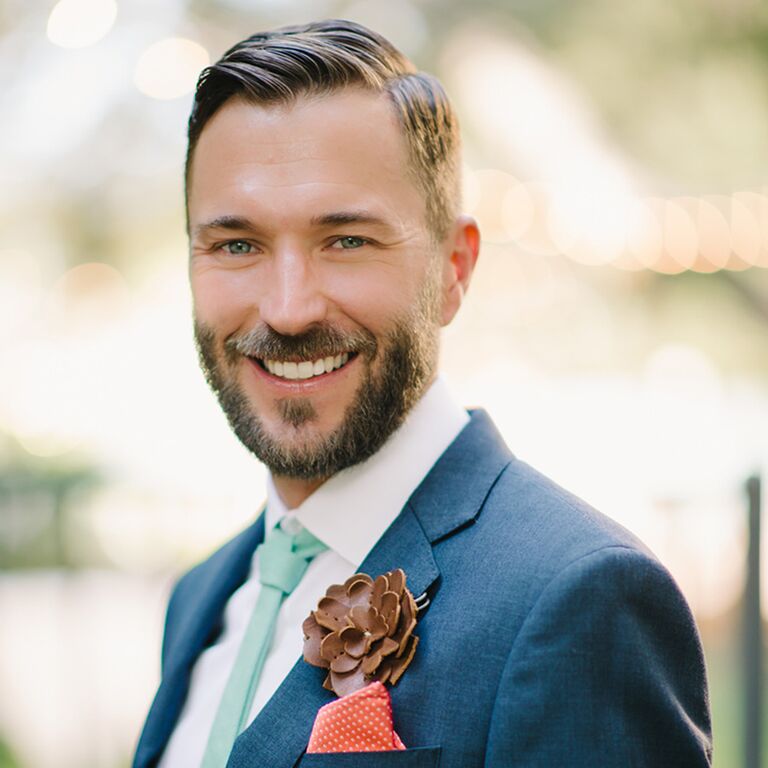 For guys with the classic short-sides/longer-top combo, don't overcomplicate things. Just part your hair to the side for a great groom hairstyle.
Pompadour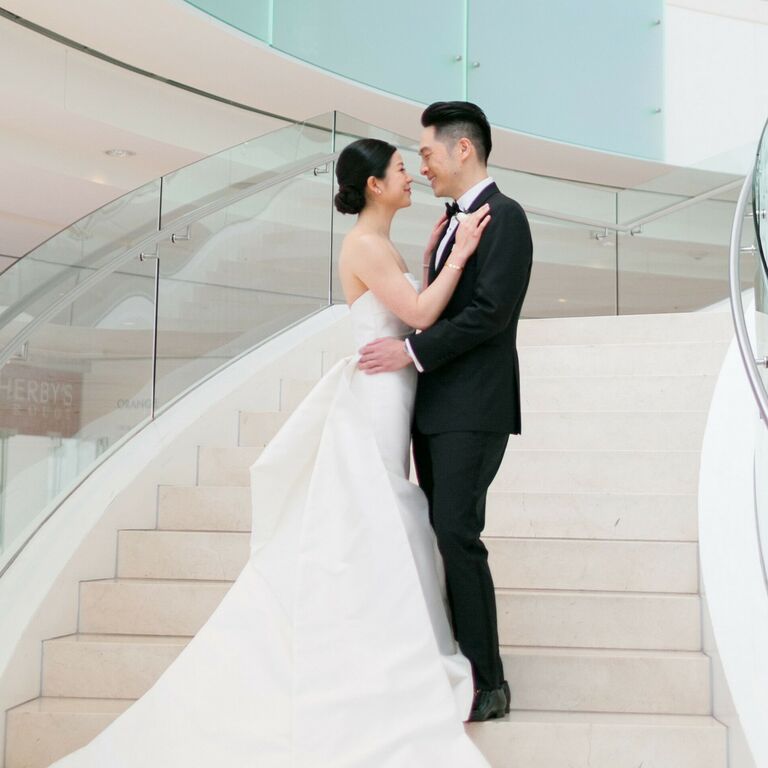 Pompadours are a vintage hairstyle that seamlessly transitioned into the modern era. They require a bit of effort and maintenance but they're worth it for a suave wedding day look and a perfect wedding hairstyle for men.
Intentionally Unkempt
You don't want actual bedhead on your wedding day, but if your hair skews unruly or you just like an unkempt vibe, a bit of product and intentional styling can make for a breezy, carefree (or carefree-looking) windswept wedding hairstyle.
Clean Lineup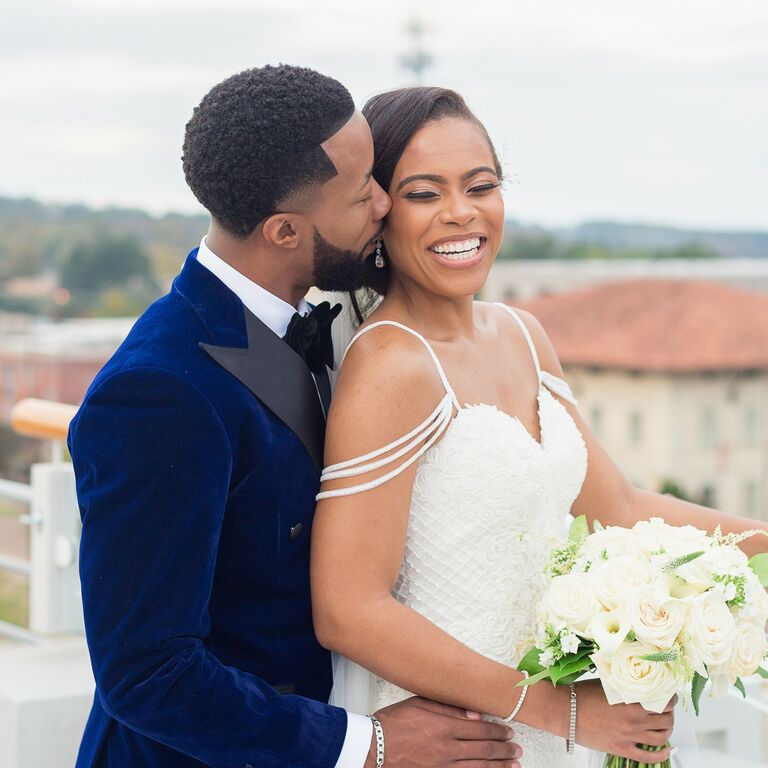 Work with an experienced barber to pull off this sophisticated hairdo. Ask for crisp, clean edges and a subtle fade down near your temples.
High and Tight
Bring your fade up high and keep the hair on the crown of your head cropped or styled tight for this one.
Slicked Back Fade
Create a dramatic fade on the sides of your head and leave the top long. Then, use hair gel to slick it back.
Undercut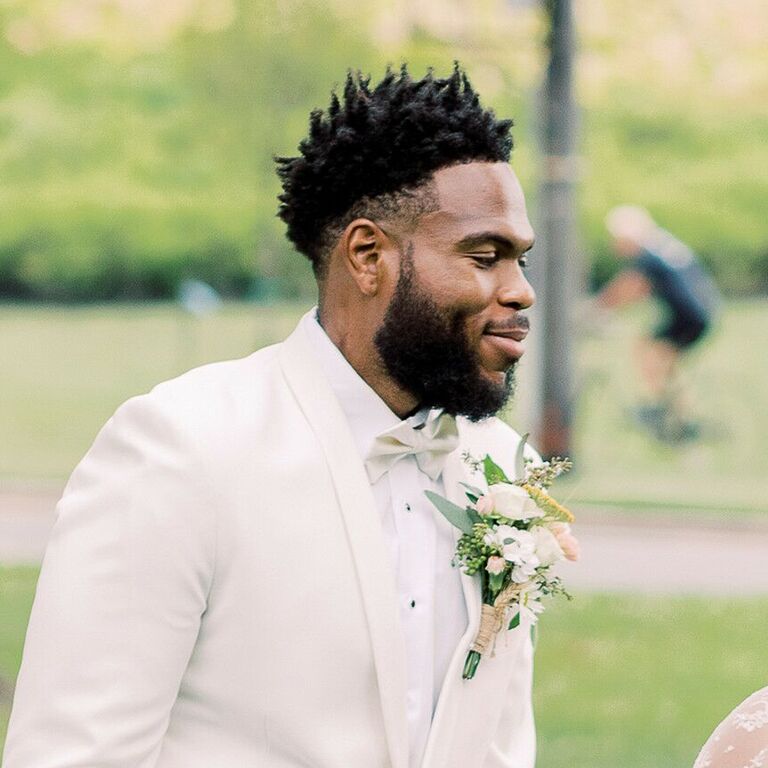 For this popular modern look, leave your hair long on top and create a close buzz on the sides of your head. Style the top however you want: up, slicked back, styled up, or pushed over to the side.
Soft Taper Cut
For something less manicured, go for the soft taper. It's a more natural look and easy to style.
Mid-Length Dreadlocks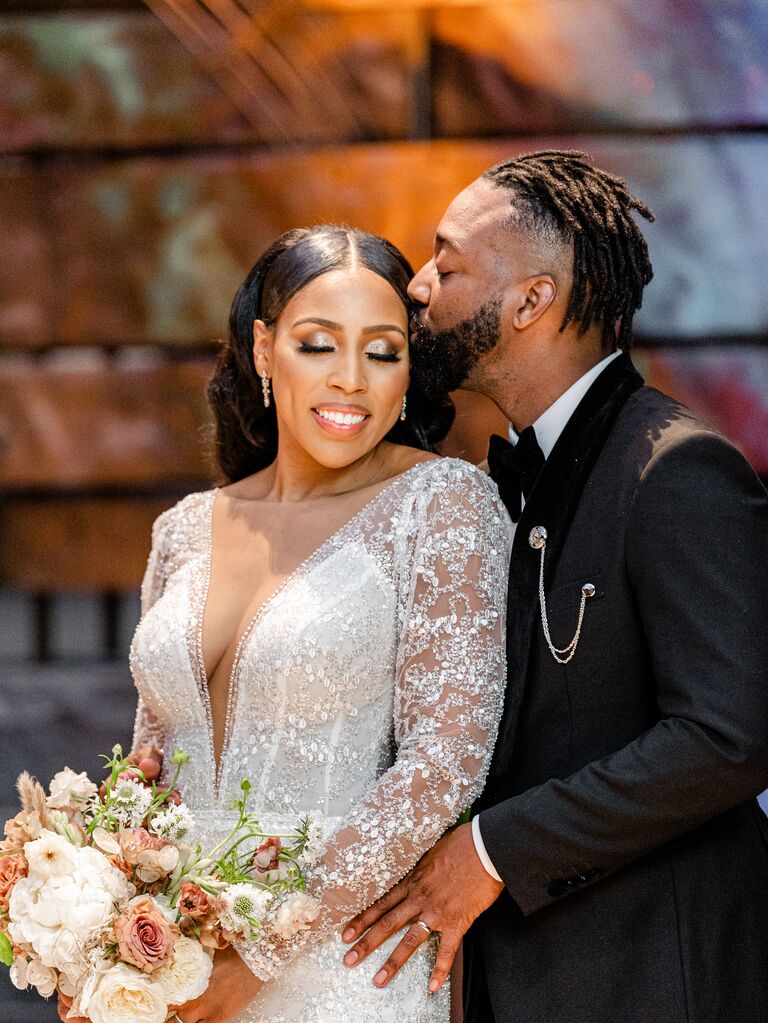 Medium-length dreads can make for a super stylish, vibrant wedding hairstyle–doubly so if you pair them with a slick fade or undercut.
Long Dreadlocks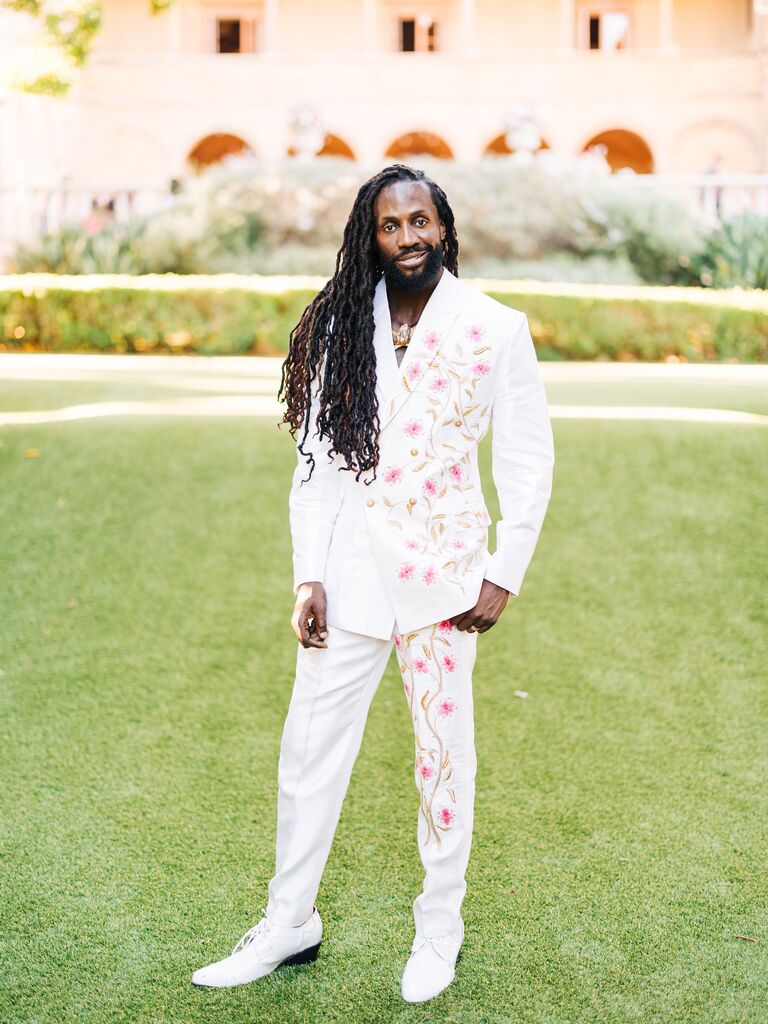 Letting your dreads flow long and free is always a great option, especially when you're wearing a wedding suit.
Waves
Clean lines, a slight temple fade and short waves create a low maintenance hairstyle that always looks classic.
Mid-Length Flow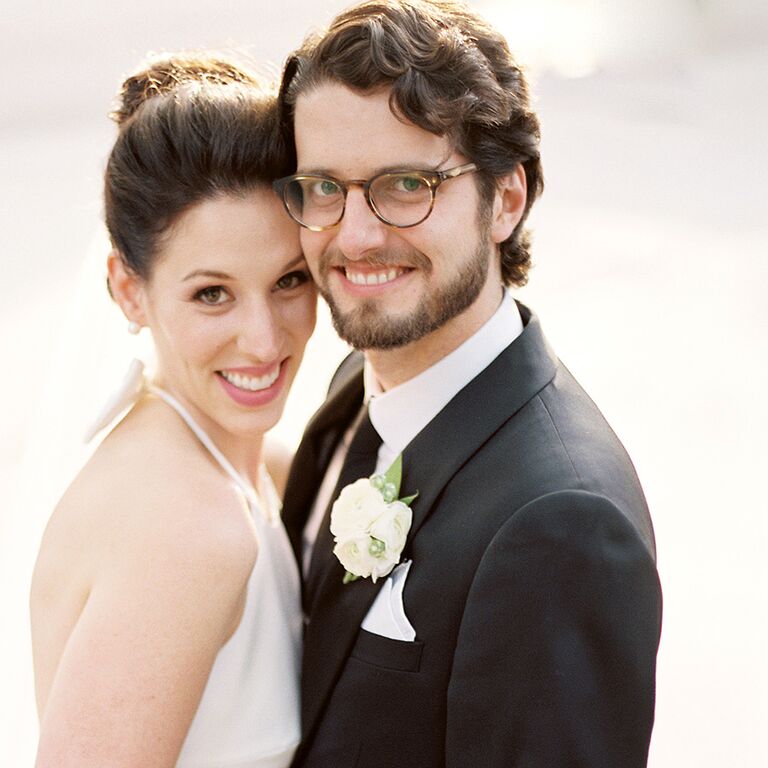 If you're going for a slightly longer look and want to give it some natural volume, ask your stylist for layers and make sure to use a hairdryer for a boost.
Go Grey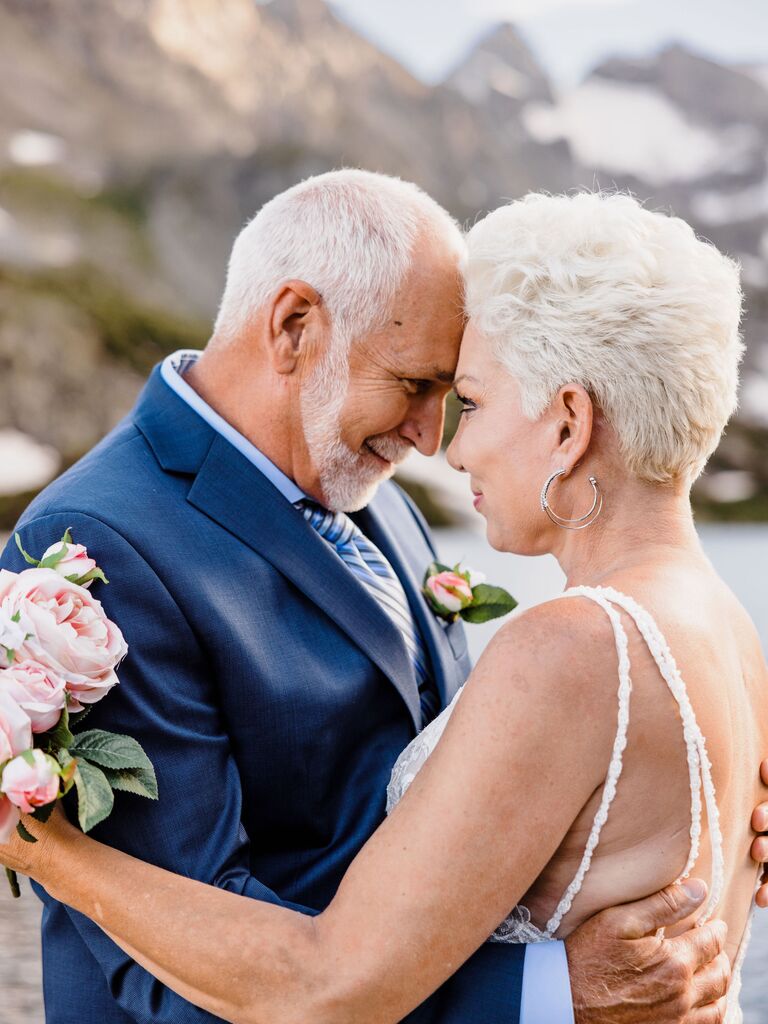 If you've gone fully or partially gray when it's time to walk down the aisle, own it! Gray is a great look and one worth showing off on your special day.
Long Curls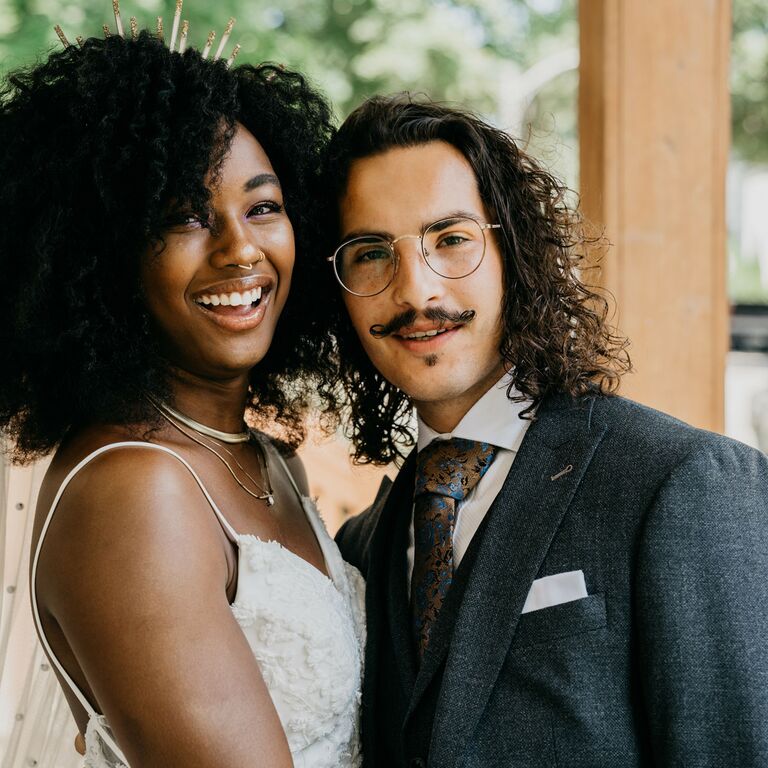 Show off your curly hair on your wedding day. Add a curl enhancer and diffuse your curls for defined ringlets that will shine on the big day.
Shoulder-Length Straight Hair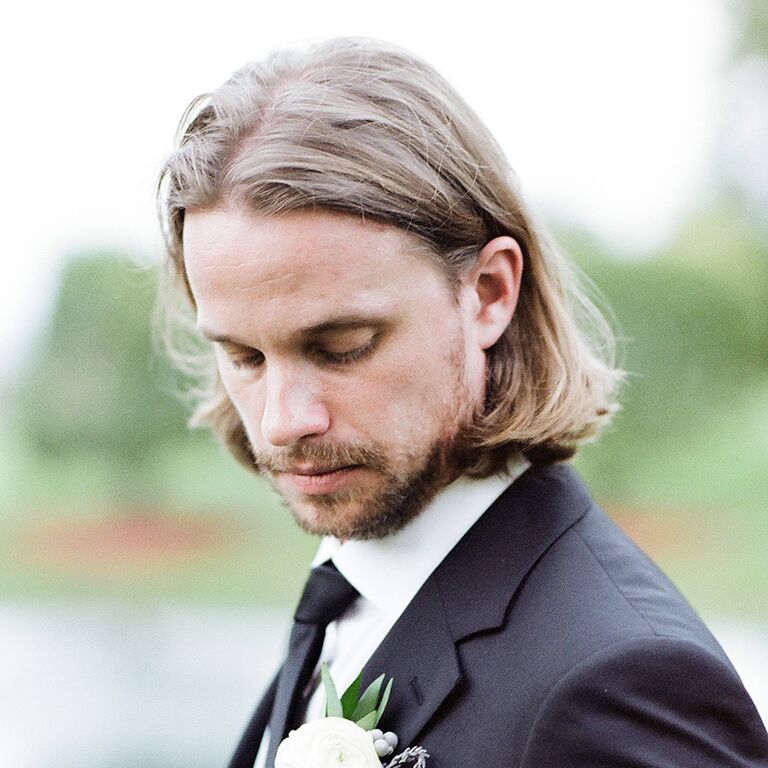 Hair just above the shoulders looks trendy with a simple middle part and a trimmed beard.
Long Hair (Don't Care)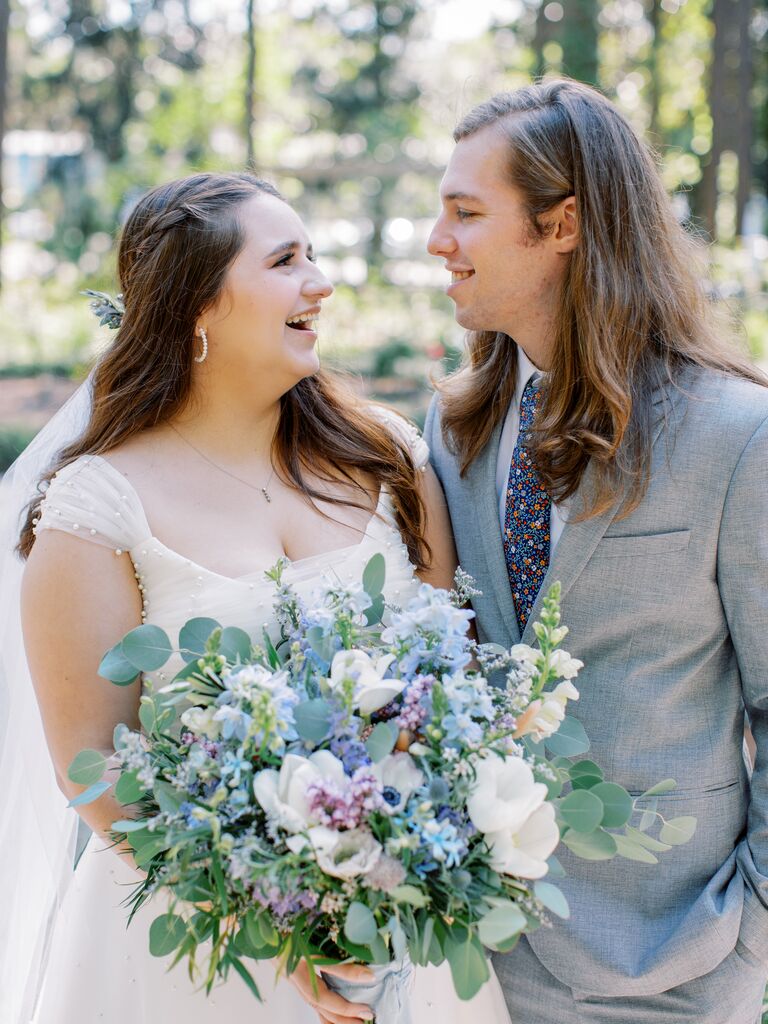 Got longer locks? There's nothing wrong with just letting them flow freely.
Patterned Braids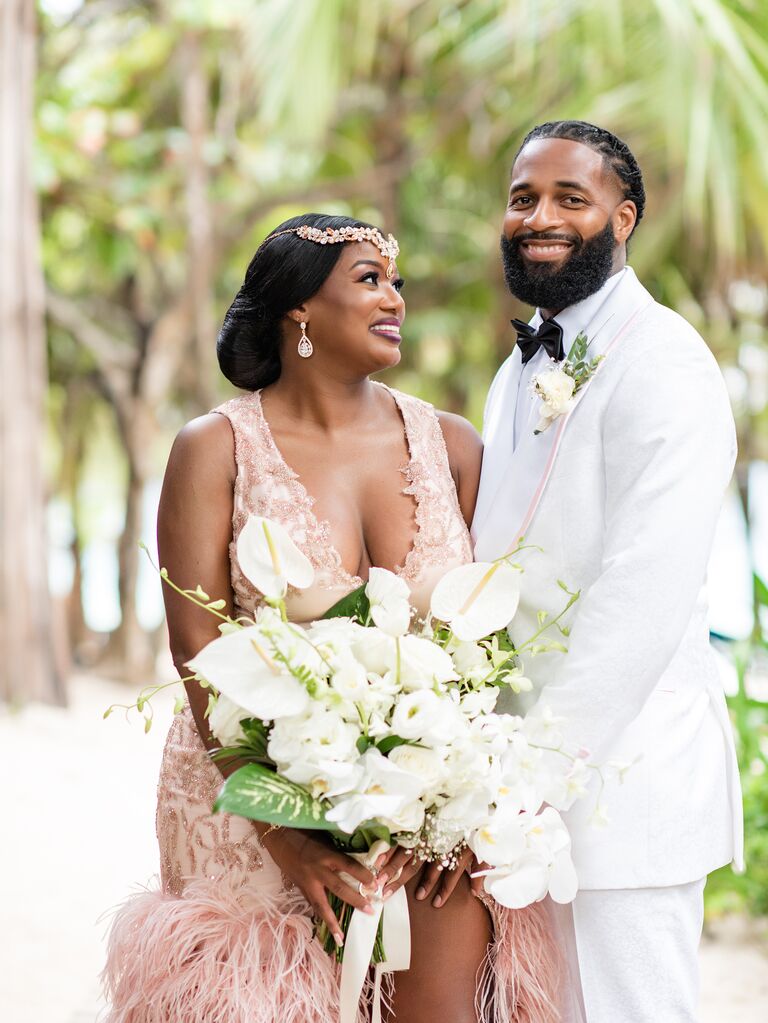 Barbers can work magic with braids. For a wedding look totally your own, have yours arranged in a stylish pattern, finished with a clean lineup.
Afro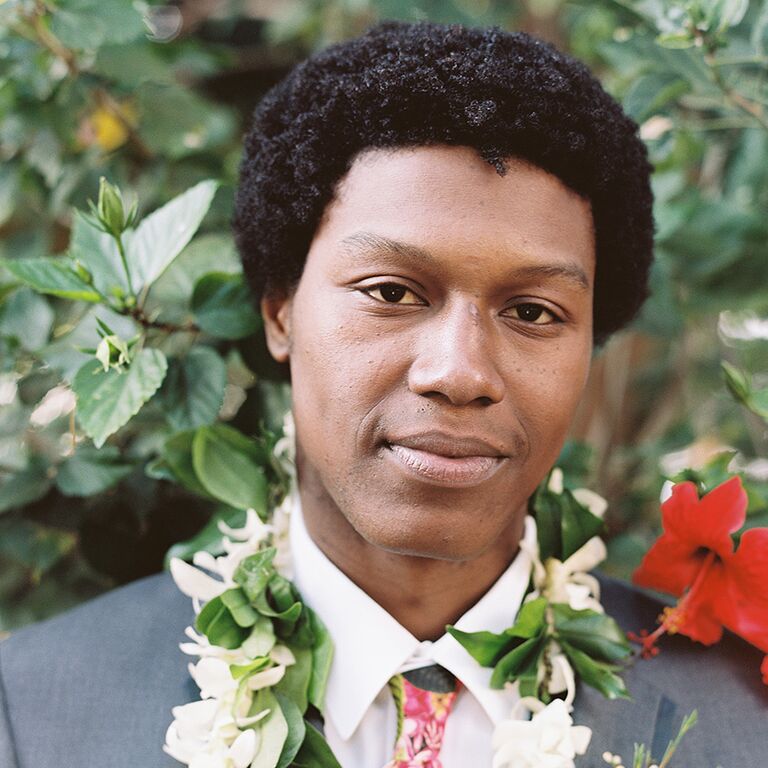 Grow out the curls for a timeless vibe.
Bun Undercut
For the bun undercut (bundercut?) get a subtle undercut around your edges and then tie your hair back into a neat bun.
Short Curls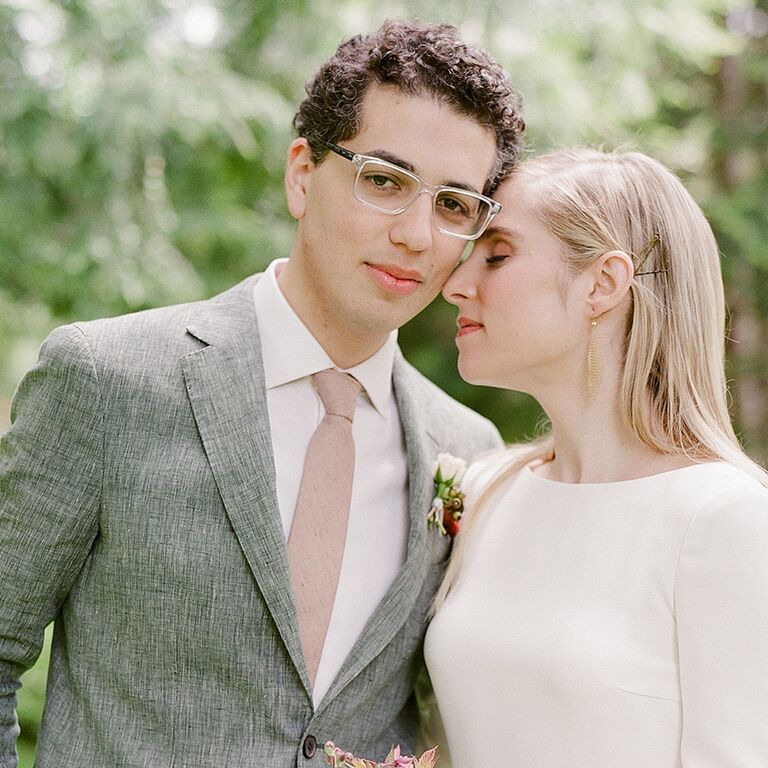 Play up the natural hair texture with just a smidge of your favorite product to get curls to their maximum potential.
Nearly Shaved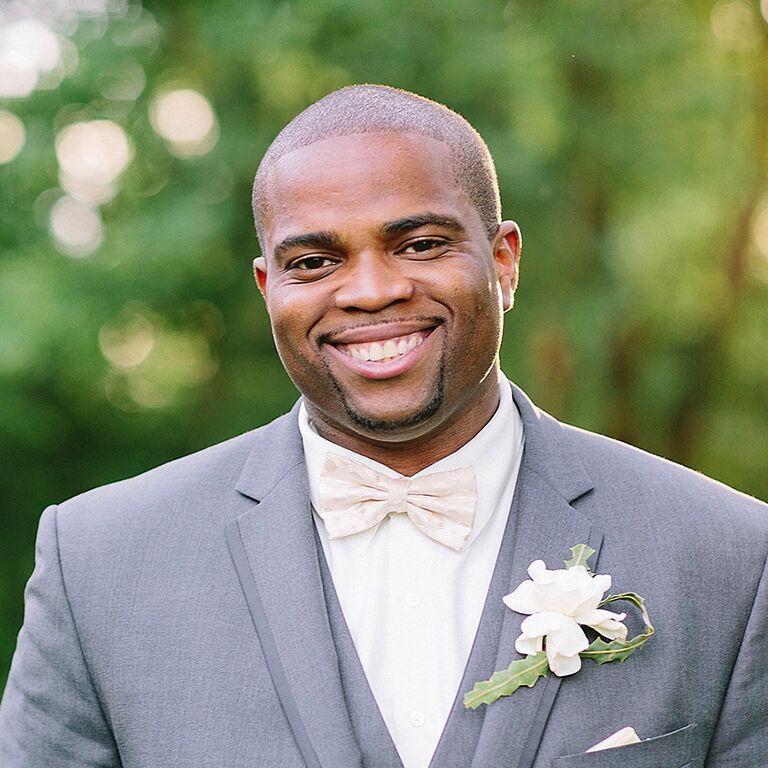 A close shave complements well-groomed facial hair.
Full Shave
Or, go for a fully-shaved head. Psst: Many celebs like Karamo Brown, Bruce Willis, and Dwyane "The Rock" Johnson have rocked this look.
Retro Hi-Top Fade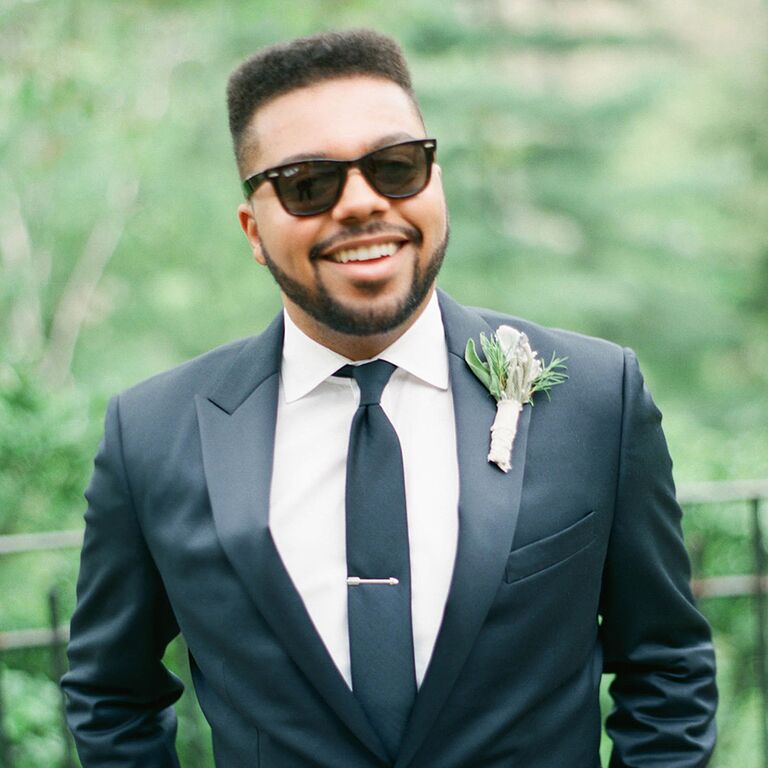 For the fun-loving gentleman who likes to be equal parts stylish and suave, get inspired by throwback hairstyles.
How to Choose a Men's Wedding Haircut
When it comes to deciding on your day-of 'do, there are several factors you should consider. The first (and most important) is comfort. What kinds of styles make you feel the most confident? Go through pictures of yourself and save the ones you really like. Then, ask yourself what you like about your hairstyle. Is it the length, the texture, or the unique style? Once you've decided on what you like about the styles, then you can work with your hairstylist, barber or groomer to bring your vision to life.
If you're hoping to switch things up, you can also consider things like your head shape (some styles look better on a round face versus a more squared-off one). Get on a video call or schedule an appointment with your hairstylist to get their expert opinion. They may give you a few options, which you can decide between yourself.
Finally, keep in mind that you don't want to be worrying about your hair right before the wedding or on your wedding day. Don't do anything drastic (like a brand new color or a huge shift in style) right before the event. You don't want to add any unneeded stress to your day!
Frequently Asked Questions About Men's Haircuts for Weddings
When should men get a haircut before a wedding?
You should get your wedding haircut about a week before your wedding. This allows some time for you to get a feel for how to style it (if you're trying something new) and time for you to get any necessary adjustments before your special day.
Can I rock gray hair on my wedding day?
Totally! You shouldn't feel like you have to hide gray hairs ahead of your wedding. You're gonna look great.
Do men get hair and makeup done on the wedding day?
Traditionally it's the bridal party that gets the fancy-schmancy hair and makeup session before the wedding. However, don't let that stop you, grooms! Having a barber or stylist on-site the day of your wedding to take care of stray hairs and quick cleanups can help you look and feel your best–and it's a nice gesture for your groomsmen to be able to get a touch-up if they need to before the ceremony. You can even have them give you and your party a shave if that's something you want. If you're looking for a stylist who does weddings, be sure to check out The Knot's Vendor Marketplace, which is full of great options.