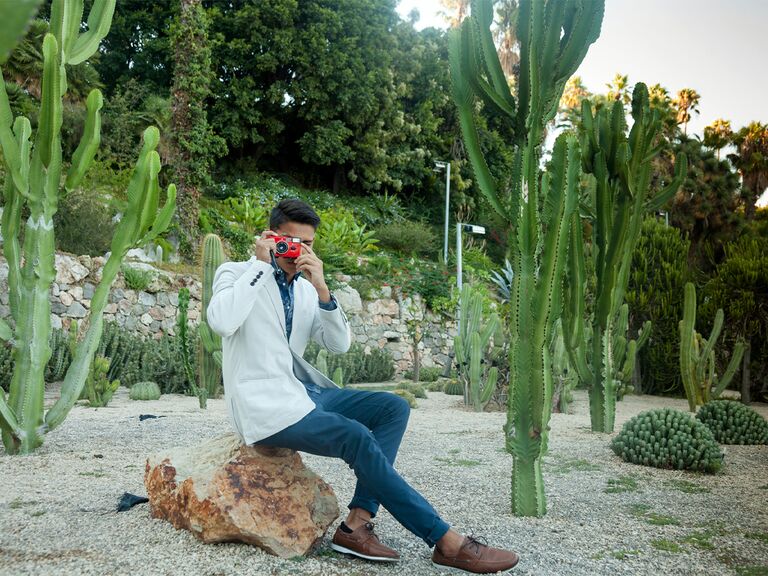 If you're anything like us, being invited to a destination wedding leaves you feeling about 70 percent excited for a trip and 30 percent worried about what you're going to wear. We hear you—dressing for a traditional wedding can be stressful enough, so a destination one can easily cause a sartorial meltdown. Whether you're heading toward sunshine or snow, fear not: We've got tips to help you feel good and look cool, no matter the destination.
1. Be Bold and Have Fun
By their very nature, destination weddings are basically a vacation for guests. So the same way you'd mix up your looks while on a trip, go ahead and embrace the fun in dressing for a destination wedding. If you've ever been tempted to wear a bright color or a bold print, now is the time! There are several popular wedding destinations where wearing a brightly colored suit would be perfect (think: Palm Springs or Key West). 
If you aren't ready to dive right into a formalwear look that has you wearing vivid colors from head to toe, don't worry—you can dip your toes in and still pack a punch with your ensemble. Try pairing plain pants with a jacket in an unexpected color or pattern (my pick: this plaid-and-floral dinner jacket that's full of personality). In general, darker hues, such as navy or a rich, deep green, work great with light gray or khaki trousers. On the other hand, if you opt for a jacket in a lighter color—dusty pink or sky blue, for example—then pants in navy or dark gray offer a nice contrast. Either way, check out the custom suit service at Men's Wearhouse, which puts you in control of choosing the colors, fit and fabric of both.
2. Play With Details
If an eye-catching jacket is too much for you, focus instead on a suit's details to make it feel more relevant to the destination. My favorite accessories? Tie bars and lapel pins. If you're headed to a tropical locale, try adding a splash of color to a basic gray or navy suit with a jaunty lapel pin. To up the ante, pair it with neckwear or a tie bar that sports an animal motif for a playful nod to the local surroundings (say, whales, birds or tigers). Paying attention to these details—especially if you're renting your suit or tux—can really help tie your look to the destination.
3. Mix Up Your Footwear
Most of us have at least one suit in classic gray, navy or black. But if you don't, Men's Wearhouse has lots of rental options to choose from that can be made destination-appropriate with a simple shoe change. (Yes, you can skip the dress shoes!) Because destination weddings often have a more informal, vacation vibe, it wouldn't be out of place to roll up the pant legs of a navy suit and slide into a pair of crisp white sneakers. Leather sandals will also pair really well—they feel more elevated than a regular flip-flop, yet still have a relaxed look that's more in keeping with a sunny destination. Bonus: They'll keep your feet a lot cooler too!
4. Deal With the Weather
Destination weddings often mean extremes in temperatures, from a sweltering tropical island to a snowy ski lodge. Keep these three factors in mind to help you stay comfortable:
Suit Fabric: Sure, linen will help you stay cool in a hot destination, but you also have more options. Check out the newer performance fabrics, which have the same moisture-wicking properties as workout gear. These fabrics don't get as creased and wrinkled as linen, while still keeping you just as cool. Men's Wearhouse stocks AWEARNESS Kenneth Cole AWEAR-TECH, which is a great option. Another neat feature of performance-fabric suits? They tend to have a little stretch and give, which makes them ideal for dancing (or eating!) the night away.
Jacket Vents: Paying attention to this detail is key if you're attending a wedding in a hot, humid destination. In my experience, double vents are superior to single or no vents—especially when you sit down—since they're less restrictive and allow for greater airflow. If you're having a custom suit made at Men's Wearhouse, talk to them about adding vents, as well as the types of fabrics that will work best for the location.
Layers: It doesn't matter if your destination is somewhere hot or cold—layers that you can easily pile on or peel off will be your best friend and provide so much flexibility. A linen vest is a great option if you're headed to the beach or the desert (and if that's the case, you can skip the jacket altogether). If the wedding is taking place somewhere much colder, go with a V-neck cashmere sweater. Worn under a jacket and over a shirt and tie, it's a fail-safe look that'll also keep you warm.
Will Taylor is the founder of the blog Bright Bazaar. Read some of his takes on wedding style here and here, and get more advice for the guys with Groom Style from The Knot and Men's Wearhouse.