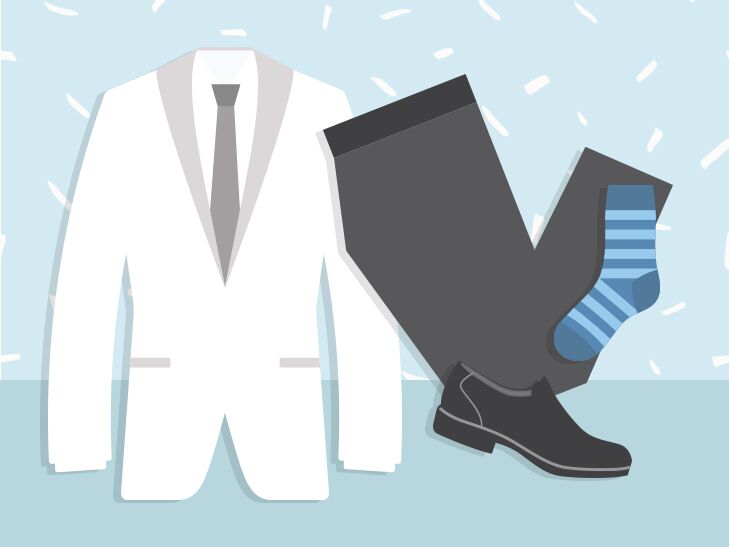 Even if the last word you'd use to describe your fiancé is "clotheshorse," chances are he's secretly psyched to pull out all the stops on his wedding day. For most men, that means a sharp suit or tux tailored to perfection, a high-quality dress shirt that fits just so, a polished pair of kicks and maybe even a cool new set of cuff links. But all too often, the chance for self-expression is missing from the timeworn groom's uniform. While a guy can—and should—look to established rules of dress to guide his choices, he shouldn't be afraid to flout them and show off a little personality. With a huge selection of brands and styles to choose from, Men's Wearhouse makes it a snap to put together a one-of-a-kind look that will give your guy his chance to shine. Below, the most commonly cited formalwear fashion rules that every groom should consider myths—not mandates.
Myth No. 1: You have to spend a million to look like a million.

Myth No. 2: You shouldn't wear sneakers with a suit.

Myth No. 3: Black tie equals a black tux with a bow tie.

Myth No. 4: You shouldn't wear brown with black or black with navy.

Myth No. 5: Bigger guys shouldn't wear slim-fitting clothes.

Myth No. 6: Black-tie attire shouldn't be worn before 6 p.m.

Myth No. 7: Sock color must match pants color.