Attire Tips to Keep Guys Comfortable During an Outdoor Wedding
Planning a ceremony under the hot summer sun? Help the guys keep their cool with tips from a menswear expert.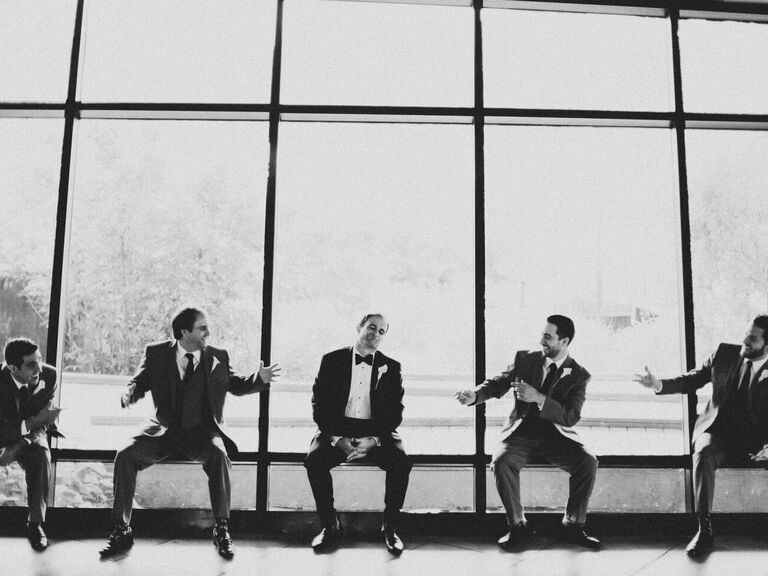 Courtesy of Menguin
When it comes to dressing for warm weather weddings, the ladies usually have it easier than the guys. Sleeveless and strapless gowns in lightweight flowy fabrics allow the bride and her besties to beat the heat. However, that's not typically the case when it comes to the men.

"The most common complaint about menswear and outdoor weddings is the sweat factor," says Carolyn Dix Remer, wedding specialist at Menguin, the online tuxedo rental company. "Guys can get very hot in their tuxes or suits, depending on how warm it is outside and how many layers they have to wear."
By layers, that can mean an undershirt (to catch the sweat), a long-sleeved dress shirt, a vest and a jacket—or any combination thereof. Top it off with ties and bowties, which can trap in the heat below the neck as the mercury rises. While all of these apparel pieces might be perfect for staying warm on a brisk fall day, they're not always ideal for staying cool on a summer scorcher.
Summer Menswear Planning Musts
Weather should be a top factor when deciding what the groom and his guys will wear. Think about the time of year and research average weather temps for your wedding date and location.
Also, be sure to keep in mind the outdoor venue. Will there be shade overhead in the way of a tent or dense tree canopy? Or will the sun be beating directly down? Will a breeze help with keeping the cool, or will humidity mean hot feels even hotter?
Last, factor in the length of time outdoors. Even if you ceremony is less than 20 minutes long, how much time will the guys need to keep on their jackets for outdoor photographs?
Fair Weather Fashion
While it may seem like a tuxedo is the wedding tradition for guys, remember that it's more about the vibe of your day.
"Some grooms don't realize the setting and style of the wedding should play a role in the menswear they choose," says Dix Remer. "If it's a summer brunch wedding in a garden, a more casual, laid back style is a great option–perhaps a grey suit. Whereas a more traditional black tuxedo might be better suited for an evening outdoor wedding at a country club."
To keep the groom and groomsmen the most comfortable, Dix Remer suggest lightweight fabrics, lighter colors and fewer layers. Having a beach wedding? Try khakis and a matching vest. For a casual wedding, ditch the jacket and pair gray pants with a matching vest. And for a really casual affair, skip the vest and keep guys in rolled-up shirt sleeves.
"For more formal affairs, meaning the guys need to keep their jackets on, avoid adding any layers when it's hot outside," says Dix Remer, who's referring most specifically to vests. "If you still want to add some more style to the guys' look, consider suspenders or a pocket square–options that won't induce an extra layer of sweat."
While you can't control the weather on your wedding day, by making smart decisions when it comes to apparel, you can help to keep everyone—even the guys—chill during a toasty main event.