Michigan Ballrooms That Aren't Boring
These Michigan ballrooms are anything but ordinary.
by Rachel Sylvester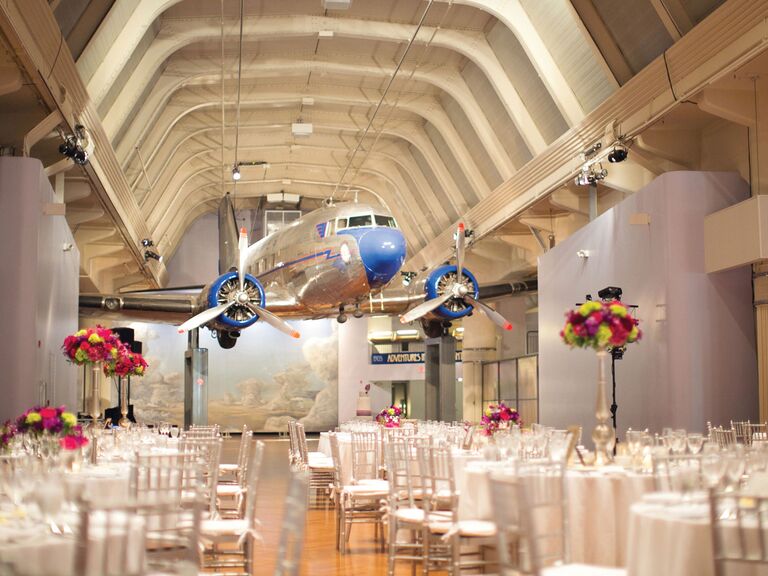 The Ballroom at CityFlatsHotel
77 Monroe Center St. NW, Grand Rapids;
(616) 608-1727; CityFlatsHotel.com
If you're looking for a historic space with a modern spin, The Ballroom at CityFlatsHotel is the perfect reception site for you. Thanks to stunning features like marble floors and intricate woodwork, this open space is a versatile venue that provides on-site catering for up to 200 guests.


The Ballroom at McKay
146 Monroe Center St. NW, Grand Rapids;
(616) 951-1078; TheBallroomatMcKay.com
With grand elements such as original marble walls, colossal Doric columns and 26-foot ceilings, The Ballroom at McKay leaves no room for subtlety. The expansive 10,900-square-foot space was recently remodeled and includes planning services like an event coordinator as well as your pick of its six preferred caterers for your wedding.
Colony Club Detroit
2310 Park Ave., Detroit;
(313) 463-4215; ColonyClubDetroit.com
With gilded ceilings, ornate chandeliers and impressive arched windows, this historic, entertainment-district venue (which used to be a women's club!) can accommodate up to 400 guests on the venue's third floor and a total of 150 in the fourth-floor ballroom. Plus, with a variety of inclusive wedding packages and an expansive hardwood floor space, your guests will have no other option than to dine and dance the night away.
The Crofoot Ballroom
1 S. Saginaw, Pontiac;
(248) 858-9333; CrofootWeddings.com
With a private entrance, an outdoor patio and plenty of natural light, Pontiac's Crofoot Ballroom is ideal for entertaining. It's the largest space in the entire Crofoot complex, so your guests will have plenty of room to move between the venue's main floor, adjoining balcony and three full-service bars. Still not sold? The space even includes a separate stage and a state-of-the-art sound system, meaning you'll have plenty more reason to party.
The Fillmore Detroit
2115 Woodward Ave., Detroit;
(313) 961-5451; TheFillmoreDetroit.com
Surprisingly enough, Detroit's go-to music venue is much more than just a place to catch the latest concert. The theater – located in Detroit's entertainment district – dates all the way back to 1925 and is spacious enough to accommodate up to 400 wedding guests looking to rock. And with a hardwood dance floor, historic chandeliers and an 80-foot ceiling, what's not to love?
Knight's Castle at Castle Farms
5052 M-66 N., Charlevoix;
(231) 237-0884; CastleFarms.com

This historic, northern Michigan find features ballrooms with sweeping views of the property's lush, green gardens. The Knight's Castle itself is unique thanks to original stone architecture, a large cathedral ceiling and a single rustic chandelier situated in the center of the space. Sliding glass doors lend an open feel to the venue, allowing guests (up to 200) the ability to move between the ballroom and courtyard at their leisure.
Meeting House Grand Ballroom
499 S. Main St., Plymouth;
(734) 416-5100; MeetingHouseGrandBallroom.com
Looking for a luxurious space that's equally as elegant? This Victorian-inspired ballroom in Plymouth's historic downtown comfortably fits up to 300 guests and features 18-foot ceilings, intricate crown moldings and a sleek fireplace that serves as the perfect backdrop for your special day.
Museum Plaza at The Henry Ford
20900 Oakwood Blvd., Dearborn;
(313) 982-6001; TheHenryFord.org
History buffs will flip over the Museum Plaza at The Henry Ford. With an open floor plan and plenty of Michigan touches, the plaza is the one reception venue you haven't thought of (until now, that is). The unique space can accommodate up to 500 guests and includes historic highlights from the museum's current collections, making for a completely unique reception.
Pantlind Ballroom at the Amway Grand Plaza Hotel
187 Monroe Ave. NW, Grand Rapids;
(616) 458-6771; AmwayGrand.com
Although the Amway is home to four sought-after ballrooms in the heart of downtown Grand Rapids, it's the venue's Pantlind Ballroom that's perhaps the most appealing. Upon entering the nearly century-old space, you'll immediately notice the ballroom's first stand-out feature: a gold domed ceiling. Combined with mirrored walls and a custom, hand-loomed carpet, this old-world space is the perfect elegant spot to host up to 220 guests.
Roostertail
100 Marquette Drive, Detroit;
(313) 822-1234; Roostertail.com
Situated on the banks of the Detroit River, this scenic waterfront venue has been a city staple since its inception in 1958. With a choice of three custom wedding packages, the space treats couples to dinner service, a wedding bar, an event coordinator, centerpieces, event lighting, free parking and your choice of linens and chairs.
The Venetian Ballroom at The Westin Book Cadillac Detroit
1114 Washington Blvd., Detroit;
(313) 442-1600; BookCadillacWestin.com
Situated on the corner of Washington Boulevard and State Street, the historic Detroit hotel boasts a hidden gem – the venue's Venetian Ballroom. The one-of-a-kind reception space is home to dramatic and timeless features including arched windows, elegant chandeliers and handcrafted Italian sconces unique to any other event space.
Want to find extraordinary ballrooms near you? Click here!