20 Minimalist Engagement Rings That Are Delicate and Modern
From classic solitaires to three-stone beauties, we've got them all.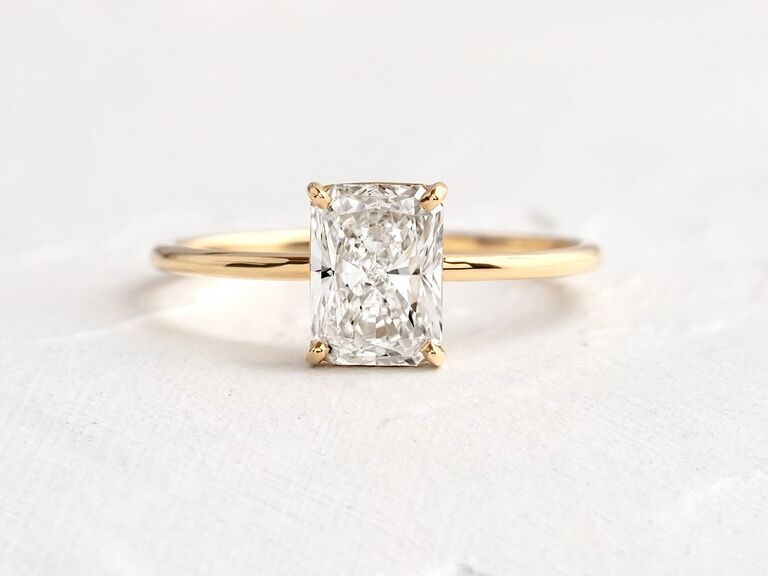 We have included third party products to help you navigate and enjoy life's biggest moments. Purchases made through links on this page may earn us a commission.
As you start to shop for an engagement ring, you might already have an idea in your head of what your dream sparkler looks like. And if you'd prefer to sport a minimalist style to signify your everlasting love and devotion, consider an understated design that doesn't compromise on elegance. To prove that less is more, we're sharing the best natural and lab-grown engagement rings, from modern three-stone beauties to elegant oval stunners. But first, we're diving into what minimalist engagement rings are—and debunking myths about what is actually considered "minimalist."
In this article:
What are Minimalist Engagement Rings?
While minimalism is traditionally associated with simplicity, when it comes to engagement rings, it's all about streamlined designs. For example, a solitaire on a clean band could be considered minimalist, as well as a thin pavé eternity band or even a toi et moi design (as long as it feels pared down and not overly busy).
Minimalist engagement rings are also ideal if a huge, ostentatious rock isn't right for you (or your bank account). According to The Knot 2022 Jewelry and Engagement Study, a white diamond solitaire has risen in popularity since 2015, while diamonds with side stones and accents have seen a steady decline in the last seven years. However, this doesn't necessarily mean that you need to forgo side stones and accents completely if you want a minimalist style. As we mentioned above, there are plenty of clean and angular designs featuring multiple stones.
Our main word of advice? Choose the minimalist design that feels the most like you and your partner, whether that's a classic round brilliant or a shimmering cluster—and everything in between.
Our Favorite Minimalist Engagement Rings
Now that you're inspired and ready to say "I do" to an engagement ring, it's time to shop our favorite designs for 2023 proposals. Read on for the most beautiful minimalist engagement rings for every style, below.
1. VRAI The Classic Round Brilliant Engagement Ring in 18-Karat Yellow Gold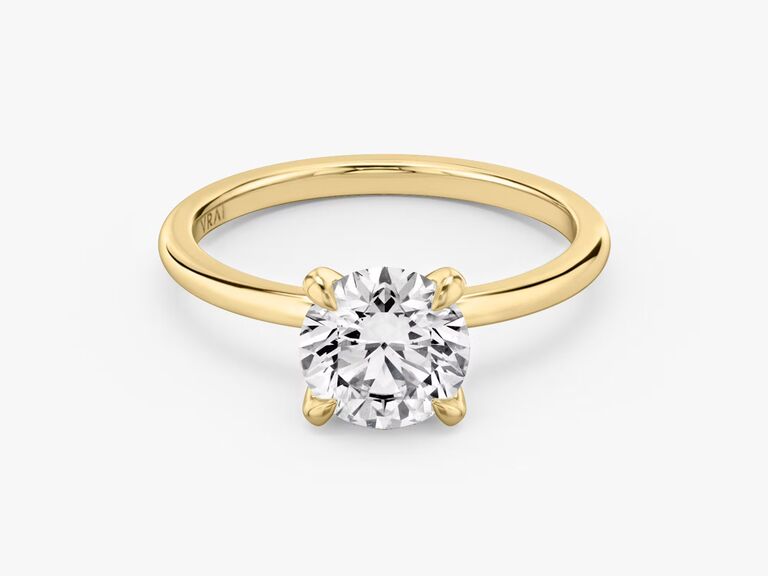 It doesn't get more minimalist (and timeless) than a round brilliant solitaire atop a shiny yellow-gold band. Featuring VRAI's sustainably-created lab-grown diamonds, it's a high-quality and classic engagement ring you won't want to pass up on.
2. Jennie Kwon Diamond Oval Round Ring in 14-Karat Yellow Gold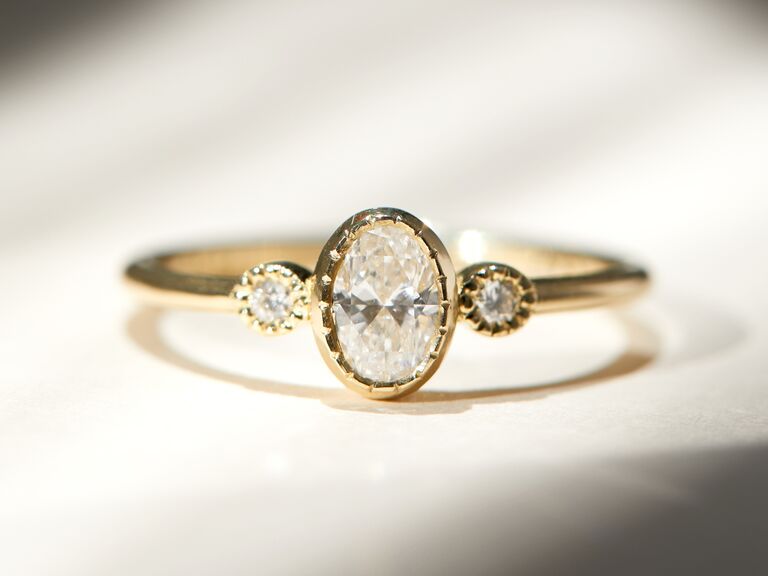 This delicate three-stone piece is an excellent example of a minimalist engagement ring that can feature more than one stone. It boasts a brilliant-cut oval diamond accompanied by two smaller round diamonds on a solid 14-karat gold band. How gorgeous is that?
3. Mejuri Slim Diamond Eternity Band in 14-Karat White Gold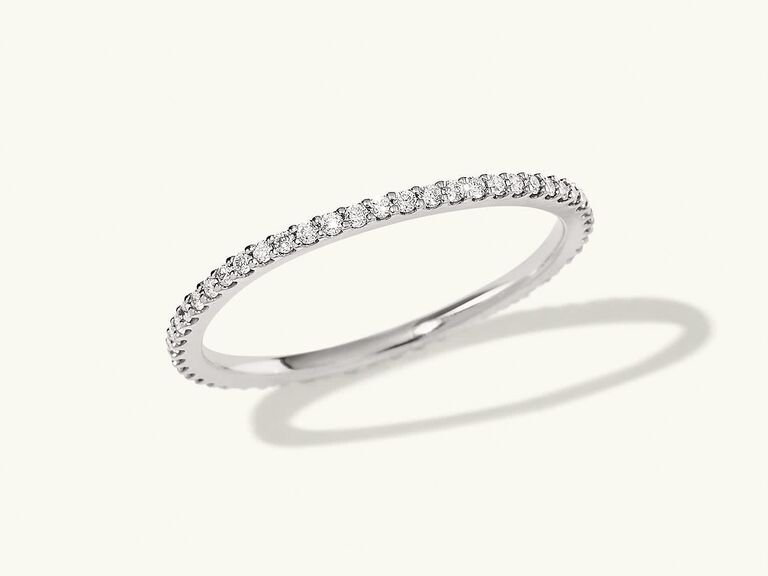 Another idea? Wear a minimalist diamond eternity band as your engagement ring. This slim 14-karat white gold band is lined with sparkly diamonds that were hand-set in a basket of open prongs to enhance the shimmer. Bonus: It'll also make a stunning wedding band, too.
4. Melanie Casey Whisper Ring, Radiant Cut Diamond in 14-Karat Yellow Gold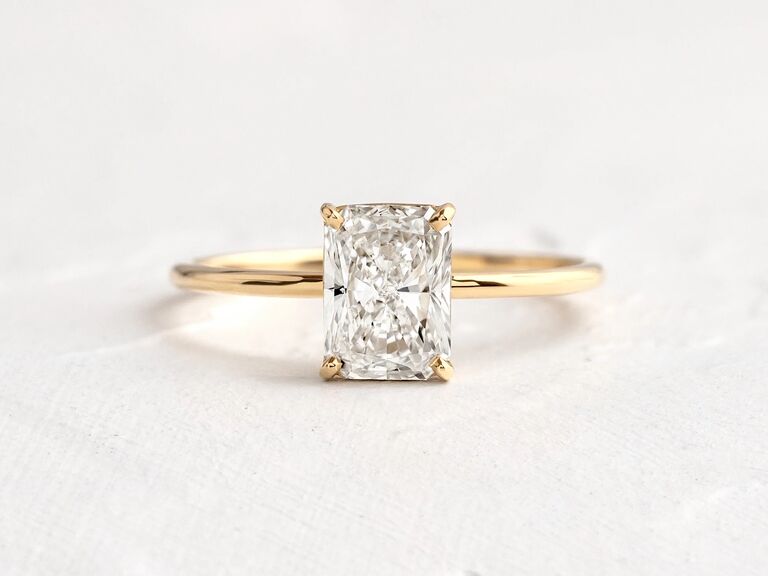 We have one word to describe this radiant minimalist engagement ring: showstopping. From the statement-making solitaire diamond to the streamlined gold or platinum band, there's so much to appreciate.
5. Aurate Cushion Cut Solitaire Diamond Ring in 14-Karat White Gold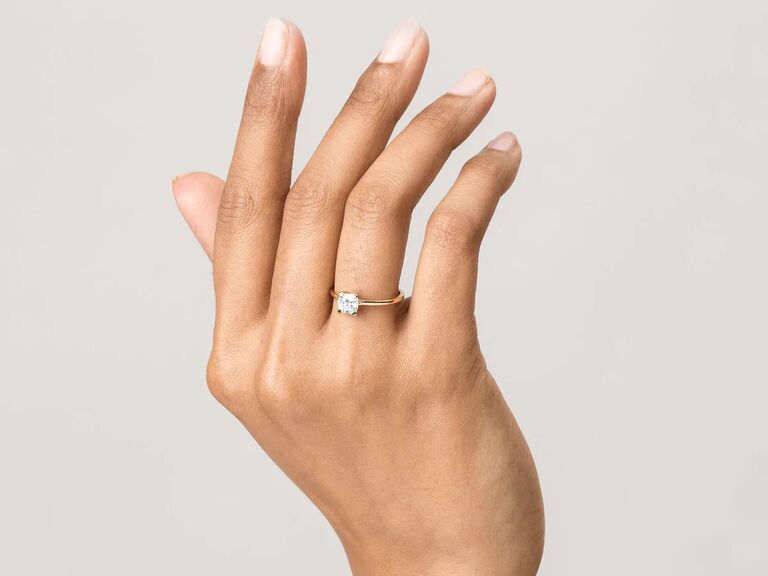 A delicate take on a cushion solitaire, this minimalist diamond ring features a center stone set on an understated 14-karat white gold band. Elegant and simple? Say no more.
6. Miadonna Fleur Toi Et Moi Emerald and Pear Gemstone Ring in 14-Karat Yellow Gold
We have major heart eyes for this minimalist toi et moi engagement ring. The clean design includes a lab-grown emerald-cut diamond paired with a lab-grown pear gemstone (pro tip: pick the stone that feels sentimental to you or your partner). You'll have so much fun showing off this unique style.
7. Brilliant Earth Petite Esme Solitaire Engagement Ring in 18-Karat Yellow Gold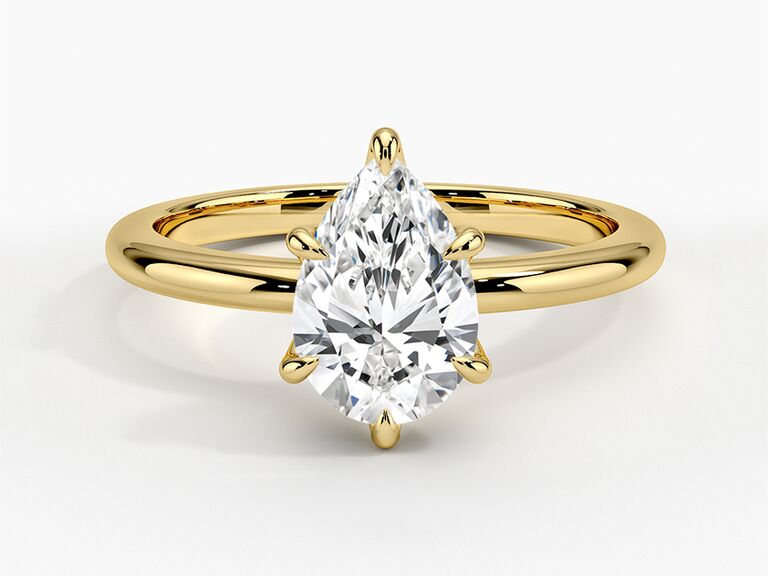 You can't go wrong with a sleek gold band cradling a center diamond for minimalist engagement rings. Select your favorite cut from four options—round, oval, pear or marquise—as well as your carat size, which ranges from 1.5 to 2 carats.
8. Gorjana Diamond Row Ring in 14-Karat Gold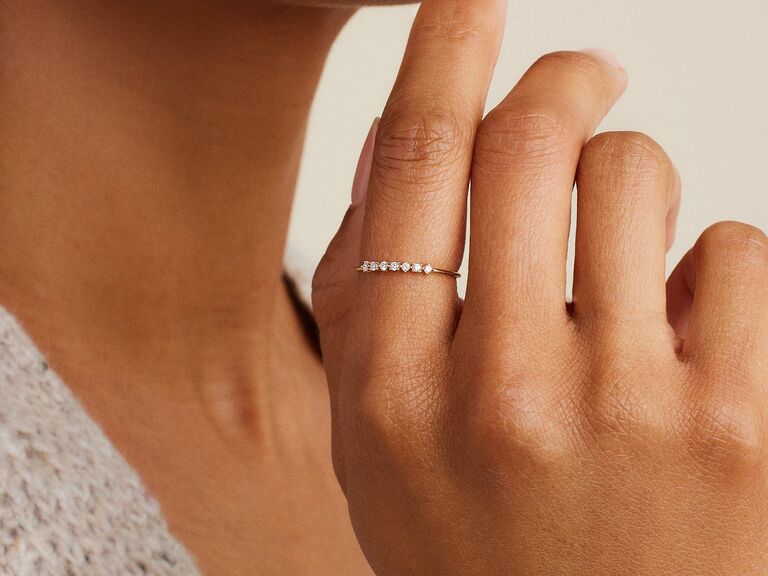 This 14-karat gold diamond row ring is proof that a simple band with shimmering diamonds can easily pack a bigger punch than a traditional, oversize gem. Another plus? It would look oh-so-stylish stacked with a solid gold wedding band.
9. Aurate Emerald-Cut Tri-Diamond Ring in 14-Karat Yellow Gold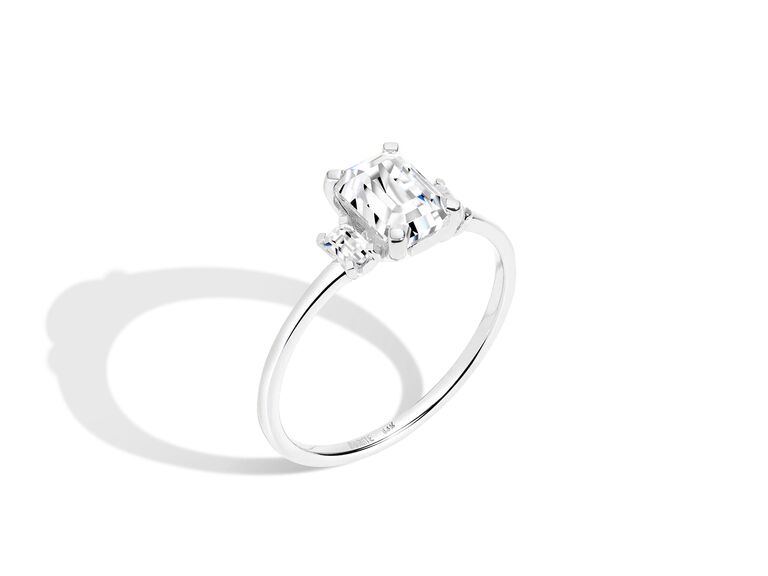 We love how an emerald shape can transform a simple gold band to feel timeless. Aurate offers the choice of a lab-grown or mined stone, so if deciding between the two, read our expert guide to lab-grown diamonds to learn more.
10. Angara Knife-Edged Classic Round Diamond Solitaire Ring in 14-Karat Yellow Gold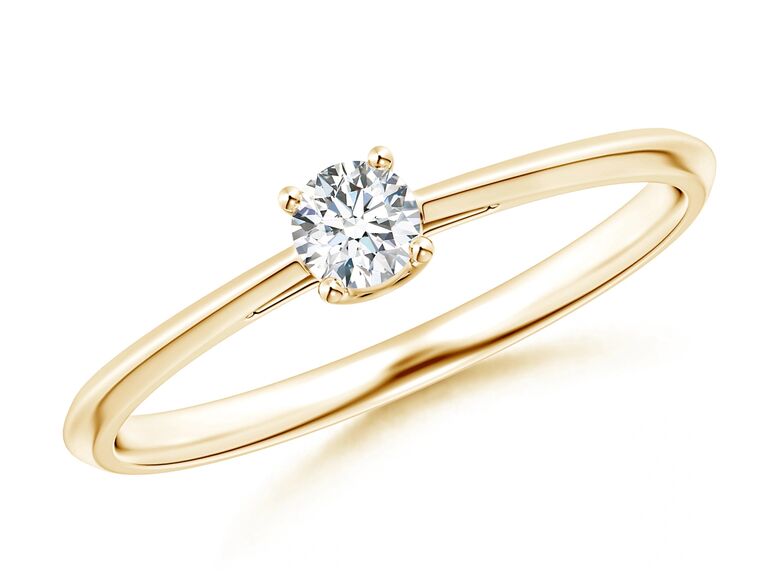 An elegant wisp of gold wrapped around your finger feels effortlessly chic. Featuring a beautiful knife-edge shank, you can choose the gemstone quality, carat weight and metal type of this minimalist engagement ring to personalize it to your exact needs.
11. KATKIM Marquise Crescendo Ring in 18-Karat Yellow Gold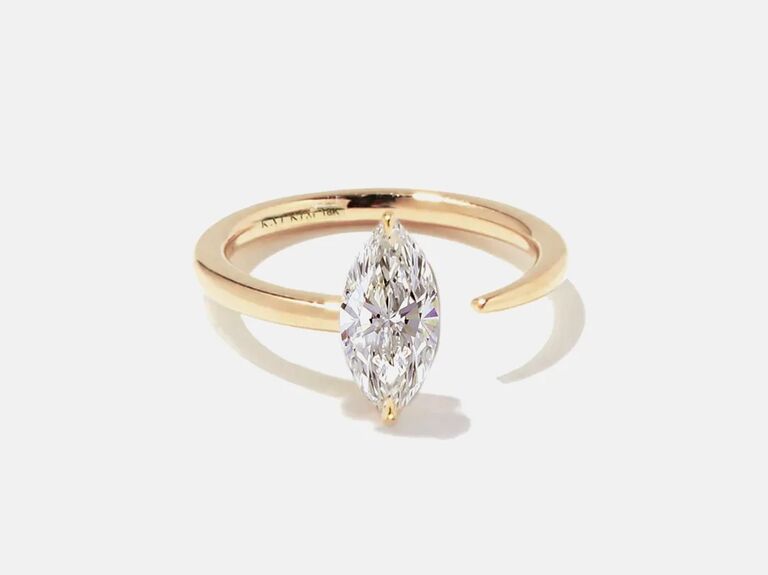 A symbol of royalty, a marquise-cut diamond is a historic diamond shape that exudes sophistication. This engagement ring takes on a minimalist and unique appearance, thanks to the solitaire two-prong setting and understated 14-karat gold crescendo band.
12. Elsa Peretti Wave Single-Row Diamond Ring in Yellow Gold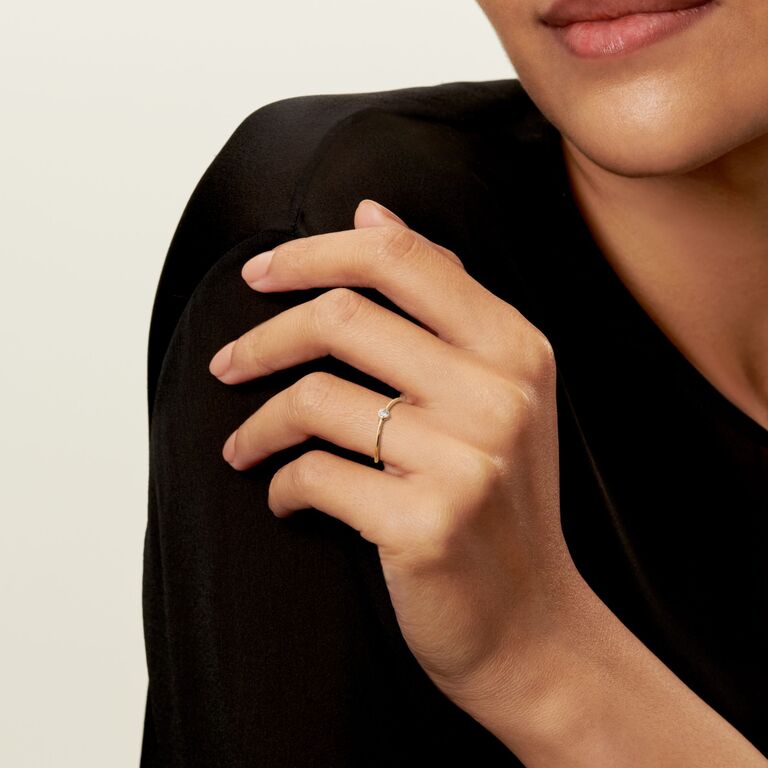 For a truly simple design that's also minimalistic, try this gorgeous Elsa Peretti diamond ring. From the curvy yellow gold band to the sparking round brilliant diamond, it's the perfect dainty piece to symbolize your upcoming union.
13. Oscar Massin Lumière Engagement Ring in 18-Karat Rose Gold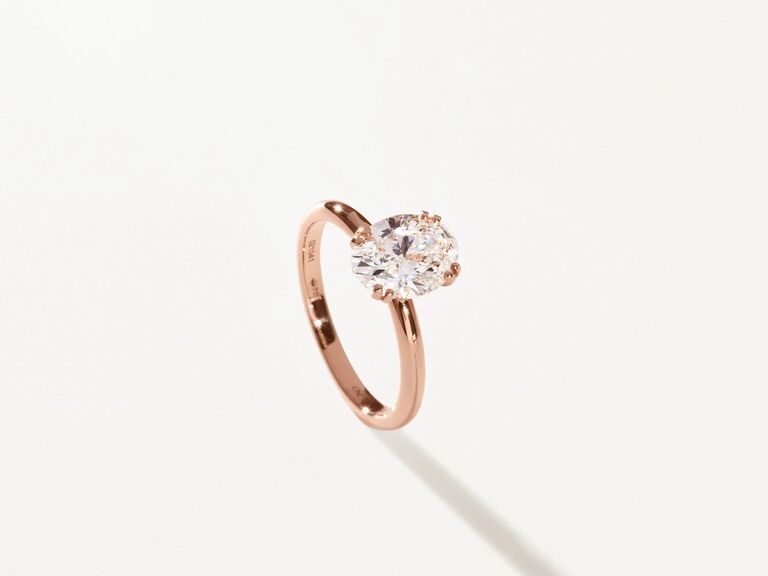 ICYMI, the popularity of oval engagement rings are on the rise. Hop on the trend but opt for a clean aesthetic, like this polished oval engagement ring with an 18-karat yellow, rose and white or platinum band.
14. Marrow Fine The Chloe Toi et Moi Engagement Ring in 14-Karat Yellow Gold
We had to include another toi et moi engagement ring (they've been trending big in 2022). The two stones in this lovely pair include round and pear-shaped diamonds side-by-side. This yellow gold feels contemporary, while the white gold or platinum band feels classic.
15. Ring Bear Beveled Ring in Black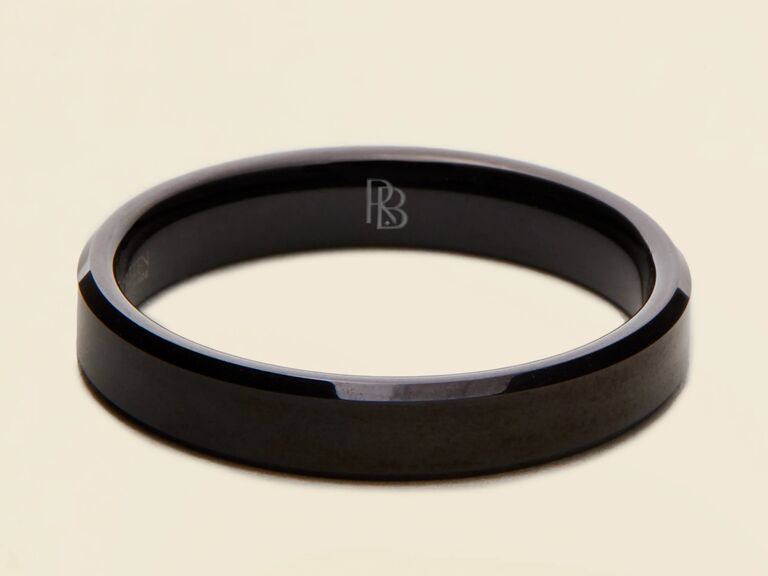 This black men's engagement band from Ring Bear has both a minimalist and modern quality. Choose your preferred width and ring size, then engrave something sentimental up to 20 characters long on the inner band (you and your partner's initials, perhaps?).
16. Brilliant Earth Grace Twist Solitaire Engagement Ring in 18-Karat Yellow Gold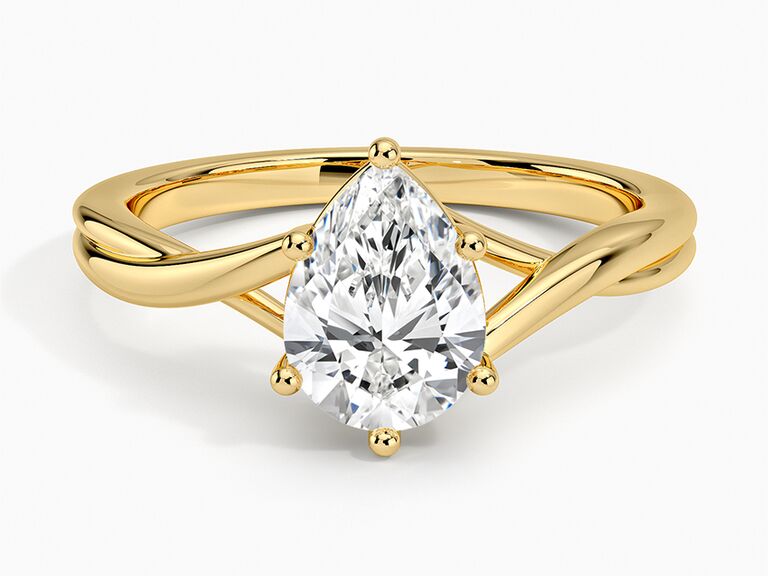 Put a stylish edge on your engagement ring with a twisted 18-karat yellow gold band. Despite the curvy silhouette, it doesn't take focus away from the most important part of the design: the teardrop-cut solitaire diamond.
17. Wwake Emerald Cut Diamond Solitaire Ring in 14-Karat Yellow Gold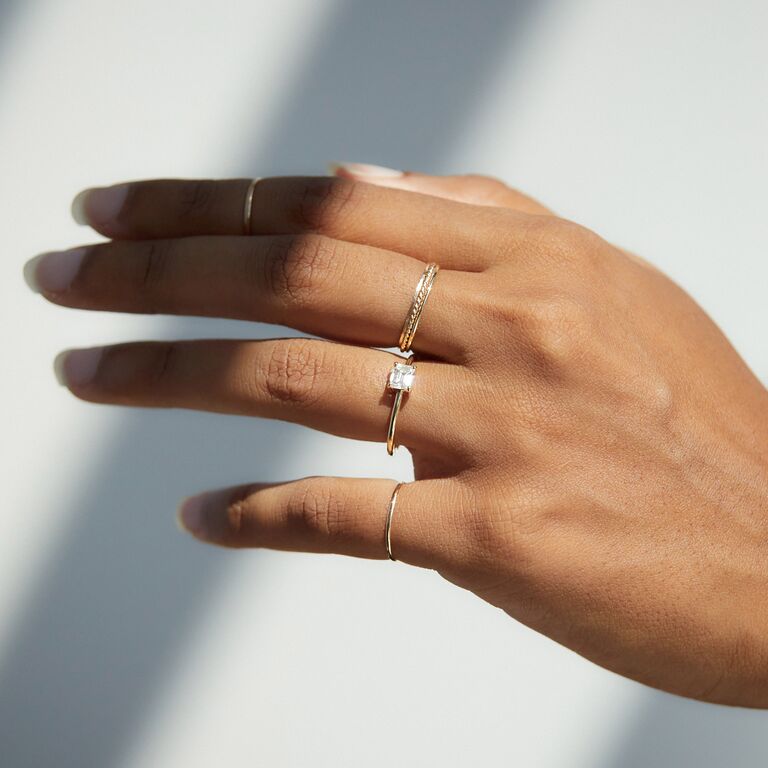 Craving a unique minimalist engagement ring? We've got you covered. This emerald solitaire has an east-west setting (which basically means the diamond rests on its side). Set on a 14-karat recycled yellow gold band, it's a streamlined style that proves that less is more.
18. Brilliant Earth Zula Diamond Ring in 18-Karat White Gold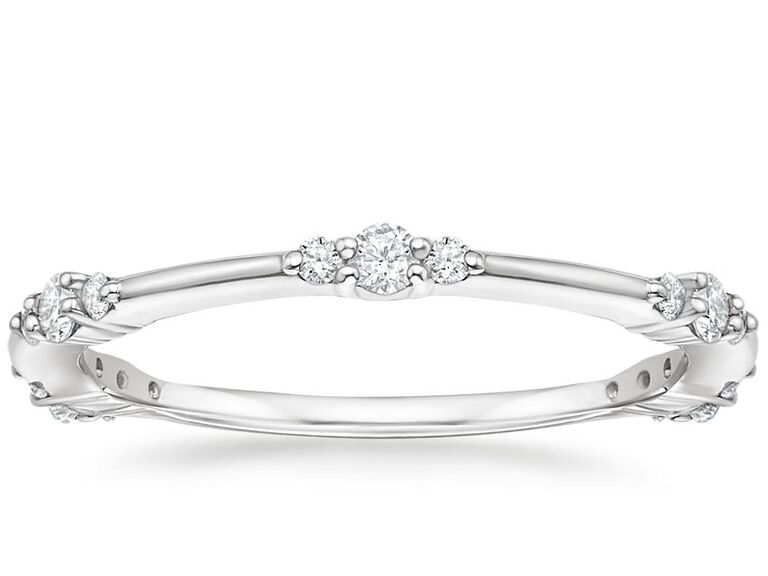 Instead of having one large diamond as the focal point, this modern minimalist engagement ring is embellished with tiny trios of round diamonds placed halfway around the band for a classic, one-of-a-kind look.
19. Mejuri 4-Millimeter Smooth Band in 14-Karat White Gold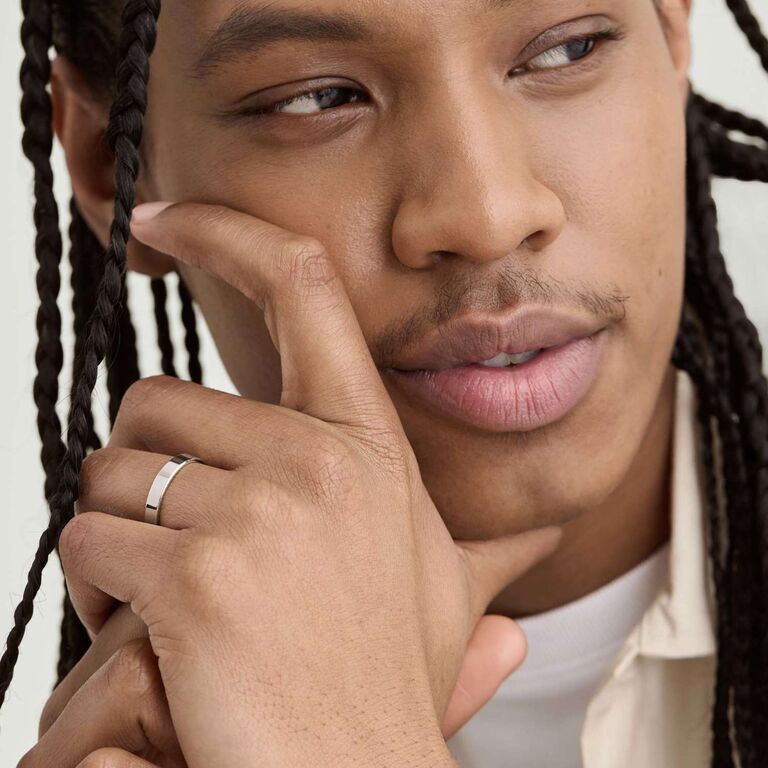 Get ready for lots of compliments on this unisex minimalist engagement ring. Not only is it available in four sleek hues, but the band can be personalized with a sentimental saying that's special to your S.O. (Bonus: This versatile style is excellent for stacking, too).
20. Verlas Ellipse Vows in 14-Karat Yellow Gold
For a sparkler that'll shimmer in all directions, look no further than this three-stone oval engagement ring. The large oval center stone is flanked by two smaller stones, creating a uniform and minimalist look on a 14 or 18-karat yellow, white and rose gold or platinum band. Bonus: Use our exclusive code "Knot15" to earn 15% off purchases of $500 or more!