See Mira Zwillinger Wedding Dresses From Bridal Fashion Week
Here's the designer's latest collection to hit the bridal runways.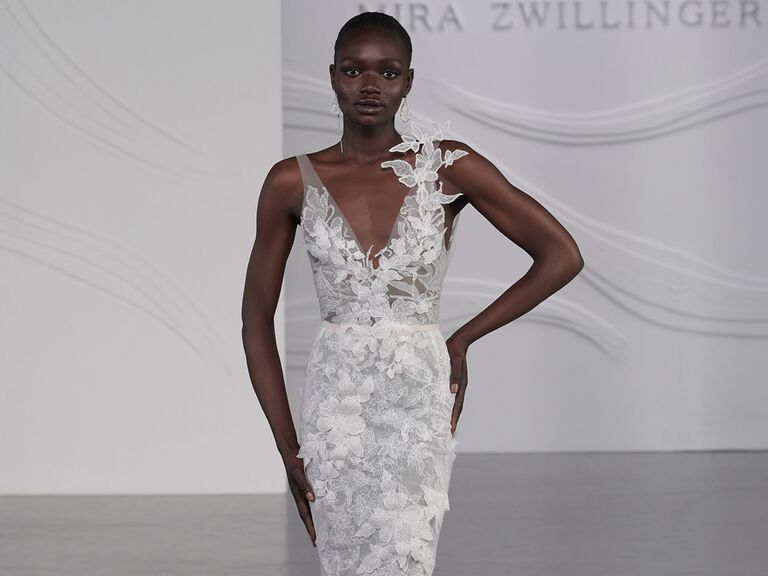 Mira Zwillinger is a luxury brand led by mother-daughter fashion designers Mira and Lihi Zwillinger. As one of the leading fashion houses in Tel Aviv, the brand focuses on the craft of creating made-to-measure gowns with a sophisticated point of view. Each Mira Zwillinger wedding gown tells a story of timeless romance with dazzling details, sophisticated silhouettes and no shortage of sex appeal. Their bridal gowns are made of the most luxurious fabrics and dimensional textiles, giving each of the pieces depth but not heft— even with handmade embroidery, feathers, beading, or appliqués, a Mira Zwillinger gown won't weigh you down.
See every dress from Mira Zwillinger's 2022 collection below.
Mira Zwillinger's Spring 2022 Wedding Dresses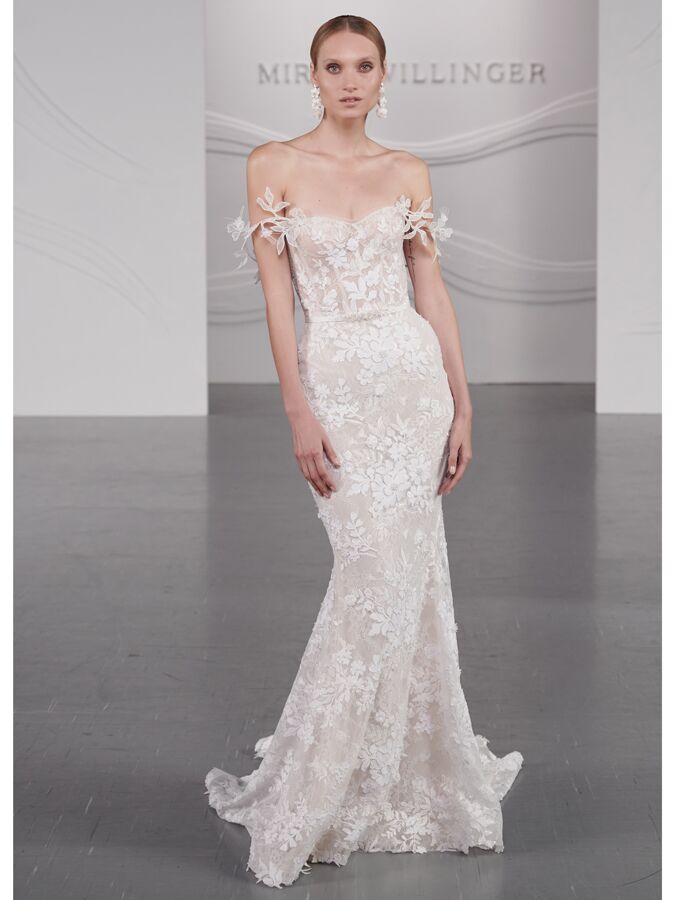 "Aneta" Gown; Chantilly lace fitted strapless wedding dress with laser cut floral appliqués and detachable drop-shoulder 3D lace jewelry.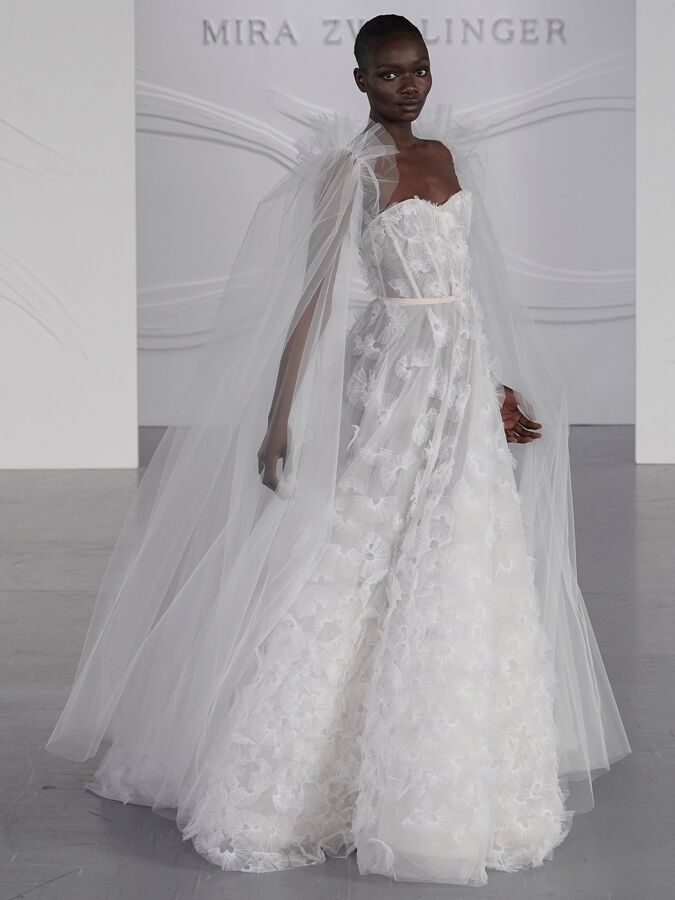 "Fifi" Gown; strapless ball gown with sunburst pleats, crystal accents and a matching cape.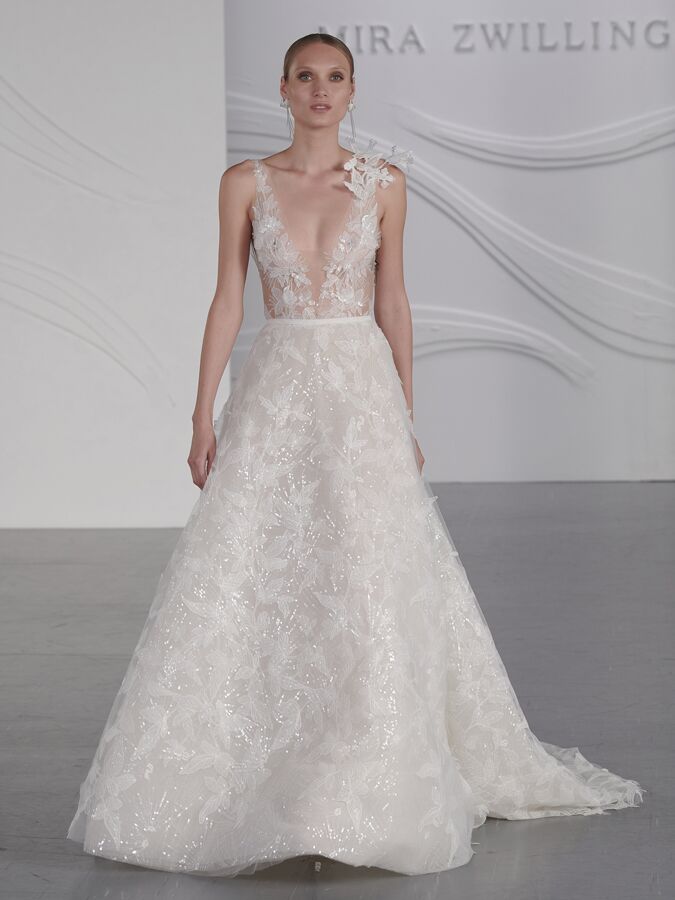 "Kaya" Gown; sleeveless lace deep V-neck wedding dress with leaf pattern over sequins tulle.
"Limke" Gown; strapless wedding dress with sweetheart neckline and large 3D flowers cascading down the bodice and skirt.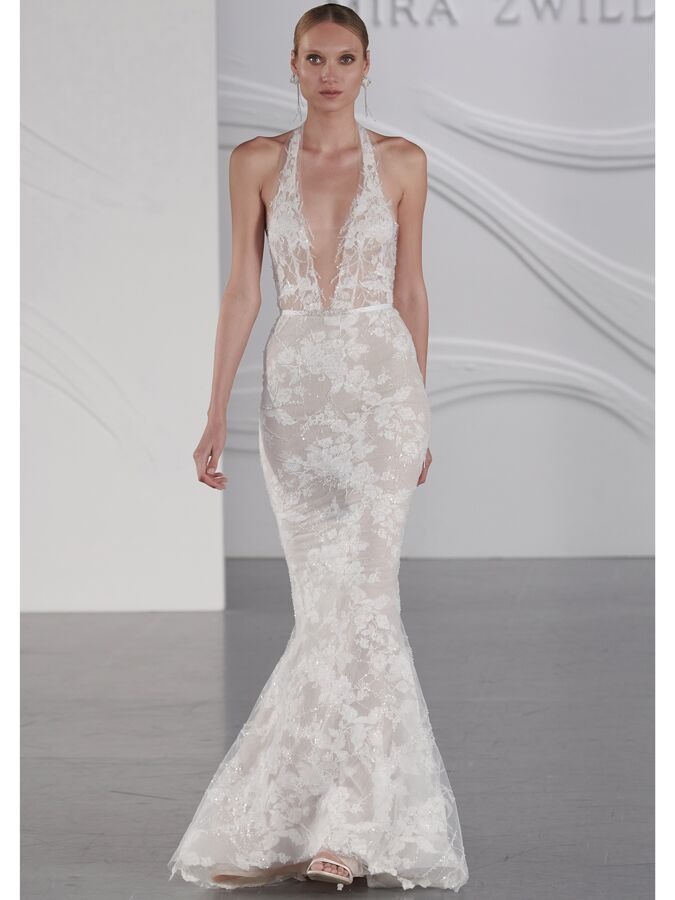 "Sofi" Gown; beaded vines top floral lace on this fit and flare mermaid halter wedding dress with deep V-neck.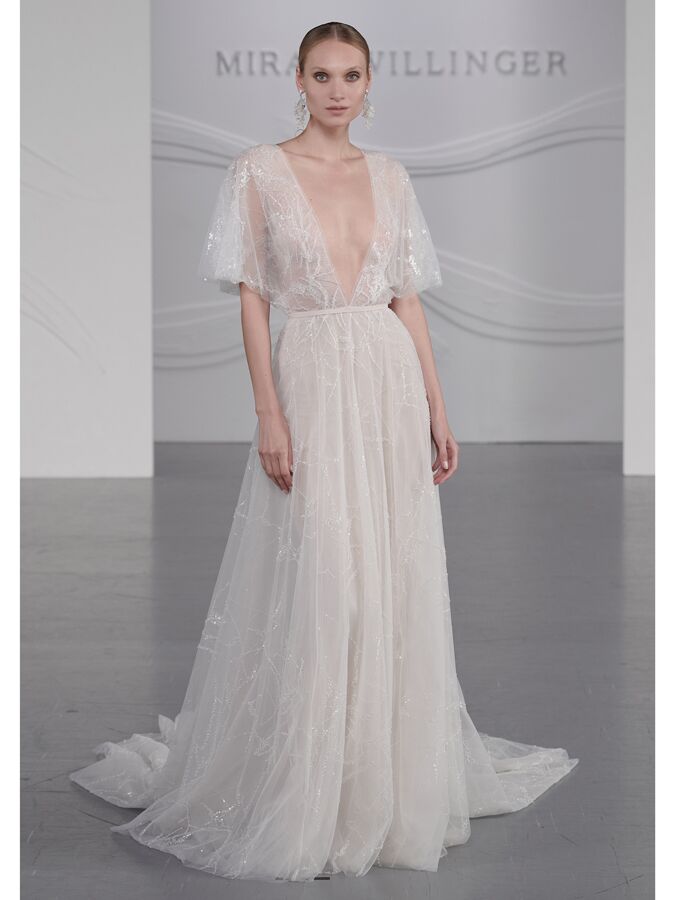 "Stelha" Gown; beaded illusion A-line dress with deep V-neckline and flutter sleeves.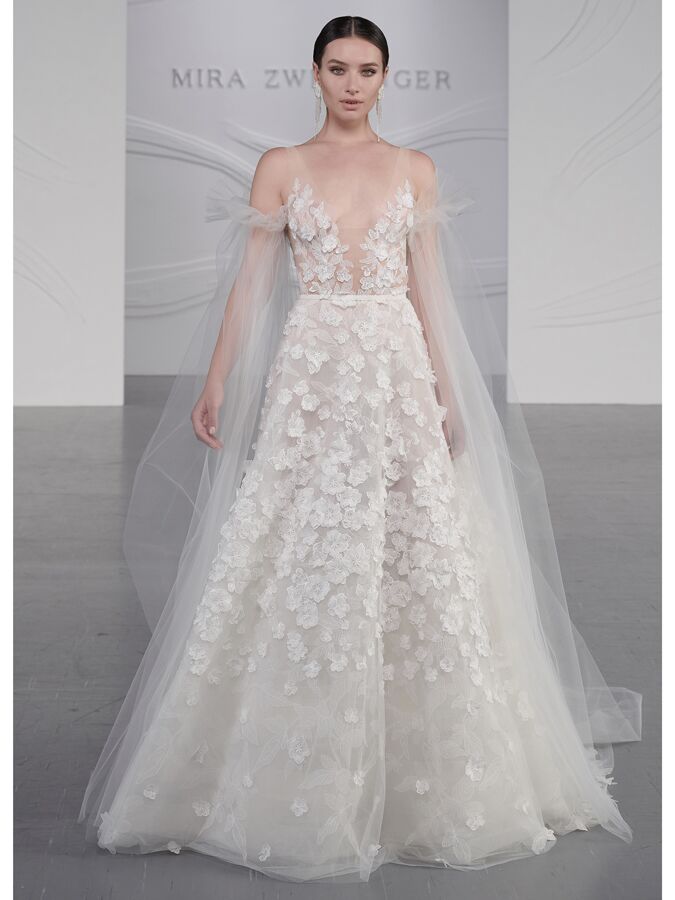 "Suri" Gown; a layer of gradient 3D florals top lace leaves on this sleeveless A-line wedding dress with plunging V-neck and optional ruffled drop-sleeve tulle cape.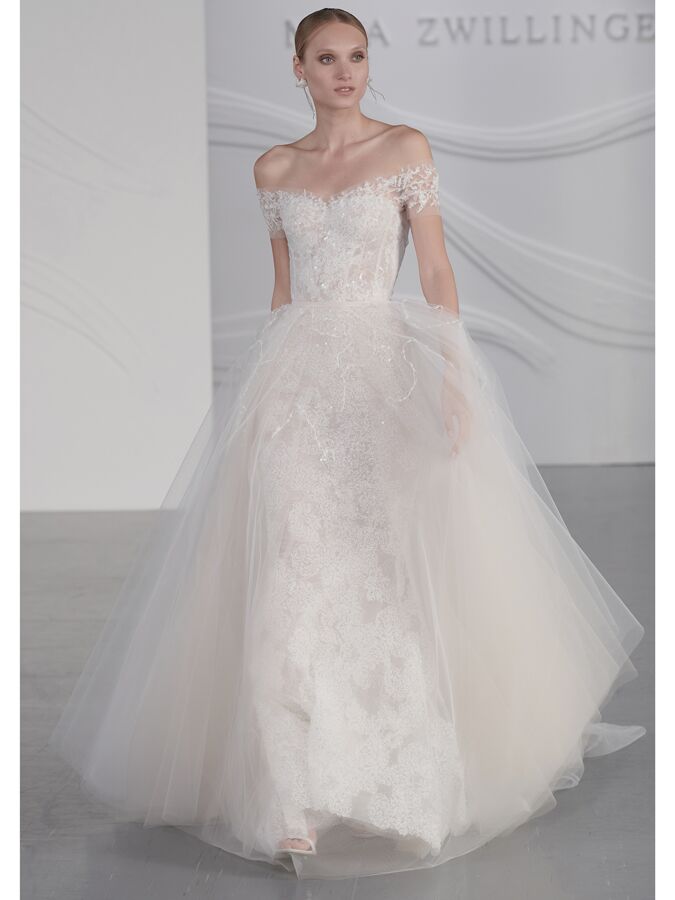 "Brunella" Gown with Detachable Shoulder Topper and Overskirt; strapless abstract lace wedding dress with detachable tulle skirt and shoulder topper.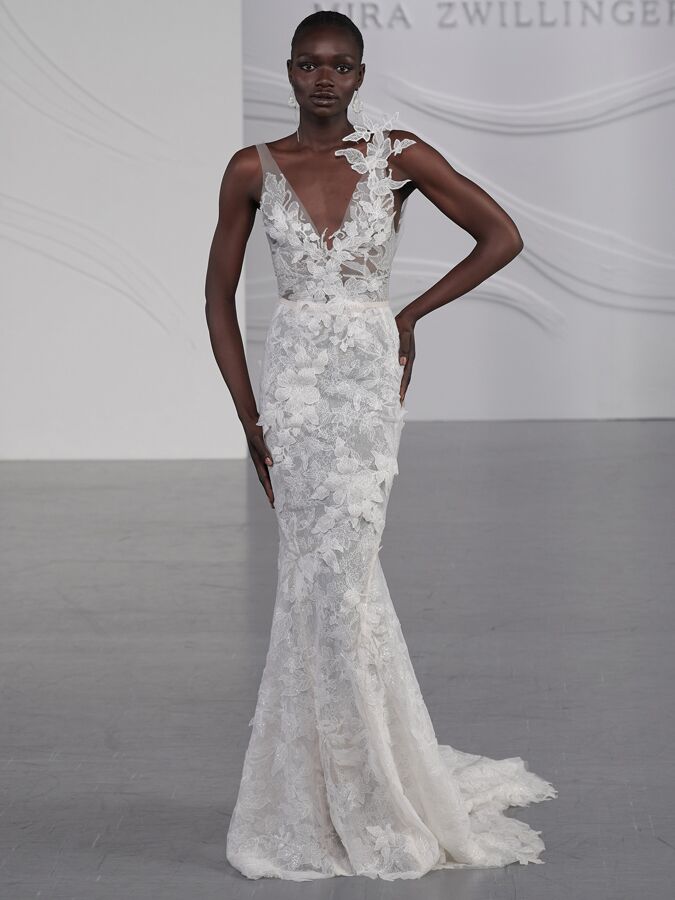 "Nicola" Gown; textured lace fitted V-neck wedding dress with embroidery over floral tulle and 3D shoulder blooms.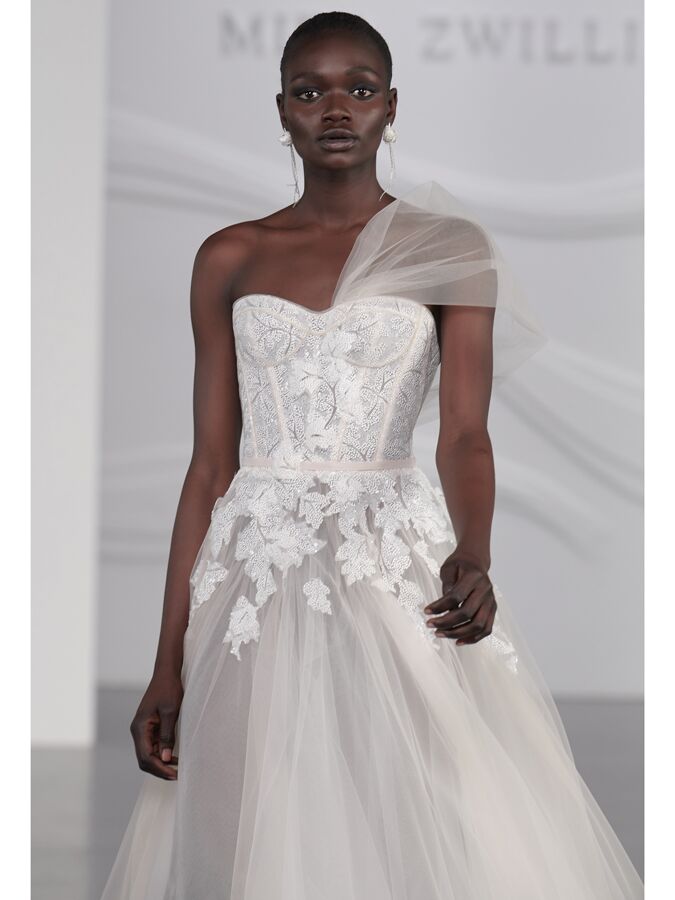 "Terra" Gown; strapless wedding dress with 3D embroidered petals, sweetheart neckline and asymmetrical detachable tulle sleeve.
"Brunella" Gown; strapless abstract lace wedding dress with sweetheart neckline.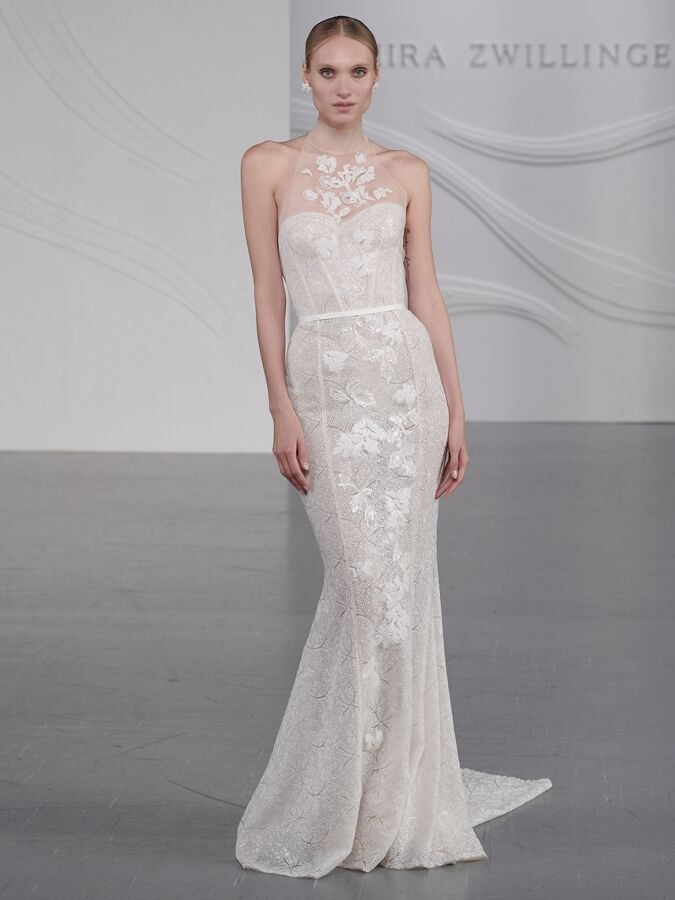 "Larie" Gown; fitted strapless wedding dress with sweetheart corset, embroidered petals and detachable high-neck illusion topper.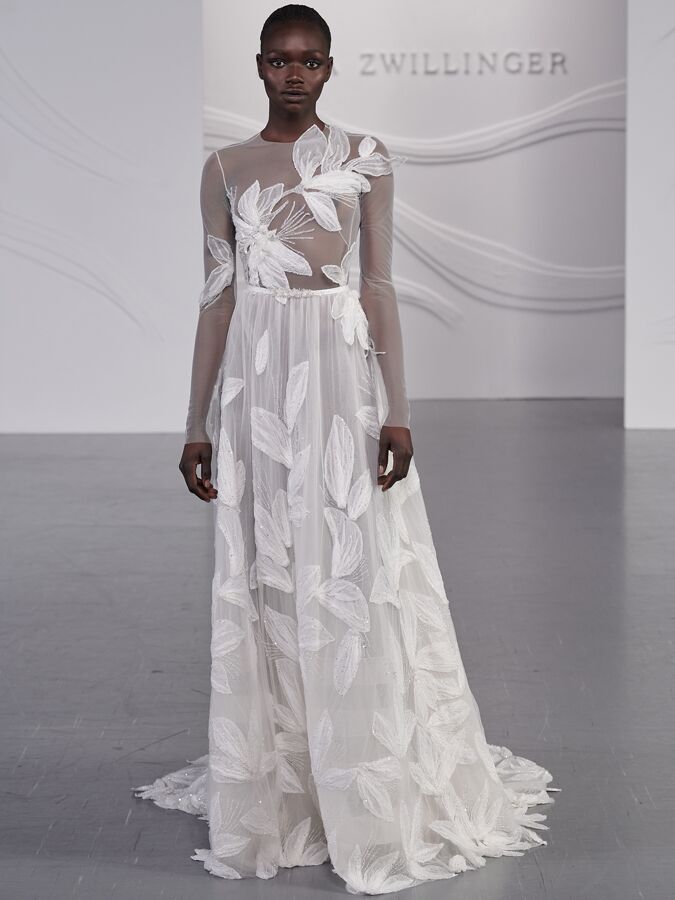 "Natasa" Gown; illusion wedding dress with long sleeves, large 3D petals and crystal beading.
Mira Zwillinger's Signature Style
Mira Zwillinger's signature style embodies intricate details and unapologetic femininity along with an elegant aesthetic. The brand is driven by the passion to infuse contemporary silhouettes with ethereal embellishments like handmade embroidery, beading, and other extraordinary textures like acrylic florals that are handcrafted from scratch.
A Brief History of Wedding Dress Designer Mira Zwillinger
Mira Zwillinger was raised by a talented and creative mother, whom she watched sew and handcraft beautiful dresses from an early age, spurring her own love for all things fashion and design. First established in 1991 by Mira Zwillinger herself, the brand is now led by the mother-daughter team of Mira and Lihi Zwillinger and still specializes in some of the most luxurious bridal gowns on the market.
Mira Zwillinger Collection History
The Mira Zwillinger Spring 2018 collection brings a fresh perspective to a more traditional space (think: from pastel blue wedding dresses and gowns with over-the-top feather details). One of the standout blue numbers, the Korra, is a powder-blue tulle A-line wedding dress with a deep V-neckline, appliquéd bodice, and micro-pleated skirt.
The Spring 2019 Mira Zwillinger wedding dress collection features classic shapes—such as ball gowns, A-lines, trumpets, and sheaths—that have been emboldened with accents like jewel-encrusted off-the-shoulder capelets, fashion-forward florals and high-shine, metallic fabrics.
Mira Zwillinger's Fall 2019 wedding dresses are inspired by the strength and sophistication of women. The collection offers a variety of silhouettes, from sleek column dresses and barely there sheathsto dramatic ball gowns and ethereal bridal capes.
Spring 2022 Mira Zwillinger collection delivers on the brand's signature aesthetic, featuring handmade embroidery, beading and appliqué details, with a few new design elements, like metallic accents, ultra-sheer gowns, convertible skirts and , and playful hemlines.
Other Mira Zwillinger Labels
In addition to bridal dresses, MIra Zwillinger also offers glamorous evening dresses, cocktail wear, classically styled suits and jackets and a custom-made leather collection.
Famous Mira Zwillinger Brides
Dwayne 'The Rock' Johnson's wife Lauren Hashian looked stunning wearing a Mira Zwillinger Chantilly lace sheath gown at their Hawaiian wedding ceremony in August of 2019. The music producer's wedding dress featured a plunging neckline and an open back, with embellished detailing around the waist.
Singer Leona Lewis made a breath-taking bride as she married her long-term partner Dennis Jauch in Italy in July of 2019, wearing a Mira Zwillinger wedding dress called the New Fiona design from Mira's AW19 collection. The full-length gown featured a semi-sheer bodice with spaghetti straps and a soft tulle skirt.
Actress Camilla Luddington, best known for her role on Grey's Anatomy, wed her longtime boyfriend Matthew Alan while wearing a strapless Mira Zwillinger gown with handmade floral embroidery.
A Mira Zwillinger gown was also chosen by Daisy Jenks, the wife of Prince Harry's best friend Charlie Van Straubenzee, for their nuptials in summer 2018, which were attended by Princess Eugenie and Jack Brooksbank, as well as the Duke and Duchess of Sussex.
Fun Facts About Mira Zwillinger
Mira Zwillinger has developed a unique technique that enables the brand to create a gown that is custom fitted, even without physically meeting the bride. Each made-to-measure gown is brought to life meticulously thorough a detailed process that involves hand-carving a mannequin according to the bride's measurements.
Mira Zwillinger Previous Wedding Dress Collections
Mira Zwillinger's Fall 2021 Collection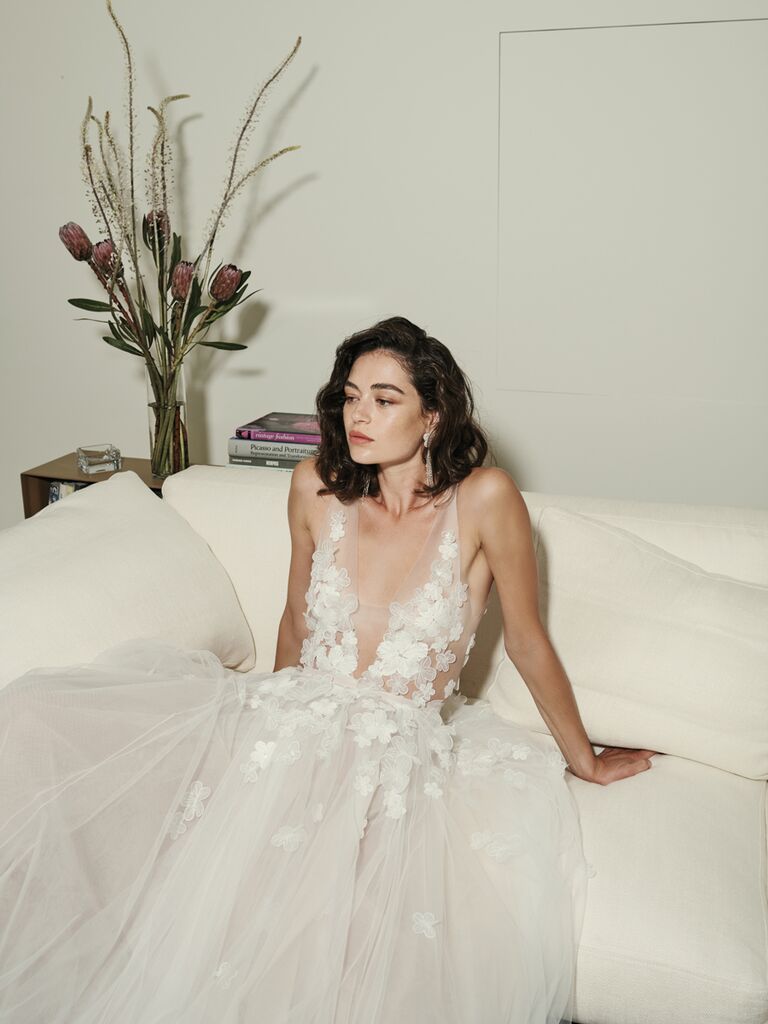 "Ari" deep V-neck tulle gown with sheer bodice and handmade three dimensional flowers.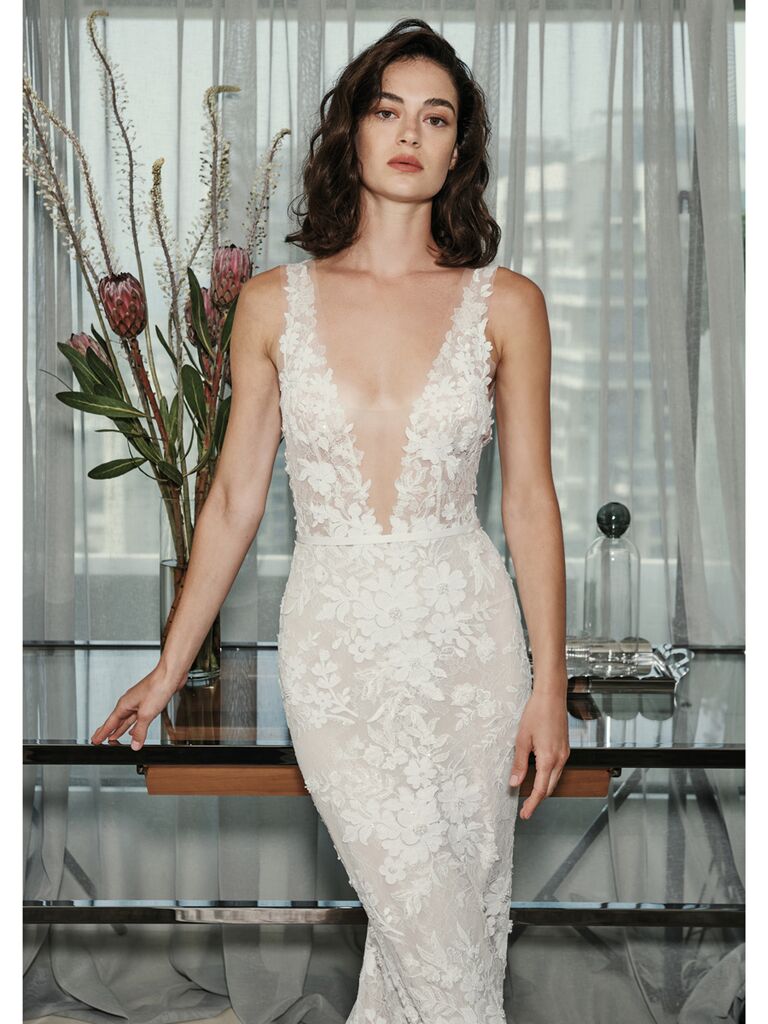 "Jona" deep V-neck embroidered flower lace mermaid gown with train and exposed back.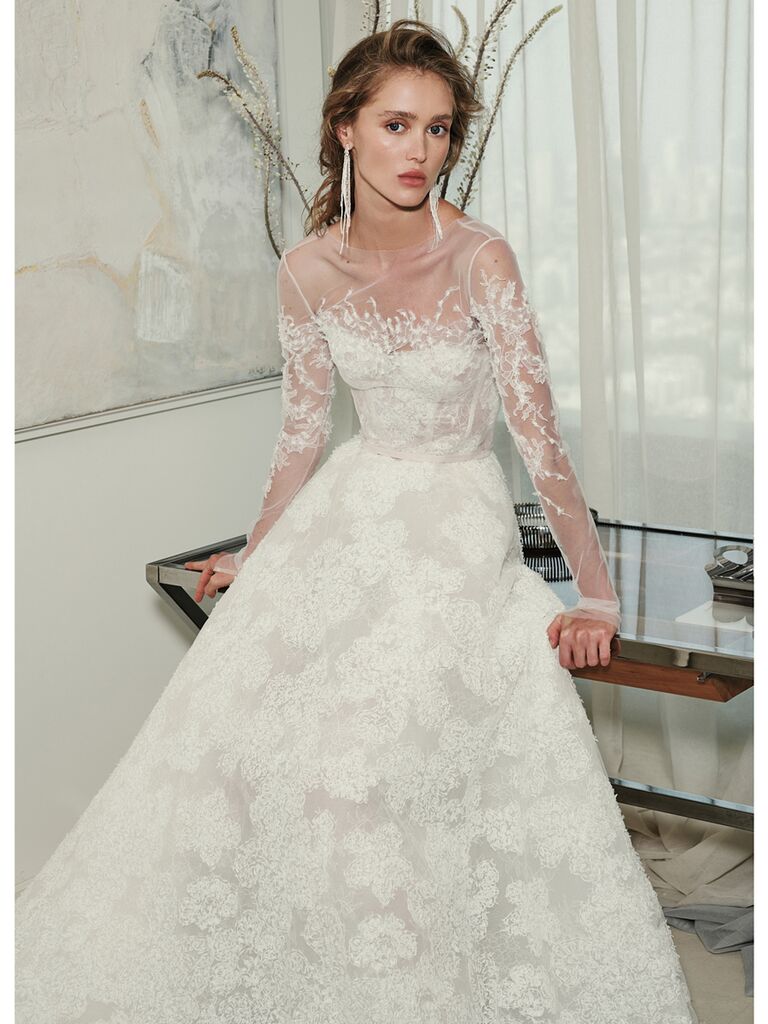 "Bruna" strapless lace ball gown with corset bodice and optional illusion 3/4 sleeve topper.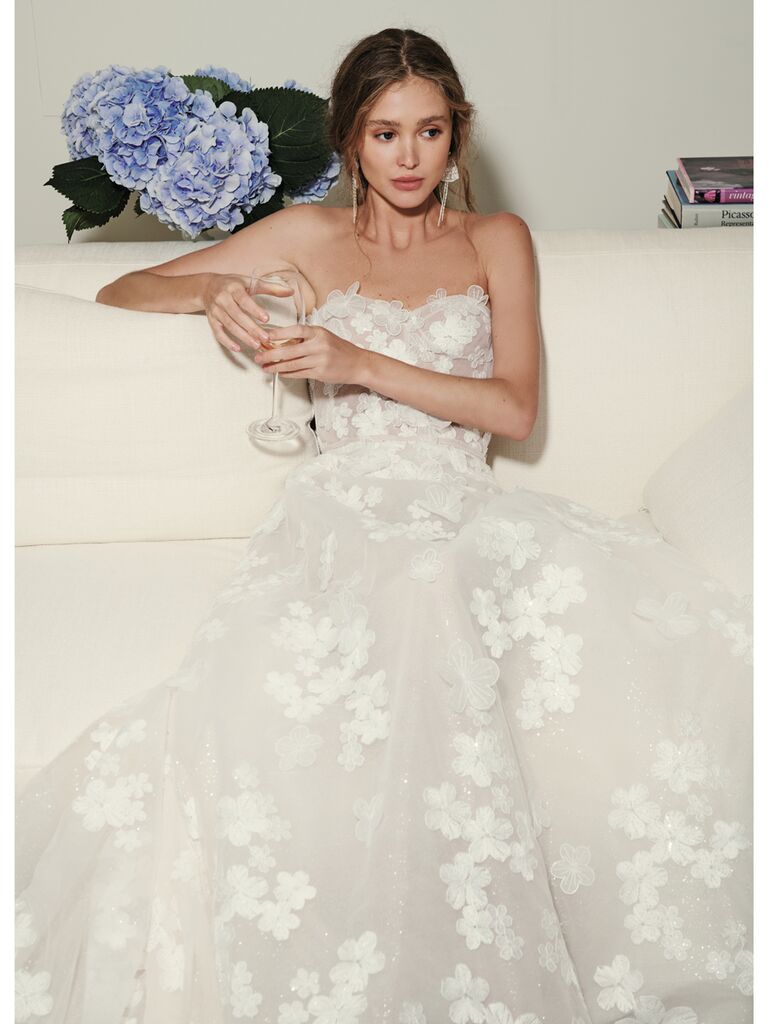 "Kaylyn" strapless embroidered A-line gown with handmade lace flowers and optional matching off-the-shoulder shrug.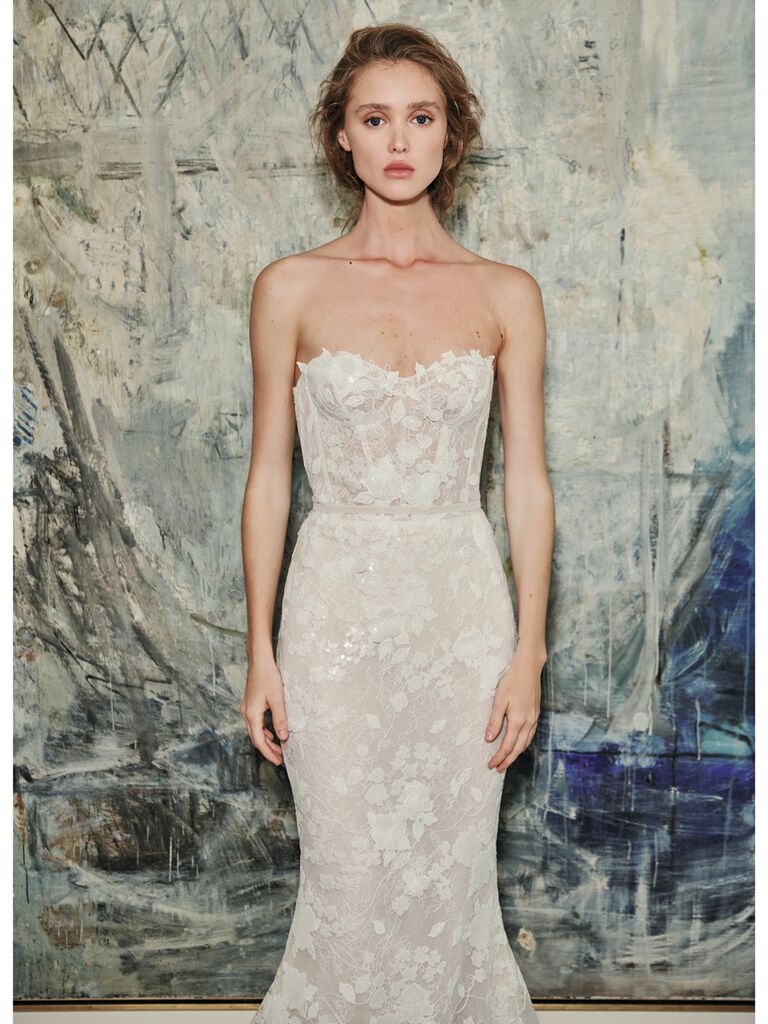 "Katya" strapless chantilly lace mermaid gown with sheer corset bodice and scattered sequins.