How Do I Get a Mismatch Look for My Bridesmaids?
by Heather Hall
"All my bridesmaids have completely different body types. I want them to all feel beautiful and comfortable. And I don't mind the mismatched look. But what guidelines should I follow?" –jbirdie9784
The secret to pulling off a mismatched look for your bridesmaids is stick to one designer. This will cut the guess work out since you know the colors and fabrics will be the same for a perfectly coordinated crew.
1. Same color, different necklines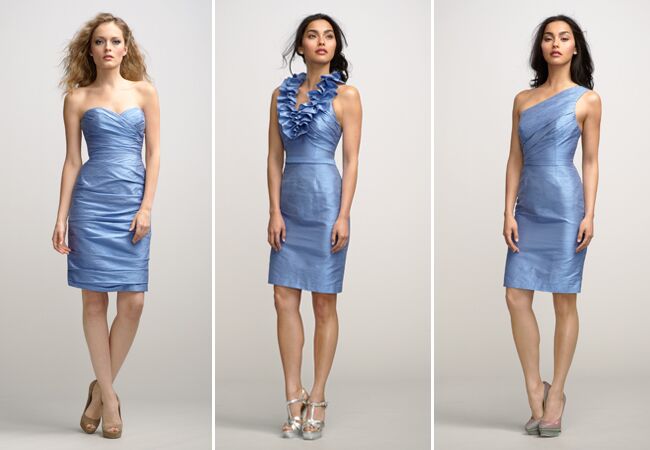 Let your girls choose the silhouette that fits her body best and keep the fabric and color the same — like this beautiful French blue in dupioni silk. These gorgeous dresses will make your maids feel regal and pair perfectly with your formal wedding. Tip: A ruffled collar will balance a small bust.
Bridesmaids dresses by Watters, starting at 286
2. Same fabric, different colors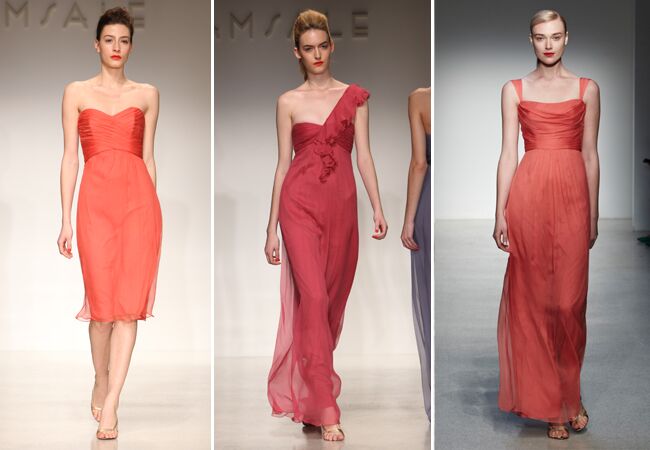 For a more casual look (especially on the beach), choose a romantic chiffon fabric and 2-3 shades for your girls to pick from — like coral, guava and rhubarb. Tip: Let them decide on the length of the dress for an even more mismatched feel.
Bridesmaids dresses by Amsale, starting at $280
3. Same length, different silhouettes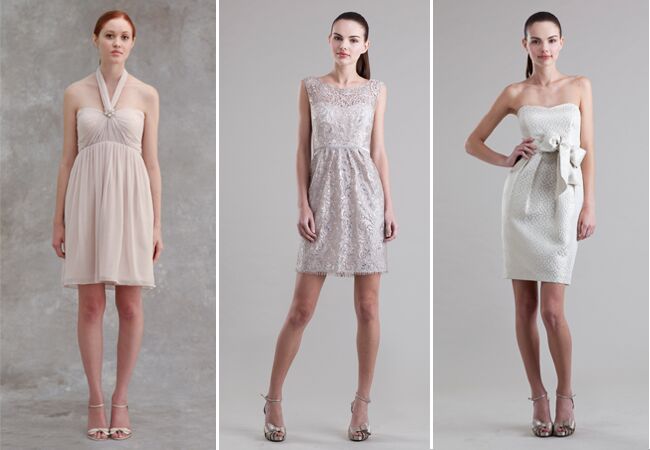 Curate a collection of dresses in the same length and similar palette (like these gorgeous blush tones) for your girls to choose from. A variety of textures and fabrics will add a modern touch to your beautiful bridal party. Tip: Complete the look with a cohesive element such as the shoes or a necklace to tie everything together.
Bridesmaids dresses by Jenny Yoo, starting at $265
If you're in need of more fashion advice, tweet me your questions @heatherhallm
> Match Your Bridesmaid's Dress To Your Wedding Gown
> Creative Bridesmaid Dress Ideas