4 Totally Industrial Missouri Wedding Venues
Check out these wedding venues in Missouri that are industrial and modern!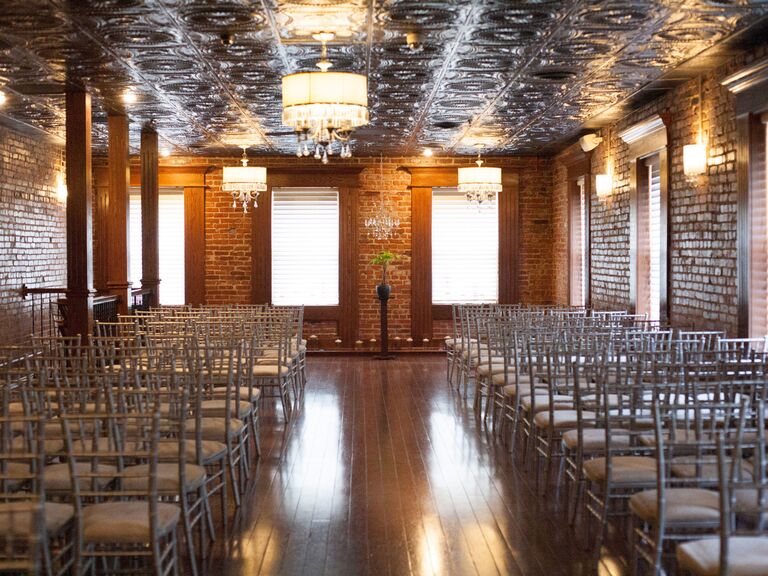 Kate & Co Photography
425 Downtown Events
425 West Walnut St., Springfield; (417) 888-3025; 425Downtown.com
425 Downtown's unfinished wood-beamed ceilings, worn red-brick walls and natural hardwood floors provide a backdrop that's textured, sophisticated and easily personalized! Wrap string lights around the wooden support beams, or just enjoy the natural light streaming through the large windows and glass garage-style door. Up to 150 guests can enjoy both the ceremony and reception; let the venue take care of everything else, from custom menu creation and centerpiece arrangements to valet parking and flipping the room.
The Aspen Room at The Stanley
308 Southeast Douglas St., Lee's Summit; (816) 600-2065; TheStanleyEventSpace.com
Grand chandeliers add a touch of glam to this modern space clad in exposed brick and intricately detailed ceilings. Make your grand entrance to the contemporary ballroom through double wooden doors, and if that alone doesn't impress your up to 300 guests, the oversize windows and outdoor balcony surely will. Also use the rooftop terrace—complete with a waterfall and green space, of course—to dance under the stars. The talented staff will work with you to dress up the space or leave the raw feel. We love that an event manager, setup and cleanup, linens, tables and chairs are all included, so you can cross off a few to-dos.
Monarch Art Factory
600 West College St., Springfield; (417) 868-8179; RandyBacon.com
When it comes to contemporary venues, modern-art museums are hard to top. This beautiful, historic building in downtown Springfield is clad in exposed brick walls, tall skylights and industrial beams. Although the space is gorgeous on its own—complete with art and photos covering the walls—you can decorate it as you like with very few restrictions. The laid-back owners, Shannon and Randy, will also let you bring in wedding pros you've selected, including caterers and DJs, to create a party for you and up to 150 guests.
Orr Street Studios
106 Orr St., Columbia; (573) 875-4370; OrrStreetStudios.com
Having your wedding in an art gallery means you can save on decorations by using the unique installations as the backdrop. At the nonprofit art organization Orr Street Studios, you can have your wedding (and up to 200 guests) set against works from local artists. The shipping-depot-turned-gallery includes three warehouses that are home to a community of North Village artists. Among the ultra-raw industrial design, you'll find one-of-a-kind doors created from recycled materials.
Want to find your own industrial venue? Click here!