6 Tips to Kissable Lips on the Wedding Day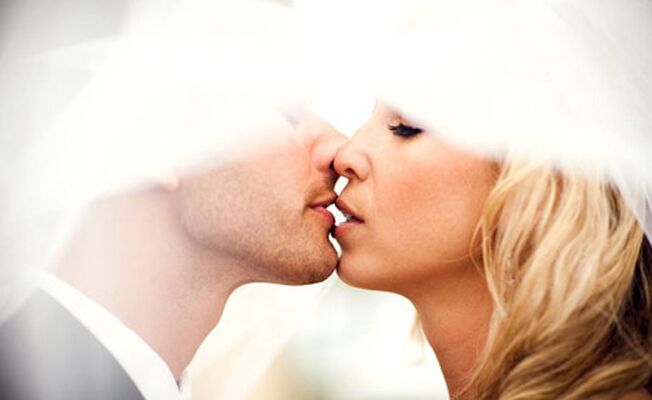 Ben Sasso
There are so many things to look forward to on your wedding day. One of the highlights? Your first smooch as husband and wife! Be prepared for lots of wedding day lip locking with tips from expert makeup artists who know surefire ways to achieve maximum kissability. For best results, start prepping those lips at least 1 week before the wedding day, though the experts say the sooner the better so you get in the habit early on!
1. Exfoliate
To avoid chapped lips, one of the most important things to do is exfoliate right when you get out of the shower. You want to take a washcloth and use either a facial scrub or the washcloth alone and rub back and forth over your lips, says Megan Garmers, founder and director of MG Hair and Makeup.
Try: St. Ives Apricot Scrub
2. Don't Lick Your Lips!
"You end up only drying out the skin more," Garmers says. Take time to apply hydrating lip balm so you don't end up giving your lips a quick moisture fix rather than permanent nourishment.
Try: Korres Lip Butter or Jack Black Lip Balm
3. Use Products with Anti-Oxidants
Certain products both nourish and plump the lips. Look for the ingredient Resveratrol which is a super-moisturizing anti-oxidant which also provides age-defense. BITE beauty products have the same amount of anti-oxidants as 5 glasses of red wine! Sip on that!
Try: BITE Beauty luminous crème lipstick
4. Treat Lips Before Bed
Anthea King, founder of Timeless Glow Bridal recommends loading on conditioning treatment before bed. "In the morning, they'll be so soft!" she says.
Try: PawPaw Lip Balm or Aquaphor Lip Repair
5. Use Household Remedies
A teaspoon of olive oil and a dash of sugar act as alternative, natural exfoliators, says Kim Baker, makeup artist to the celebs and bridal beauty expert at Glam 4Ever Makeup Studio. Dab on a wash cloth and wipe your lips to remove any chapped skin. Another of her favorite at-home treatments is olive oil and honey or Vitamin E.
Try: A spoonful of sugar!
6. Use Sunscreen
Just as you would cover your face with an SPF to prevent sun damage, you should also give your lips the same special treatment. Baker recommends an SPF of at least 15. You can wear it alone or under lip stick or gloss. Just be aware—you should wear SPF even during the winter months and on cloudy days!
Try: Blistex Complete Moisture Lip Balm SPF 15
> 4 creative wedding manicure ideas!
> 300+ wedding hairstyle photos